The Loop
The key to Ryder Cup success? Lighten up
MEDINAH, Ill. -- If Ian Poulter knows anything, the Englishman knows a moment when he hears it. So, at 7:20 a.m. on the second day of this Ryder Cup, fully 11 hours before he became supernatural, he turned to the folks in the bleachers behind the first tee, most of them Americans, and invited them to come on with the noise.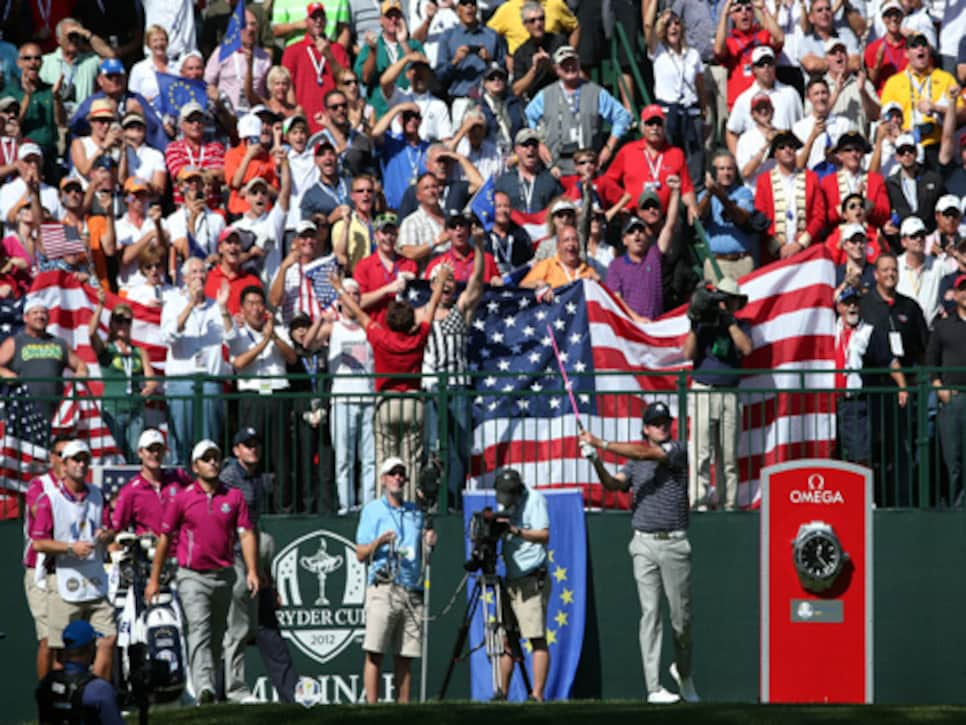 Photo: Andrew Redington/Getty IMages
The idiosyncratic American, Bubba Watson, had not encouraged such noise the day before -- he had demanded it. For a few centuries, witnesses have been confined in a cone of silence when a professional golfer was at work, the flop shot as brain surgery. But here the reigning Masters champion ordered the paying customers to get loud. And get louder WHILE he hit a tee shot.
Bubba's explanation: the Ryder Cup ought to be fun. Poulter had learned of the heresy, and when the Saturday pairings put him with Watson on the first tee, he decided Bubba had a bloody good idea there.
Below those cheering thousands with their flags and raucously declared loyalties, anyone about to hit an opening tee shot in Ryder Cup competition is amped up already, even if at address the only sound is a squirrel at breakfast. "I knew Bubba was going to do it again, so why not join him?" Poulter said later. "My heart rate went from, I would say, 100 to 180 pretty quickly. ... it was a great buzz."
Where Poulter's tee shot went, no one cared. (Into a fairway bunker.) Watson followed with a reprise of his first-day act, only with the noise ratcheted up six turns. And when he left the tee, he left the long way, walking a hundred yards along a gallery fence, all the way slapping hands with fans.
What an idea, a game as fun. Golf's favorite wit, David Feherty, a Ryder Cup player himself before becoming a teevee idol, made notice of the concept in a morning tweet: "Bubba and Poulter are what the Ryder Cup is all about! Magic on grass, joy in sport, love to the fans. You've got to love them."
It's silly to say Ryder Cups give more love to the funsters. But make of this what you will: in Ryder Cup play, Tiger Woods is 13-17-2 lifetime. Ian Poulter is 11-3-0. The game's new main man, Rory McIlroy, is 3-2-2, a touch better than Bubba Watson's 3-4-0. As to why Woods, arguably the best player ever, has been beaten more often than not, here's a guess: he has flown solo for so long -- driven by abnormal forces that shut him off from humankind -- that he never learned to play well with others. For Woods, it is brain surgery, and without anesthetic.
It is not silly to say the Ryder Cup creates more pure fun than the Masters, the Opens, and the PGA Championship do combined. Those events are freighted with history, even burdened by history, and they demand payment in pain from any player who would make their history his. Next to those exercises in masochism, the Ryder Cup is a dawn-patrol tee time with your buddies.
It's Keegan Bradley and Phil Mickelson on fire. It's Jason Dufner caught smiling. It's Bubba being Bubba. It's Poulter flat-out on his stomach at green's edge, lining up a putt for his partner. It's all that, and it's a wizened veteran of Ryder Cups, Jim Furyk, saying of the crowd at Medinah Country Club, "They were loud and rowdy ... you show up on a Tuesday and you've got people chanting, 'USA,' and you're still three days from putting it in the ground." It's a rookie, Brandt Snedeker, saying, "It's just crazy out there. Keegan and Phil have got this crowd going absolutely nuts, and if you can give them anything at all to get excited about, they're going to."
Before Watson teed off for his Saturday afternoon round, he caused such commotion at the first-tee amphitheater that the noise reached the putting green. It told Keegan Bradley what he had to do. He hurried over to watch Bubba be Bubba. "And it was one of the most exciting moments of my week so far. I mean, I was freaking out. For me, personally, I'd probably miss the ball. I'm already so jacked up on the first tee that if they started doing that, I don't know where it would go."
Bradley's emotional level had risen to that usually associated with persons who paint their faces. He said that coming from behind to win the 2011 PGA Championship and "having my life change overnight" created the most emotional week of his life. "But this is a different type of emotion ... It's just a great atmosphere for me" -- he's a New Englander -- "because I love watching the Patriots and Celtics play, and I love when they get the crowd going. I love when they run up to them and get them excited, and for me that was kind of my mentality this week."
Most likely, though records are unclear on the matter, Bradley set an all- time record for hugs/embraces/crushes applied to one's Ryder Cup partner, for there seemed to be seconds, not minutes, separating Bradley-Mickelson celebrations Saturday morning. They won, 7-and-6, over Lee Westwood and Luke Donald, Englishmen having none of that Poulter fun. It's also true that Bradley, on the occasion of important shots done well, to pump up the crowd, struck a dozen different flex-poses of a kind normally associated with linebackers who have sacked Tom Brady.
He's 26 years old. He's 3-0-0 in the first Ryder Cup of his life. He's a star in what has become an American rout of the invading Europeans. He's a kid having fun.
Ian Poulter is 36, old enough to know better but still a kid, too. He's 3-0-0 in this Ryder Cup. What he did Saturday morning -- help make four birdies in a 1-up victory -- was only a whispered suggestion of his implausible afternoon -- five-straight birdies on the last five holes for a 1-up victory over Woods and Steve Stricker.
Each birdie putt brought from Poulter a symphony of screams, yowls, and howls that caused his handsome face to appear so ferocious, even deranged, that, if a photograph from those moments is not on the front page of every English newspaper tomorrow, Rupert Murdoch will ask for editors' heads on a platter. "Incredible," Poulter's partner, McIlroy said. "A joy to watch."
Ah, there is David Feherty's word again. Joy. Keegan Bradley and Ian Poulter brought the joy. You gotta love 'em.