no pressure
The science of remaining calm at the Ryder Cup (or your member-guest)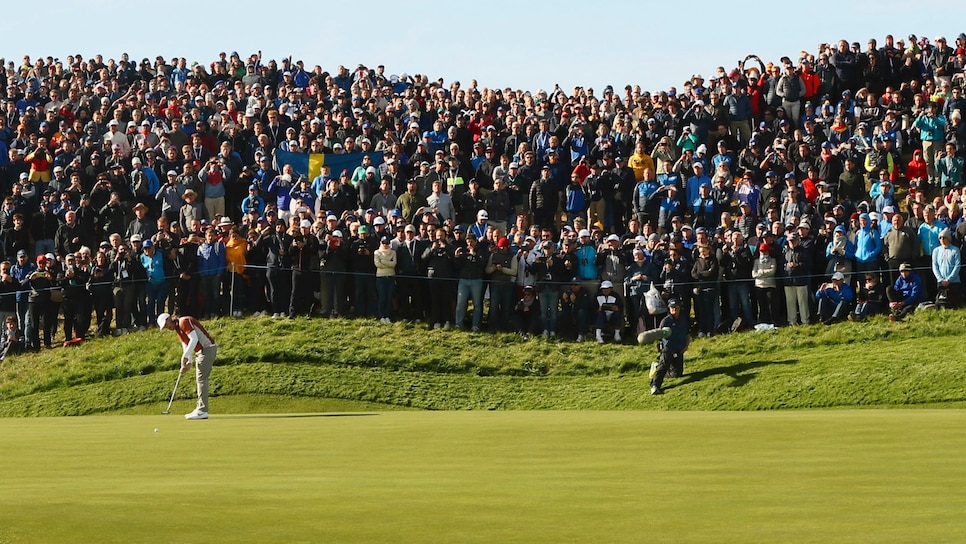 During regular PGA Tour events and even major championships, players can console themselves with a variety of crutches: a fanbase, a fat paycheck, some sweet sponsorship deals.
If nothing else, even during the dreadful weeks when players miss the cut, they can take some solace in letting only themselves down. They'll find the answer on the range and go get 'em next week.
The Ryder Cup is different. Players have teammates depending on them and a country to represent. Most players might hit only a handful of shots during the course of their career under the kind of intense pressure they will feel during one round at a Ryder Cup. Players talk of sleepless nights and their hands shaking so much that they can't keep their golf ball on the tee. There's simply no pressure like Ryder Cup pressure.
The beauty of golf is that all of us have felt those moments in our own way. Maybe you feel it on the first tee of your club championship or in a tough match during your member-guest or when you have a putt to win a grudge match against a buddy. Those are moments on the golf course when we feel small, the world feels big and the task of hitting a golf ball feels impossible. "Handling pressure is a skill, same as hitting a wedge shot or hitting your driver straight," says U.S. team captain Zach Johnson. "It's a skill players need to work hard to develop and train."
Players and coaches know more about the swing today than they ever have. A class of experts has risen to prominence within the industry and helped coaches optimize players' moves down to the smallest details. However, the brain remains an enigma, and players and coaches are not entirely sure how to work on it. Players have tried a variety of methods, and many believe that if they can use technology to optimize the way the brain works, it could provide the edge that wins the day in high-pressure moments.
Ahead of the 2023 Ryder Cup at Marco Simone Golf and Country Club near Rome, some players believe they have information about what lies beyond—clues that might help the rest of us answer one of golf's most existential questions: What's the secret to playing well under pressure?
BRAIN WAVES AND BREATHING
Bryson DeChambeau's eyes meander across the room. Once they arrive at the door, he slowly lifts his right hand to wave hello.
The 2020 U.S. Open champion is in a hitting bay at Dallas National Golf Club, sitting in a chair and taking deep breaths, with wires attached to his head. The other ends of the wires are attached to a kind of computerized box, which sounds like an air conditioner that has just turned on. The box seems to be working considerably harder than DeChambeau, who takes another deep breath as he lowers his hand carefully back to its original position.
"There's actually a lot of science behind it," DeChambeau says later. "I learned a lot about my neural pathways and how to control my breathing."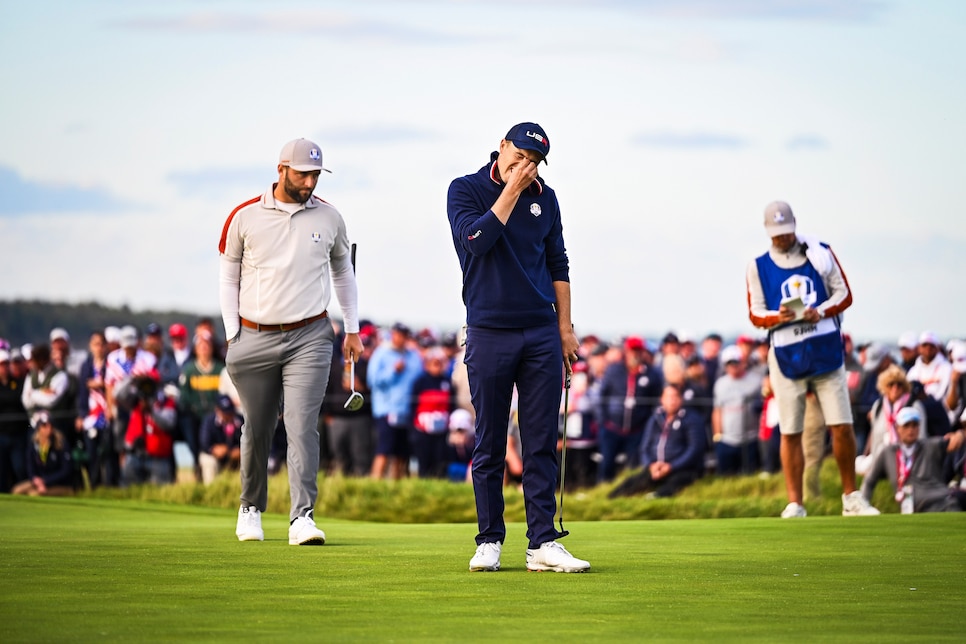 WILD AT HEART Jordan Spieth is one of several Ryder Cuppers studying how his heart rate impacts his play.
Keyur Khamar
The tool DeChambeau was using to find an edge that day came from a company called NeuroPeak Pro, which offers a variety of brain-training products, from a portable NTEL belt—designed for anyone to wear like a heart-rate monitor—to the more intensive version DeChambeau was using. The belt syncs to an app, but players are hard-wired into the more intensive program, which requires a certified NeuroPeak expert to monitor it just as one would oversee a polygraph test.
The system monitors what scientists call alpha, beta and gamma brain waves, and it correlates those with breathing and heart rates. Alpha brain waves occur when a person is relaxed or resting, when the heart is beating slower. Beta and gamma brain waves occur when a person is problem solving, and the heart is beating faster. When someone feels nervous, worried or anxious, the heart starts beating even faster, causing the brain to produce excess beta brainwaves.
When that happens, it's hard to focus and maintain control over the body and to stay calm and think logically. In simple terms, it's what we've come to know as feeling the pressure.
"Your body effectively initiates a fight-or-flight response in these moments," says Nick Bolhuis, Neuropeak's vice president of performance programs. "Your nervous system begins ramping up. It's like a car with 8,000 RPMs."
Through a series of sessions, NeuroPeak helps players find the heart rate that produces an optimal mix of alpha, beta and gamma brainwaves, which keeps the pressure at bay and helps them feel calm and focused—in what many consider "the zone." Each player's zone requires a unique mix. Once NeuroPeak finds it, players learn to use different breathing techniques to return there on command. "I've got some different breathing techniques I know work for me that help calm me down or can get me into it a little more," DeChambeau says. "Everybody plays at different levels. A guy like Jordan Spieth who is going all over the place is going to play his best at a little higher [heart rate] than a guy like Patrick Cantlay, who is lower and very even-keeled."
NeuroPeak Pro became a key part of DeChambeau's lead up to the 2021 Ryder Cup, where he earned two and a half points in three matches. The company has worked with a growing number of past and future members of the U.S. Ryder Cup team to various extents, from Justin Thomas to Spieth to current captain Zach Johnson.
CONTROLLING THE HEART RATE
The mind is where the secret lies, but the road to understanding it starts with the heart. In the most basic terms, your heart beats faster when you're nervous and slower when you're not. Nothing gets elite players' hearts beating faster and feeling more nervous than the Ryder Cup. The 2021 contest allowed us for the first time to glean some insight into some data that highlights how players are feeling inside the ropes.
Whoop, a fitness band worn by multiple players on their wrists and arms, pegged Ian Poulter's heart rate on the first tee of his Friday foursomes match at a whopping 133 beats per minute. That's before he hit his tee shot.
To put that in perspective, Poulter's heart rate during that moment was almost identical to Justin Thomas' heart rate when he thought his drive was heading for the water on the final hole of his 2021 Players Championship victory (139 beats per minute) and a few beats shy of Rory McIlroy celebrating after holing a bunker shot on the 72nd hole of the 2022 Masters (143 beats per minute). It's just a few beats shy of when an average adult male walks off a roller coaster.
'MY ATTITUDE IS THAT IF I'M NOT NERVOUS, I'M NOT DOING SOMETHING RIGHT,' SAYS JUSTIN THOMAS. 'IF I'M NERVOUS, THAT MEANS IT MEANS SOMETHING TO ME.'
The modern tour player measures everything he does: stats, swing speed, equipment specs. In recent years, players have taken that approach to the body. Players understand that their ability to stay calm under pressure is influenced by their heart rate, and they are taking a close look at factors that might influence it and, therefore, their focus.
McIlroy, a stalwart for the European team, is perhaps the best current example. An investor in Whoop, McIlroy tracks his sleep and heart rate daily. He also recently wore a glucose monitor in competition to track his blood sugar after noticing that he struggled to maintain focus mid-round. Too much glucose would send his heart beating faster and leave him feeling nervous for no reason. A crash in his blood sugar would make him feel tired and not able to focus. The glucose monitor helped him understand why these spikes and dips were happening and how to smooth them out.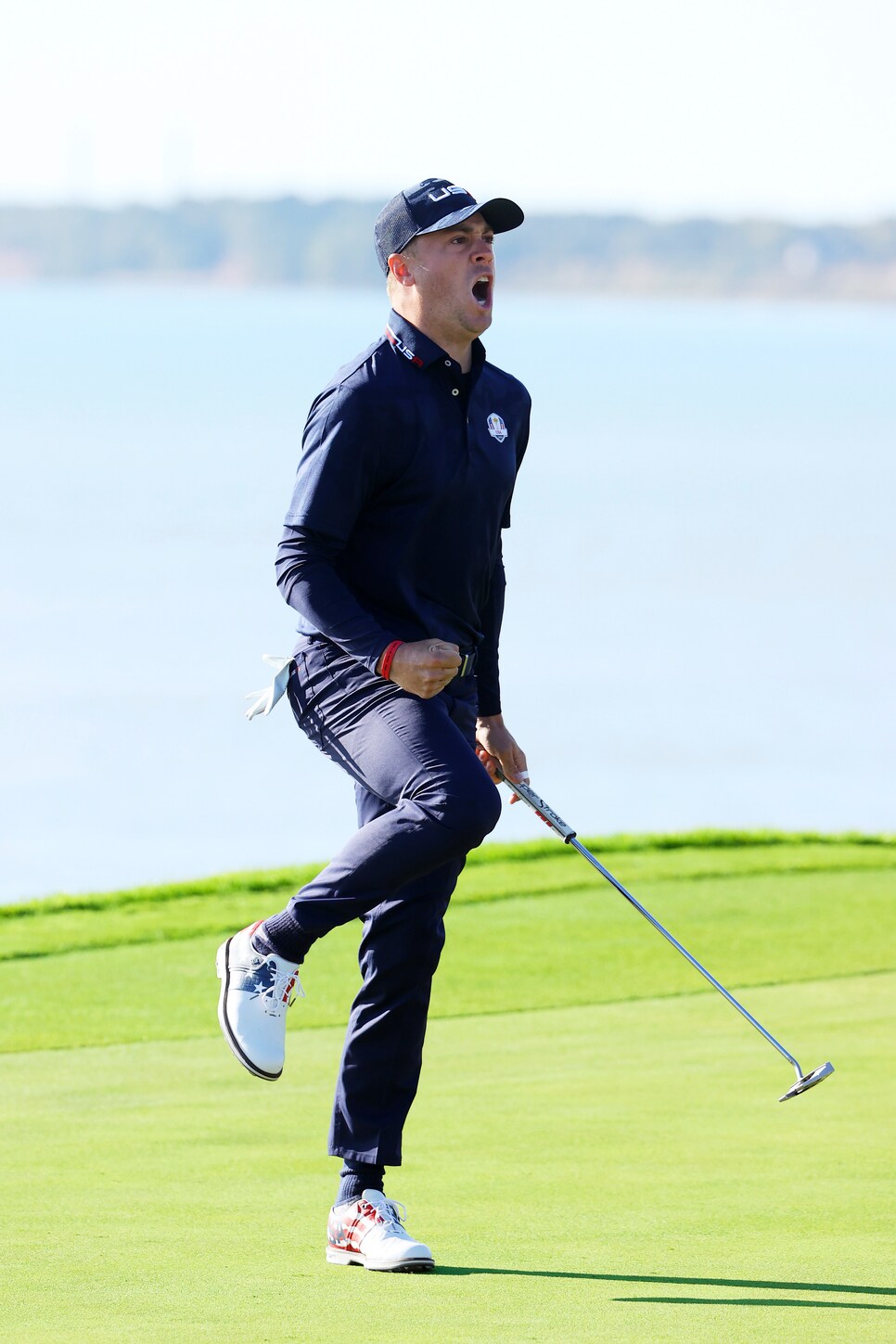 GET EXCITED Thomas, a player who relishes pressure, celebrates during the 2021 Ryder Cup.
Andrew Redington
It was an issue he noticed at the PGA Championship, when a sustained 3.5-degree increase in his skin temperature overnight impacted his ability to sleep and left him feeling groggy and struggling to focus the next day. For McIlroy, his ability to focus and handle pressure comes down to three key habits off the course: more protein, nine and a half hours of sleep with a sleep mask and a hard cap on alcohol. "One glass of wine for me is totally fine, but if I go above one glass, that's when my heart rate will start to rocket up," he says. "I've found that my body responds best if I have protein at the start of the day. Managing my protein intake means I don't have these massive spikes and massive crashes."
Another mind-body health trend has worked its way into both team rooms at the Ryder Cup: cold exposure. McIlroy successfully petitioned then-captain Thomas Bjorn for a cryotherapy chamber in the European team room in 2018. The U.S. team added one, too. Spieth is a convert, as is Brian Harman, who secured his spot on Team USA after a victory at the 2023 Open Championship. Harman ended each round with a five-minute ice bath. Jon Rahm, who finished T-2, did, too.
Cold exposure doesn't just help players' muscles recover, it spurs the brain to create higher levels of dopamine, a neurotransmitter that an emerging body of science suggests improves people's ability to concentrate, control their mood and sleep better. "There's a dopamine-hit effect," says Dr. Harry Sese, a member of Rahm's team. "It helps the body recover, and it helps mental acuity. Players feel great after they do it."
Little upgrades such as these can pay off under pressure. "As far as being a bundle of nerves, I did pretty good," Harman said after his victory at Royal Liverpool.
Whether it's sugar or alcohol, less sleep or more dopamine, the effects of all of the above are just as true for the rest of us. Eat something sugary or imbibe in a few too many drinks on the course, and your heart rate might increase and make you feel inexplicably anxious. However, if you don't eat anything—or experience the post-sugar crash we all know too well—your heart rate will dip, along with your ability to focus. We're all humans, after all. Some might be better at hitting a golf ball than others, but our bodies all work in a relatively similar way.
MANAGING THE RYDER CUP'S COMEDOWN EFFECT
When the heart is beating too fast, like on the first tee at the Ryder Cup, it's harder to focus. Perceiving a threat, the body starts pumping blood everywhere. It's a reaction designed for survival—like running away fast or fighting for your life—not gently rolling a short, delicate, intricate putt into the hole. In moments like these a player will likely call upon longer, slower, deeper breaths to lower his heart rate and get back to his optimal focus zone.
That notion is somewhat obvious, though—most people know deep breaths help when one feels overwhelmed—which is why much of the company's work focuses on the other side of the equation: teaching players to use shorter, shallower, faster breaths to raise their heart rate during low-pressure moments.
"It's common for players to experience a mental lull in the middle of rounds. Their heart rate slows below their optimal range, and the ability to focus their attention on the details is inhibited," Bolhuis says. "Basically, they're becoming bored."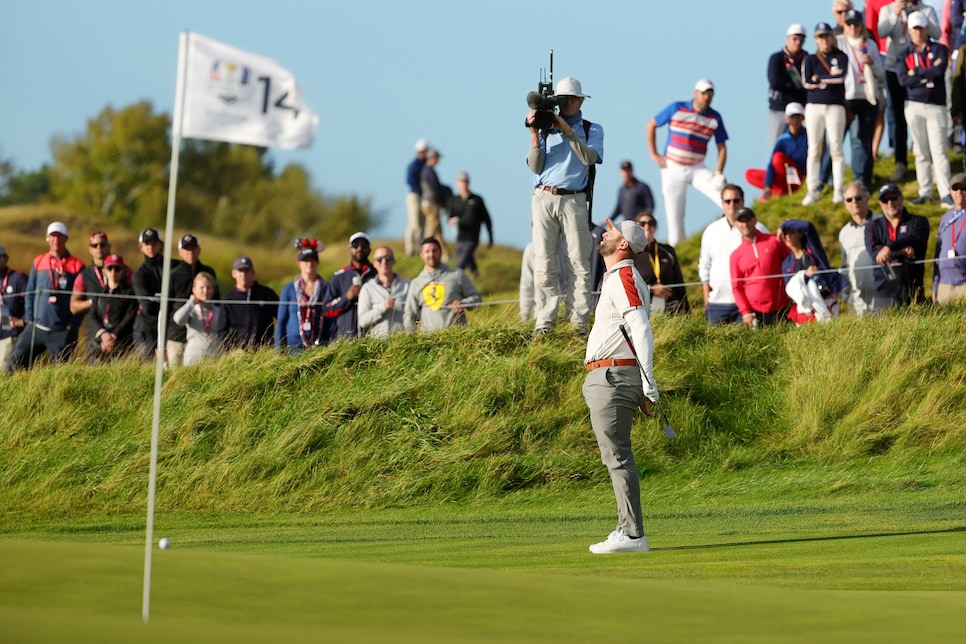 RAHM TOUGH Jon Rahm's 3-1-1 record at the 2021 Matches was one of the few highlights of Europe's loss.
Stacy Revere
Most of these focus lulls, for pros and amateurs alike, happen during the middle of the round. The nerves of getting the round off to a good start have subsided, and the motivation of finishing strong hasn't arrived yet. Learning to keep your attention during those low-stress moments is just as essential as knowing how to handle the high-pressure ones.
During the Ryder Cup, it's less boredom and more of a comedown effect after high-pressure moments. The best example of this could perhaps be seen during the Sunday singles match between Rory McIlroy and Patrick Reed at the 2016 Ryder Cup. A series of birdie and eagle exchanges culminated in McIlroy draining a 55-foot putt on the eighth hole. He celebrated by putting his hand to his ear in an "I-can't-hear-you" gesture to the hostile crowd. Reed followed by dropping a 22-footer moments later and wagged a finger at him from across the green.
We remember that moment but not what happened next: The pair combined for just one birdie on the ensuing nine holes. The match went stagnant, not because of the high-pressure moment but the relatively lower one that followed. "It was tough at the end; it really was," McIlroy admitted at the time. "I ran out of steam."
PRACTICING UNDER PRESSURE
If the contest requires managing the roller coaster of Ryder Cup pressure, players will spend the ensuing months trying to simulate the kind of high-pressure moments they'll experience in Rome. The most common tactic these players use is to set tasks, or challenges, that elevate their heart rate and make them feel nervous. Justin Thomas will try to accomplish this by hitting a certain number of wedge shots within a specific distance. His goal is to get his heart racing faster when he practices than when he plays.
RORY MCILROY RECENTLY WORE A GLUCOSE MONITOR IN COMPETITION TO TRACK HIS BLOOD SUGAR AFTER NOTICING THAT HE STRUGGLED TO MAINTAIN FOCUS MID-ROUND.
Matt Fitzpatrick's attentive nature means he is compelled to log every shot he hits in practice. On the range he will challenge himself to hit shots at a target and log his totals from the day before. His goal is to beat them. He does the same thing from a variety of key distances on the practice putting green. This methodical approach gives his practice some stakes: practicing under the prospect of accomplishment and the threat of failure. "I'm a control freak," he says of his mind-set. "I'm very much obsessive-compulsive and organized."
Jon Rahm has started timing his practice sessions. He found himself setting a hard time limit to complete a task with some stakes. Without the ability to wait out the clock, his nerves started cooking. "It's very difficult to put yourself in that position. It's very hard to be able to replicate the scenarios," Rahm says. "For me, it's all about creating competition. If I can create an environment where I'm competing against myself and put myself in a position of being able to feel the same nerves, pressure is pressure. If I can manage that, I can do it when it really counts."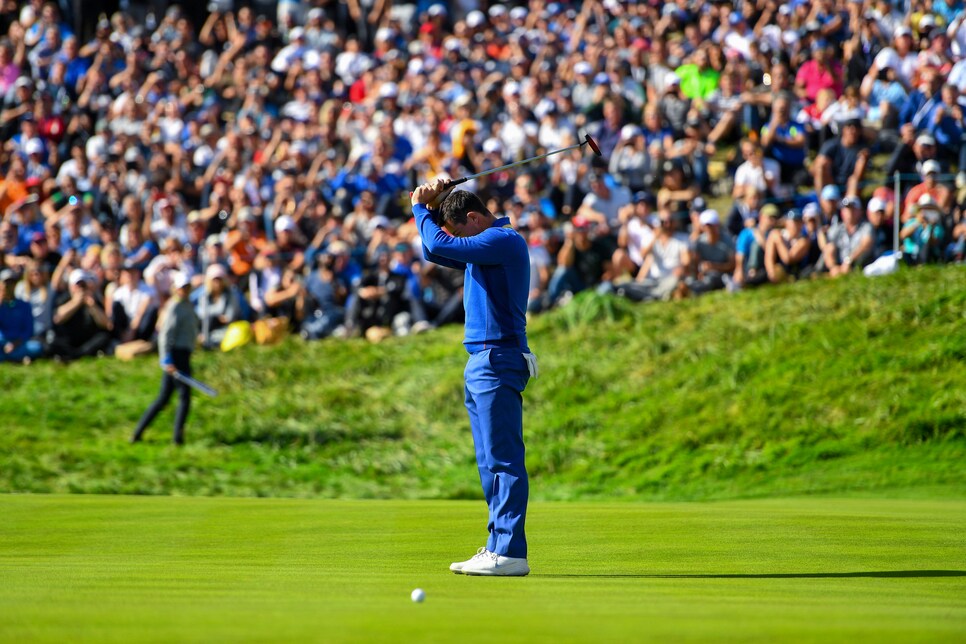 STRONG OF MIND McIlroy says a protein breakfast, limited alcohol and a lot of sleep are his three keys.
Ramsey Cardy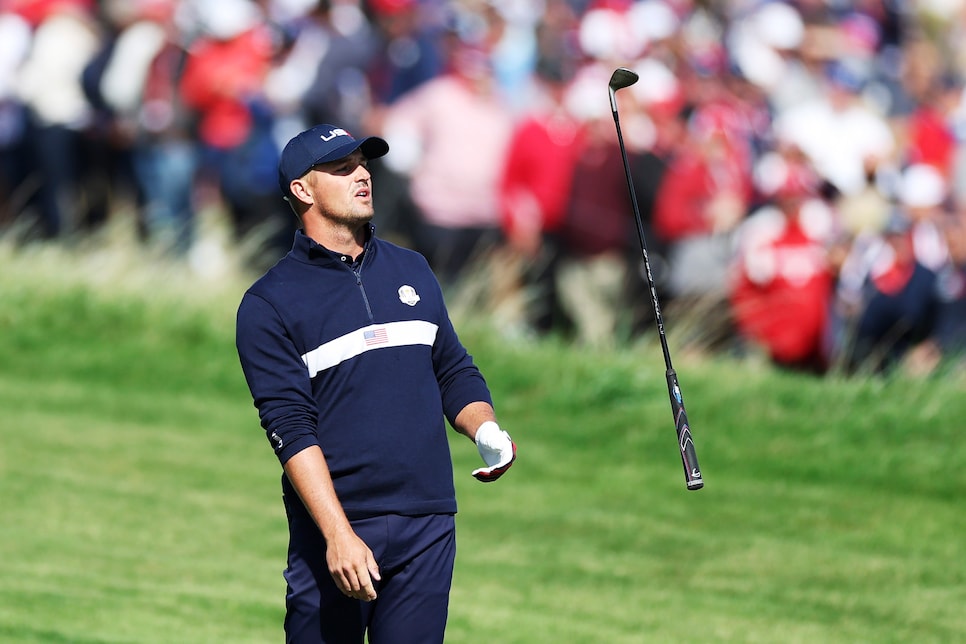 DEEP BREATHS DeChambeau says he uses different breathing methods to calm down or get himself going.
Richard Heathcote
Try as they may—and players like Rahm will—there is no true simulation for Ryder Cup pressure. Captain Zach Johnson knows this all too well. His career is littered with successes under pressure, from green jackets to claret jugs and Ryder Cups. Occasionally players will reach out to him for advice on playing under pressure. His answer is often the same: When the pressure ticks, the only thing you can do is embrace it.
"The players I look at, not only do they welcome it, they relish it, train for it, savor it; they're almost more comfortable in it," Johnson says. "The extreme example is obviously Tiger Woods, but a guy like Brooks [Koepka], it seems to me when the gravity is at its strongest, he seems to bring out his best. DJ seems to do that. Jordan [Spieth] seems to do that. On the European side, Jon Rahm and Rory McIlroy, of course.
HANDLING PRESSURE IS A SKILL, SAME AS HITTING A DRIVER STRAIGHT, SAYS ZACH JOHNSON. IT'S A SKILL GOLFERS HAVE TO DEVELOP AND PRACTICE.
"It's what makes these guys the best players in the world. They seem to almost find freedom and a comfortable zone even when there's an immense amount of pressure," Johnson says. Players who lean into the magnitude of the moment, the ones who train for it and don't see nerves as a burden but an opportunity, those are the players Johnson wants on his team, and they know it.
"My attitude is that if I'm not nervous, I'm not doing something right," Thomas says. "If I'm nervous, that means it means something to me."
Now ask yourself: Is that a feeling you want to experience, too?