Betting Analysis
Ryder Cup picks 2023: Our best bets at Marco Simone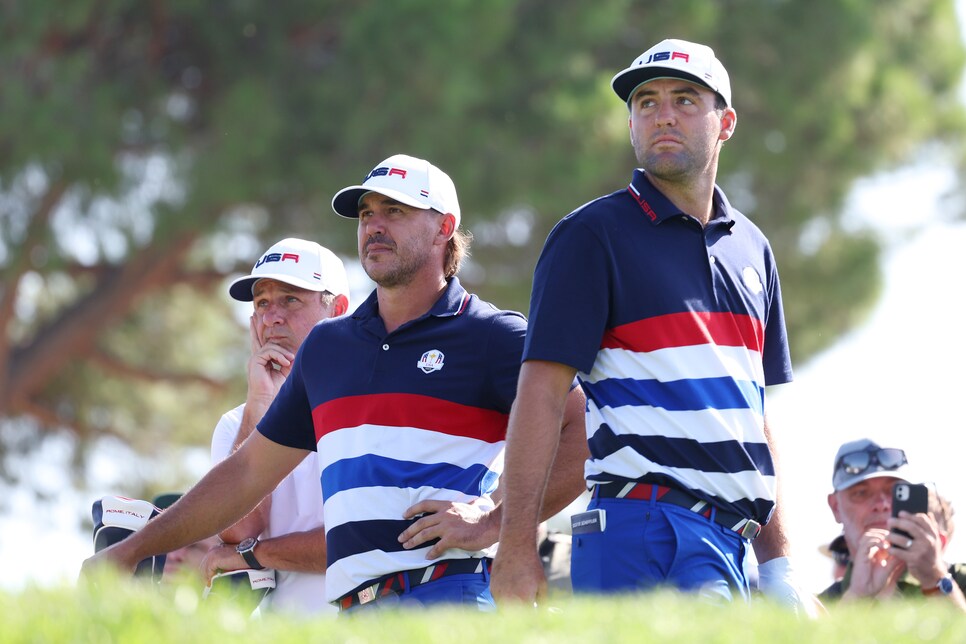 While the Ryder Cup is not a major championship, it has all the vibes of one. The only difference? We have to wait another entire damn day for the action to begin. If you thought the Monday-through-Wednesday overanalyzing was bad, just wait until Thursday.
For now, though, please allow this to be your final, one-stop shop for all your last-minute cramming needs when it comes to betting on golf's version of Duke-UNC. The hatred runs deep here, but if you spread you money around wisely you'll find yourself rooting for everybody on both sides. Here are the plays some of our expert pickers love this week, from winning side to top point scorers to opening tee-shot props and beyond. Enjoy the golf, folks, and as always bet responsibly.
Ryder Cup picks 2023: Team to win the Ryder Cup
Stephen Hennessey, Golf Digest dep. managing editor: Europe to win the Ryder Cup (+100, DraftKings) — The steam has been hot on this one, even this week, dropping from upwards of +120 or +125 a few days ago. I'm sure, like many of us, you took this months ago. Odds were as high as +190 on the Europeans after Brooks Koepka's PGA win. Then the Europeans had a heckuva summer. I'll still endorse taking these really short odds—the sharp money's clearly on Europe to defend their home turf.
Christopher Powers, Golf Digest staff writer: U.S. to win the Ryder Cup (+110, FanDuel) — The drought ends in Italy. Could spend all day writing about how much deeper the U.S. is, how they have three of the current major winners to Europe's one, how the U.S. has dominated in two of the last three and yada, yada, yada. To put it much more simply, it just feels like it's time. And the sweetest part will be European bettors convincing themselves they still made a "great" bet "months ago" because of the "value" after they take the L. Not naming names.
Andy Lack, RickRunGood.com and Inside Golf podcast: Draw (11-1, BetMGM) — I've gone back and forth on this hundreds of times over the last couple weeks. I've reluctantly come to the conclusion that I'm incredibly jealous of the Europe +170 and above ticket holders, but I simply cannot bring myself to bet them at their current price as all value has been lost. If forced to choose, give me the Europeans by a hair. I think this is a banner week for Rory, Rahm, and Hovland. We can all agree that Europe has (at minimum) three of the five best players in the competition, and I'm not as high on the back end of the U.S. team as others. At least on paper, I have Jordan Spieth, Brian Harman, and Sam Burns as three of the weakest course fits at Marco Simone, and all appear to be a major part of the U.S. calculus. On the contrary, my numbers do love players such as Patrick Cantlay and Max Homa this week, who I feel confident will bring their best effort. All in all, I'll bet the draw out of spite. The only scenario in this Ryder Cup that would truly surprise me is a blowout on either side.
Brandon Gdula, FanDuel/numberFire managing editor: U.S. to lift the trophy* (-120, FanDuel) — This Ryder Cup is projecting to be very tight, and the 14-14 tie is a real possibility (around 8.5-percent based on my model). That extra probability goes a long way and makes Team USA -120 to retain a betting value.
(*By betting the U.S. to "lift the trophy," you can still cash the bet in the event of a 14-14 tie, because the U.S. would "retain" the cup and thus, lift the trophy)
Ryder Cup picks 2023: Top U.S. points scorer
Pat Mayo, DraftKings/Fantasy National, Mayo Media Network analyst: Patrick Cantlay (+600, DraftKings) — Sure, you need to be good, but basically everyone is good in the Ryder Cup, so the difference between everyone is match-up optimization. Who is going to play the most? If you play the most, you have the most opportunity to score points. Don't need a PHD in math to unlock that secret. Somehow that gets over looked, though. Cantlay with Xander (And Spieth with Thomas) have the best chance to both play together and see all five sessions, so I'll go with the player best suited for this style of course in Cantlay.
Hennessey: Patrick Cantlay (+600, DraftKings) — We'll take any 'tips' from Fred Couples with a grain of salt, but Freddie says Cantlay is to likely play all four of the first sessions (along with Xander, Spieth and JT). The Cantlay-Xander team is an absolute wagon, but it's possible Cantlay pairs with another talented U.S. player on Saturday, just like he did at last Ryder Cup, where he got a win alongside JT on Day 2. In other words, Cantlay is that guy for the U.S. Take these great odds.
Powers: Max Homa (+900, DraftKings) — While I don't disagree with any of the points above, I do think it's impossible for Cantlay and Xander to keep up the pace they are currently on in these team events. And there are another question marks surrounding JT and Spieth's games that things could go haywire quickly for those two, forcing Zach Johnson to either break them up or sit one of them down. That would open the door for HOMAKAWA, the rumored pairing that I believe could be the U.S. version of Moliwood in Rome. Homa was an absolute wagon in the 2022 Presidents Cup, going 4-0-0 as a rookie. As for Morikawa, who I also like here at +800, he's 5-1-1 in his two appearances in team events.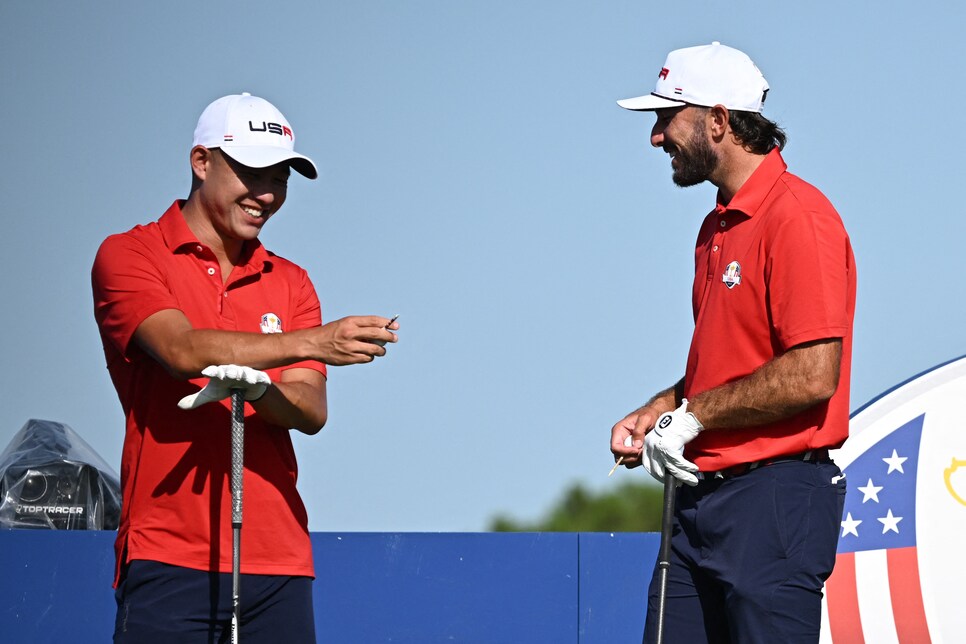 Lack: Max Homa (+900, DraftKings) — I'm fairly high on Max Homa this week as an American who will carry his weight. A lot of chatter has been in the direction of Scottie Scheffler's putter, the controversial Justin Thomas selection, how far Xander and Cantlay can take them, and of course, how Brian Harman has that dawg in him. Homa is the best player in this field inside 100 yards, a rock-solid overall driver of the ball, and an elite Bentgrass putter. While a Ryder Cup rookie in practice, I was heavily encouraged by what I saw last year out of the California native in the Presidents Cup. Unquantifiable narrative alert, but he lives for this stuff. My numbers love a Homa/Morikawa pairing in alternate shot, and are less high on the analytical prospects of Scheffler/Burns and Thomas/Spieth. If by some chance Cantlay/Schauffele catch a tough matchup, this opens up the door for Homa at incredibly appealing odds.
Gdula: Cantlay (+500, FanDuel) — Cantlay feels like a lock for at least four matches, and he and Schauffele as a team are always easy to talk yourself into for points. Cantlay is pretty locked in.
Ryder Cup picks 2023: Top European points scorer
Mayo: Tyrrell Hatton (+650, DraftKings) — Team Europe has three locks to see every match — Rahm, Rory, VIK — at least, we think. It's likely Hatton starts as a team with Rahm and if they win their first match together, I could very well see Hatton earning all five sessions. He's double the price of the others, and in singles play, he's the Euro I trust the most to make a clutch putt when he needs it.
Hennessey: Rory McIlroy (+450, DraftKings) — Doesn't really require full explanation here. He should get paired with another strong European player like Hovland or Lowry. Nobody would be surprised if he doesn't lose a match.
Lack: Rory McIlroy (+450, DraftKings) — It's hard to argue value for the favorite in a market, but I do believe that the Viktor Hovland and Ludvig Aberg hype trains have reached peak capacity, which provides a decent opportunity on both Rory and Rahm, who far more proven Ryder Cup players. I'm not sure there's anything that can remove the bad taste in Rory's mouth from another major-less season, but a 5-0 record on a winning Ryder Cup team may be the closest he can come to vindication. The opening tee shot on Tea Olive is still 195 days away. A herculean performance in Rome will have to suffice.
Gdula: Rory McIlroy (+430, FanDuel) — I know he's the favorite in this market, but Rory has a mission to make up for his disappointing 2021 Ryder Cup. That does mean pressure, sure, but his game is clicking. He, Hovland, and Rahm need to be the anchors for Team Europe, and I'd be a bit surprised if Rory doesn't play all five matches.
Ryder Cup picks 2023: Top U.S. rookie points scorer
Mayo: Sam Burns (+260, DraftKings) — It's as easy as — he's likely going to be Scheffler's partner. Now, if he and Scottie are paired together and they lose their first match, we may not see Burns again until singles and this loses in a big way. But, if he has an opportunity to go out with the world's number one player, and he's not the favorite in the market, you gotta go with that.
Hennessey: Max Homa (+160, DraftKings) — The Homa/Morikawa team isn't getting enough credit. Morikawa is one of the rare top Americans who was in his best form of the year toward the end of the season. And I like that Homa played the Fortinet a few weeks ago. You figure Homa needs to play three of the four fourball/foursomes matches, and I'm hearing there's a possibility Homa might pair with Cantlay on Day 2, so if that happens, I'd really like this bet.
Lack: Wyndham Clark (+260, DraftKings) — I've already highlighted Max Homa in the "Top US Scorer" market, so let's use this opportunity to shoutout the reigning U.S. Open champion. I've heard a lot of Brian Harman buzz this week as the American X-factor, and I simply believe that Clark has a far easier path to success at this specific golf course. Clark is a much longer driver of the ball and long iron player, two of the most highly correlated skills at Marco Simone, and while I don't love him giving Rory bulletin board material with his outlandish recent remarks, only one of the two is currently holding a U.S. Open trophy, and the confidence is inspiring.
Gdula: Wyndham Clark (+250, FanDuel) — While I like Homa (+175) here too after a four-point Presidents Cup, Clark's got the ball-striking and short game to help any team separate, and he's proven he can close under pressure.
Ryder Cup picks 2023: Top European rookie points scorer
Mayo: Nicolai Hojgaard (+350, DraftKings) — Essentially Aberg has crushed the rookie and Euro rookie market, where everyone else is a value now. Yes, Aberg is going to get the first crack, but he's likely to draw Hovland as a partner, who has never won a Ryder Cup match. Things can change, sure, but if they go down in match one, Aberg is going to be out, and the Dane is going to take his spot at a course where's he's win and churned out another top-five finish. If he can win with Hovland (or whoever), he's not coming out again.
Hennessey: Nicolai Hojgaard (+350, DraftKings) — Look at those Wednesday practice-round pairings: Rory McIlroy, Justin Rose and Matt Fitzpatrick all played with Hojgaard. I'd guess out of those four, the Englishmen are the most likely to pair together … so Hojgaard might get to play alongside Rory? I know Aberg is the favorite bet here because he's likely to be paired with Hovland or Rory at least once, but maybe Hojgaard will be, too.
Powers: Sepp Straka (+225, DraftKings) — Aberg this, Hojgaard that. Give me the guy who has legit, contending-in-major-championship-experience already on his resume, not to mention a pair of PGA Tour wins and another pair of near-misses in playoffs. Aberg and Hojgaard have extremely-bright futures ahead, but Sepp has been in the fire before and he won't shy away from it when and if his number is called.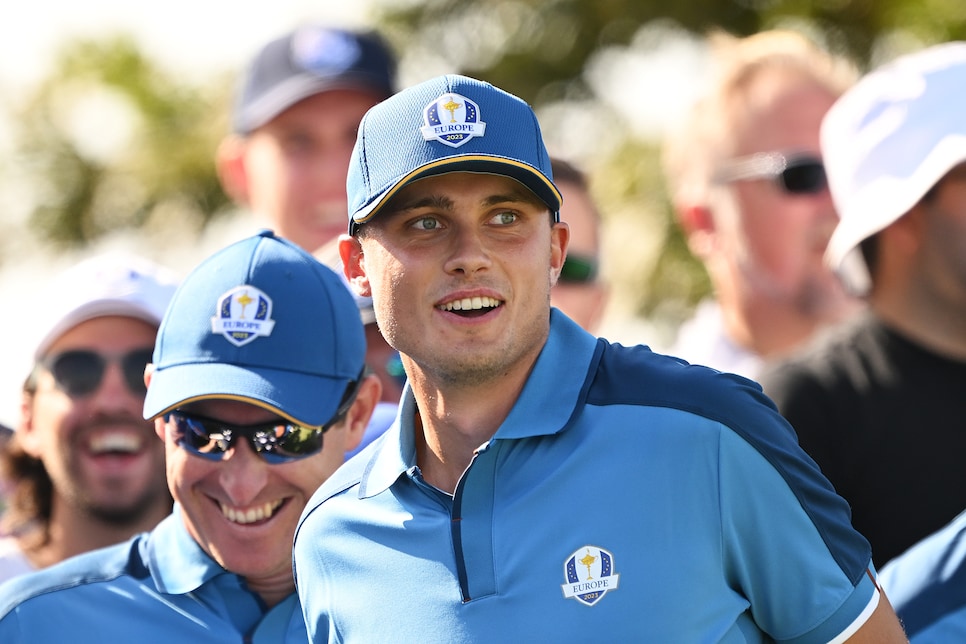 Lack: Ludvig Aberg (+155, FanDuel) — Chalk is the only way I can look on this one. I would not say I'm as fully bought in to the Ludvig hype train as others, but if practice pairings are any indication, it appears that the young Swede will playing a lot of golf with Viktor Hovland this week, and potentially even some with Rory. I have zero evidence that Hojgaard, MacIntyre, or Straka are a fundamental part of Europe's calculus this week, and I would be surprised if any of three were trotted out more than twice before singles. If Ludvig and Viktor happen to impress on Friday morning however, that's a pairing that Europe may ride for all four sessions. Plus money is actually a gift on this one.
Gdula: Ludvig Aberg (+155, FanDuel) — I'm not going against Ludvig. He's easily the most-skilled European rookie according to all the data, and his addition to the team is a clear sign that the 23-year-old should get to play plenty this week.
Ryder Cup picks 2023: Miscellaneous props
Mayo: Brooks Koepka to win 0 points (18-1, DraftKings) — Brooks could easily be the best player on this team, but his lack of natural partner could have him sitting early while more established teams hit the course, and he may just get a leftover teammate and have to come in cold. It's not inconceivable he only gets three matches in Rome if he loses his first.
Hennessey: Tyrrell Hatton to hit the opening tee shot for Europe (+400, DraftKings) — I'll credit our friend Ben Coley from the Sporting Life on this one. He pointed out that Hatton/Rahm is a likely pairing, and Europe likes putting its strongest teams out first. If this happens, it would make sense for Rahm to tee it up on the even holes, as there's a drivable par 4 and some par 5s that are even holes, whereas Hatton—the better iron player—could then tee off first on par 3s. This is all sound logic … meaning a great value at 4-to-1.
Powers: Justin Thomas to be the first American player out on Sunday (+900, DraftKings) — Zach Johnson brought Justin Thomas here to be the heart and soul of the U.S. squad, and nothing says you are the heart-and-soul of the squad like going out first on Sunday. What a turn of events that would be for JT to go through the season from hell that he just went through, and then go nab the first point of Sunday for the American side? I can see it.
Lack: Europe to win foursomes on Day 1 (+150, DraftKings) — One of my favorite aspects of the Ryder Cup is that the hosting team has the ability to pick the order of the sessions. European Captain Luke Donald recently stated that he believes his squad has the biggest edge in foursomes due to their analytics. I understand the logic. If that's the biggest advantage the Europeans believe they have, why not come out of the gate hot and attempt to nag an early lead? Friday morning is also the only session that I can say with certainty that we will see all of the European big guns. Donald has alluded to the hilly and physically imposing nature of Marco Simone, and that he might be forced to rest his strongest players at least once before singles. That rest certainly isn't coming on Friday morning however. Expect the Europeans to get off to a hot start.
Gdula: Jordan Spieth top captain's pick points scorer (+900, FanDuel) — Spieth should be going out with Justin Thomas when Thomas is getting the nod, but that's probably not the only time we'll see him. He clearly wants a win in Europe, and he just went 5-0-0 at the Presidents Cup.