Ryder Cup
Ryder Cup 2023: The stats that explains Jordan Spieth's struggles at Marco Simone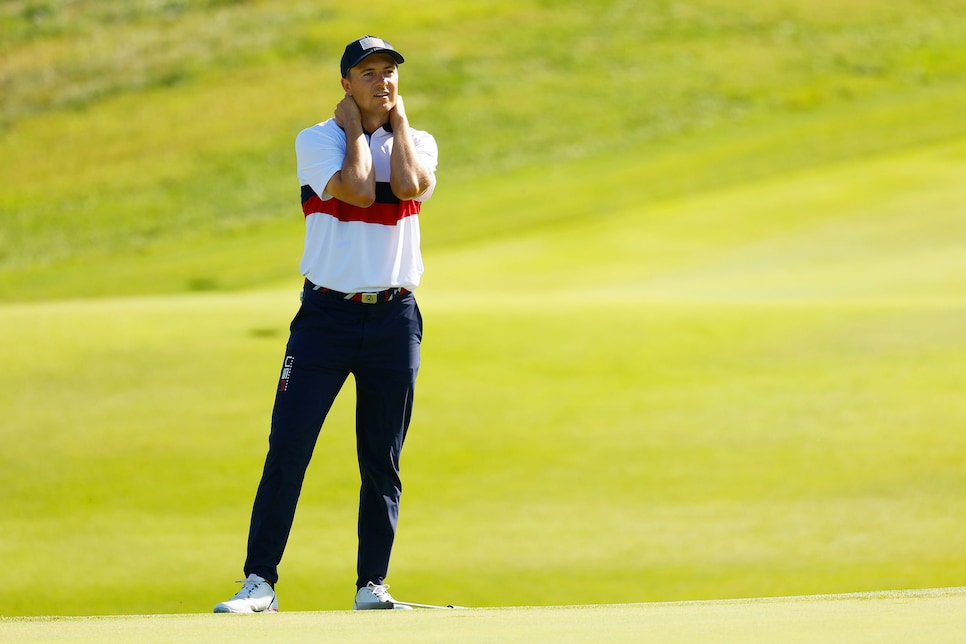 ROME — The unrelenting positivity of Ben Crenshaw is special to witness in person. Rusted-on Ryder Cup fans may remember the then U.S. captain's stirring speech in 1999 at Brookline; when facing a 10-6 deficit Saturday evening, he said: "I'm a big believer in fate. I have a good feeling about this." The U.S. came back Sunday to win one of the most dramatic Cups in its history.
It's a good thing Crenshaw is in Rome. It's even better that he was following Jordan Spieth and Justin Thomas' 2-and-1 defeat to Rory McIlroy and Tommy Fleetwood in Saturday morning's foursomes. Spieth, according to Data Golf, was the worst player in Friday afternoon's fourball session but was sent back out to play in the morning on Day 2 at Marco Simone. At the short par-4 16th, Spieth drove it just short of the green, leaving Thomas a makeable eagle chip.
"I think he can hole this," Crenshaw, now 71, said from beside the green. Thomas didn't, but they converted the birdie to win the hole and open a small window of hope they could steal a point.
On the 17th, Spieth saw Crenshaw for the first time in the match. Crenshaw was standing directly beside the tee when Spieth reached out and grabbed his fellow Texan's arm. It was a gentle handshake from Gentle Ben. Spieth's expression looked like it said, "I'm trying, Ben. I'm trying."
A moment later, Thomas' tee shot put Spieth in impossibly thick greenside rough to which he could only hack out and watch his ball roll off the green. That followed a tense rules exchange with McIlroy. Spieth and Thomas lost the hole and the watch, leaving the pairing the Americans were relying on heavily now 0-1-1 this week.
The question thus surfaces: What is going on Spieth at the 44th Ryder Cup? Statistically, it has a simple answer. In Friday's fourball session (he was sat from the morning foursomes), the 30-year-old playing in his fifth Ryder Cup struggled tee to green. Marco Simone's hilly layout and brutal rough only exacerbated his ball-striking woes; Spieth lost 2.76 strokes off the tee and 3.86 shots in approach on Day 1. He made three birdies early to help his team as Justin Thomas started rusty, but then after the 13th hole, he was in his pocket the remainder of the match. Spieth gained 1.8 around the greens and 0.46 on them, as the duo scratched out a half point against Viktor Hovland and Tyrrell Hatton on Friday.
That half point was perhaps why U.S. captain Zach Johnson sent Spieth out again in Saturday morning's foursomes with Thomas, despite his ball-striking woes. They were no match for McIlroy and Fleetwood, a pairing dubbed Fleetwood Mac.
Fleetwood was asked if Spieth and Thomas looked out of sorts but sidestepped the question.
"Well, me and Rory are a good team as well," Fleetwood said. "Very happy to play whoever it was we were put alongside. We were just very focused on what we were doing. We played very well yesterday. Wanted to come out of the blocks fast, and we did. Just continue to focus on what we were doing, and yeah, I actually thought it was a great match, especially on the back nine."
The U.S. lost the third session 3-1 as Europe extended its lead to 9½-2½. Johnson also sent Spieth out again with Thomas in the afternoon fourball, hopeful that the pair can find some sort of spark. Regardless of the outcome of the Saturday fourball, the U.S. are going to need another Crenshaw motivational speech. Good thing he's here.
MORE FROM GOLF DIGEST @ THE RYDER CUP