Theories
Ryder Cup 2021: Patrick Cantlay has a very Patrick Cantlay theory for why Europe keeps winning the Ryder Cup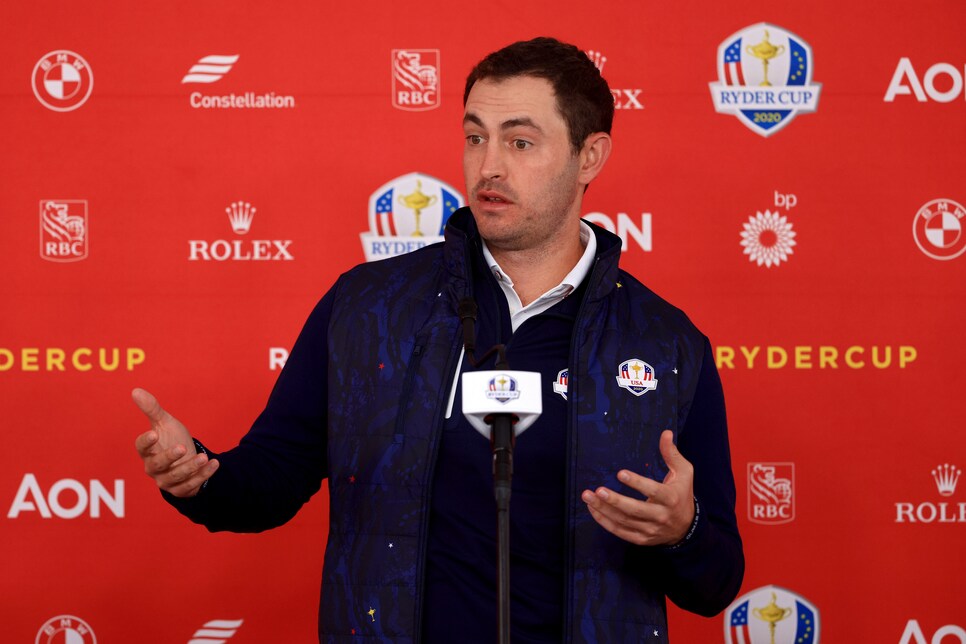 HAVEN, Wisc. — Patrick Cantlay is fast developing a reputation as the deepest thinker in professional golf. Ask the 29-year-old a question and he'll almost always pause, carefully considering his options before offering a cerebral response. His diatribe on social media culture and golf at the Tour Championship went viral, and he offered another Twitter-screenshot worthy answer in his pre-Ryder Cup press conference on Wednesday.
The question was a simple one: Why does Europe keep winning this thing?
The answer involved gin, casinos, probability theory, and the word "trippy." We'll let the reigning FedEx Cup champion and PGA Tour player of the year take it from here.
"So I've read a few gin books. Let's see if I get it right. If you play enough gin hands a one or two percent difference in skill translates to almost an assured win over many, many, many hands of gin. But you could have a big difference between somebody, maybe a 60 to 40 percent skill level difference, and gin is still chancy enough to where you could play ten hands and lose six or seven of the hands than someone that's much worse than you skill-wise.
"Really there's only two—these matches are only played every two years, and golf is very chancy. So would it surprise you if the U.S. went on a similar run to what Europe has been on for the next 20 years. Wouldn't surprise me. You go to Vegas and you play roulette and the chances are 50/50 but skewed toward the house a little, it could hit red six times in a row, but that's not abnormal. You flip a quarter it would be weird if the quarter flipped tails, heads, tails heads, tails heads. Then you would think something trippy was going on.
"I try to take a very long-term view on things like that. Who knows. The captains are different every year. The players are different every year. The venues are different every year. The weather is different every year. You're really going to ask a question like that and think you're going to get the right answer? I don't have the answers to that. This is my first one."
Cantlay will almost assuredly partner with another rookie-by-name-only, Xander Schauffele. The two Californians grew close at the 2019 Presidents Cup, where they played together in all four team sessions and went 2-2-0 before Cantlay beat Joaquin Niemann in singles as part of the Americans' Sunday comeback. The two and their girlfriends took a trip to Napa shortly after the Tour Championship. They're practically best friends.
"So I don't think either of us would have gone out of their way to be friends with each other, but then spending that time together, we realized that we really got along with each other. I think he's incredibly smart, and I think he's incredibly conscientious. He is someone that probably brings out the best in me. He's more positive, and he has a way of being more light as opposed to me being serious.
"Yet he's very quiet and reserved, so we kind of have that bond, and yet he balances me out a little bit. Taking like the trip to Napa was very natural. It was like, I'd really like to spend time with Xander and Maya. That's kind of how that came about. I also feel like with as heavily invested as I get into golf and as focused as I get, it's really helpful for me to have things that I look forward to."
This is Cantlay's first Ryder Cup, but his aura is much more mid 40's veteran than jumpy 20-something rookie.
MORE RYDER CUP PREVIEW STORIES FROM GOLF DIGEST