Scenes from a Slaughter
Ryder Cup 2021: 9 moments that perfectly summed up a lopsided Day 1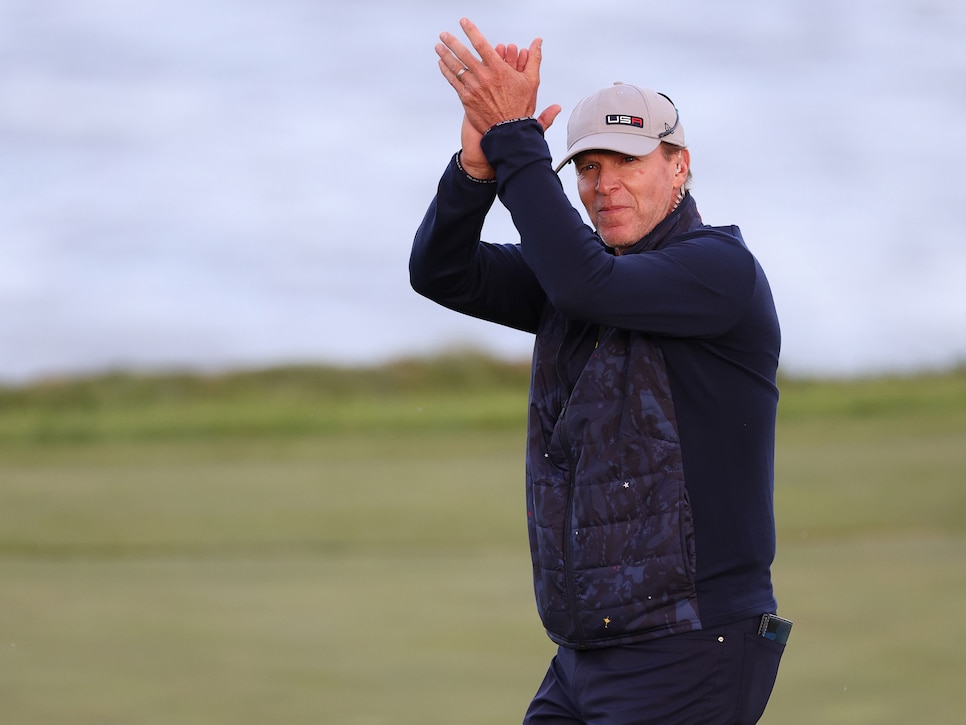 Photo By: Richard Heathcote
HAVEN, Wis. — In the space of four holes, from the 11th to 14th, at Whistling Straits, European vice-captain Henrik Stenson shook hands with Michael Jordan (looking every bit the alpha male with a stogie and a glass of...whiskey? beer?) and Steph Curry, two of history's greatest basketball players. Give or take a Tyrrell Hatton putt, this may have been Team Europe's greatest achievement on a brutal opening day at the Ryder Cup.
It started in darkness at the first tee Friday morning, and it ended in near darkness that night with a half point in the final match that simply wasn't good enough. You know the score: Team USA leads 6-2. It's not quite over, if you're an optimist, but it's about one bad morning from becoming the fourth straight home blowout dating to Gleneagles. (And if you like close Ryder Cups, root like crazy for Europe tomorrow, using voodoo if necessary.)
Steve Stricker pushed every right button, and the carnage took shape over the final nine holes on a long, tense afternoon.
"If we make a move here, we have a chance to do something really special. It could be a wash. This is a big point for both sides."
Those words were spoken by Phil Mickelson on the 14th hole, which isn't that surprising, but his audience was: Steph Curry, again. Wearing his aviator shades, he gave an excellent status report to the Warriors star who was following the DeChambeau-Scottie Scheffler vs. Jon Rahm-Tyrrell Hatton match. Earlier, Phil was spotted chugging a sugar-free Red Bull alongside his wife Amy, and later he would stare at a man in the gallery dressed in a chicken costume who was cawing at him relentlessly. He didn't respond, but Curry would later, looking as casually elegant as ever as he gamely cawed back at the man.
For the moment, Mickelson seemed to enjoy being the official Team USA ambassador to Curry, until it was interrupted by cries of "Fore!" Everyone ducked, and looked for somebody to use as a shield. I used Steph Curry.
There was no shield for Hatton, not from the galleries or the rough state of his play. Jon Rahm carried him, staving off disaster one hole after another in a heroic bid while living up to his World No. 1 ranking. In a classic twist of match play, though, it was Hatton who had the last highlight to himself, burying a birdie putt on 18 after being heckled relentlessly in the lead-up to earn a desperately needed half point for his team.
There is a certain intimacy to Whistling Straits, a product of the various dunes obstructing site lines and the wind muting the roars, that somehow survives even the enormity of a Ryder Cup. If you wanted to nitpick the fans, you could—such as the one who came to the edge of the grandstand behind 18 after Hatton's putt, yelled Rahm's name until the Spaniard was forced to look up. The fan then shouted, "You suck!"
"As do you," Rahm responded, with a quiet and perhaps wounded dignity.
Then, moments later, another fan emerged to tell Rahm he loved him, and to thank the European contingent for coming to Wisconsin. By and large, this was the least intense, least vicious Ryder Cup crowd I've encountered in four trips, and—at least so far—a major improvement on the barbarians at Hazeltine National.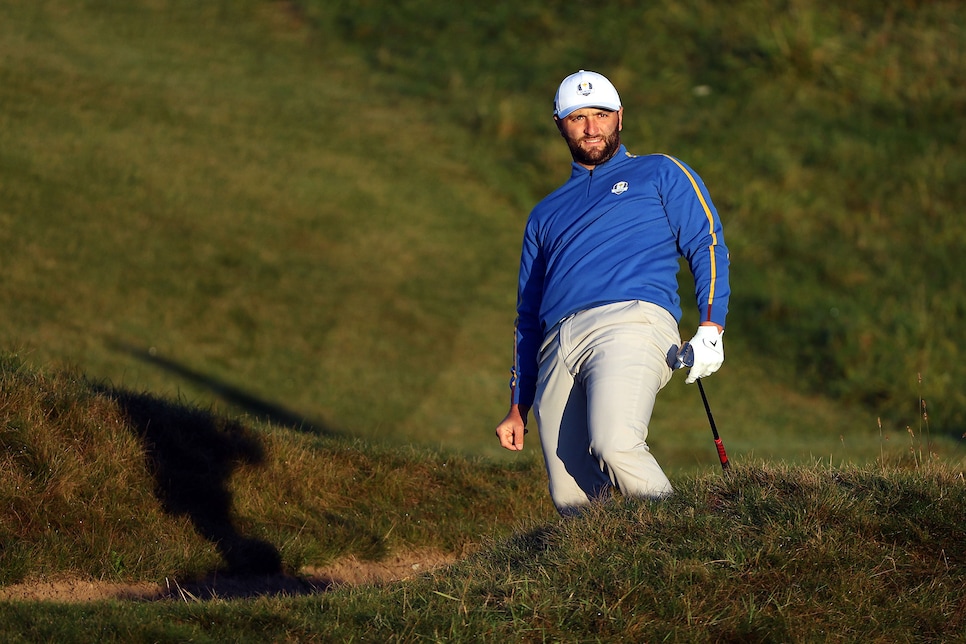 Jon Rahm proved one of the lone bright spots for Team Europe on Friday at Whistling Straits.
Patrick Smith
As BBC radio crackled, informing us that Tony Finau was a one-man wrecking crew who simply would not be stopped, and that Dustin Johnson was essentially the same, Bryson DeChambeau gradually warmed to the crowd. Scottie Scheffler played his straight man to perfection, peppering the fairway all afternoon, freeing up DeChambeau to be, in select moments, spectacular. The drive on the fifth hole still seems beyond belief, but even beyond the individual moments, what stuck out was how the crowd embraced him now that he was part of their team, and how that embracing seemed to delight DeChambeau. Even when they booed him for pulling an iron out of the bag on the 11th tee, it was good-natured, and he was all smiles.
It felt good to see this play out, good to see an on-course experience that wasn't abjectly miserable like the past two months have been. When one rogue "Brooksy!" rang out on the last hole, the culprit was shushed. This may be a temporary reprieve for DeChambeau, but that didn't matter. Not when he stuck his tee shot on the par-3 12th under enormous pressure—Rahm was already in gimme range, and Scheffler had overshot the hole—and the crowd chanted "De-Cham-Beau!" as he approached the green. It exploded again when the double concession came, a moment that will stay with DeChambeau, and us, even if he does something unlikable in the near future and loses the good energy that flowed toward him today.
When the wind picks up and comes in gusts that top 20 mph, and the brown water of Lake Michigan starts crashing into the shore with real force, the course is utterly transformed. The 17th hole, another par 3, becomes an unbelievable theater for the conclusion of a match, as everyone fights the wind in a desperate battle just to reach the front of the green and give themselves a difficult two-putt. At the end of the Johnson/Schauffele vs. Casey/Wiesberger match, the wind defeated the Euros, and the crowd behind the tee smelled blood. Fans roared as the Americans took the tee, and roared louder when both found the green. By the time they made their way to the hole, the place spontaneously broke out into a rendition of the national anthem, and it was clear that victory was imminent in the coming dusk.
Scottie Scheffler won the 10th with a birdie, and his father walked past in a state of delight.
Xander Schauffele's father, a constant presence, never seemed to change his one expression: a daffy, slight smile that seems to fit his wild curly hair as he ambles up and down the fairways.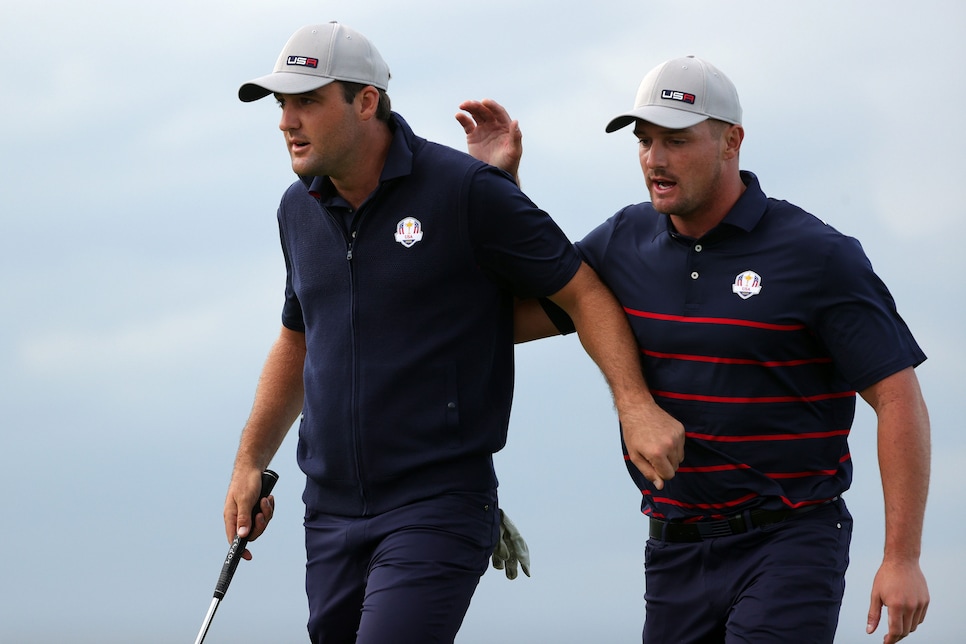 Scottie Scheffler made his Ryder Cup debut Friday afternoon with Bryson DeChambeau.
Stacy Revere
A couple standing outside the ropes by the 18th tee shouted for Steve Stricker, who had been standing in his usual pensive pose as the second-to-last match came to the final hole. He walked over, had a quick chat, and when they started to leave, thinking they'd taken enough of his time, he brought them back with a last question with utter Midwestern sincerity:
"Are you having a good time?"
As both teams sat on the hillside behind the 18th green, among the tall fescue and bluestem grass, Viktor Hovland and Justin Thomas surveyed their birdie putts. With just two critical shots left, the range of outcomes left was remarkable: a three-point deficit if Hovland made and Thomas missed, a five-point deficit if reversed, and a four-point deficit if both did the same thing. In the end, they split the difference with two pars, and when they shook hands, nobody on either side looked particularly happy.
Momentum is real. Around the turn, it seemed like Europe could still hope for a session win. Then, within the space of three minutes, roars came from three different holes: Finau, Scheffler, DJ. Three birdies, three wins and everything looked far, far different. In the Ryder Cup, things happen slowly—and then all at once.
MORE RYDER CUP STORIES FROM GOLF DIGEST