News
Ryder Cup 2018: What are the odds of Team USA pulling off a Brookline-esque comeback? Here's what the experts are saying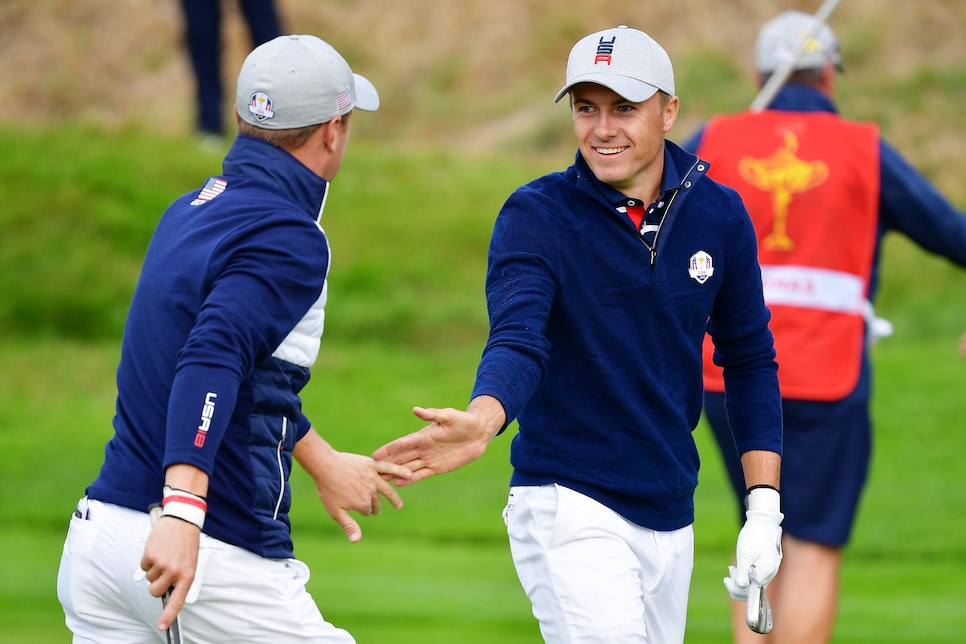 Do the Americans have a Brookline-like comeback in them? Since going up 3-1 after the first session, it's been a tough Ryder Cup for Team USA—being outscored 9-3 in the past three sessions—as they trail 10-6 heading into Sunday's singles at Le Golf National.
If you're an astute Ryder Cup fan, you'll note that 10-6 was also the margin after Saturday in both the 1999 U.S. comeback at Brookline, and the 2012 Miracle at Medinah when the Europeans came back. So it's not an impossible feat that faces the Americans, but it's also a tall task.
How tall of a task, you ask? According to the odds, a very tall task. Every sportsbook is different, but the best odds we've seen put the Americans at 6-to-1 for earning enough points (they'll need to win eight of the 12 matches tomorrow) to retain the Ryder Cup.
Here are the odds (note: -200 indicates you need to put $200 to win $100; +200 indicates you would win $200 by betting $100):
Odds to Win (via FanDuel Sportsbook):
USA: +650
Europe: -700 Tie: +1100
Odds to Win (via DraftKings):
USA: +800 Europe: -670 Tie: +1200
Team to Win Singles (DK):
USA: -121 Europe: +130 Tie: +800
As we said, not insurmountable odds. But not likely ... the Americans will need some magic in France.
Here are the matchup odds for Sunday's singles (via Westgate Las Vegas and GolfOdds.com):
Justin Thomas -115 Rory McIlroy -105
Brooks Koepka -125 Paul Casey +105
Webb Simpson +140 Justin Rose -160
Tiger Woods -120 Jon Rahm Even
Tony Finau +130 Tommy Fleetwood -150
Dustin Johnson -140 Ian Poulter +120
Jordan Spieth -190 Thorbjorn Olesen +160
Rickie Fowler -120 Sergio Garcia Even
Phil Mickelson +180 Francesco Molinari -220
Patrick Reed -120 Tyrrell Hatton Even
Bubba Watson +130 Henrik Stenson -150
Bryson DeChambeau-110 Alex Noren -110