News
Ryder Cup 2018: Tiger Woods-Patrick Reed, Jordan Spieth-Justin Thomas pair up in alternate shot practice round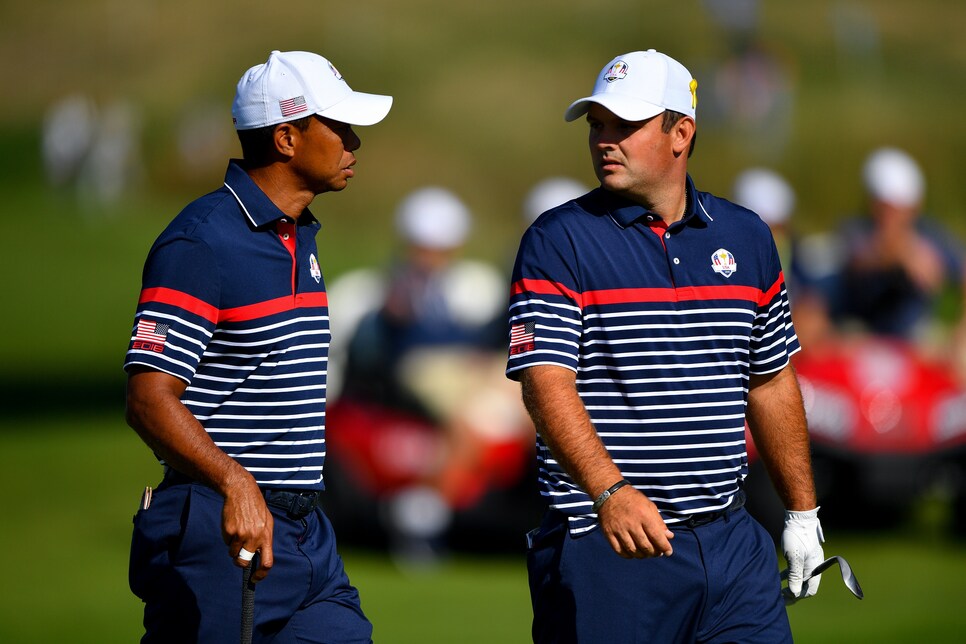 The United States Ryder Cup team has put an onus on simulating tournament rounds during practice days the past decade. So, reading the tea leaves from Thursday, the Americans appear to be set on splitting up their dynamic duo.
Jordan Spieth and Patrick Reed, who have played eight matches together in the last two team events, were practicing with other partners during foursome (alternate shot) rounds, with Spieth coupled with Justin Thomas and Reed tied with Tiger Woods. That goes in line with what's been on display the entire week, as Spieth/Thomas and Reed/Woods have played together every day. All four were in the same group Thursday morning.
To be fair, there's a chance captain Jim Furyk doesn't want to telegraph his pairings, although given that Reed and Woods play different balls, that would be an odd mechanism for preparation. Moreover, Furyk can mix his match-ups throughout the weekend, meaning Spieth and Reed could find their way back to each other in fourball (best ball) or in a Saturday grouping. However, there have been rumblings throughout the summer, amplified at East Lake, that Spieth and Reed would separate in Paris. Together they won 3.5 points at Liberty National and 2.5 points at Hazeltine.
Woods, coming off his first win in five years, doesn't have an immaculate record in foursomes at the Ryder Cup, racking up a 4-8-1 mark. (With the fourball not looking much better at 5-8-0.) The games of Woods and Reed do complement each other for a seemingly formidable attack. On the other end, the rapport between Spieth and Thomas has been well documented, and their abilities to go low (Thomas ranks fourth in birdie average, Spieth 10th) should produce a fair share of red figures.
Other pairings of note during the alternate-shot format were Phil Mickelson and Bryson DeChambeau, Dustin Johnson and Rickie Fowler, Tony Finau and Brooks Koepka and Webb Simpson and Bubba Watson.
The pairings for Friday's morning session will be officially announced Thursday afternoon.