News
Ryder Cup 2018: The Phil Mickelson foursome risk did not work out well for the U.S. on day one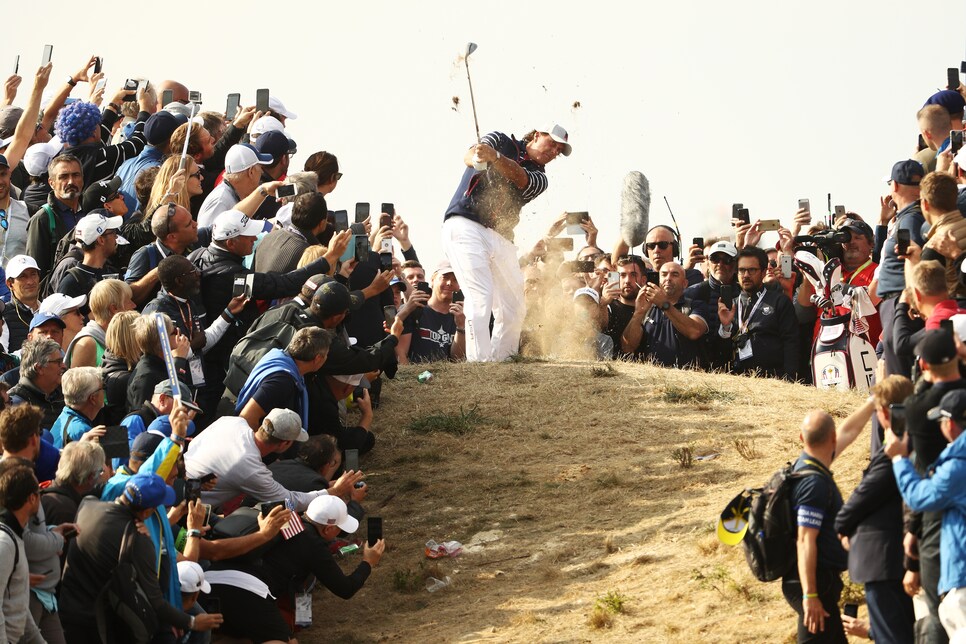 SAINT-QUENTIN-EN-YVELINES, France – A seemingly bad idea turned out to be, well, pretty bad.
After leaving Phil Mickelson out of Friday's morning four-ball session, conventional wisdom dictated that the veteran left-hander wasn't likely to play at all on the opening day. A season of struggle off the tee – he ranked 192nd on the PGA Tour in driving accuracy out of 193 players – had to set off alarm bells, flashing red lights and NORAD's early nuclear launch detection system and, thus, preclude Mickelson's participation in foursomes Friday afternoon.
Somehow, U.S. captain Jim Furyk and his brain trust missed them all. Or they figured that Mickelson's experience and recent penchant for bringing a higher level of performance to the Ryder Cup and Presidents Cup would cancel any potential troubles and lead to a successful outing with rookie Bryson DeChambeau.
Instead, they bogeyed four of their first eight holes, trailed 7 down after nine holes to Sergio Garcia and Alex Noren, and ended up contributing to the worst session defeat in Ryder Cup history. It wasn't just that Europe won all four foursomes matches to flip a 3-1 deficit into a 5-3 lead, but no match reached the 17th hole. That's never happened before.
Perhaps another team would have met the same fate when Garcia and Noren combined to go out in 5-under 31 on a breezy and cool afternoon at Le Golf National. But, then again, perhaps another team could have countered the Euro run more effectively. Mickelson, 48, fell to 18-21-7 in his Ryder Cup career, passing Furyk for most American defeats.
As it stands, the decision to make sure all 12 players saw action Friday didn't work out as intended. And it could end up being a fatal blow to America's hopes.
What was the thought process there, particularly in regards to Lefty? Assuming there was one.
"He's got a lot of experience," Furyk began. "Most experienced Ryder Cupper of all time. I think his four-ball record is a little better than his foursomes record, but I realize the golf course is tight. I realize you have to hit a lot of fairways. It's also a place where you're probably not hitting a lot of drivers if you're Phil Mickelson, and you're hitting a lot of 3-woods and a lot of irons.
"Looking at his game, he's a very good iron player, so I felt comfortable," Furyk continued. "Bryson is a good ball-striker. I felt comfortable putting them out there. They practiced a lot together. You know, I've heard, I guess some of the rumblings and been aware their scores were pretty similar to pretty much the best scores we had on the team today. I have all the confidence in both of those players, and I have so much confidence in Phil in his ability to take a young player like Bryson and help him out, and also, it's Phil Mickelson, major champion. He's got a lot of experience, and I put that confidence in him."
So much so, it appears, that Furyk summed it by saying, "I'll be honest. I'd do it again. I have a lot of confidence in all 12."
Maybe so, but Furyk said that Saturday's afternoon foursomes pairings aren't etched in stone and that, "we're going to make the decisions that are best for our team, and our players are all on board for that. They want an opportunity to be put in position on Sunday to have a chance to win the Ryder Cup."
No one can question that Furyk likely has given the U.S. its best chance to regain the momentum in morning four-ball. While European captain Thomas Bjorn rejiggered his lineup slightly, Furyk's four teams are no different than the four that provided a 3-1 lead before the foursomes folly.
Tony Finau and Brooks Koepka again lead off for the Yanks while Dustin Johnson and Rickie Fowler return to the No. 2 hole. Batting cleanup are Jordan Spieth and Justin Thomas, trading places with Tiger Woods and Patrick Reed.
The way it stands now, however, chances are that America's afternoon foursomes might include some combination of these eight players, with Furyk's initial plan of keeping any of his 12 players from competing in five matches blown up by Friday's dreadful afternoon: Woods, Koepka, Finau, Spieth, Reed, Thomas, Webb Simpson and DeChambeau.
It would not be surprising at all to see the proven entity of Spieth and Reed reunited for foursomes if things start looking dire. Then Woods can pair with DeChambeau, rumored for months to be a strong pairings possibility. And who's to say for sure Simpson plays? Perhaps Furyk rolls out the Thomas-Fowler pairing from the Presidents Cup at Liberty National, where that duo was 2-0-1.
Furyk was right when he cautioned that it was no time for USA to panic.
"You know, you've got to look at it, we played for eight points so far out of 28," he said. "The event's still pretty young. We've got one more team format tomorrow and then the singles. Eight out of 28, you know, pretty small percentage of this golf tournament been played."
Furyk is a smart guy. He has smart people around them. But that won't do any good unless they heed the advice of another one of their own.
"We just have to go out and play better. And we will." So said Phil Mickelson.