News
Ryder Cup 2018: Rory McIlroy is trying to ditch the mental baggage of a confounding 2018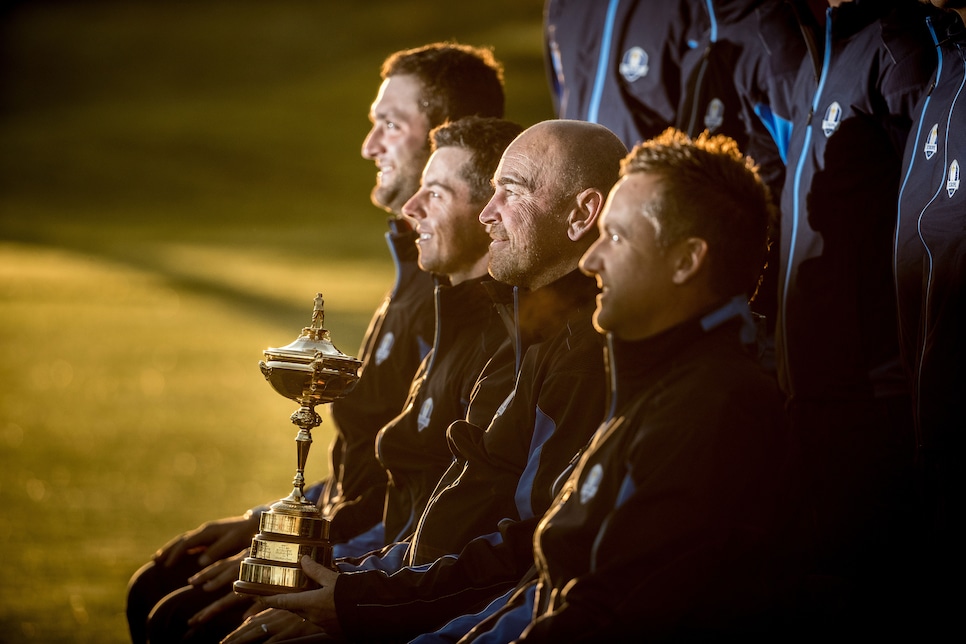 SAINT-QUENTIN-EN-YVELINES, France—At just 29, Rory McIlroy is already playing in his fifth Ryder Cup at Le Golf National. Not even Tiger Woods and Phil Mickelson matched that kind of experience by such a young age.
But with experience comes expectations, something that McIlroy wrestles with as he settles in this week after a 2018 season in which he's had moments of success and failure, sometimes in the same tournament. For the Europeans to prevail in France, McIlroy no doubt will need to step up and be a veteran presence that captain Thomas Bjorn can lean on. Given McIlroy's recent form, the task is tougher than it might appear.
The last time the U.S. and Europe met in the Ryder Cup, McIlroy and Patrick Reed played a match for the ages. Reed went on to win, 1 up, and so did the Americans, snapping a three-match losing streak against the Europeans, which had won six of the seven previous competitions before getting thumped at Hazeltine National, 17-11.
It also turned out to be a forbearer to the sequel between the pair earlier this year at Augusta National, where McIlroy entered the final round of the Masters trailing Reed by three but quickly cut it two with an opening-hole par save from jail, while Reed made bogey. One hole later, McIlroy had a chance to apply real pressure after hitting his second on the par five to three feet. He missed, though, and the final-round fade was soon on with McIlroy shooting a 74 and Reed going on to slip his arms into golf's most famous jacket.
"If he makes the putt on two, we're tied and it's a brand new ballgame," Reed said later. "But he missed, and I still had the lead and that gave me a chance to take a deep breath."
Indeed, that has been McIlroy's fate for much of the year. On a half-dozen occasions he has played in the final group in the final round of a tournament. All six times he went in reverse by day's end.
The latest of those came Sunday at East Lake, where the Northern Irishman entered the final round of the Tour Championship three strokes back of leader Tiger Woods and paired with the 14-time major winner in the day's last group. Woods shot one-over 71 to win by two over Billy Horschel, while McIlroy imploded with a 74 that included three bogeys, a double bogey and just one birdie in his first eight holes as he tumbled into a tie for seventh.
"That East Lake rough was really tough," McIlroy joked on Wednesday from Le Golf National, site of this week's Ryder Cup, when asked if intimidation of playing alongside Woods played a role in his latest letdown. "That was the most intimidating part about it. Started hitting a few drives left and right early, and I didn't actually have quite a good view from the trees on Sunday. I couldn't really see what was happening too much."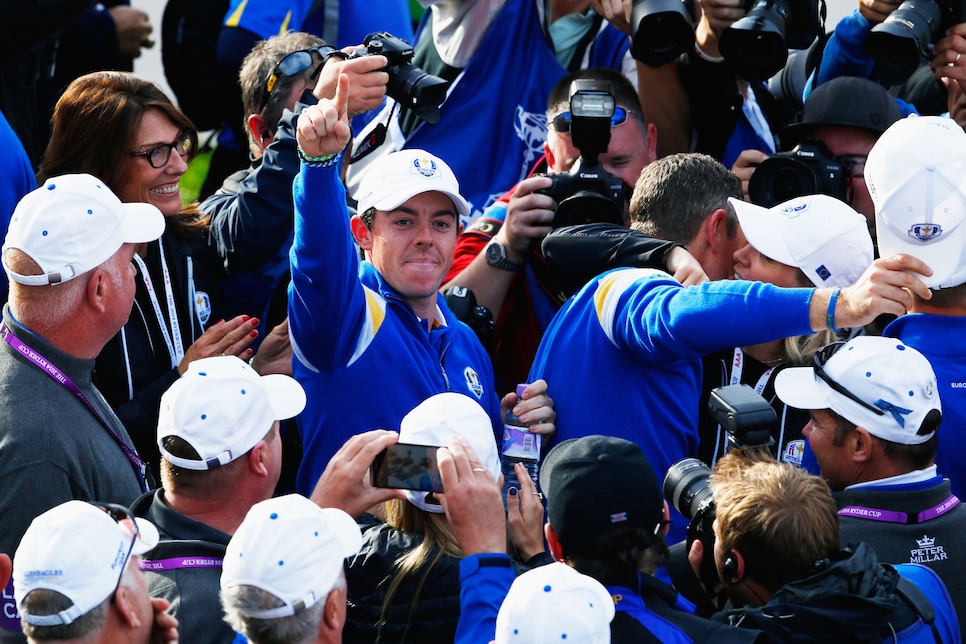 Harry Engels/Getty Images
Even when he could, he didn't fare any better. On the opening hole, after Woods split the fairway with a club-twirling tee shot, McIlroy bombed his drive 25 yards by Woods, also down the middle. Woods then stuck his approach to 10 feet and the crowd erupted. McIlroy's response? A wedge to 50 feet. Woods made birdie, McIlroy didn't and that was that. Again.
It was also the second time in as many starts that McIlroy had faltered, having played in the final group of the BMW Championship and, trailing Justin Rose by a stroke, shot a fairly ho-hum two-under 68 on a waterlogged Aronimink to miss out on playoff with Rose and Keegan Bradley by two strokes.
The rose-colored glasses view would be that McIlroy has played a lot of really good golf this year to have been in that position so many times, and to an extent that would be true. The cynic's stance would be that he's not mentally tough enough when the going gets tough, and given the body of work there can be an argument made toward that as well.
Like with a lot of viewpoints these days, though, the truth lies somewhere in between. McIlroy is already a Hall-of-Famer with 14 titles on the PGA Tour, another seven on the European Tour and four majors among his victories. One of those came at the 2014 PGA Championship at Valhalla, where he started the final round with a one-shot lead and, with darkness fast approaching and Phil Mickelson and Rickie Fowler breathing down his neck, played through Mickelson and Fowler on the final hole, closing with an up-and-down par from the sand to win by one.
This year at Bay Hill, McIlroy trailed Henrik Stenson by two strokes going into the final round. He closed with the day's best score, a 64, to win by three over Bryson DeChambeau.
The loss to Reed at the last Ryder Cup notwithstanding, McIlroy has also tallied an impressive record in his four appearances in the biennial matches. Playing in every session but one and on every team since 2010, he is 9-6-4, which includes a 2-1-1 mark in singles.
All of which begs the question: What should we expect should Reed and McIlroy meet again in a critical match come Sunday at Le Golf National? Recent history would suggest a similar outcome, though anything can happen in match play.
One thing is certain, however.
"It looked tiring to have to play golf like that for three days," McIlroy said of the energy he expended against Reed that afternoon, and in other matches throughout the week, two years ago at Hazeltine National. "So I think I learnt a lot from that. It's good to get excited and it's good to have that, but at the same time, if I need and have to be called upon to play a late match on Sunday or whatever it is, I want to have all my energy in reserve so that I can give everything for 18 holes because I did hit a wall that back nine on Sunday, and it cost me."
But that's something that can't happen again this year. Not if McIlroy wants to be a significant contributor to another European victory.