News
Ryder Cup 2018: How the U.S. can still win on Sunday after a no good, rotten, very bad Friday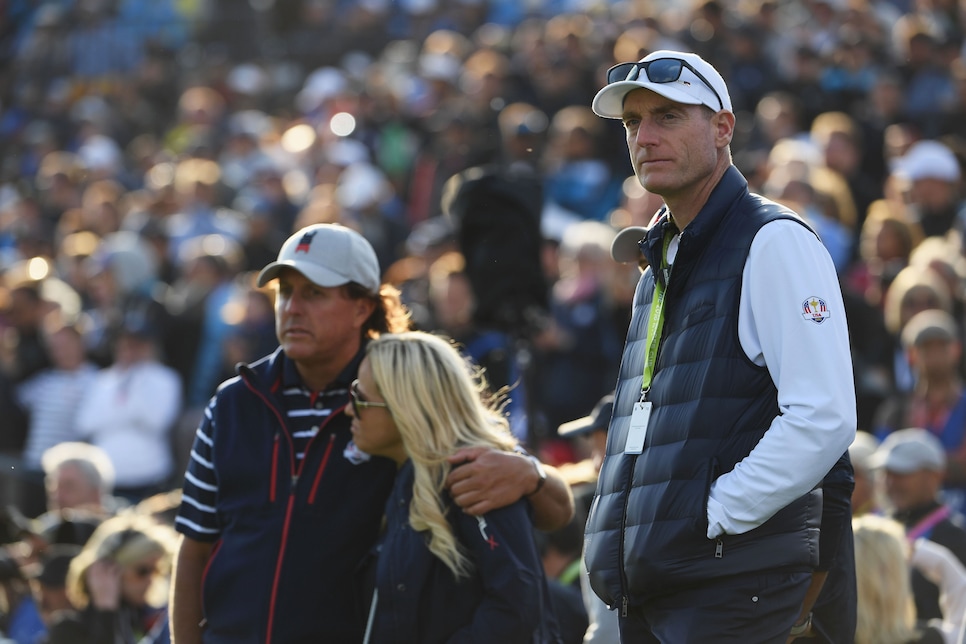 SAINT-QUENTIN-EN-YVELINES, France—There are a few ways to respond to the kind of smackdown Europe laid on the United States during Friday afternoon's foursomes session at Le Golf National, quickly changing the complexion of the 42nd Ryder Cup.
• Forget about it, get a good night sleep and come out fighting on Saturday.
• Assess what went wrong, adjust and come out fighting on Saturday.
Needless to say, which path Jim Furyk and the fellas choose to follow will largely decide whether the Americans can still fly home with the trophy come Sunday night. And make no mistake, they still have a good chance of winning this thing. Not as good as they hoped, or that could have been, but still good.
Choosing panic, of course, doesn't make any sense. They can leave that to all of their close personal friends on Twitter, who couldn't jump off the U.S. bandwagon quick enough as the blue tide began to rise on the leader board. While the Americans were swept 4-0 in the afternoon—the first time that had ever happened in any foursomes session to the U.S. in Ryder Cup history—the 5-3 overall deficit they face after Day 1 isn't impossible to overcome.
Forget about it, actually, isn't quite as outlandish as it sounds. Maybe it just wasn't the Americans afternoon. That can happen. Furyk has spent months working on his strategy as captain to lead this U.S. squad to its first win on the road since 1993. Just one day earlier, he was supremely confident that his crew had the talent and the capability to get the job done. Should nine hours of play really change things that much?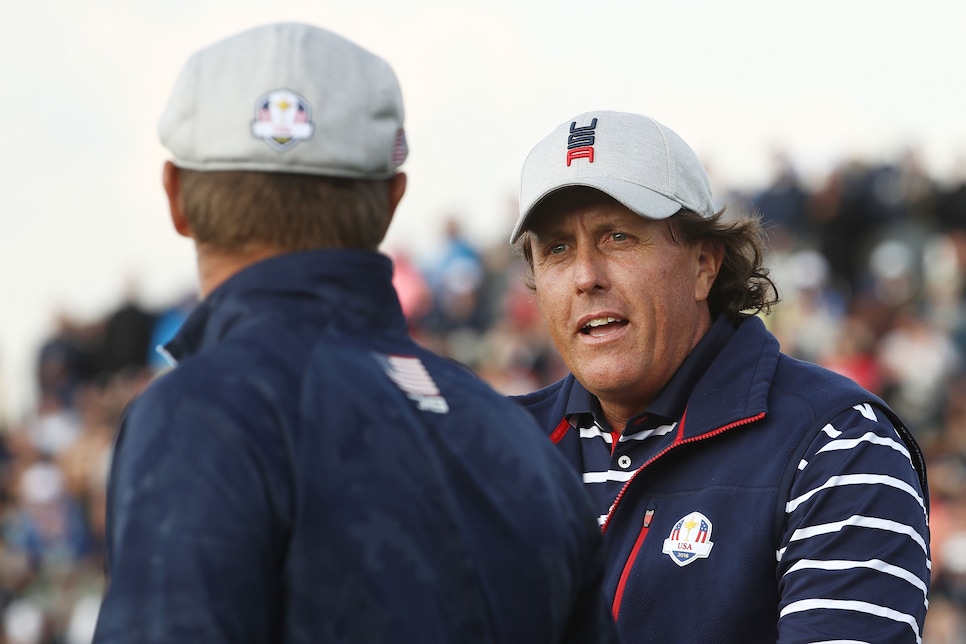 Jamie Squire/Getty Images
The problem with that is just how much of a no good, rotten, very bad Friday afternoon it was. The Americans played a collective 12 over par compared to Europe's four-under total. Every American pair was at least 3 down at one point during their matches. No match made it to the 17th hole. Heck, two of the matches didn't even get to the 15th, taking away the potential for any scare from the Loop of Doom.
The damage was done on the front nine, where the Euros combined to win 18 holes while the Americans could only take three. The duo of Phil Mickelson and Bryson DeChambeau, who both sat out morning four-balls, halved the first hole with a par then lost seven of the next eight holes. Granted, their opponents, Sergio Garcia and Alex Noren, played out of their minds, making five birdies over those nine holes, but this wasn't what the Americans drew up.
It's foursomes, you say. The American never play great in foursomes. True, except they were the ones who went 4-0 in the format on Friday at Hazeltine, a large reason why they were able to roll to the overall victory two years ago.
So if you agree it's time for Furyk to make adjustments, what should he be looking for? Well, he probably needs to bench Mickelson all day Saturday. He didn't put him in the lineup for morning four-balls, and Mickelson's inconsistent play makes him too much of a foursomes liability. And Bubba Watson shouldn't return to the lineup until Sunday either. He's under the weather and it showed. If that means pairing Simpson and DeChambeau, or even putting Tiger Woods with DeChambeau Saturday afternoon, maybe that's the way to go.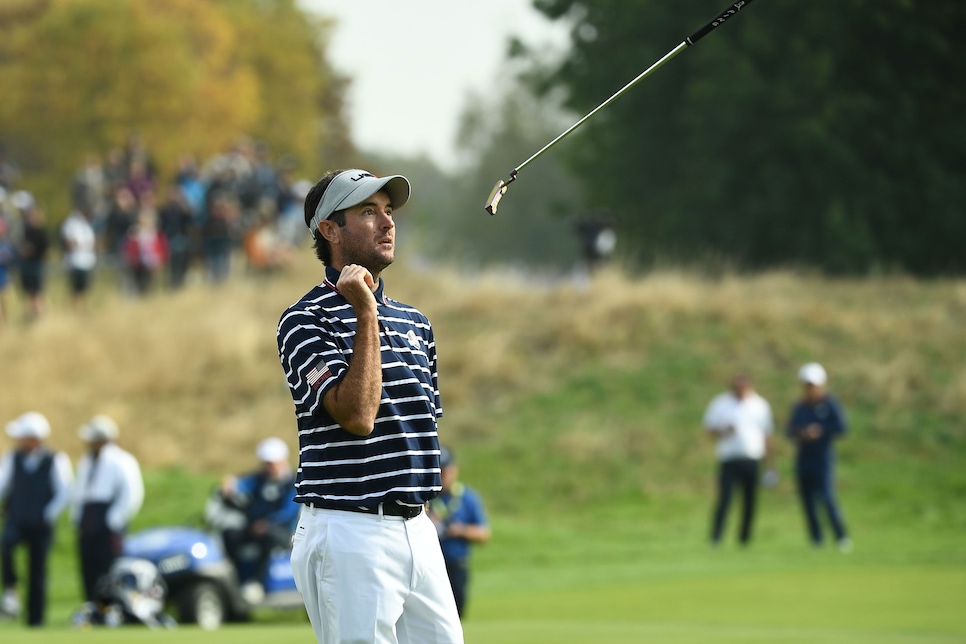 From the looks of it, though, Fuyrk might actually be going with the "forget it" scenario, at least through the morning. His four Saturday four-ball pairings are all the same as Friday, except he moved Patrick Reed and Tiger Woods into the No. 3 match and dropped Justin Thomas and Jordan Spieth back to No. 4. And his initial summary of the day spoke to that sort of mindset.
"If we lost both sides 2½-1½, and this thing were 5-3, we would still be in the same place, but I'm sure you all would have a little bit different looks on your face about how it happened," Furyk said. "In the afternoon going 4-0 is significant."
Coincidentally, the Europeans were in the very similar circumstances after the morning four-balls session on Friday, falling behind 3-1 after a series of miscues down the stretch on the Albatros Course. The difference perhaps is that the morning matches were tighter, several turning on the last few holes.
"We actually didn't feel all that bad [at lunch]," said Francesco Molinari, who with Tommy Fleetwood won both in the morning and afternoon. "We felt we had a shot to win a lot of those matches, so we weren't disappointed."
"We didn't play our best golf," Furyk said. "What happened, I think it happens a lot in golf, is the momentum. You start seeing those putts go in. You start seeing the birdies. You start seeing the blue numbers on the board. I think the guys press a little hard. I think they try a little bit too hard and I think they put a little bit too much pressure on themselves."
And that's the real trick. More than any lineup adjustments, Furyk needs to settle his guys down and let them know that this thing isn't over, unless they choose the panic route. Only a third of the points have been decided so far. Instead of having Michael Jordan talk to the team tonight, Furyk would be better served to get Mariano Rivera on the phone to help his team figure out how to get past a blown opportunity.
At the risk of hyperbole, how this group responds tomorrow is a big deal. A really big deal. Saturday will be a genuine test for the young players on the U.S. squad, guys like Brooks Koepka, Rickie Fowler, Justin Thomas, Jordan Spieth and Patrick Reed who like to make a point of saying they don't have the scare tissue that other Americans have carried because they weren't actually on those teams that got their brains beaten in the 2000s and early 2010s.
Indeed, this group hasn't necessarily faced this kind of adversity in team competitions; the Americans led after every session at Hazeltine in 2016 and last year at Liberty National during the Americans' Presidents Cup romp. Spieth, Reed and Fowler were at Gleneagles, which was a disaster, but that taste has been washed away the last two years.
So how then will each individual player respond to Friday? They, too, can follow the same paths as Furyk: panic, forget it or adjust? And, no pressure here guys, but the outcome of the Ryder Cup hangs in the balance.