News
Ryder Cup 2018: Francesco Molinari continues to be the bane of Tiger Woods' existence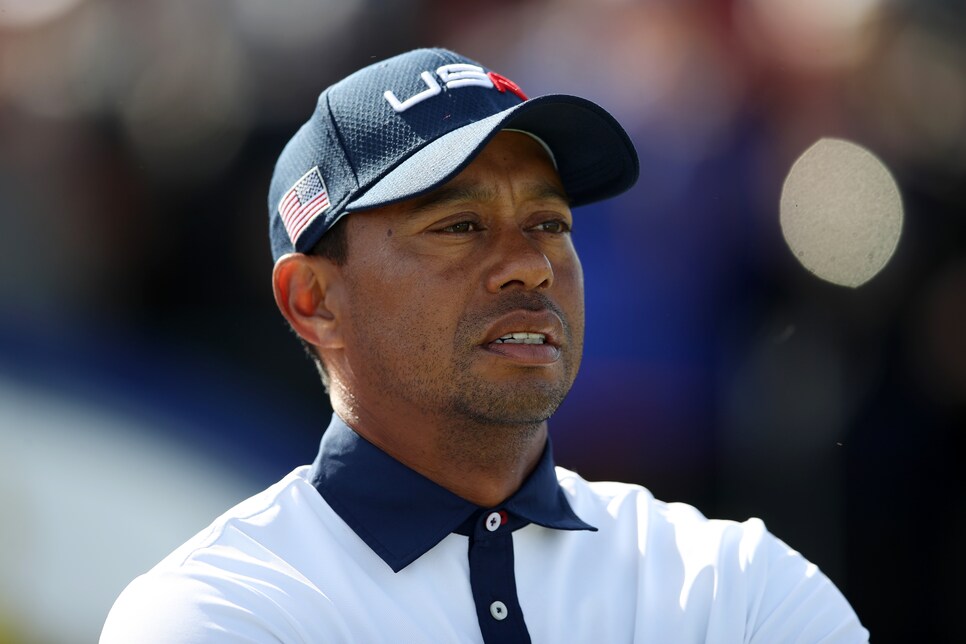 SAINT-QUENTIN-EN-YVELINES, France – Tiger Woods couldn't beat Francesco Molinari this year in his own event, the Quicken Loans National, he couldn't beat him in the Open Championship at Carnoustie, Scotland, and he can't beat him so far in this 42nd Ryder Cup.
Woods, looking less lethargic than a day earlier but still not sharp, slipped to 13-19-3 in his Ryder Cup career after he and Patrick Reed were thumped 4&3 in four-ball by Molinari and Tommy Fleetwood at Le Golf National Saturday morning. Molinari birdied three straight holes for a 3-Up lead after Woods made the second of his two birdies at the 10th to bring the match back to square.
"Yeah, we fought back from 2-down to get it to all-square. And then we didn't do anything from there," said Woods, 42, who appeared to be favoring his back Friday, but apparently is well enough to play two sessions on Saturday. "They made a bunch of birdies, and we didn't answer. And very similar to yesterday. We were 2-up at one point, and we didn't make any birdies coming in, and they did and they flipped the match."
In two four-ball matches, Woods registered four birdies total. Just as crucial, his partner Patrick Reed, the celebrated "Captain America," struggled even more, making only three birdies in the better-ball format at which the Americans often excel. He and Reed also lost to Molinari and Fleetwood in Friday's morning four-ball, the only U.S. loss of the session—and which was the first of a record eight straight losses for the American side until Justin Thomas and Jordan Spieth beat Ian Poulter and Jon Rahm in Saturday's final four-ball match, 2&1.
The performance by Woods, who was coming off his first win in five years at the Tour Championship, obviously was not part of the game plan for U.S. captain Jim Furyk, who had no choice but to put Woods out again in foursomes with Bryson DeChambeau. Of the three formats, Woods' worst record coming into the week was in foursomes, going 4-8-1. He last won a foursomes match in 2010 with Steve Stricker.
"There's a lot of matches to be played. We need this match in the afternoon right now," Woods said.
Ominously, Molinari and Fleetwood awaited Woods again in this afternoon's third foursomes match.