PGA Tour
Russell Henley has Sunday demons to slay, but holding a six-shot lead should help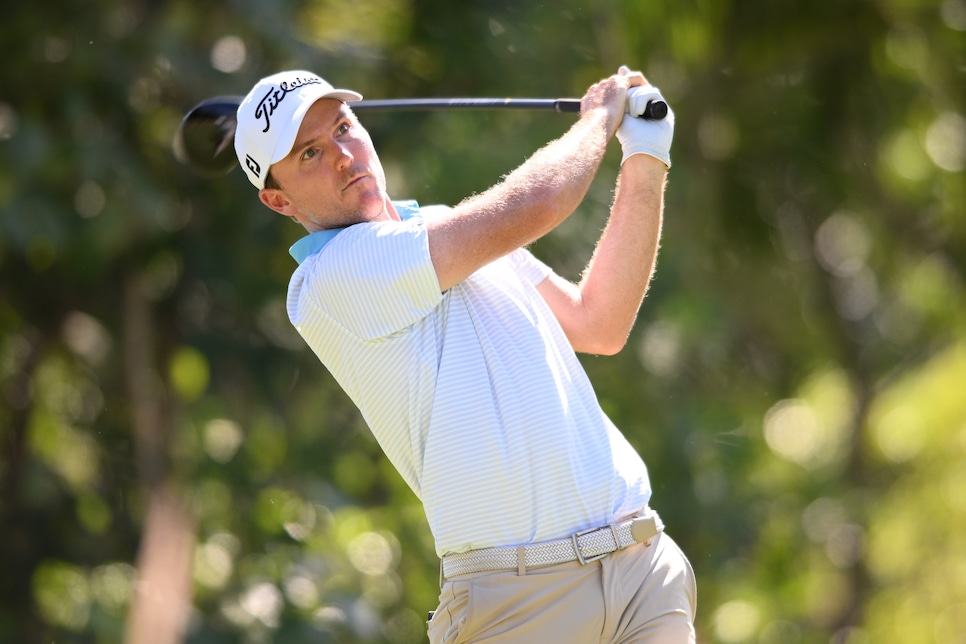 Russell Henley plays his shot from the seventh tee during the third round of the World Wide Technology Championship.
Orlando Ramirez
In August 2021, at the Wyndham Championship in the last event of the PGA Tour's regular season, Russell Henley held a three-shot lead on the field heading into Sunday. He'd led wire-to-wire, in fact, but in that final round he was the only player in the top 35 to shoot over par, and his tournament came to an end when he missed a five-foot par to make the playoff (which Kevin Kisner won against five others).
It was a grave disappointment, but perhaps not even his biggest of the season. Earlier that summer, he'd held a share of the lead for three rounds of the U.S. Open, only to post a Sunday 76 and fall all the way to T-13.
The point is not to revisit his most painful moments, but to give some context to the statistic that comes next: Henley has not won on the PGA Tour since 2017, a drought of more than five years. You can fail to win a few ways, but Henley's way has been to be one of the tour's most consistent players, but falter just slightly when he has a chance to win. And the longer his win in the '17 Houston Open stays in the rearview mirror, the more difficult the present task becomes.
But after three splendid rounds of the World Wide Technology Championship at Mayakoba in Mexico, Henley has what is his best chance in years—by far. After opening with 63-63, he posted a 65 on Saturday (he missed a short putt for 64) to seize a massive six-shot advantage. Through 54 holes, he has not made a bogey. To put his performance so far into context, Viktor Hovland holds the Mayakoba tournament scoring record at 23 under, and Henley almost equaled him on the 18th on Saturday. On Sunday, he'll be paired with Will Gordon, who has never won a PGA Tour event, and the same calm weather means that if Henley can just play steady, he should coast.
"Should" being the operative word.
"I'm just going to try to get my mind off of golf a little right now and get some dinner and watch a little football," he said following his round. "Maybe watch the World Series and just kind of go into tomorrow, new day and just do the best I can."
"I don't think I've ever had a lead like this," he added. "It's definitely tough to finish golf tournaments, so I'm just really trying not to think about the score and just think about each shot."
If there's a yellow flag for Henley—red flag would be far too strong—it may be that he required more par saves than usual on Saturday, and he admitted that he wasn't as solid tee to green as he had been over the first two rounds. When asked if he felt as steady as he looked in those tough moments, he could only say "probably not." Still, he found his form on the back nine, and his putter never lost its heat.
If there's a player who is most likely to catch Henley, far-fetched as that may be, it's Patton Kizzire, who turned in a 67 to join Gordon at 16 under for the tournament, and who, unlike Gordon, has won at Mayakoba before. He beat Rickie Fowler by a stroke in 2017, and his two 65s to start the week prove he can go plenty low.
"Not many of the guys I'm going up against tomorrow have done it here," he said on Saturday. "Maybe Russell. Has Russell won here? I'm not sure. No? So I'll have that in my favor and I'm looking forward to it."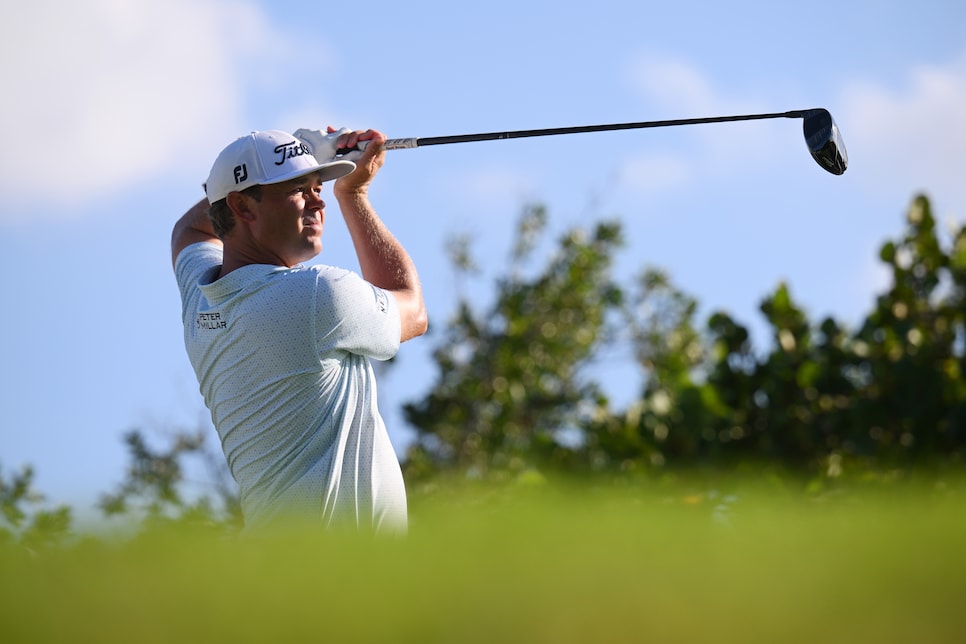 Patton Kizzire plays his shot from the 16th tee during the third round of the World Wide Technology Championship.
Orlando Ramirez
Kizzire is bullish on the event—he praised the paspalum greens and the Rosewood Hotel in particular—and his attitude on the course can be described as "bullish" too.
"I've been very aggressive, so I don't think there's any way I can be more aggressive than I've been," he said. "I've just got to execute with that aggressive mentality and see what happens."
Elsewhere, Seamus Power (15 under) and Greyson Sigg (13 under) both lurk inside the top 10 after making aces on Saturday. In Sigg's case, the lack of loud cheers and an obstructed view meant he and his caddie didn't even realize they'd made an ace until they reached the green ... which took a while.
"So, I birdied No. 9 and get up to 10 and I was like, you know, I might need to go to the bathroom here," Sigg said. "So I hit my shot ... with a 7-iron pretty fast and I knew it was a good shot. We couldn't see it go in, no one really made any reaction. So, I threw my club to my caddie and I took off and I came in the locker room, went to the bathroom, and as I was walking out, one of the locker room attendants was like, 'Great shot, hole-in-one,' and I was, like, 'No way.'"
Power, who still has a faint hope of winning back-to-back events after his victory in Bermuda last weekend, didn't just have an ace; he had two other hole-outs on the day. After a jam-packed schedule in the 2021-22 season, he credited his five-week break with rejuvenating him.
"I feel like I probably overplayed a little bit, so that five weeks was huge just to get the fun back into the game," he said. "Just to get the energy level back up and that desire to be just out there like on the golf course. So I was able to do that and, as I said, I feel great right now."
Hovland, a two-time winner, is also among the large group at 13 under, but he admitted that he's simply missing too many putts to contend.
All of which leaves Henley, who knows he has to keep scoring to secure the win. (If he can do so without making a bogey, he'll be just the fourth PGA Tour player to win a title without a single bogey.) Despite the enormous lead, he's going to have to shoot another round in the 60s to overcome the demons and finally break his drought.
"Everybody's so good and everybody can go low, so it's a tough game out here," he said.
That about sums up the challenges, and on Sunday, Henley will face them all as he seeks to put an exclamation point on what has been a spectacular 54 holes.