Sony Open
Russell Henley (Georgia) and Tom Hoge (TCU) share their ecstacy and agony over CFB national championship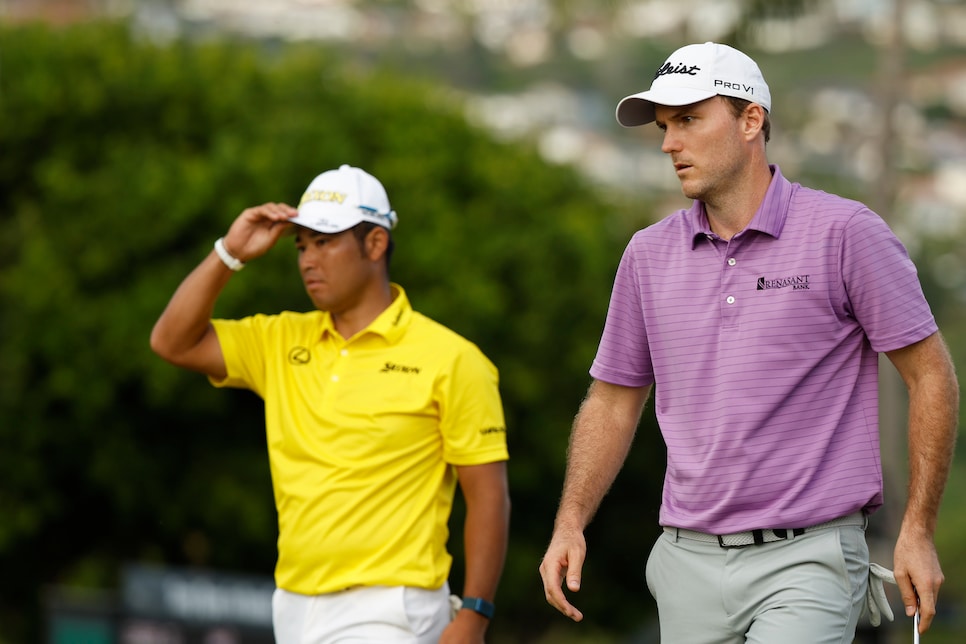 Russell Henley lost a playoff to Hideki Matsuyama in the 2022 Sony Open.
Cliff Hawkins
HONOLULU — Tom Hoge was bracing for a few barbs from his Peach State peers after he arrived at Waialae Country Club around 3 p.m. HST Tuesday following his quick trip from Maui to Los Angeles and then to Oahu for the Sony Open in Hawaii.
A graduate of TCU, Hoge took a red-eye flight to Los Angeles on Sunday night after shooting a closing nine-under 64 and finishing T-3 at the Sentry Tournament of Champions. He did so to attend the Horned Frogs' game against Georgia in the college football national championship game Monday night in Inglewood. After upsetting Michigan in the playoff semifinal on New Year's Eve, TCU was no match for the Bulldogs, losing 65-7.
"That was rough," Hoge, who paid $945 for his game ticket, said on the practice putting green at Waialae. "It was exactly what you feared could happen. I actually feel bad for Georgia fans who bought tickets. That wasn't what you want to see in a national title game.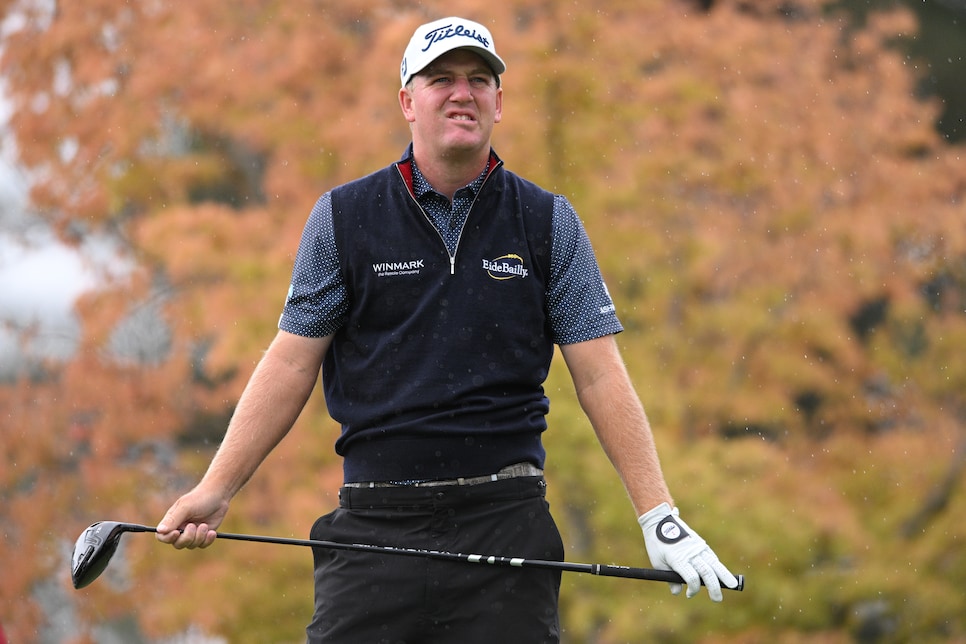 After flying from Hawaii to Los Angeles for the natonal championship game, TCU alum Tom Hoge could only stand to watch three quarters of his team's blowout loss to Georgia.
Orlando Ramirez
"The only consolation," he added, "was that it was so bad that it's going to be hard for the Georgia guys here to talk sh-- about it."
Among the Georgia fans basking in the glow of the Bulldogs' second straight national title was Russell Henley, who graduated from Georgia in 2011, the same year Hoge got his degree from TCU. Henley came into the interview room at the Sony Open because he lost to Hideki Matsuyama last year in a playoff and had won the event in 2013.
"Yeah, I guess at the end of the first half when we kept scoring in the last couple minutes, I just was like I can't believe … like we already basically won," said Henley, who is coincidentally paired with Hoge (along with Matt Kuchar) in the opening two rounds at Waialae. "I think we were up 38-7 at the half and their one play that they scored was kind of [after] a weird broken coverage pass. I would love for us to win the national championship by 60 every year, but I'm just still kind of surprised. I mean, that was crazy."
Though the game drew the smallest viewership of a title contest since the start of the Bowl Championship Series in 1999—a reported 17.223 million viewers tuned in—Henley stayed with it until the finish.
It was a different feeling than 10 days earlier when Georgia had to rally from a 12-point deficit in the fourth quarter to edge Ohio State, 42-41, in the semifinals. He watched until the end of that game, too, but nervously as the Buckeyes missed a 48-yard field goal as time expired.
"I thought they [the Buckeyes] played a better-looking game than we did," he said. "I kind of had to accept that we were going to lose. We were losing by 12. We're kind of sloppy, struggling, not looking good for us. I was kind of like, OK, we're going to lose, [but] we kept chipping away. Then I got real nervous the last five minutes of the game. Like it was nerve-wracking. Kind of feel like we stole one there for sure."
Like Henley, fellow Bulldogs Brian Harman and Keith Mitchell, also playing this week in the Sony Open, watched the blowout to the final gun. Hoge, meanwhile, said he left SoFi Stadium at the end of the third quarter when the Georgia lead ballooned to 52-7.
"To top it all off, it was 50 degrees and pouring down rain when we tried to leave," Hoge said. "I paid $300 for a two-minute Uber ride back to the hotel. I said, 'Just get us out of here.'"
Partly because he hadn't qualified for the Sentry Tournament of Champions at Kapalua Resort on Maui, Harris English, yet another Georgia Bulldog, decided to attend the game in L.A. on his way to the Sony Open in Hawaii. Unlike Hoge, he stayed at the game until the finish, not a hard decision when your team is winning with ease. Though he wasn't paying much attention as the gap continued to widen.
"I can't remember watching more than a handful of plays after halftime," English said.