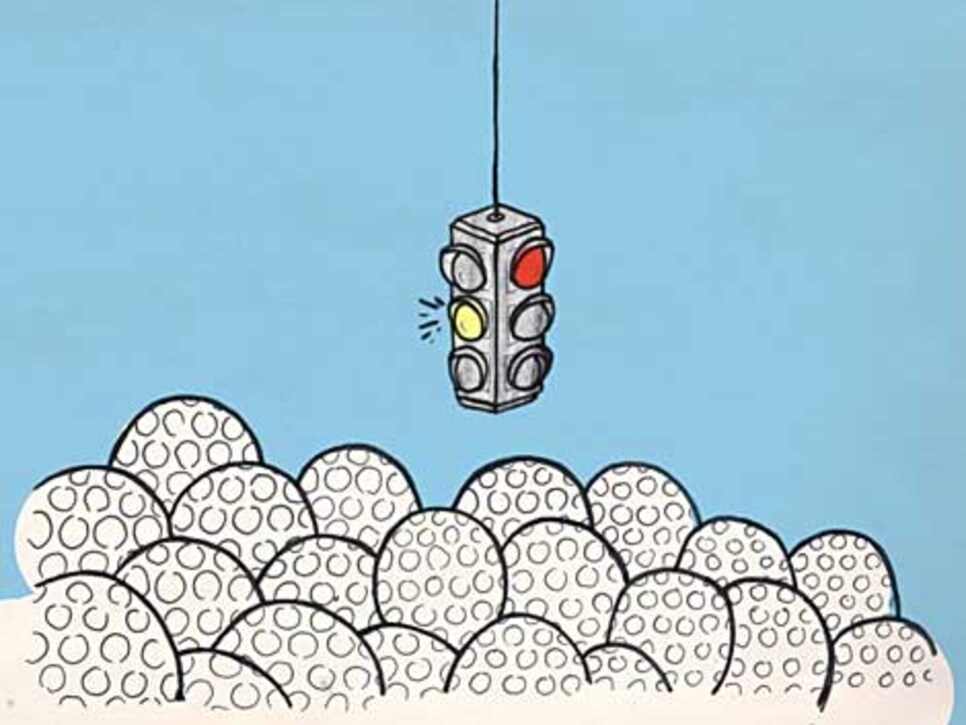 Pop quiz: Your approach misses the green and lands in the rough about 10 yards from the hole. Your opponent hits the green in regulation and has a 40-footer for birdie. Who plays next?
If you said your opponent, you're correct. Rule 10-1b states that once everyone has teed off, the golfer farther from the hole plays first, regardless of position. There is no penalty in match play for playing out of turn, but your opponent can make you cancel and replay your shot. In stroke play, if a player plays out of turn to speed up play, there's no penalty, provided it's not done to give a player in the group an advantage.
As for who tees off first on No. 1, the order (Rules 10-1, 10-2) should be determined by a draw or, if there's no draw, by lot, which is also the procedure if two balls are the same distance from the hole after teeing off.
On the ensuing holes, the player with the lowest gross score on the previous hole tees off first in stroke play, but the player with the lowest net score has the honor in match play. To clarify, in match play, if you make a gross score of 5 on the first hole but you were getting a stroke, your net score of 4 would entitle you to tee off first on the second hole.
So what if you need to hit a provisional ball off the tee? According to Rule 10-3, you must wait until all your opponents or fellow-competitors have teed off before hitting your provisional tee shot.
Rule 25-2 (ball embedded in its pitch mark)
During the final round, Rollins' second shot from the rough on No. 7 became embedded in a pitch mark in the fairway. If the pitch mark was caused by his ball, Rollins would be allowed to lift, clean and drop the ball, without penalty, as close as possible to the spot where it lay but no closer to the hole.
PGA Tour rules official Steve Rintoul asked several people nearby, including a CBS camera crew, if the ball was in its pitch mark. Rintoul determined it was in another ball's pitch mark, so no relief was granted. Rollins chipped out of the plugged lie onto the green and saved par, only to finish second behind Nick Watney.
Q Does a scramble team with a big-hitting scratch golfer have an unfair advantage?
A It does if it's competing against a team of average players. A low-handicapper who hits it far can carry a scramble team because he or she will likely supply the majority of shots used, and they'll be shots most middle-handicappers can't hit. To negate this advantage, establish these rules: (1) Every player's drive must be used at least three times during the round. (2) The player whose drive is selected isn't eligible to hit the next shot. The best shot of the other three is used.
All four players can then play until the ball is holed. For more on scramble teams, including a han-dicapping procedure, visit popeofslope.com/scramble.
By Dean Knuth, Golf Digest Professional Advisor. Former senior director of the USGA handicap department, Knuth invented today's Course Rating and Slope system.