Betting Analysis
RSM Classic picks 2023: Is Billy Horschel all the way back?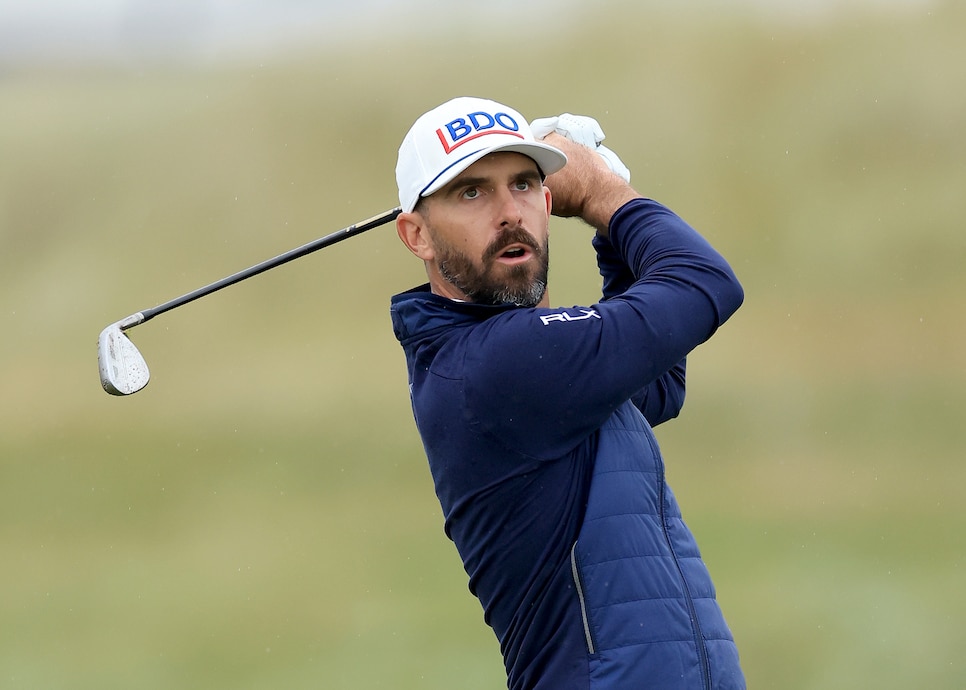 While we still have Tiger Woods' annual Hero World Challenge in early December, this week's RSM Classic marks the official end of pro golf in 2023. After this week, we won't see the PGA Tour again until Kapalua.
In other words, it's our last chance to dance. We head to Sea Island, where longshots have historically fared well and things almost always get wacky late on Sunday. In the 13-year history of this event there have been six playoffs, and three other times it's been decided by one stroke. Place your bets and strap in for a wild ride.
Scroll down to see who we like this week at the 2023 RSM Classic.
RSM Classic picks 2023: Our Experts' Outright Predictions
Anonymous Caddie Picker of the week: Ludvig Aberg (14-1, BetMGM) — The young Swede can separate himself on this course with his power and distance. His game is in a great place right now post-Ryder Cup, playing great over the fall schedule. I'd expect him to be a factor once again.
Pat Mayo, DraftKings/Fantasy National, Mayo Media Network analyst: Si Woo Kim (35-1, DraftKings) — Si WOOOOO stopped playing this event in 2019 after missing the cut for the third straight year. Seems strange, though. What are the main comp events? Sony, Heritage, Colonial, probably, the three main ones. Maybe Sawgrass too? Well, Si Woo has won at three of those courses.

Brandon Gdula, FanDuel/numberFire managing editor: Russell Henley (14-1, FanDuel) — Henley's an accurate driver, which generally helps this week, and he's a great iron player. He finished the 2023 season with four top 15s and three top 10s. He also has played this setup quite a bit in the past.
Rick Gehman, data scientist and RickRunGood.com founder: Billy Horschel (40-1, DraftKings) — Horschel's game is quietly trending in the right direction, with improved metrics and the results are starting to match. His last five events stretch over both the PGA Tour and DP World Tour, where he's earned four top-20 finishes. He's gained at least 3.5 strokes from tee-to-green in all measured events during that run – per the RickRunGood.com golf database. He's an accomplished putter who will make his return to Sea Island for the first time since 2019.
Stephen Hennessey, Golf Digest dep. managing editor: Billy Horschel (40-1, DraftKings) — Per Steve Bamford's Golf Betting System, Horschel owns four victories on the PGA Tour on Bermudagrass since 2008, tied for the most in this field. Billy's been playing some great golf all fall, leading after 54 holes at the Wyndham and playing nice in Europe. Horschel has good history at Sea Island, too, so I'll happily bet him here.
Christopher Powers, Golf Digest staff writer: Alex Noren (35-1, DraftKings) — Running back last week's strategy of "bet the guy who just finished second." Save for a few squirrely wedge shots late on Sunday, Noren was right there with Villegas, who refused to miss a shot the entire final round. Noren even acknowledged he simply got beat. I think we'll see him right back in the fire in Sea Island and you're getting him at a discount price off of a great finish.
Andy Lack, RickRunGood.com and Inside Golf podcast: J.T. Poston (33-1, FanDuel) — J.T. Poston is always a player I have interest in on shorter, Bermuda, wedge-heavy golf courses. The 30-year-old is coming off a third-place finish at the Shriners Hospitals for Children Open where he gained over five strokes on approach and five strokes putting. That is exactly the formula this week at Sea Island. Poston is a top-five player in this field from 125-to-175 yards, where close to 50 percent of all approach shots at the Seaside course come from. He also ranks third in this field in SG/total on courses under 7,200 yards over the last two years, and both of his career wins have come on wedge-heavy birdie-fests. Coming off a 21st-place finish at this track where he gained 4.6 strokes ball-striking, expect the Postman to play a factor on Sunday in Georgia.
Past results: The Fall Swing is coming to a close and it was a successful one for our panel. After finishing the FedEx Cup Playoffs strong, Stephen Hennessey picked up where we left off with a winner at the Fortinet Championship (Sahith Theegala, 16-1). We'd gone cold up until last week, when Christopher Powers correctly predicted Camilo Villegas' win in Bermuda at 150-1 (!!). Unfortunately, he didn't actually bet it, because he's an absolute moron, but hopefully some of you did (like Hennessey) and you were able to cash in. Let's get one more before we shut it down for the winter.
RSM Classic picks 2023: Sleepers/Dark Horses Who Could Win
Caddie: Ben Griffin (70-1, DraftKings) — Griffin calls St. Simons Island home, so he'll feel comfortable on a course that plays to his strengths—finding fairways and greens. And he loves these Bermuda greens, so this is the perfect place to get it done after knocking on the door a few times.
Mayo: Davis Thompson (55-1, DraftKings) — One of 400 "local ties" players in the field. We need Thompson to match his late-summer putting with his current ball striking and we're rich.
Gdula: Nicholas Lindheim (75-1, FanDuel) — Lindheim doesn't have a full sample of PGA Tour and ShotLink rounds, but what we do have from him shows great iron play and a good overall game.
Gehman: Carson Young (150-1, DraftKings) — Young's skill set favors accuracy and precision over power and brute force. He's inside the top 30 in both driving accuracy and greens in regulation this season. That's going to be very handy around both courses this week. He'll enter off a ninth-place finish in Cabo, so his form is certainly sharp.

Hennessey, Golf Digest: Camilo Villegas (70-1, DraftKings) — I was fortunate enough to listen to CP's advice last week and cash a huge Villegas ticket. I don't think we can take our money off the roulette table here; let's ride the Villegas heater. Villegas' numbers over the past 36 rounds are incredible: He's gaining nearly two strokes on approach, which is far away best in this field. He's also deadly accurate off the tee, and he's made 56 birdies over the past two weeks. You gotta like Villegas' chances this week.
Powers, Golf Digest: Davis Thompson (55-1, DraftKings) — We keep on saying it's a matter of time with this young lad. This would be an ideal time for Thompson, one of the many former Georgia Bulldogs who calls Sea Island home.
Lack: Alex Smalley (50-1, DraftKings) — I have long been an Alex Smalley supporter, and he was my favorite selection last week as well at the Bermuda Championship. The former Duke University standout somewhat disappointed with a 30th-place finish, but he did fire a Sunday 65, his best round of the week by three shots. At a juicier number, and at a course where he finished fifth last year, I see absolutely zero reason to hop off. There are a lot of similarities between Port Royal and Sea Island, and it should not come as a surprise that he has excelled at both.
RSM Classic picks 2023: Players We're Fading
Caddie: Brian Harman (18-1, DraftKings) — The Open champ hasn't been playing much lately, so I'd expect him to be a little rusty in this spot.
Mayo: Cameron Young (20-1, DraftKings) — One day they'll make him a bettable number, and maybe I'll consider it then. Today is not that day.
Gdula: Cameron Young (20-1, FanDuel) — Young's not the most ideal fit for the RSM. He was T-29 here last year with great putting. I'd rather go with the other names around 20-1.
Gehman: Cameron Young (20-1, DraftKings) — Historically, Young is a streaky player. He often gets on hot stretches where he piles up top finishes and he's capable of getting stuck in prolonged slumps. Right now, I'd argue he's slumping more than he's streaking. He teed it up in Cabo, his first start this fall, and finished T-54 as one of the favorites. He's lost strokes on approach in three straight measured events and his putter continues to be a liability.
Hennessey, Golf Digest: Brian Harman (18-1, DraftKings) — We see longshots coming through at the RSM in regularity, so I won't be betting any of the heavy favorites.
Powers, Golf Digest: Corey Conners (16-1, Caesars Sportsbook) — Crazy low price for a guy we have not seen since the Tour Championship. His game is steady enough for him to show up and be fine, but there will undoubtedly be a little rust to shake off.
Lack: Cameron Young (20-1, DraftKings) — I am all in on Cameron Young long-term, but this is not the week to deploy him. Sea Island is one of the least distance dependent courses on the PGA Tour, and heavily devalues Young's elite driving ability. I appreciate that he was able to shake some of the rust off in Mexico, but that was a far better course for him than the task at this week, and a 54th-place finish in such a weak field was far from inspiring. I have a ton of excitement to watch Young at courses such as Riviera, Torrey Pines, and Bay Hill in the new year, but for now, I'll take a wait and see approach.
RSM Classic picks 2023: Matchups
Caddie: Ben Griffin (-110) over Nicholas Lindheim (DraftKings) — I love Griffin this week, and I don't mind fading Lindheim. I think he's a little over-hyped coming off the Korn Ferry Tour.
Mayo: Billy Horschel (+100) over Chris Kirk (DraftKings) — It's as if someone broke Chris Kirk's putter at the Masters and he simply decided not to get it fixed. He's dropped strokes on the greens in 10 of 12 starts. Not great at a wedge and putting competition.
Gdula: J.J. Spaun (-115) over Taylor Pendrith (FanDuel) — As usual, I'm siding with the better ball-striker, and that's Spaun. His putting is pretty weak right now, but Pendrith isn't a great putter, either.
Gehman: Adam Svensson (-110) over Matt Kuchar (Bet365) — The defending champion has had himself a stellar fall. Svensson has played four times, with two top 20s and no finish outside the top 45. He's gained strokes ball-striking in seven straight measured events and he's gained with the putter in six of his last eight. He's playing well and going back to a site with plenty of good vibes.
Hennessey, Golf Digest: JT Poston (+100) over Cameron Young (DraftKings) — I like too many other players to bet Poston here, but taking him in this matchup is a good way to get some exposure on Poston … plus as evidenced above from our unanimous fade of Cam Young, the sharps are against the prince of New York.
Powers, Golf Digest: Alex Noren (+115) over Corey Conners (DraftKings) — Easy one here – my outright pick at plus money over my fade. Sure feels trap-ish, but I believe in Noren.
Lack: J.T. Poston (+100) over Cameron Young (DraftKings) — This is an easy one, as I am getting my pick to win against my fade at plus money. On a different golf course, I would gladly smash Young in this spot. Yet Sea Island completely levels the playing field between the two, and places a far greater emphasis on Poston's putting, as opposed to Young's power off the tee.
Matchup Results from the Bermuda Championship: Hennessey: 1 for 1 (Noren (-139) over List); Gehman: 1 for 1 (Noren (-139) over List); Powers: 0 for 1; Lack: 0 for 1; Caddie: 0 for 1; Gdula: 0 for 1
Matchup Results from this season (Wins-Losses-Pushes): Hennessey: 28-19-2 (up 6.87 units); Powers: 26-19-3 (up 5.6 units); Lack: 22-15-2 (up 4.2 units); Caddie: 25-20-4 (up 2.96 units); Gehman: 26-21-2 (up 2.46 units); Mayo: 21-22-2 (down 2.04 units); Gdula: 20-28-2 (down 9.63 units)
RSM Classic picks 2023: Top 10s
Caddie: Eric Cole (+300, DraftKings) — I expect him to close out Rookie of the Year honors in style.
Mayo: Billy Horschel (+400, DraftKings) — Someday, I'm guessing there's going to be an awesome documentary made about what happened to Billy Horschel from January to August of this year. He was awful on the course; truly horrendous. Not sure why, either. Since, he's been pretty solid. He hasn't missed a cut in any of his past six starts and even decided to press his form by heading to Europe and reeled off three top 20s on four starts. Also, I'm chasing my money from 2016 when he lost in a 100-man playoff after having it, seemingly, locked up coming down the stretch.
Gdula: Si Woo Kim (+350, FanDuel) — A super-accurate driver with top-five tee-to-green play over the past 50 rounds, according to datagolf. It's a good setup even though he hasn't played well here in the past.
Gehman: Corey Conners (+333, Bet365) — Remember him? Conners hasn't played anywhere in the world since the Tour Championship but he still holds a streak of 15 events gaining strokes off-the-tee. His precision and accuracy should be well-rewarded on the Sea Island Resort, where he has tallied three straight top-25 finishes and has never missed a cut.
Hennessey, Golf Digest: Carson Young (+1200, DraftKings) — The talented kid from South Carolina should be at home on these Bermudagrass greens, and Sea Island should suit his game: He's deadly accurate and can roll the rock.
Powers, Golf Digest: Chesson Hadley (+650, DraftKings) — Hadley has consecutive top-7 finishes coming into this one and I think we see him bowl the top-10 turkey here. He's been incredibly strong on approach of late and he's a menace on Bermuda greens.
Lack: Brendon Todd (+360, DraftKings) — There is a specific category of golf course where Brendon Todd is always live, and Sea Island falls squarely into that category. Todd is one of the most accurate drivers and best Bermuda putters in this field, two skills that will be heavily accentuated on the Harry Colt design. Coming off a 20th-place finish in Bermuda, I expect Todd to continue his strong form at another ideal fit for him in Sea Island.

Top-10 results from Bermuda Championship: Hennessey: 1 for 1 (Taylor Pendrith +260); Everybody else: 0 for 1
Top-10 results from this season: Gehman: 14 for 49 (up 21.2 units); Gdula: 11 for 49 (up 2.4 units); Hennessey: 9 for 49 (Even); Lack: 9 for 39 (down 1.1 units); Powers: 6 for 49 (down 7.4 units); Caddie: 10 for 49 (down 9.23 units); Mayo: 8 for 45 (down 9.9 units)
RSM Classic picks 2023: One and Done
Gehman: Brian Harman — I don't see much point in saving Harman for next season and he's made significant gains on the stat sheet in 2023. Since the Travelers Championship he has played in seven events. He's earned five top-12 finishes including his win at the Open Championship and a T-5 in the playoffs (BMW Championship). This will be his 12th trip to the RSM Classic where he finished T-2 last year.
Previous weeks: Shriners: Tom Kim. Sanderson Farms: Eric Cole. Fortinet Championship: Stephan Jaeger. Zozo: Hideki Matsuyama. World Wide Technology Championship: Sahith Theegala. Bermuda: Adam Scott.
Hennessey: J.T. Poston — Another member of the Sea Island mafia who should have a great week at the RSM.
Previous weeks: Shriners: Adam Hadwin. Sanderson Farms: Eric Cole. Fortinet Championship: Stephan Jaeger. Zozo: Keegan Bradley. World Wide Technology Championship: Ludvig Aberg. Bermuda: Lucas Glover.
Powers: J.T. Poston — Looked very good in his lone Fall start and has gained strokes with his irons in five consecutive events.
Previous weeks: Shriners: Tom Hoge. Sanderson Farms: Eric Cole. Fortinet Championship: Akshay Bhatia. Zozo: Hideki Matsuyama. World Wide Technology Championship: Stephan Jaeger. Bermuda: Alex Noren.
Pat Mayo is an award-winning video host and producer of long and short-form content, and the host of The Pat Mayo Experience daily talk show. Mayo helped create the golf stats and research website Fantasy National along with the Race for the Mayo Cup One and Done contest. Mayo won the 2022 Fantasy Sports Writing Association Daily Fantasy Writer of the Year and is a finalist for three FSWA Awards in 2023 (Best Podcast, Daily Fantasy Writer of the Year, Golf Writer of the Year). His 27 FSWA nominations lead all writers this decade and are second-most all-time. Follow him on Twitter: @ThePME.
Brandon Gdula, managing editor and analyst for NumberFire, a FanDuel daily-fantasy analysis company, recently won the 2018 FSWA Golf Writer of the Year. Gdula also co-hosts the DFS Heat Check podcast. Follow him on Twitter: @gdula13.
Rick Gehman is the founder of RickRunGood.com and the RickRunGood YouTube Channel, is one of the industry's leading experts on golf DFS and gambling. Gehman is co-host of the First Cut Podcast and appears regularly on the Pat Mayo Experience golf podcasts. Follow him on Twitter: @RickRunGood.
Andy Lack is a PGA Tour writer and podcaster from New York City who now resides in Los Angeles. He hosts Inside Golf, a twice weekly podcast focused on the PGA Tour, betting, daily fantasy, golf course architecture, and interviews, as part of the BlueWire podcast network. As well as contributing to Golf Digest, Andy is also a data analyst and writer for RickRunGood.com, where he covers PGA Tour betting and daily fantasy. He came to Golf Digest's betting panel after previously writing for Golf.com, the Score and GolfWRX. In his free time, Andy can likely be found on a golf course. Follow him on Twitter: @adplacksports