News
RSM Classic odds and expert picks: We predicted the past two winners—can our handicappers make it a three-peat?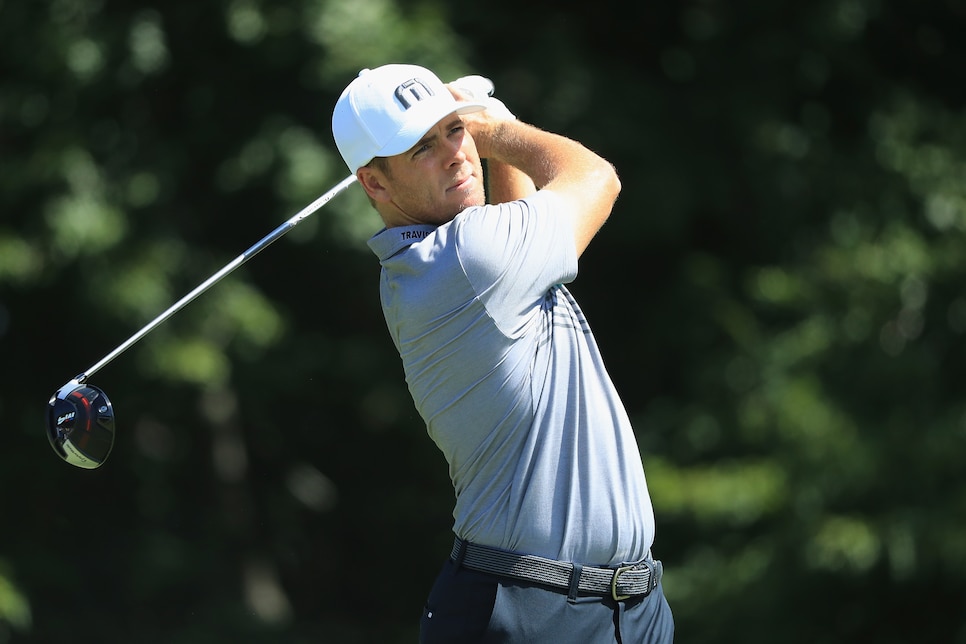 (Photo by Andrew Redington/Getty Images)
In the world of handicapping golf, it's considered fantastic to correctly predict the winner of a tournament. With 125 (or more) players teeing it up each week, like at this week's RSM Classic, the odds of picking the right pro to lift the trophy is tough. How about doing that successfully in two events—over back-to-back weeks?
We're not done there. Along with predicting Kevin Tway's victory (55-1 odds) at the Safeway Open to start the season, our panel of experts has now correctly predicted half of the fall season's six winners. It's time to get on board for picking winners. Along with Mayo, who's probably the most well-respected golf handicapper in the industry, we have FanDuel expert Brandon Gdula, who has two runners-up to his credit; Dr. Lou Riccio, a Columbia University expert who uses his modeling and predictive analysis to apply his picks to golf; Brady Kannon, VSIN.com's lead golf handicapper; PGA Tour caddies, a rotating cast of loopers who are watching these pros on a weekly basis; as well as our staff experts, including Christopher Powers, who called Tway's win.
Here's who we like this week at the RSM Classic at Sea Island Golf Resort:
RSM Classic, Odds to Win (odds from Sportsbook.ag):
Pat Mayo, DraftKings analyst, 14-time fantasy sports-writers association finalist, and board of governors at www.fantasynational.com: Luke List (35-1) — I'm a sucker for List. This is known. But Sea Island may actually be the perfect fit. Despite the well-earned BOMBER label, List has actually done his best work at shorter, Bermuda tracks. In the past year, he lost in a playoff to Justin Thomas at the Honda Classic in March, and finished a stroke out of a playoff at The Heritage. And, if you dig deeper into his past, you'll see his one Web.com (then NationWide Tour) came at the South Georgia Classic. And, going back further, List took home the 2005 Jones Cup Invitational as an amateur at this very course. The form is off, but the talent is legit. A breakthrough is coming, why not this week?
Russell Henley (30-1) — Playing up the SEC narrative leads me to the disastrous Russell Henley. Since the Greenbrier in July, Henley's missed five of eight cuts, with no finish better than T29. Now, that T29 WAS last week in Mexico. And, although we're devoid of shot link data, the numbers indicate he should have fared a lot better. He finished T5 in GIRs gained, per www.fantasynational.com, last week at Mayaboka yet couldn't crack the Top 25 overall. Leads me to believe the putter really let him down. Which, like we saw last week with Matt Kuchar, isn't that big of a deal for predicting future performance. Henley is a historically solid putter, and two of his three PGA wins have come on windy, costal, Bermuda green courses — 2013 Sony, 2014 Honda Classic.
Brandon Gdula, Senior Writer, FanDuel/numberFire: Joaquin Niemann (35-1) — Niemann brings some of the hottest irons (he's second in the field in strokes gained: approach over his past 36 rounds, via FantasyNational.com) into this event and has five top-10s in 17 events in 2018.
Sam Ryder (50-1) — Ryder's balanced game lately has him near the top of my list. He played this two-course setup last year (61st) and has two top-fives in his past four events.
Lou Riccio, Columbia University professor of analytics and decision modeling: Joaquin Niemann (35-1) — My model gives the talented 20-year-old the second-best chance in the field (behind Webb Simpson) to win this week. Given the odds, and given the relatively weak field, this could be the week Niemann finds his first win—as most expect him to earn at some point this season.
Brady Kannon, VSIN.com golf specialist and golf sales at TeeTimesUSA.com: C.T. Pan (22-1) — Pan is off to a very good start this season and has had tremendous success here at Sea Island in the past with a sixth-place and a 13th-place finish. His accuracy off of the tee is a big plus this week—we're hoping he adds to that with a hot putter.
Zach Johnson (35-1) — To pick any winner over 27-years-old these days is risky, but Zach has the experience edge over the young guns having played this event eight previous times. I like the crossover success seen here, at Harbour Town and at the Sony Open in Hawaii. Zach has performed well at all three of these events and I expect that to hold true again here this week. Anything better than 30-to-1 is a pretty good price in my opinion.
PGA Tour Caddie No. 1: Lucas Glover (30-1) — You need to control your trajectory, stick your wedges tight and roll the rock better than average here at Sea Island. The smooth-stroking veteran does all those things well.
Joel Beall, GolfDigest.com Staff Writer: Joaquin Niemann (35-1) — I'm with Brandon here. Though Joaquin has made the cut in all four fall appearances, he hasn't quite carried over his lights-out performance from the summer, results, or lack thereof, attributed to his short-game struggles (163rd in sg/putting). However, Sea Island caters to second-shot savants, and Niemann's aggressiveness in approach should pay dividends.
Christopher Powers, Golf Digest.com Associate Editor: Kevin Kisner (30-1) — Since his T-2 at Carnoustie, Kisner hasn't been at his best, but there's no place better to get it right than at Sea Island. In addition to his dominating six-stroke victory here in 2015, he's finished T-4 twice, including last year. While he did miss the cut at Mayakoba, he didn't miss it badly, carding a 71 and a 70 with five total bogeys. Avoid those this week and get that putter rolling and he's got as good a chance as anybody on St. Simons Island.
Brian Gay (75-1) — These low-key, not-so-loaded field events are the type Gay shines in. His record, especially recently, in tournaments like the Barbasol, the RBC Heritage and this one will show you that. A solo third here last year was his best finish of the season, and it was also one of his best opportunities to break a now five-plus year win drought. He's steadily improved in each of the four tournaments he's teed it up this year, and I wouldn't be surprised if he puts it all together and gets in the mix on the weekend.
Stephen Hennessey, Golf Digest Associate Editor: Bud Cauley (50-1) — Wouldn't it be a fitting redemption story for Cauley to earn his first PGA Tour victory just months after his gruesome injury from a car accident in June? Cauley was "happy to be alive" after the accident. Miraculously, he's back to playing at a high level, and he was only a couple strokes behind the leaders on Friday at Mayakoba before a couple costly mistakes put him out of contention, but he still finished with a T-10. Cauley has played Sea Island a number of times, living about an hour away in Jacksonville. There might not a more comfortable place for Cauley to earn his first win than the comfy confines of Sea Island.
(Results this fall: Three correct winners (Kevin Tway/Safeway Open; Bryson DeChambeau/Shriners Hospital for Children Open; Matt Kuchar/Mayakoba Golf Classic)
Sleepers (odds from Sportsbook.ag):
Mayo: Jim Furyk (45-1) — He hits the ball about 200 yards off the tee, however, this is one of the few weeks where that doesn't matter. Furyk popped last week in Mexico, dialing in his short irons, and not only sports great event history on Sea Island (T3/T6), he's been putting work at the major corollary courses as well. In his last two turns at the Wyndham: T4/T10; The Heritage: T70/MC/1st/T7. Short course with Bermuda greens, Furyk still has a chance.
Kannon: Whee Kim (60-1) and Ben Silverman (100-1) — Driving Accuracy and Putting. Both of them can call these two areas strengths of their respective games. Long shots have been a regular occurrence here at Sea Island, so why not again?
PGA Tour Caddie No. 1: Kramer Hickok (66-1) — As talented as any of the rookies on tour, you have some serious value here relative to some others in this range. He finally popped last week—holding a share of the first-round lead with Matt Kuchar. I expect him to win at some point this season, and we know his game is hot right now.
Beall: Brian Harman (66-1) — His game has been a bit of a mess this fall, failing to log a top-30 finish. But Harman does have two top 10s at the event, including a T-4 at last year's tournament. It's a "horses for courses" bet, yet one worth making at +6600.
Powers: Patton Kizzire (90/1) — Not a strong record at the RSM by any means for Kizzire, but he is a Sea Island guy. And yes, he's struggled mightily since his two-win fall a year ago, but he almost broke out of his slump at Mayakoba, opening with rounds of 65 and 66 before fading on the weekend and posting 72-75 to finish T-55. I think we see more of the 65-66 guy than the 72-75 guy this week.
Hennessey: Sam Burns (100-1) — The LSU product has had a poor fall season (made 1 of 4 cuts), but that could change this week. Sea Island is a comparable layout to the Honda Classic, which was Burns' break-out, playing with Tiger Woods earlier in 2018. Burns has the talent to win this week.
Kannon: Whee Kim (+120) over Brian Gay — Gay has been excellent here and Kim is definitely the underdog but +120 is too high
C.T. Pan (-135) over Austin Cook — There will be pressure on the defending champ and he hasn't been playing as well as Pan lately.
Zach Johnson (-120) over Chesson Hadley — This could go either way but I agree that Zach is a slight favorite. Hadley has been in good form but I feel this course is better suited for Johnson.
Sungjae Im (-125) over Stewart Cink — The Georgia Tech Yellow Jacket has played here an awful lot over the years and has fared well while Im is making his first ever appearance - but I have to side with the youth movement we are seeing in golf. Im is off to a good start this year and I think it continues this week.
Bill Haas (-135) over Keith Mitchell — Turning the tables here and going with the veteran again. Haas plays well close to home in the south and has also had success at The RBC Heritage. I like him as a better horse for this course than Mitchell.
Powers: Patrick Rodgers (-120) over Bronson Burgoon — Big fan of both these former college studs, and would love to see one of them break through at some point. This being the last event until January makes me lean Rodgers though. Burgoon had a nice T-2 at the CIMB, setting him up nicely for the rest of the year, while Rodgers has failed to crack the top 10 in any of his four starts. But he's trending in that direction, and he needs a good result heading into the mini off-season.
(Matchup results last week: Powers: 1 for 1; Hennessey: 1 for 1; PGA Tour Caddie: 0 for 1)
(Matchup results year to date: Hennessey: 6 for 9; Powers: 4 for 6; Beall: 1 for 2; Kannon: 4 for 15; Riccio: 0 for 1; PGA Tour Caddie: 0 for 1.)
Top 5 (odds from DraftKings Sportsbook):
Hennessey: Harris English (+3300) — A Sea Island kid at 33-1 odds to finish top-5? Give me a taste of that value, despite English struggling over the past year or so.
(Results on top-5 picks last week: Beall: 0 for 1.)
(Results on top-5 picks year to date: PGA Tour caddies: 1 for 1; Hennessey: 1 for 2; Gdula: 0 for 2; Beall: 0 for 3; Kannon: 0 for 1; Powers: 0 for 2; Myers: 0 for 2.)
Top 10 (odds from FanDuel Sportsbook):
Mayo: Sam Burns (+900) and Jason Dufner (+500) — Two guys, going opposite directions, but I'll keep up short-hitting, accuracy angle and combine it with the SEC narrative. Burns is just a better player than his past two turns have indicated. Plus, he got his first Web win in Georgia over the summer. Then Dufner, he's been brutal, but has popped at the Heritage and Sony in the past, and finished T13 in the field a week ago in GIRs gained.
Alex Myers, GolfDigest.com Senior Writer: Bill Haas (+600) — Another guy with a nice track record at Sea Island and undervalued, Haas needs a high finish as much as anyone. After a tough season in which he missed the FedEx Cup Playoffs for the first time in his career, Haas is cobbling together a schedule around a minor medical exemption and sponsor's exemptions. He's also put a new arm-lock putting method into play and it's resulted in a T-10, a T-14 and a T-60 in three starts thus far. He was runner-up in the inaugural RSM Classic in 2010. I'd also pick Haas to win.
Jim Furyk (+333): With captaining the Ryder Cup out of the way, this grizzled vet is back to concentrating on what he does best: Grind out high finishes. Coming off a T-6 in Mexico, Furyk doesn't seem to be getting nearly enough respect at a course that puts a premium on precision over power and where he's finished no worse than T-11 in three starts, including a T-6 last year.
Powers: Brian Harman (+650) — There was a time last year when only a handful of players were better than Harman. That all changed right around the Masters, when he fell in a mid-to-late season slump that has unfortunately spilled over into the fall. But Harman's another Sea Island guy, and he's had plenty of good showings at the RSM in his career. He needs another good one badly this week.
(Results on Top-10s last week: Mayo: 0 for 1; Gdula: 0 for 2; Beall: 0 for 1; Hennessey 0 for 1; Powers: 0 for 1.)
(Results on Top-10s year to date: Riccio: 2 for 3; Beall: 2 for 5; Mayo: 1 for 7; Hennessey: 1 for 7; Gdula: 0 for 5; PGA Tour caddies: 0 for 2; Powers: 0 for 4; Myers: 0 for 1.)
Top 20 (odds from DraftKings Sportsbook):
Mayo: Vaughn Taylor (+350) — He's 4/4 in cuts made during the swing season, finished 8th here last year, and was actually the leader in the stat I keep referencing, best GIRs Gained against a poor finish last week. It's showing the ball striking was crisp, and the putter was awful. I'll take that from a player with a skill match to the course, who cashed this bet 12 months ago.
Gdula: Joel Dahmen (+350) — Dahmen leads the field in strokes gained: approach over the past 36 rounds, enough to net him a top-20 in this field if he can be even decent with his putter.
Adam Svensson (+900) — Svensson ranks 19th in approach over the past 36 rounds and fourth over the past 12 rounds, enough to take a shot at a top-20 at these odds.
Beall: Ollie Schniederjans +600
Hennessey: C.T. Pan (+110) — I'll take the second-biggest favorite on the board, who has finished in the top-15 in his past two starts here, at plus-money to finish in the top 20.
Kevin Kisner (+175) — Georgia boy back on his home turf. Kiz will be gunning for a win at Sea Island this week.
Brice Garnett (+275) — Wedge play and putting—two reasons why Garnett finished top-5 last week. He was my sleeper to win in Mexico, so I was watching anxiously at 175-1 odds. I look for Garnett to continue his hot streak and cash a top-20 ticket at a course that will reward his strengths.
(Results on Top-20 picks last week: Hennessey: 1 for 1 (Champ); Powers: 1 for 1 (Varner III); Mayo: 0 for 2; Gdula: 0 for 1; Beall: 0 for 1.)
(Results on Top-20 picks year to date: Hennessey: 1 for 4; Powers: 1 for 5; Mayo: 0 for 5; Gdula: 0 for 4; Riccio: 0 for 2; Kannon: 0 for 2; Beall: 0 for 3)
Mayo: I opted for List and Henley in the betting number because of the value presented on their numbers, on the DraftKings side of things, with all four players being about equal, I'll lean with the more consistent recent form of Glover and Pan. Both kill short Par 4s, and Glover has really improved his accuracy, sitting 33rd in fairways gained in this field over the past 24 rounds. A far cry from the player who was inside the bottom 20% early this year, resulting in a lost TOUR card.
C.T. Pan ($9,700); Lucas Glover ($9,500); Jim Furyk ($8,400); Vaughn Taylor ($7,200); Sam Burns ($6,900)
Webb Simpson ($10,500); Joaquin Niemann ($9,300); Kevin Kisner ($8,500); Stewart Cink ($7,500); Josh Teater ($6,400); Chris Thompson ($6,200)
Gdula: It's a week to spend up on the class of the field: Webb Simpson ($12,200). You can still find a way to plug in some of the other golfers near the top with good form: Joaquin Niemann ($11,000), Harold Varner ($10,500), and C.T. Pan ($10,400). With a balanced field, balanced lineups make more sense than a top-heavy one. Take note of these mid-range options to round out lineups.
Sam Ryder ($9,900); Stewart Cink ($9,800); Joel Dahmen ($9,600; Jim Furyk ($9,500); Anders Albertson ($8,400)
Webb Simpson ($12,000); Joaquin Niemann ($11,000); Zach Johnson ($10,700); Kevin Kisner ($10,000); Kramer Hickok ($8,100); Brandon Harkins ($8,000)