News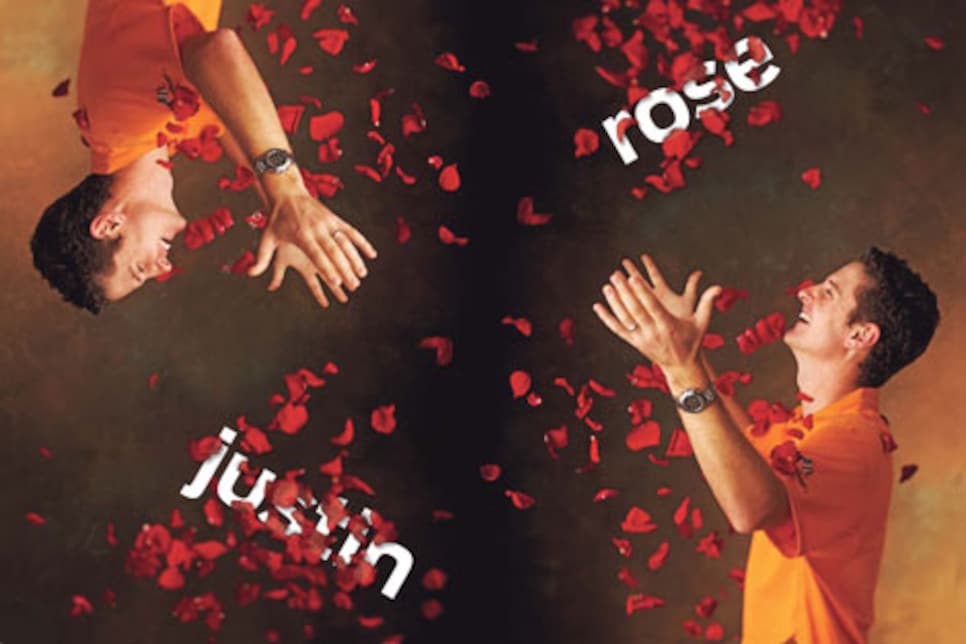 Justin Rose strikes a pose--head back, arms outstretched and palms up--as if awaiting something big. As several photo assistants toss handfuls of rose petals above his head and a shutter goes off, Rose gets watery-eyed trying his best not to blink.
After each shot, the photographer studies the digital image on the back of his camera and says things like, "Almost, but the pattern's a bit too dense," or, "This one would have been perfect, but there's a petal blocking his eye. Just a few more, Justin."
It's not the sort of detail work young millionaire athletes are known to tolerate for long, but Rose shows no trace of annoyance. All the more remarkable because herniated discs in his lower back--which had already caused him to miss more than a month of the 2007 PGA Tour season and would in a few days require a trip to a specialist--are making him stiff. But he doesn't balk when asked to place his head through a makeshift wall of roses, requiring him to stay in a slightly stooped position. The effort eventually elicits a couple of grimaced stretches and finally Rose's version of a tantrum: a quick look at his watch.
No doubt Rose's patience reflects the upbringing he received in the English suburb of Fleet, 40 miles southwest of London. "Justin has always had very good manners," says his mother, Annie. "We imposed discipline, and he seemed to welcome it." Surely the lessons have been reinforced by golf, because if Rose has been forced to learn anything in his nine years as a professional, it has been how to wait.
Of course, when he made history by tying for fourth at the 1998 British Open as a 17-year-old, it was as if all of British golf had been waiting for him. Comparisons with Tiger Woods were rampant, and Rose was declared the long-overdue successor to Nick Faldo. But after turning pro the next day, Rose missed 21 cuts in a row, perhaps the worst baptismal nightmare for a high-profile young player in the history of the game.
Rose's greatest feat might always be the way he emerged from the void in 2002 for his first professional victory, in his birth country of South Africa. But at almost the same time, Rose learned that his father, Ken, who had placed a plastic golf club in his hands at 11 months old, had leukemia. Rose won three more times that year, presenting two trophies to his father in his hospital room while earning the third with a frail Ken Rose in attendance. But it's hard to refute that his father's death at age 57 in September 2002 had a role in a four-year stretch of winless and mostly disappointing golf, dropping Rose out of the top 100 in the World Golf Ranking.
At the same time, and despite Rose's head start, a group of 20-somethings were moving into the top echelon of the game. Adam Scott, Geoff Ogilvy, Luke Donald, Trevor Immelman, Paul Casey, Sergio Garcia, Aaron Baddeley and Charles Howell III all have better credentials and, in most cases, flashier abilities. Rose has yet to win a PGA Tour event, play in the Ryder Cup, or make lists of the best players yet to win a major. And though his work ethic is at least the equal of anyone in the group, Rose, relatively speaking, waits.
Under the guidance of swing coach Nick Bradley, with whom he began working exclusively in May 2006, Rose's game has reached a new level. His comments have also become less self-effacing, in part because of the influence of the brash Bradley, a Brit who told the media, "There is no question in my mind that Justin can beat Nick Faldo's record of six majors."
Now, Bradley explains, "I said that because I see in Justin the 1989-'90 model of Faldo: a precision player who's a superior manager. But there's another reason. In Britain, we are almost ashamed to say, 'I want to achieve.' It's earmarked as being pompous and arrogant, incredibly bad manners. That's a value I--and Justin--can do without."
Though the Faldo comparison probably induced a momentary facial tic, Rose did not disassociate himself from his cheeky mentor. "It's quite true that what Nick said is not very English," he says, clipping his syllables like a lob wedge off a tight lie. "Some might frown on the American bravado, but in athletics, I've come to favor the American way. That bold self-belief is what it takes."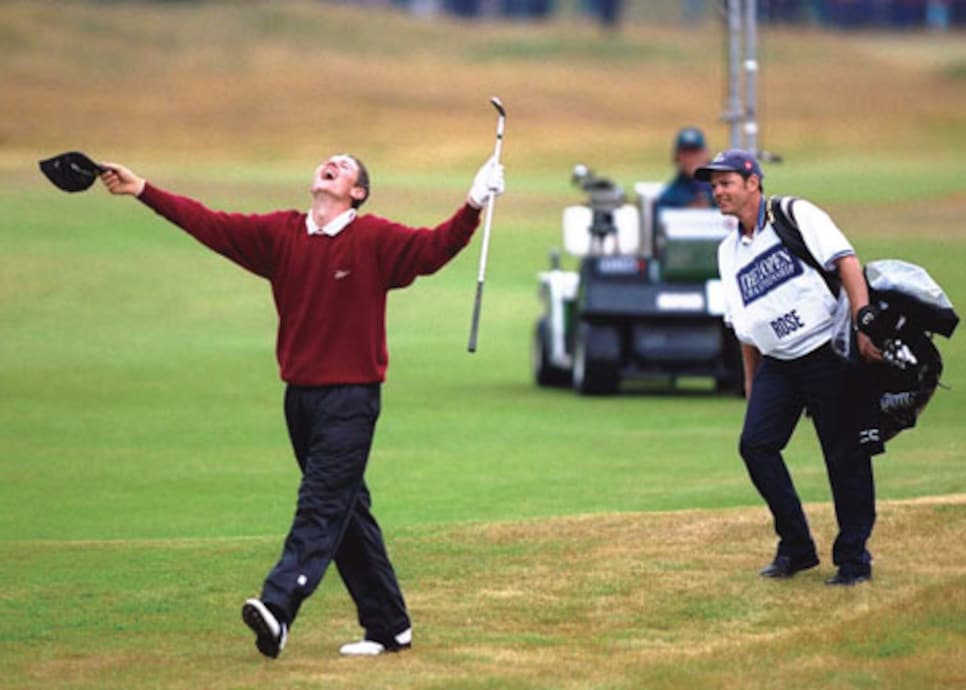 Lately, the positivity has been self-perpetuating. Last November, Rose ended his victory drought at the Australian Masters. After a a tie for fifth place this year at Augusta, Rose, at age 26, raised his World Ranking to a career-best 26th. Committed to playing the PGA Tour full-time since 2004, and newly married to Kate, a former member of championship British acrobatic-gymnastics teams, Rose splits his time between his home at Lake Nona in Orlando and a Thames-side apartment in London. In many ways he's living the dream he envisioned when he left school at 16. "I don't regret not attending college," says Rose, who excelled academically at British public school. "It was a question of how I could get better faster, and for all the bumps, I think I chose the right path for me."
Because the pinnacle of the dream is a claret jug, Rose is especially looking forward to returning to Carnoustie, where a good showing could close the books on a long chapter. It was there at the 1999 British Open that Rose shot 79-77 to miss his 23rd cut in 25 professional events.
A year before, Rose had holed a 50-yard pitch shot for a birdie 3 on the 72nd hole at Royal Birkdale for the best finish by an amateur in the world's oldest championship in 45 years. When the ball disappeared, the grandstands erupted with the loudest roar ever heard at a major--until the explosion from Tiger Woods' 90-degree trickler at the 16th hole in the 2005 Masters. But for a very long time, about the only sounds Rose would hear from galleries were uncomfortable silence and sympathetic applause.
"In some ways, the best shot of my life was the worst thing that could have happened," he says, not for the first time. "As a defense mechanism, I've blocked out as much as I could from that period, to the point that I don't even have any vivid memories of Birkdale, other than a feeling of pure, nothing-to-lose amateurism. There's no denying it led to a huge knock that cost me a lot of confidence. Probably to this day, I'm trying to get that sky-high confidence back."
Rose was taking sponsors' exemptions when he should have been taking time off to regain his bearings, a cycle that led Europe's professional caddies--the game's best at cutting to the quick--to dub him "Justin-Vite."
"Contrary to what most people think, I was going to turn pro after Birkdale no matter how I played," he says. "I had some invites set up, but mainly I had a plan of playing on satellite tours, going to the Q school and becoming exempt on the European tour within three years. But then everything happened, and everyone got way ahead of themselves. Every tournament wanted me, and because there was a lot of talk of future endorsements and other business, I felt I had to play every week. At the same time, I felt that each time I teed up, I was impacting my value. I figured that if I don't make the cut, no one is going to pay me what they said they were going to pay me. It was a whirlwind of pressure, mismanaged, and before I knew it, it was like, OK, where am I?"
Throughout, he demonstrated a special ability to endure. Sadly, it would be further tested by the death of his father. "My dad had a great understanding of me," says Rose, taking a long breath. "He would just look into my eyes and either leave me alone because I was ready, or decide if I needed something from him. I remember he gave me a great talk before I played with Tiger in the first round at the [2002] Open at Muirfield. It was a big deal because Tiger had won the first two majors, and there was a lot of hype.
It came at a time when my dad was obviously not healthy, and he just said, 'We've faced far tougher things in our life than this round of golf.' It was sad, but it was also inspiring, and it gave me so much perspective. I played really well and shot 68. I always remember that lesson.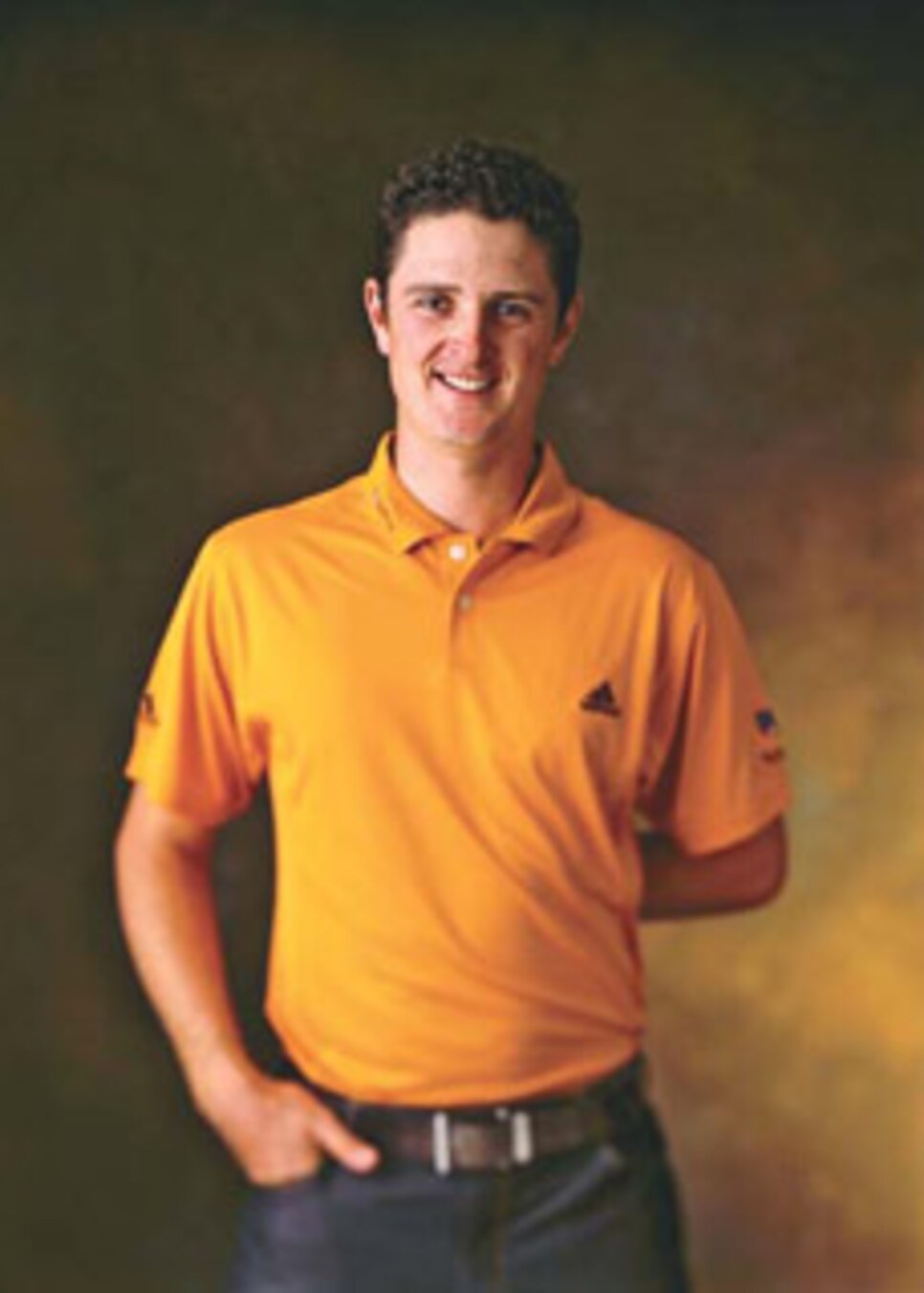 "I miss him. I wish I could play golf with him again. After he was gone, there were periods when it felt as if nothing mattered. I'm over that, but I'm sure it affects me in ways I can't explain or fully understand. I just know my father would want me to keep working hard and carry on doing what I love."
It's hard not to suspect that the one-two punch has left Rose with a lurking fragility. He has led or shared the 36-hole lead in six PGA Tour events since 2004 but never finished better than third. Twice he has led the Masters, the first time after 18 and 36 holes in 2004 before shooting 81 in the third round and tying for 22nd. This year his first-round 69 gave him the lead, and he began the final day a stroke out. He opened with double bogeys on the first and third holes but rallied with five birdies to come to the 17th tee a stroke behind. There, a pushed drive into the 15th fairway and resulting double bogey ended his chances.
"People will differ," he says, "but I prefer to think of Sunday as a day when I overcame a catastrophic start--that easily could have headed me toward another 81--with heart, passion, determination, belief and courage. And when I got into the hunt again, I was really enjoying myself. I wasn't thinking, Let's get this thing over with. Because there have been times when I've been uncomfortable near or in the lead. This was different. I was trusting that I had the tools needed, and it was in a major. A huge step."
"Justin has real guts," says Immelman, a friend of Rose's since early junior golf. "You know, when you first turn pro, missing two cuts in a row feels like the end of the world. To miss 22 in a row is freakish. For Justin to come back from that shows tremendous mental strength. I don't think many players would have survived."
Adds Scott: "Justin has had to grow up faster than the rest of us. He's a strong character who's a really well-rounded and balanced person."
Balance is Rose's most distinctive trait, on several levels. Technically, at a wispy 6-feet-3 he was predisposed to excessive leg action that produced inconsistency, but strength training has given him a 195-pound frame and a much quieter and more stable lower half that produces a smooth and controlled finish.
As a shotmaker, Rose is skilled through the bag. He might lack the dynamic athleticism of Garcia, the grace of Scott, the power of Casey, the repeatability of Donald or the textbook form of Immelman, but his strength lies in no glaring weakness. Along with Baddeley, he is the best putter among the top young players.
Above all, Rose possesses a balanced temperament. Although increasingly hard on himself during his lean period, Rose rarely gets demonstrably angry. Known among players as a favored pairing and good company off the course--his longtime running mate is the gregarious Ian Poulter, a fellow Arsenal football fanatic who lives next door at Lake Nona--Rose feels no need to keep potential rivals at a distance.
"I know we're measured against each other, but these are guys you generally live with for 20 years, if all goes well," says Rose. "It would be a pretty lonely career to be so single-minded that you couldn't allow yourself to have a bit of fun with your peers. There's no need for building up a grudge against anybody in your mind. I found myself getting frustrated by being out of the top 50 when the other guys were pushing up near the top 10 in the world. But I think as soon as I let that go, that's when I began to do it myself."
Of course, it's easy to interpret such a view as too nice and too satisfied. But Rose offered a rebuttal in May of last year when he changed swing instructors--going from David Leadbetter, with whom he had worked since 1998, to Bradley, who has agreed to work exclusively with Rose through June 2008.
Leadbetter was close to the Rose family, and Justin looked upon him as a father figure after Ken Rose's death. And though their work produced a swing that is a model of modern fundamentals, Rose says he often felt confused and couldn't shake a compulsion to experiment with technique.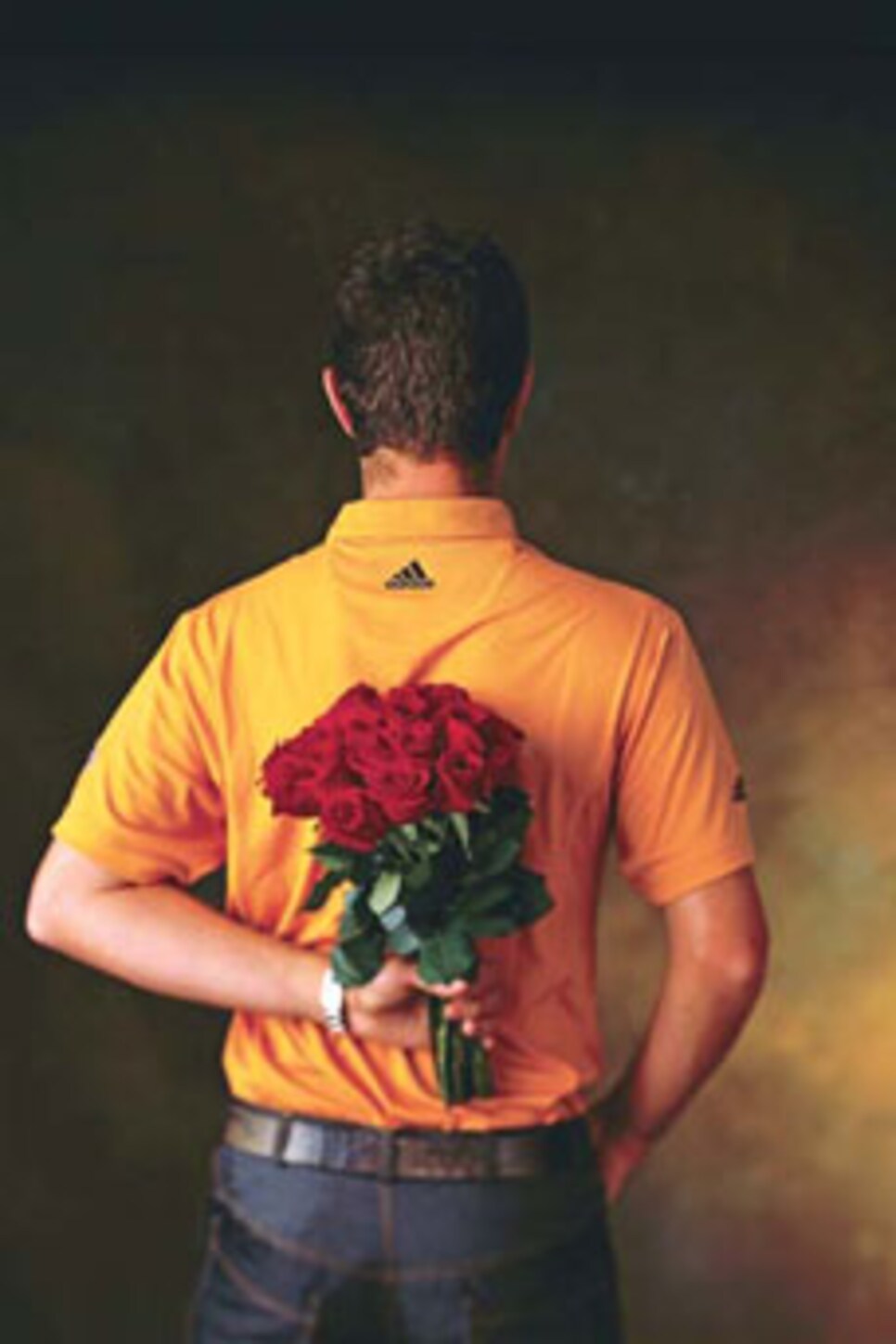 Bradley, whom Rose has known since 1999, represents a radical departure from golf's status quo. A compact, intensely kinetic man with a shaved head, Bradley is a former competitive swimmer who before becoming a golf teacher in his teens aspired to be a stuntman. For the past eight years he has also been a practicing Buddhist, which he says informs his approach to teaching. "Nick's energy and passion subconsciously interested me," says Rose.
But the decision to switch was complicated by the fact that Bradley had worked for Leadbetter from 1994-'97 before leaving to go on his own. Indeed, Bradley characterizes his apprenticeship as "quite predatory. ... I took that and went off into my little cave. And I grew everything else to where I am today. I've given myself mental permission to become the best golf coach in the world."
Ultimately, Rose swallowed hard and picked up the phone. "It was a really hard call for me to make, maybe the hardest thing I've ever done," he says. "David as a coach and a person is really an unbelievable guy, and a wonderful friend. He was disappointed for sure, but he genuinely wants the best for me no matter what route that is. I really admire his kindness."
"I know it was difficult for Justin," says Leadbetter. "He's always been one of my favorites. These things happen. But if he feels that he needs an exclusive deal, he should explore that. Perhaps this is what's best for him at the moment. He has gotten good results, and I wish him well."
Rose doesn't regret his exercise in toughness. "I've learned that as a player, you're going to hurt people," he says. "I guess the decision went against my natural temperament, but I believe I did it for the right reasons, and in the right way. If you do that, people generally will understand. It's part of maturing as a player and realizing that when it comes to your game, you have to take care of No. 1."
Physically, Bradley says his key change has been to raise Rose's right hip at address so the hips will fire correctly through the swing. (Both contend the new position is not the source of his recent back flare-up, as Leadbetter has suggested.) Mentally, Bradley is most proud of what he calls "very powerful 200-word documents" he prepares before every tournament that spell out what he wants Rose to focus on that week. He then "uses a technique" to get Rose to meditate while Bradley reads the document to him over and over. At the Masters, Bradley prepared a new document each day, and earlier in the year he decided to make good use of Rose being born in Johannesburg. "I didn't say to him, 'Let the English come out in you,' " says Bradley. "I said to him, 'Justin, just remember Gary Player. Let the South African come out.' "
It's the kind of close communication that takes Rose back to his roots. "I like having somebody I can talk with about everything that happened on the golf course that day and analyze it and see what we achieved and what we can try for tomorrow," he says. "That's what I always had with my dad.
"Nick has a good feel for how to reach me. He keeps it simple, and he's given me the information very slowly. I understand it better, so it's kept me from searching. And it suits me because it turns out I'm a bit of a slow learner."
Here Rose smiles at the irony, the prodigy who appeared to be the hare at Birkdale making his best headway as a tortoise. But having emerged from the wilderness with his prime years still ahead, Rose might end up the most prominent of all the 30-somethings. As good as he has been at waiting, it feels like he's finally just getting started.