Winner's Bag
Rose Zhang won the Mizuho Americas Open with an iron model she's used since junior golf
*All products featured on Golf Digest are independently selected by our editors. However, when you buy something through our retail links, we may earn an affiliate commission.*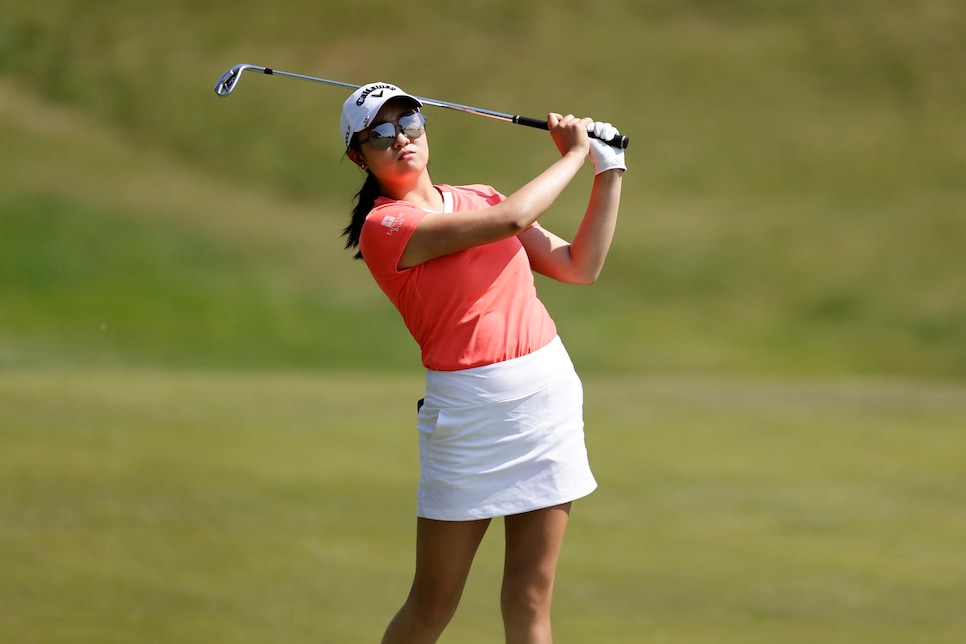 On Sunday, Rose Zhang became only the second player to win an LPGA event in her pro debut (and the first since 1951) when she beat Jennifer Kupcho on the second extra hole at the Mizuho Americas Open. While playing for pay might be new for the woman who dominated amateur and college golf the last few years, her equipment is one thing she wasn't changing when making the jump from the collegiate/amateur ranks.
When Zhang turned pro shortly after becoming the first woman to win back-to-back NCAA Individual Championships, Zhang extended her agreement with Callaway (she was the company's first NIL signing while she was playing at Stanford).
"I've been with Callaway since I was 13, playing their golf ball, golf clubs, using their golf equipment," Zhang told Golf Digest upon her signing. "It's just everything has been going very smoothly from the technical aspect of my career and I've been able to adjust to that very well, especially with NIL in college. I think that was a huge game changer for me as I was able to kind of tap into a business mindset more and figure out what I want to do [and] build the building blocks of my professional career. I think all those factors really allowed me to make this transition a little smoother, and it's been working well for me, specifically on the clubs."
Callaway Paradym/Paradym X/Paradym ♢♢♢
WHAT IT DOES: These three models all feature thin titanium faces and distinctive weighting systems to optimize three different ball-flight trajectories. The carbon-composite body is free of titanium and other metal support structures except for the newest version of Callaway's flex-enhancing "jailbreak" brace behind the face. The use of carbon composite also saves about 20 grams for engineers to use along the perimeter to enhance forgiveness. 
WHY WE LIKE IT: For Callaway, the driver isn't just a story about how flexible the face can be designed or how much mass a lightweight body might save. Those attributes are a given. What makes these drivers special is how the faces and the intricate carbon-composite bodies are integrated to maximize distance and minimize dispersion for each player type. Read more>>
Paradym $600, Paradym X $600, Paradym ♢♢♢ $600
Accuracy off the tee and precision into the greens were Zhang's strengths at Liberty National in Jersey City, N.J., where she hit 48 of 56 fairways with her Callaway Paradym Triple Diamond driver and 56 of 72 greens with her Callaway Apex Pro irons with Nippon 850 r-flex shafts. Included here was one sick approach on No. 12 from the rough of an adjacent hole that flew over trees and hooked onto the green.
"I've been using these irons ever since I was in junior golf," Zhang said. "They've been working well for me, very accurate and I'm able to predict my golf ball, how it comes off the face more predictably and also it's a more forgiving set. With my wedges, I have a makeup of a 58-degree, a 54-degree and an A wedge. I used to have a 50-degree wedge but I switched over to the A wedge because that's more in an iron form and just because I want to fill in the gap between my pitching wedge and my 54-degree a little better.
Although Zhang looks at launch monitor data, she isn't beholden to it as she feels doing so makes her trust her own instincts less. After one week as a professional, that looks like a pretty wise choice.
What Rose Zhang had in the bag at the Mizuho Americas Open
Ball: Callaway Chrome Soft X
Driver: Callaway Paradym Triple Diamond (Fujikura Ventus Red 5S), 9 degrees
3-wood: Callaway Rogue ST LS, 13 Fujikura Ventus Red 5S Shaft.5 degrees
5-wood: Callaway Rogue ST LS, 18 degrees
Hybrid: Callaway Paradym, 21 degrees
Irons (5-AW): Callaway Apex
Wedges: CallawayJaws Raw (54, 58 degrees)
Putter: Odyssey Tri-Hot 5K Double Wide
Find the ideal clubs for your game with our quick test below: