The Loop
Rosaforte: When a golf victory brings out the best
The act of coming back to the 18th green to see a friend win a tournament is nothing new in golf. Keegan Bradley returning to Oak Hill to give Jason Dufner a "brohug" as he came off the 18th is what the game brings out in its competitors.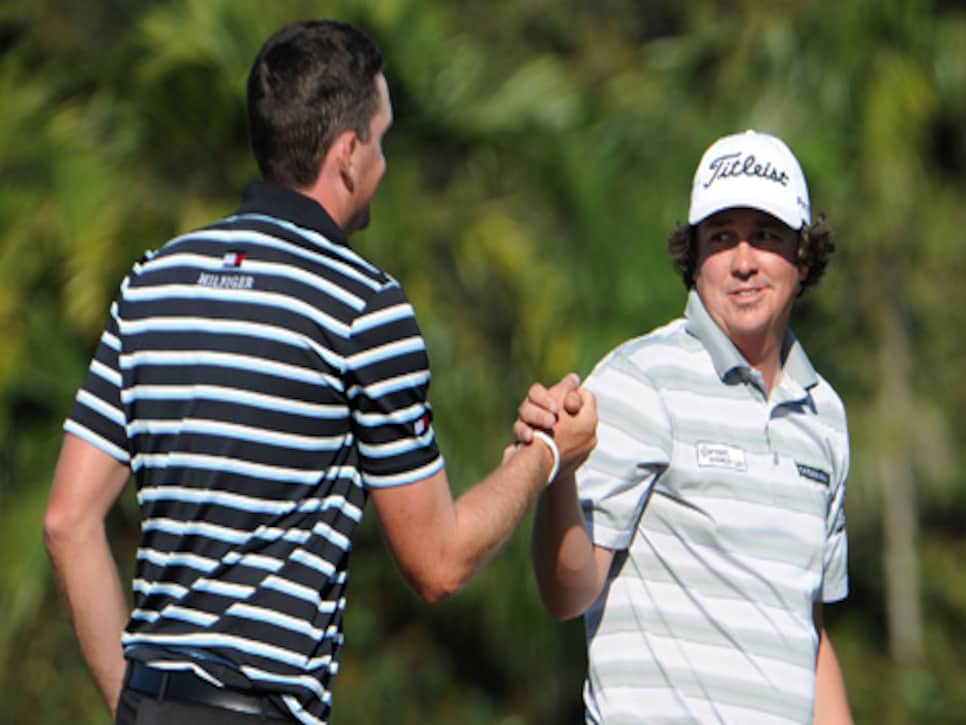 Sure, it was a little awkward. Even Dufner admitted, "I don't know how that goes over." But when Bradley said, "I'm proud of you," and Dufner said, "It means a lot for you to be here," their message couldn't have come across better.
Rickie Fowler and Ben Crane felt the same way standing on the 10th green at Augusta National in 2012. They were more than "Golf Boys" or members of the same bible study when they came out of the clubhouse to support Bubba Watson. In the words of Crane, "We just wanted to go out and support our friend, who we love."
Steve Marino showed Marc Turnesa some love by leaving his hotel room on the strip in Las Vegas and returning to the TPC Summerlin to pour a beer over Turnesa's shaved head after he won the 2008 Justin Timberlake Shriner Hospital Open. The friendship of Marino and Turnesa goes back to their early 20s on the Gateway Tour in South Florida.
Brooks Koepka and Peter Uihlein are in that age range now, except they're playing the European Tour out of an apartment in Palm Beach Gardens. When roommate Matt Broome texted from Florida with four holes to play in the Madeira Islands Open, Koepka returned to the course for Uihlein's first professional victory.
My favorite return features Masters champ Adam Scott. Seven years before he would slip on the green jacket, Scott excused himself from a private jet at Westchester County Airport, returning to Winged Foot for the trophy ceremony involving Aussie mate Geoff Ogilvy. Scott hung around that night for the party in White Plains.
Bradley skipped Dufner's after party but was on his way to the Rochester airport when he pulled a U-turn and headed back to Oak Hill. Their chemistry developed through a playoff battle for the 2011 PGA and was enhanced as rookies on the 2012 U.S. Ryder Cup team.
"Duf's been a really, really good sport about Atlanta," Bradley said Sunday. "It's just kind of the way golf is, the way he responded and acted after that. He could have hated me, never spoken to me again, but that made us really good friends. I felt like it was cool to be there, just two years later, winning the same trophy that he and I played for." There was no hugging it out after Dufner appeared on Howard Stern and held his own with Bradley's favorite talk-show host. Bradley called it "brutal,'' saying it would be like him flipping the coin before kickoff at an Auburn game.
"You never know," Bradley said, "but I'm sure before our careers are over, we'll have another moment together."