The Loop
Rosaforte: What went wrong with Stevie and Tiger, and what's next
The chemistry between Tiger Woods and Steve Williams was always interesting to observe, from warm embraces after emotional victories and animated high fives after incredible hole-outs, to visible detachment between the player and caddie, especially the past two years when Tiger was a soap opera character struggling with swing mechanics and prone to pitching clubs.
It has been said that anybody could caddie for Tiger from 1999-2002, or from 2005-2008, stretches where Woods won 13 of his 14 majors with Williams on the bag. That is simply not true. Williams was the perfect fit for the warrior mentality, serving not only as emotional stability and sounding board while pulling clubs, but as a guard dog for press and unwanted interaction.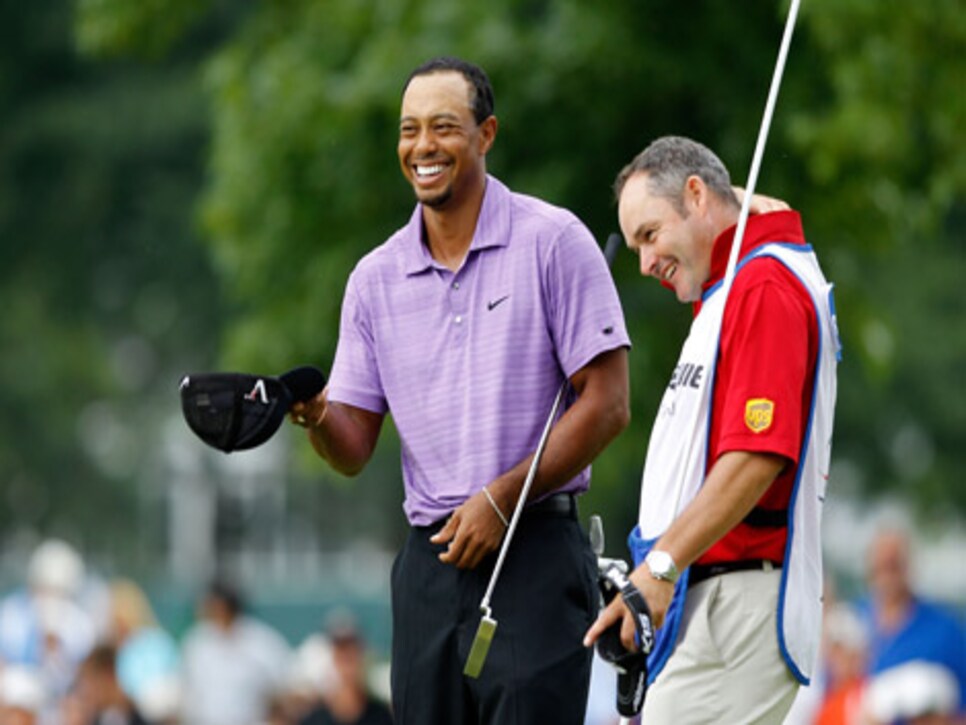 Billy Foster, currently the caddie for Lee Westwood, has been mentioned as Tiger Woods' next caddie. Photo by Getty Images
Thirteen years older than Woods, Williams was a strong character who was loyal, honest and cool under pressure. Raymond Floyd once said of Williams that under the gun he didn't choke, so in that regard he was the perfect fit. Winning was always sacrosanct to Woods; Williams knew how to handle the moods as well as the friction points, sometimes with frat-house humor but mostly by making precise calls on yardage and clubs.
But since Tiger returned at the 2010 Masters, there hasn't been the same kinetic energy that existed pre-scandal, that was so evident at the 2008 U.S. Open. No matter what Woods articulated, the bond between he and "Stevie" was not what it once was.
*__[(Related: A timeline of Tiger's troubles)
](http://www.golfdigest.com/golf-tours-news/2011-02/photos-tiger-tease)__*
Still, Williams was "shocked" when Tiger let him go last three weeks ago in a face-to-face meeting at the AT&T National. Woods is famous for avoiding personal confrontations and letting others in his camp do his dirty work -- the hiring of Williams by Butch Harmon in 1999 being an example. I talked to Williams Wednesday night and he used the term "very disappointed" to describe the timing of his release, although he was praiseworthy of Woods for handling it "man to man."
In the end, Williams learned that Woods' definition of loyalty was one way. "This is the nature of the game," Williams said, noting how players historically change caddies, coaches and sports psychologists. "This year seems to exemplify it."
Speculation is that Woods let Williams go because he asked for permission to caddie for Adam Scott at the U.S. Open and again at the British Open. Woods told Williams he was OK with him being a temp for Scott, but obviously had a problem with it. Asked if he thought that was the reason for his dismissal, Williams said, "You know me, so I think you know the answer to that."
Williams also denied that he asked to step down when Woods was in the midst of his scandal, saying, "I'd never leave a friend when the chips are down."
Even if he understood the tenuous nature of player-caddie relationships, Williams still thought that Tiger would be his last job. "I just didn't think it would be 2011," he said.
At 48, the New Zealander segues into a position with less drama and tension in Scott, an Aussie with major-championship potential. Williams admits that working for Scott is a little more "laid back" than working for Woods.
Other than Williams and Mike "Fluff" Cowan, who was replaced reportedly for getting too much publicity in 1999, the only other caddie Woods employed as a professional was Billy Foster in the 2005 Presidents Cup. Williams skipped that event to be with his fiance for the birth of their child in New Zealand.
At the time, Foster was working for Darren Clarke but is now working for Lee Westwood, the No. 2 player in the world. Although bookmakers have him as the 5/2 favorite to replace Williams, a source in the Westwood camp said Wednesday that Foster, described as "a quiet Yorkshireman," would not leave his fellow Englishman, Westwood. They have been together since 2009. "He's good at what he does," Woods said of Foster six years ago. "I like his personality. He's very competitive, very feisty and very similar to Stevie."
Another strong candidate to be Woods' caddie is Joe LaCava, who was already part of the caddie carousel this year when he left Fred Couples for Dustin Johnson. The question is whether the Woods bag and salary -- Williams was paid a reported $1 million a year -- would entice LaCava to take on the drama.
LaCava has the physical presence of Williams and also has a reputation for being good under pressure, but with Tiger's physical issues and demands to remain quiet with the media, he might stick with Johnson. The upside with Dustin is age (27), physical talent and potential. He has been in the last group in three of the last six majors, including last Sunday at the British Open with LaCava, where he finished T-2.
Ricci Roberts, the former caddie for Ernie Els, is currently without a bag. Another possibility is Tiger's close friend, Bryon Bell. He has caddied for Woods when Tiger won the Buick Invitational in 2000, as well as at the Funai Classic at Walt Disney World. Bell now serves as president of Woods' golf course design company.
Whoever gets the job will have a tough act to follow, with a golfer at a different place both physically and emotionally. "Let's be honest," Williams said. "I've been fortunate to be around some of the best golf ever played."