News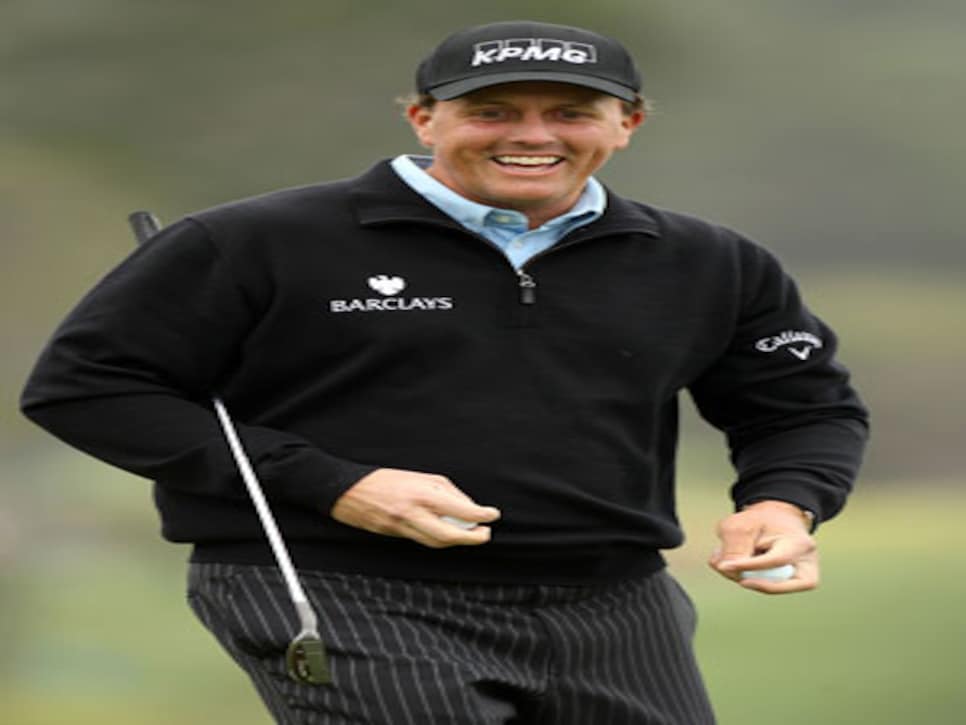 Mickelson has finished second in five U.S. Opens.
PEBBLE BEACH, Calif. -- Tiger Woods and Phil Mickelson, or Phil Mickelson and Tiger Woods, entered the media center at the 110th U.S. Open Tuesday, and while there was no trading of the baton, there was an exchange of mutual respect at the microphone.
Woods gave Mickelson love for putting himself in position to win this tournament so many times. Mickelson gave Woods love for his domination of the 2000 U.S. Open. As rivals, they've developed a peaceful but highly competitive coexistence.
"As far as Phil is concerned, I think that just by finishing second (in the Open) five times it goes to show you that he understands how to play Opens," Woods said when asked about Phil during his 30-minute Q and A. "This is the toughest event to win and he's been right there so many times. It's just a matter of time before he gets it done. But he understands how to put himself there and what it takes over the long haul to be in that position. And that's not easy to do. But he's done just a great job of it over the years.
Mickelson followed up an hour later. "One player in 2000 made it look pretty easy," he said in his opening comments. "In 2000 it was the greatest performance I've ever seen in the game, to shoot 12 under by Tiger, that was the best ball-striking and the best putting tournament that's ever been performed in my opinion."
While they haven't officially traded places, a shift in their competitive dynamic started occurring two months before Woods' world started unraveling last Thanksgiving, when Mickelson won the Tour Championship and HSBC Champions with Tiger in his face. Woods enters his 52nd major championship as a professional with even odds as the favorite but in a decided underdog role as it relates to state of his game and mind. As co-favorite, Mickelson flew in from his home in San Diego to a hero's welcome on Tuesday, brimming with confidence.
Tiger played his practice round with Stanford senior Joseph Bramlett in what can be characterized as a small crowd for him at a major. He went 14 holes before pace of play shut down his preparation. Mickelson, the Masters champion, went around Pebble Beach with a big gallery. Accompanied by his usual Tuesday major practice game of Hunter Mahan, Sean O'Hair and Dustin Johnson, Mickelson was loose and confident.
They're not so much Nos. 1 and 2 anymore as they are Nos. 1 and 1a, and based on his green jacket victory in April, and in light of Tiger's fall from grace, Phil has airmailed him in public perception, driving distance, body language and to a certain extent, gravitas.
What this means as it relates to the golf this week is inconsequential, really. Stars have come into majors peaking before and fallen flat, just as they have scraped it around leading up to the event, and found something in their swing or psyche to contend and win.
Butch Harmon was quick to give that assessment when talking about Mickelson earlier this week. "He's playing beautifully, but we'll just have to see what happens when the bell goes off," Harmon said. "He's in good form, good spirits, and he loves this place, as Tiger does. The thing to me is that Tiger's head has so much in it that it's never had before. Now he is Tiger Woods, but the way the course is set up, it will be difficult."
Difficult to the extent that Tiger is not the Tiger who dominated this championship 10 years ago. His 15-stroke victory at Pebble in 2000 was a seminal moment, never to be seen again, but a performance by which Woods' greatness -- or lack thereof -- will be compared this week. Every swing he makes, every word he states, every bond he breaks -- like the one with Hank Haney -- will be a talking point.
"Well there's a lot of guys out here who don't have swing coaches," Woods said. "Some guys bounce around from coach to coach, week to week. Other guys don't ever use one. But for some reason people are very curious about my life."
Do I think he'll be back? Without question. I had 10 minutes with Tiger on the range at the Memorial Tournament while watching Jeev Milka Singh hit balls, and while there was nothing substantive to the conversation, there were traces of the fire and self-belief for which Woods is famous. Give him some time and he'll be Tiger again. One of the points he made is that on a golf clock, he really wasn't past the Dubai Desert Classic. A top-20 at the Memorial Tournament was a positive step, as were his sessions in the Florida heat last week at Isleworth.
"As far as my game I'm very excited about how [my game's] progressed, since before Memorial then obviously during Memorial and now here it's gotten better," Woods said. "The more time I've been able to practice and play, it's start to solidify and just I'm actually really excited to tee it up on Thursday."
The intimidation factor was never higher than that 2000 season, the last three majors serving as a bridge to the completion of a Tiger Slam at the 2001 Masters. But Woods was a master at not directly addressing that premise. "It's never -- it never was about that. It was about winning golf tournaments. Whether you win by 1 or 15 doesn't matter as long as I'm going home with the trophy. And that year I went home with the trophy nine times. So I would say that was a very successful year. "
While Tiger goes at it alone (and with a video camera), Mickelson has surrounded himself with two of the game's most respected coaches, Harmon and Dave Stockton. A day shy of his 40th birthday, playing the course where he made his professional debut in 1992, and now playing his 67th career major, Mickelson goes into his fourth tournament with a chance to officially supplant Woods as the No. 1 player in the world.
"I think everybody who plays golf as a professional is motivated to try to become No. 1," he said. "It's not an area that I focus on to do that. I feel if I play good golf, that will happen. I don't know the ranking system or world points or how that works, nor do I care, I just know that if I continue to play well, ultimately in the long run, it will happen.