The Loop
Rory McIlroy's Masters training schedule, Jim Herman's breakthrough win, and Paige Spiranac buys a bounce house
Welcome to another edition of The Grind, where we're glad to see Rory McIlroy is taking the year's first major as seriously as I am. He's got a golf tournament to win and a career Grand Slam to complete. I've got some co-workers to beat in heated ping-pong matches. Pretty comparable. Anyway, here's a side-by-side look at his schedule, courtesy of Nike, and mine of late:
Hopefully, all of our blood, sweat, tears and eating will pay off in Augusta this week. In the meantime, here's what else has us talking.
Jim Herman: If you watched the conclusion of the Shell Houston Open, you probably needed a tissue. After holding off the likes of Henrik Stenson and Dustin Johnson down the stretch, Herman let the tears flow. "Never thought it was possible," an emotional Herman, 38, could barely get out when reminded his first PGA Tour title also meant an invite to the Masters. Not bad for someone who was "folding sweaters" as an assistant pro less than 10 years ago.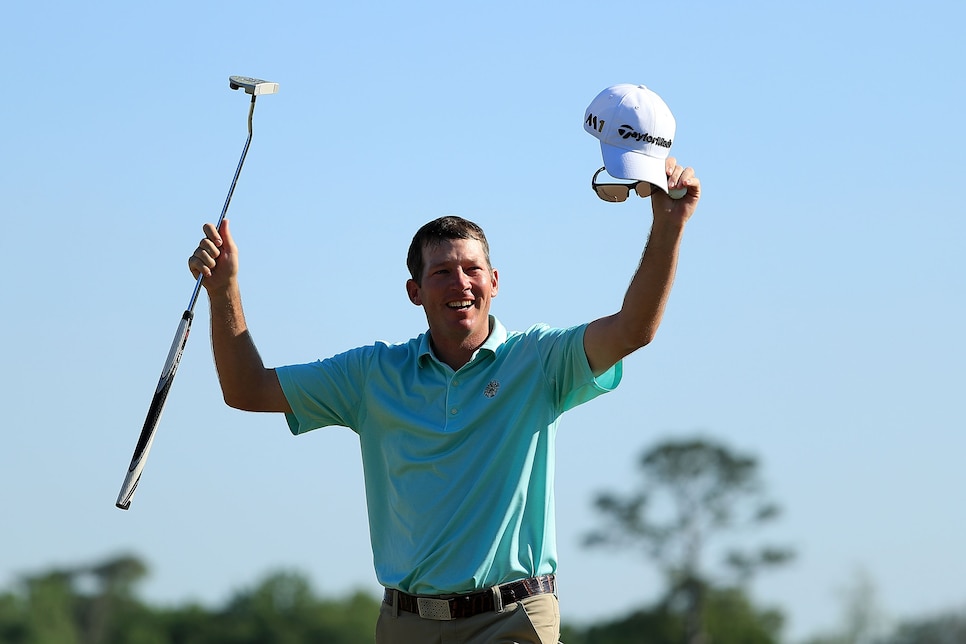 Lydia Ko: Not much older than some of the contestants in the Drive, Chip and Putt Championship, Ko has quickly grown into the most dominant force in golf. A brilliant approach to within tap-in range on 18, coupled with a collapse by 20-year-old Ariya Jutanugarn, gave Ko a second win in two weeks and a second consecutive major championship. Let the talk of a "Lydia Slam" commence.
Stephen Robert Hernandez: Speaking of the DCP, it was another great year for the event at Augusta National, but this 9-year-old stole the show. In addition to a strong golf game, Hernandez has a celebratory game that might already be better than anyone on the PGA Tour. The fist pump. The club raise. The hat tip. Hernandez can do it all:
Tim Herron's Masters scripting: For a third straight year, Lumpy gave us a glimpse into his outfits for Masters week:
"Stensoning": That's what we've dubbed a runner-up finish in which you don't play poorly, but you also don't do enough to win. Henrik Stenson is a great golfer, but he seems to have this happen to him more than anyone else.
Drivers to the face: Last week, we highlighted hitting flop shots dangerously close over peoples' heads. This week, we're back on the more common tee shot out of someone's mouth. SPOILER ALERT: It doesn't always work:
__Bubba Watson's "sweater vest": __ Bubba may be scared of people, but he's not afraid to go shirtless – even in an ad for socks.
You know, because nothing makes me want to buy a new pair of socks like seeing a thicket of back hair.
Rickie Fowler's diet: While we're talking about commercials, if we're to believe this one, then Fowler has only been eating pimento cheese sandwiches:
Rickie, if you're going to choose just one sandwich from Augusta National, you go with the chicken club. More protein.
If you don't already know what week it is, you are probably not reading this. . .
Random tournament fact: It's a little-known nugget, but this is the 30th anniversary of a 46-year-old Jack Nicklaus winning the 1986 Masters with a stunning back-nine rally. Bet you hadn't heard about that. . .
RANDOM PROP BETS OF THE WEEK
-- Henrik Stenson will win the Masters: 25-to-1 odds (actual odds)
-- Henrik Stenson will finish 2nd in the Masters: 5-to-1 odds
-- I will eat way too many of these chocolate chunk cookies in the Augusta National press room: LOCK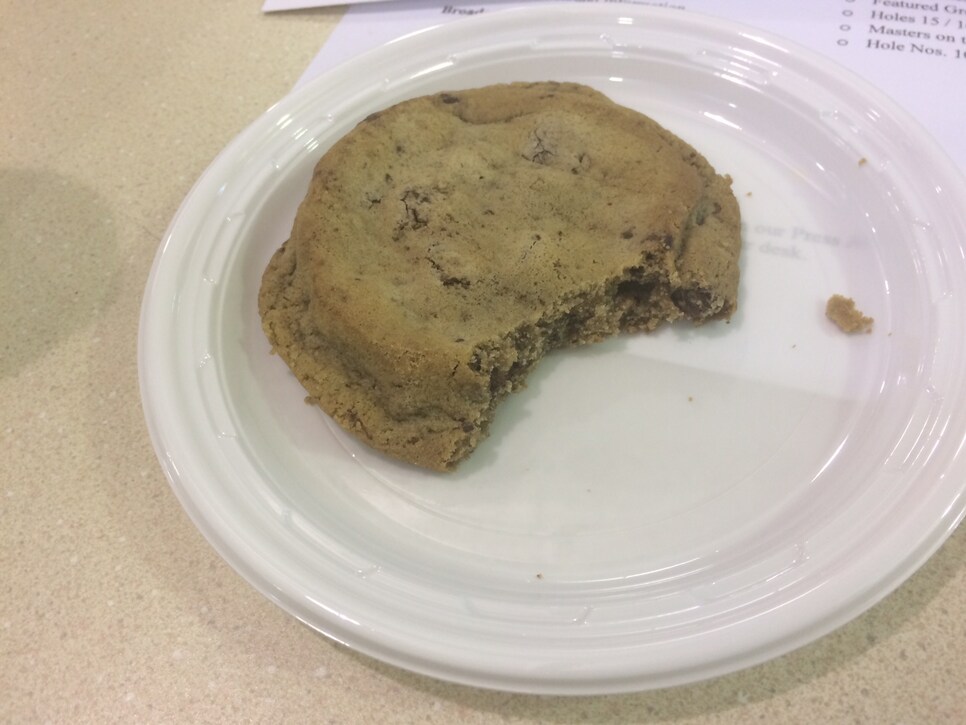 Huge week for commercials involving golfers, but none stood out more than this new ad for Nike involving Rocky Rory McIlroy:
If that doesn't get you fired up to get in shape watch some golf, I don't know what will.
"He's an artist. I'm just carrying the brushes." – Caddie Ted Scott on Bubba Watson during this week's profile on the two-time Masters champ.
While waiting for his Sunday afternoon tee time, Graham DeLaet decided to live-tweet Colt Knost's round. This instantly became funny since DeLaet poked fun of his friend and made it like he was chasing history when in reality, he was the first man off the tee on Sunday. Here are the best two:
Graham isn't in the field at the Masters, but that's good news for everyone on Twitter.
THIS WEEK IN DRAMATIC NATALIE GULBIS YOGA PHOTOS
THIS WEEK IN PAIGE SPIRANAC BEING PAIGE SPIRANAC
OK, we didn't think Paige could get much cooler after she met LeBron James, but this tops that. A bounce house?! In her own place?!
Fred Couples will miss the Masters for the first time since 1994. That means this will be the first time since 2004 that he hasn't "turned back the clock" at Augusta National. . . . Golf's governing bodies announced the winner of the Olympics will get into all four majors the following year. Not sure how that wasn't already in place. . . . Golf Channel's '86 premieres on Tuesday night. It is probably the 86th documentary/large profile on Jack Nicklaus' fabled victory at the 1986 Masters. And yes, I can't wait to watch it. . . . I traveled to Augusta with my boss this week and learned he does NOT travel light. Behold, the biggest rolling bag in the world!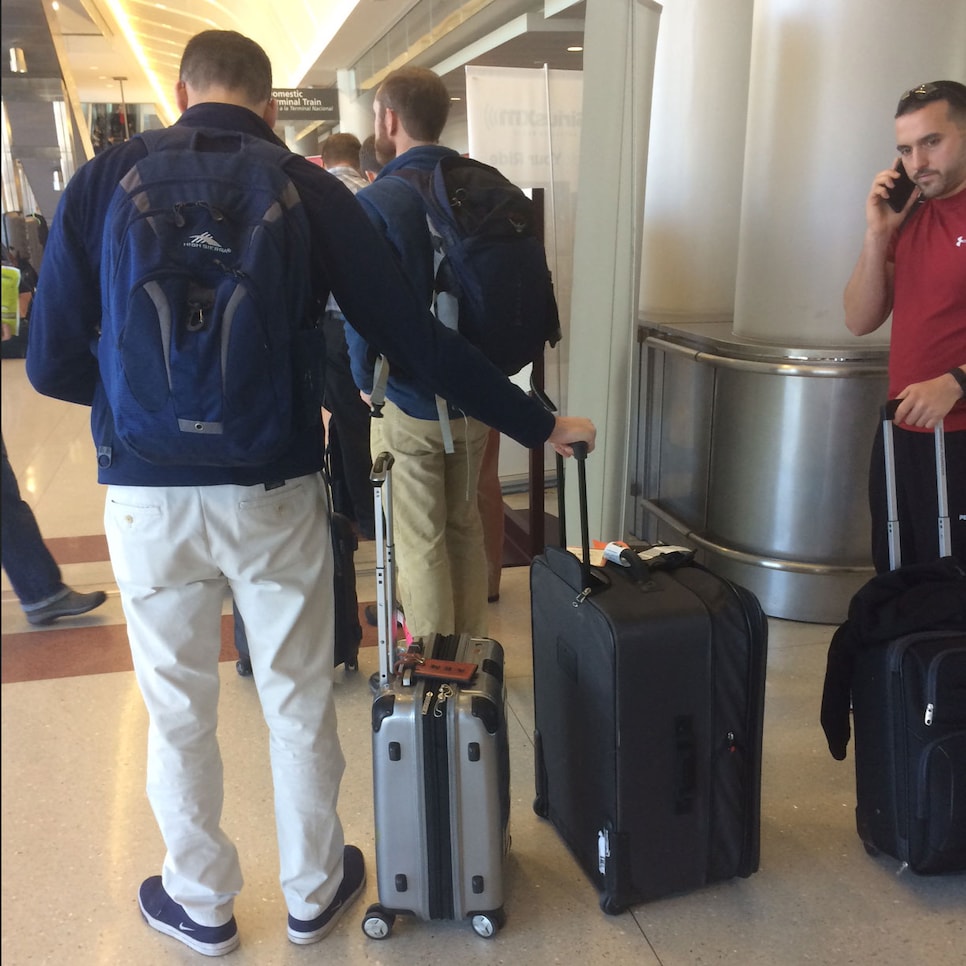 That thing is an engineering marvel.
RANDOM QUESTIONS TO PONDER
Can the Masters top that NCAA Tournament game?
How many Waffle Houses are there in Augusta?
Would my wife ever let me buy a bounce house?