The Loop
Rory McIlroy's feeling impatient, but ready for Baltusrol
SPRINGFIELD, N.J. -- For a while on Tuesday Rory McIlroy had the deepest ball at the PGA Championship's long drive competition after having pumped one 345 yards off the first tee at Baltusrol Golf Club. In the end, much like the rest of his season, it wasn't enough.
It's not yet the end of July and there is a lot of golf still to be played but this week marks the final major of the year, or the stick by which McIlroy's success is measured. Nearly a full 24 months have passed since the 27-year-old Northern Irishman has won a major and his tolerance is wearing thin.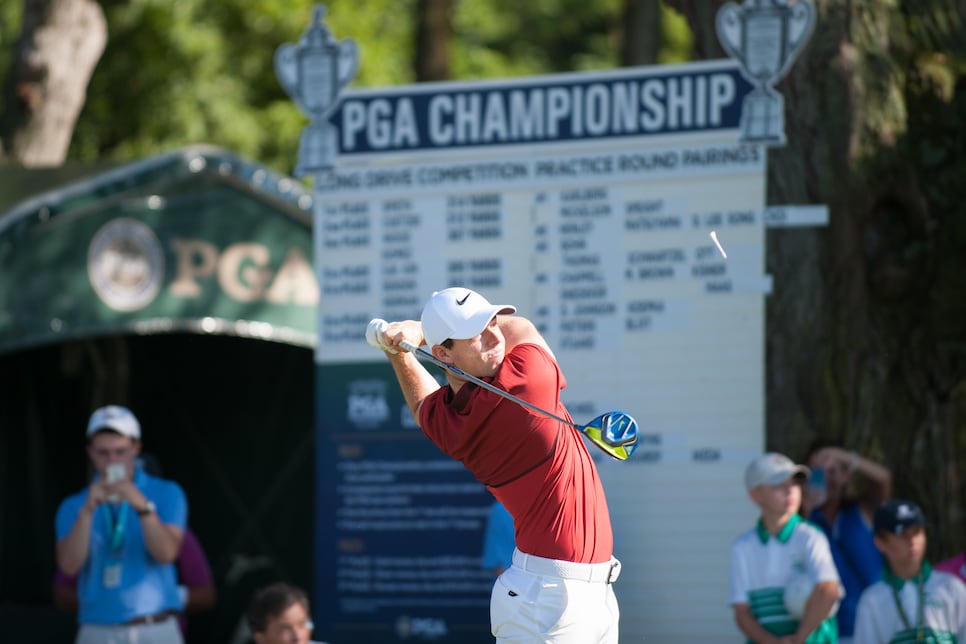 "I feel there's been times where I got a little bit of momentum, and then sort of got set back a little bit," he said. "I'm trying to stay as positive as I can. I feel like I am positive because my game is in good shape. But I guess just maybe running out of patience a little bit and trying to make it happen.
"I don't know if there's one word to describe this year, that's sort of a hard question. But I think you get a sense of how I've felt about the year and trying to get better and trying to get my name in the mix."
The answers haven't been easy, either. One week it's his driving that has been off, the next his iron play or putting.
Still, he hasn't been without opportunities.
McIlroy entered the final round of the Masters a stroke off the lead but imploded with a third-round 77 before tying for 10th. A month later at the U.S. Open at Oakmont, he missed the cut and declined to speak with the media following his second-round exit. Then, he back-doored a tie for fifth at the Open Championship at Royal Troon, where he opened and closed with rounds in the 60s but couldn't manage better than a combined two-over in the middle two.
In 15 worldwide starts this year, he has just one win (the Irish Open) and two in his last 26. He has also dipped from No. 1 in the world to fourth.
Asked what he would grade his year, he said a B-minus. "I could change that into an A-plus on Sunday," he added. "I want to give it my all to get in the mix and try to one another one of these things before I have to wait another eight months to try to get another opportunity at Augusta next year."
Perhaps McIlroy can find solace at the PGA, a tournament he has won twice, in 2012 and 2014, and in Baltusrol, a big, classic golf course where driving it long and straight goes a long way. In the two weeks since the Open Championship he has also worked heavily on his game with coach Michael Bannon.
"I feel like I'm swinging it well," McIlroy said. "I'm hitting it good. Every aspect of my game, I'm very comfortable with. So you know, combine that with the layout of the golf course here, and I feel like this is my best chance this year to win a major."