News
Rory McIlroy uses third round of the Memorial Tournament to practice and winds up shooting 64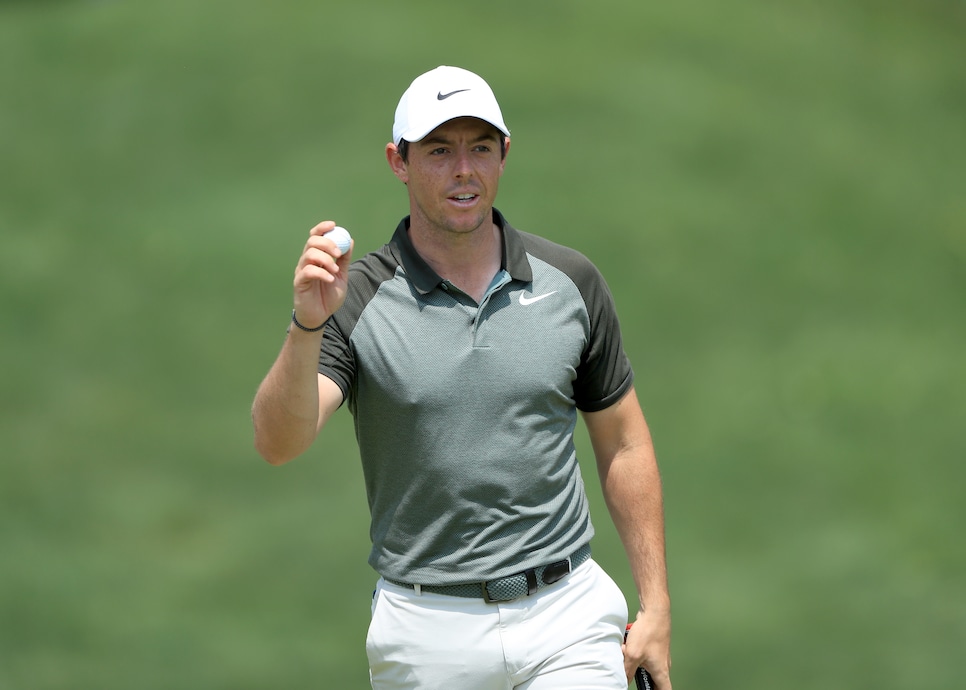 DUBLIN, Ohio -- Rory McIlroy went out to practice Saturday. It went OK.
He shot an 8-under 64 in the third round of the Memorial Tournament.
"My attitude was I'm just happy to be here, I'm happy to get another couple of days of playing, and I really just treated it like practice," McIlroy said, explaining how his bogey-free round unfolded into second-best at Muirfield Village Golf Club. "Just threw the tournament out the window, go and try and work on what you've been working on on the range, and go from there."
McIlroy went from T-67 after making the cut on the number to T-4 at 8-under 208 when he holed out on 18 with his third straight par save. Coming off a disappointing finish to the BMW PGA Championship last week in Wentworth, England, McIlroy needed to see some positive signs to his golf game ahead of the U.S. Open.
The Ulsterman, ranked sixth in the world, hit 10 fairways, 13 greens and needed just 26 putts after having 30 in each of the first two rounds. He ranked first in strokes gained-off the tee and tee to green. No wonder it was hard for him to pick out what he did best on a day when he took advantage of the soft conditions and still air around Muirfield Village.
"There was a lot of good stuff," said McIlroy, who fired a 64 in the final round at Bay Hill Club to win the Arnold Palmer Invitational in March. "My wedge play was very good, I drove the ball better, I was more committed to the swings I was trying to make. Then when I did get myself out of position, like I made three good pars on 16, 17 and 18. So it was all there today. I missed a couple of chances on 14 and 15 and on 9 as well, I guess. But apart from that it was all pretty good."
McIlroy was done long before the leaders teed off, and in the meantime, five-time Memorial winner Tiger Woods was going on a tear similar to McIlroy's, shooting 31 on the front side. Though he was on the edge of contention, he wasn't going to think about winning. And, by the way, the last player to win both tournaments hosted by Arnold Palmer and Jack Nicklaus was Woods in 2012.
He's still in practice mode.
"I practiced for about an hour and a half yesterday [Friday] on the range, trying a few things, and getting a little bit more comfortable with my swing. And today it was just an opportunity to go out and test it and see how it held up," he said. "So I'll try and do the same thing. I'm probably going to be five or six shots back going into tomorrow anyway, so just keep, put the tournament out of your mind and just try to play a good round of golf."
So, no thought of winning from that far back? He wasn't about to dismiss it.
"It's been done before," he said with a shrug.
Something else to practice.