The Loop
Cheat Sheet: Rory-watch continues, and a wild ride in Malaysia
What to know for Sunday in the world of golf:
We're not trying to perpetuate the 'slump' talk, but...
Rory McIlroy sure is giving us a great story line to carry through golf's off-season, or rather, the beginning of the wraparound season. While Luke Guthrie and Rafa Cabrera-Bello are battling it out in Shanghai, Rory's six-strokes back at 2-under. Not terrible given the tough conditions, but it doesn't appear he'll be posting a 'W' anytime soon. Still without a win in 2013, Rory is free-falling down the world rankings and hasn't hoisted a trophy since the 2012 BMW Championship in last year's Fed Ex Cup playoffs. That said, he's still doing better than John Daly, who, in his first appearance since elbow surgery, was within five strokes of the lead on Saturday before a back-nine 44 did him in.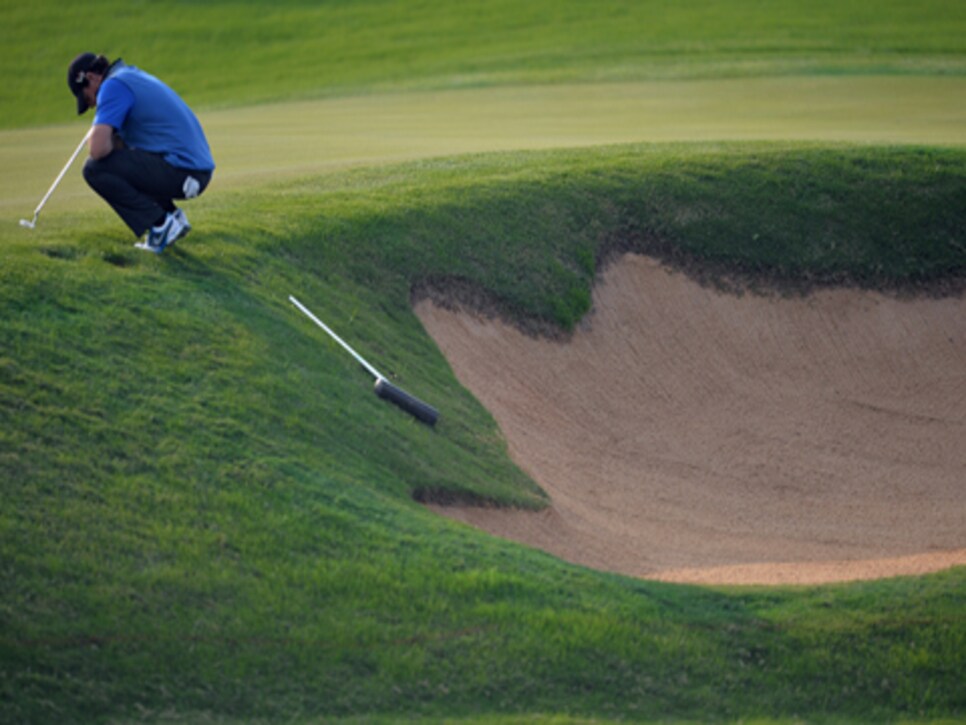 A down Rory McIlroy hasn't had much to cheer about these days. Photo: Peter Parks/Getty Images
Tricky conditions led to huge momentum swings throughout the day at the Kuala Lumpur Golf and Country Club, with plenty of balls finding the water and the rough beneath the palm trees lining the course. Second-round leader Keegan Bradley, who shot 65 and 66 in the first two rounds, carded a 76 to fall back to a share of sixth place. First-round leader Ryan Moore opened up a three-shot lead on the back nine Saturday only to bogey four of five holes to give it right back. Chris Stroud started the day five strokes back but birdied five holes on the front nine before hitting into the water on the 12th hole and carding two bogeys on the back. When the dust settled, Moore and Stroud found themselves tied atop the CIMB Classic leader board heading into tomorrow's final round. But with only a one-stroke advantage, we expect to see some more highlights -- and lowlights -- before it's over.
Perry leads just about everything on the Champions Tour
Kenny Perry birdied five of the first six holes en route to a 7-under 65 to take the first-round lead Friday at the AT&T Championship. The top 30 on the money list after Sunday will advance to the season-ending Charles Schwab Cup Championship next week at TPC Harding Park in San Francisco. This is of no concern to Perry, who also sits atop the points standings, 494 ahead of second-place Bernhard Langer. In the midst of a career-year, the back-to-back 2013 major winner only needed 12 putts on the front-nine and looks primed to make a charge towards the Schwab Cup's $1M purse next week.