News
Rory McIlroy signs equipment deal with TaylorMade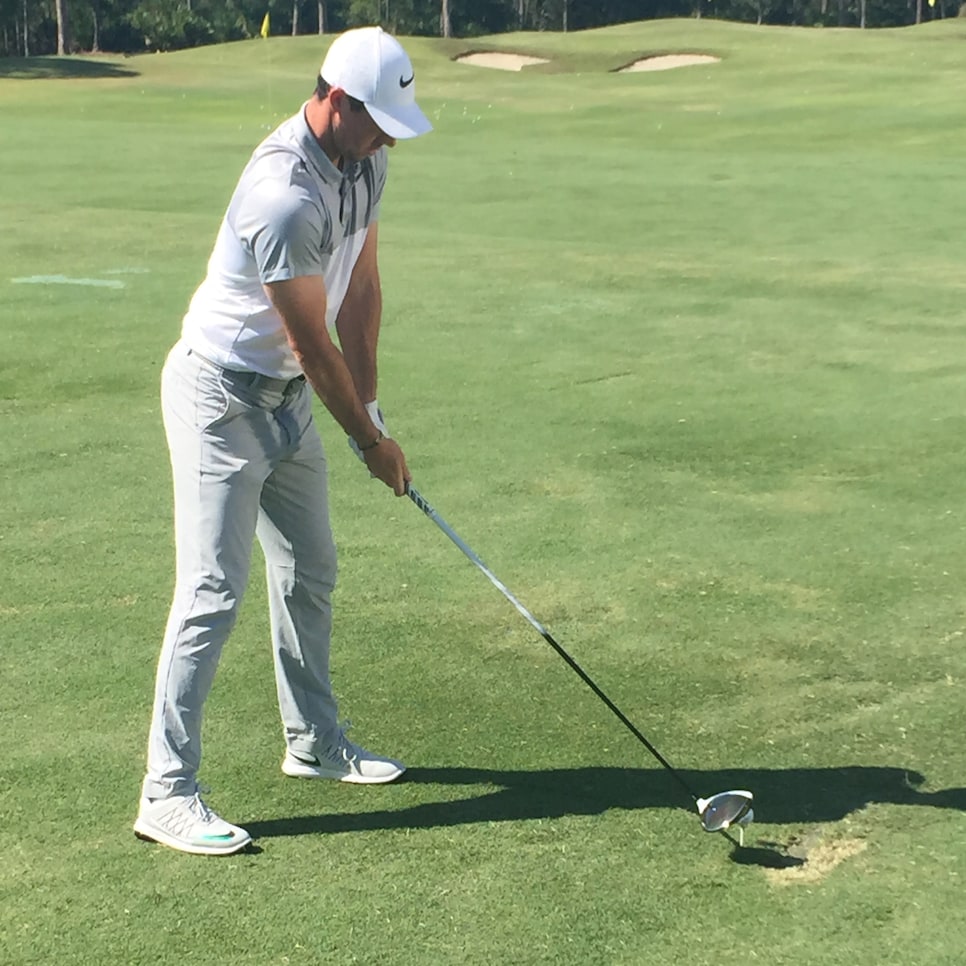 After Nike exited the equipment business last August, Rory McIlroy made it clear he was going to take his time before signing a new equipment deal. Nine months later, and after extensive testing of virtually every major brand while exploring offers from multiple companies, McIlroy has entered into a "long-term" contract with TaylorMade. The pact, announced on Tuesday, is for the full bag plus the golf ball, and McIlroy will have the company's staff bag as well. His apparel and footwear will remain Nike, as he recently signed a contract extension on that front.
Golf World spent some time with McIlroy in Florida on Monday before the Players Championship and spoke with the four-time major champion about the decision and the equipment he will be playing.
"I've been on tour for 10 years and I can't remember a time I've been this excited about my equipment," McIlroy said. "You get re-energized. You look at the guys that are playing this stuff and you've got Dustin [Johnson] who is No. 1 in the world, I'm No. 2, Jason Day No. 3, it's like six of the top 15. Sergio, Jon Rahm, Justin Rose. Everyone is playing well with it, and I'm excited to be a part of it."
As is TaylorMade. In the midst of an ongoing sale by parent Adidas, the company has struggled some in recent years but seems to have regained its footing, along with its mojo—an intangible not to be dismissed as rival Callaway rides the wave of success with its recently launched Epic driver. McIlroy had been using Callaway woods and irons before switching to TaylorMade fairway woods at the Masters and it was expected he might join sign a deal with Callaway. For TaylorMade to not only sign McIlroy but to take him away from Callaway is a major boon.
"Our tour staff and product teams have been working closely with Rory for months, and after extensive testing we're absolutely elated that he has chosen to join Team TaylorMade as he embarks on the next chapter of his career," said David Abeles, TaylorMade's president and CEO. This is the second big signing for TaylorMade in 2017, coming a little more than three months after the company signed Tiger Woods to an equipment deal.
Starting out this week at TPC Sawgrass, McIlroy will play 13 TaylorMade clubs (he will continue to use an Odyssey putter while testing various TaylorMade putters, including the Spider Tour) and the company's TP5x ball, a product that McIlroy said helped spur the decision.
Playing the Arnold Palmer Invitational and Masters in windy conditions, McIlroy noticed an uncomfortable discrepancy between his shots into the wind and downwind, citing the 14th and 15th holes at Augusta National on the weekend as a prime example.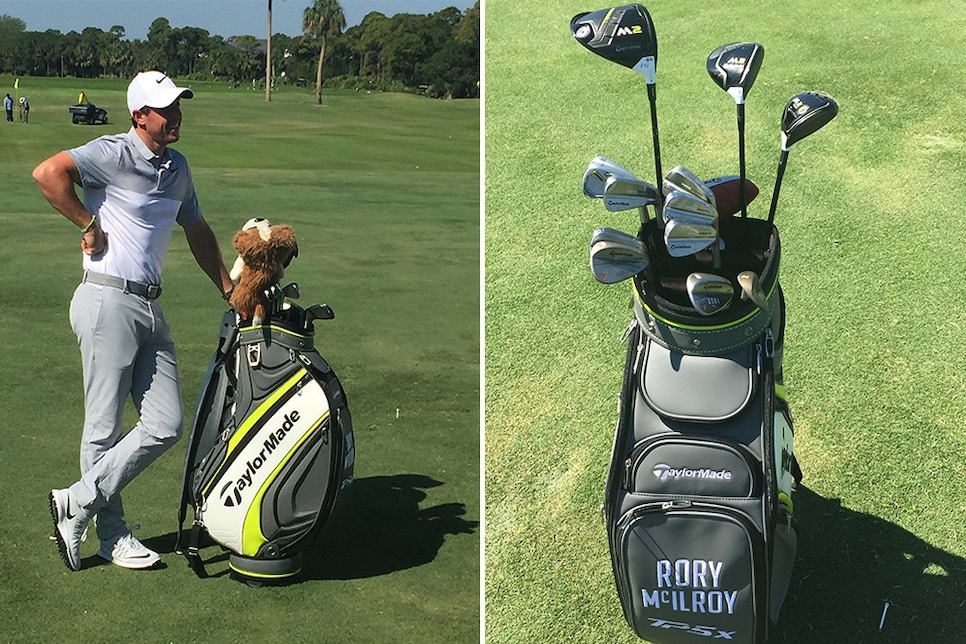 "I could barely hit an 8-iron on the 14th 140 yards, and then on 15 I was pitching it 195 yards, so I had a 55-yard discrepancy between into the wind and a downwind shot with an 8-iron," McIlroy said. "That makes it hard to pull a club. It's different for everyone, but for me I went back to the drawing board. I had 10 days here in Florida before going back to Ireland to get married and as soon as I started hitting this TP5x I was like, 'Wow, this is so much better for me.' As I tested, I had that 8-iron from Augusta in my head so I hit 8-irons because I wanted to see what that ball did in the wind and they were going the number I wanted them to, or maybe a little further. It launches high and doesn't spin as much, and I thought that was exactly what I needed. If I can get a ball on the lower end of spin, for me that's perfect, and the dispersion into and downwind was much tighter.
"The next day I came back out and it was breezy, and I brought the Callaway irons I had been playing, the TaylorMade irons they made for me, and the Pro V1x, Callaway Chrome Soft X and the TP5x and just started trying different combinations," McIlroy continued. "I started with 6-irons and was getting more yards, better dispersion and better spin rates with the TaylorMade ball and irons. Then it was just a matter of going to the green and making sure it reacted the way I wanted it to. It spins enough, and I don't have to change my philosophy around the green because I like to hit it with an open face and spin it and play all the shots I'm familiar playing. For a ball that is on the low end of spin, it doesn't feel clicky at all. So I had it in my head before the wedding this was the way to go and I made the decision to go with it."
Another decision he has made about the ball is using the number 22 on it. The number has a dual meaning. He married Erica Stoll on April 22, but there was something else as well. "We looked up the meaning of numbers and the number 22 means powerful and high risk, high reward, and that's sort of everything I am on the golf course so I thought that was appropriate," McIlroy said.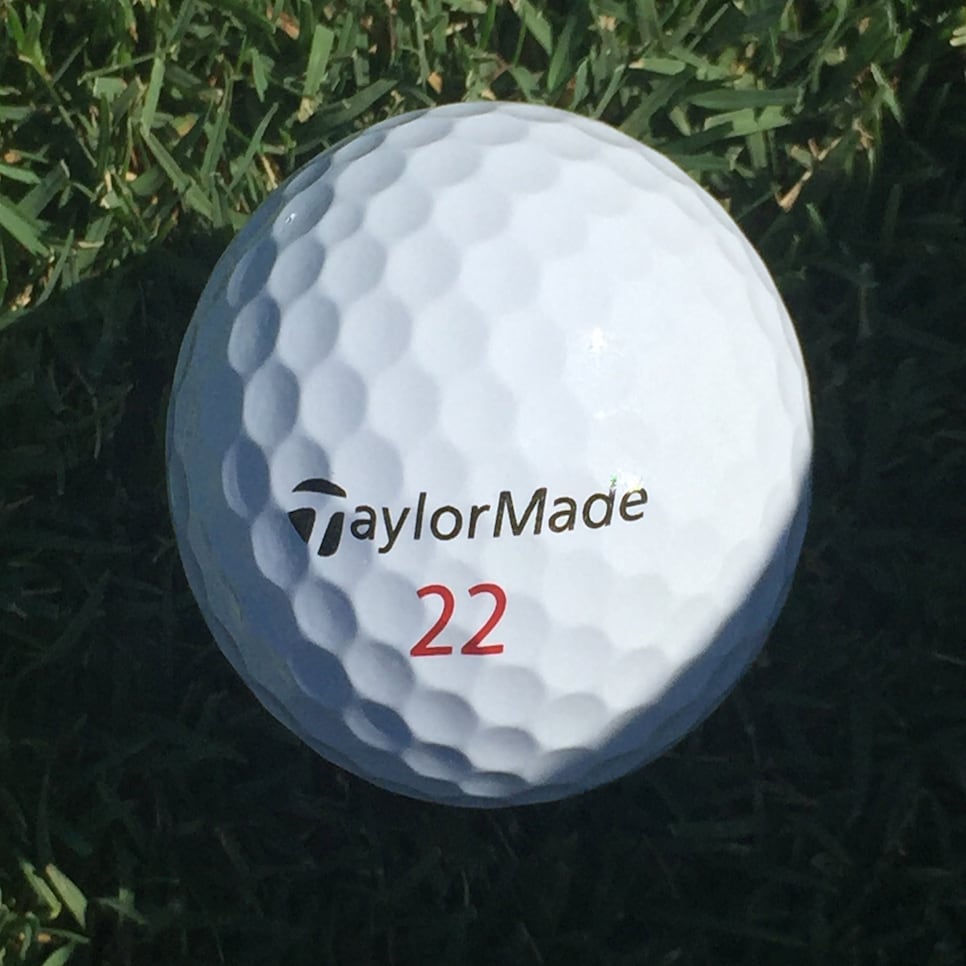 Also factoring in McIlroy's decision was conducting some due diligence with other TaylorMade staff players. "I spoke with a lot of them," said McIlroy, who has won 13 times on the PGA Tour and another 13 on the European Tour. "I've become close to DJ, and we practice at the same club in Florida. I see him almost every day when we're home, and I know he's very close to Keith [Sbarbaro, TaylorMade's VP of tour operations] and he said he would trust Keith with anything if he wanted to put something in his bag. Sergio was at my wedding and I asked him a few questions, and he couldn't speak highly enough of the people. I also played with Jon Rahm in Austin and at that point after playing at Bay Hill, I saw he was playing the TP5x and I started asking him a few questions about it and what the ball was like, and he said once he switched to that it made a huge difference and that was kind of what put it in my head, that conversation with Jon Rahm. I was like, 'maybe I should try this.' "
Speaking with McIlroy, it's clear this was far from a snap decision. It involved a lengthy testing process that included stints in Dubai in December and January where McIlroy worked at it on his own. In the end, he, in his own words, "took the easy way out," returning to some products that were familiar to him. After the Masters, that all changed, leaving McIlroy with a new bag.
In that bag will be TaylorMade's 2017 version of its M2 driver with a Mitsubishi Kuro Kage Silver 70 XTS shaft. McIlroy explained that the reason he chose M2 over the more adjustable M1 was that the only way for him to consistently hit the M1 in the middle of the face was to put the fade-draw weight all the way to the heel in the draw position, but that led to him turning it over too much. Although he got a mile or two per hour more ball speed with the M1 over M2, he felt he was more consistent with the M2 and he has three versions of the club that he will employ depending on conditions. During testing McIlroy routinely hit the club with a spin rate around 2,100 rpms and a launch angle of approximately 13 degrees with ball speeds in the 180 mph range—all desirable numbers—and felt it held its line better on his fade as well. The fairway woods will be the same M2 2017 3- and 5-wood he used at the Masters, with a Mitsubishi Tensei CK Blue 90TX shaft in the 3-wood and a Fujikura Pro P95X in the 5-wood.
Although the driver is the company's stock model, the custom milled muscleback blade irons were made just for him. The "Rors Proto" irons (with True Temper Project X 7.0 shafts) have a shorter blade length, thinner topline and less offset than the Callaway irons he had been using and already are being envied by other members of TaylorMade's staff.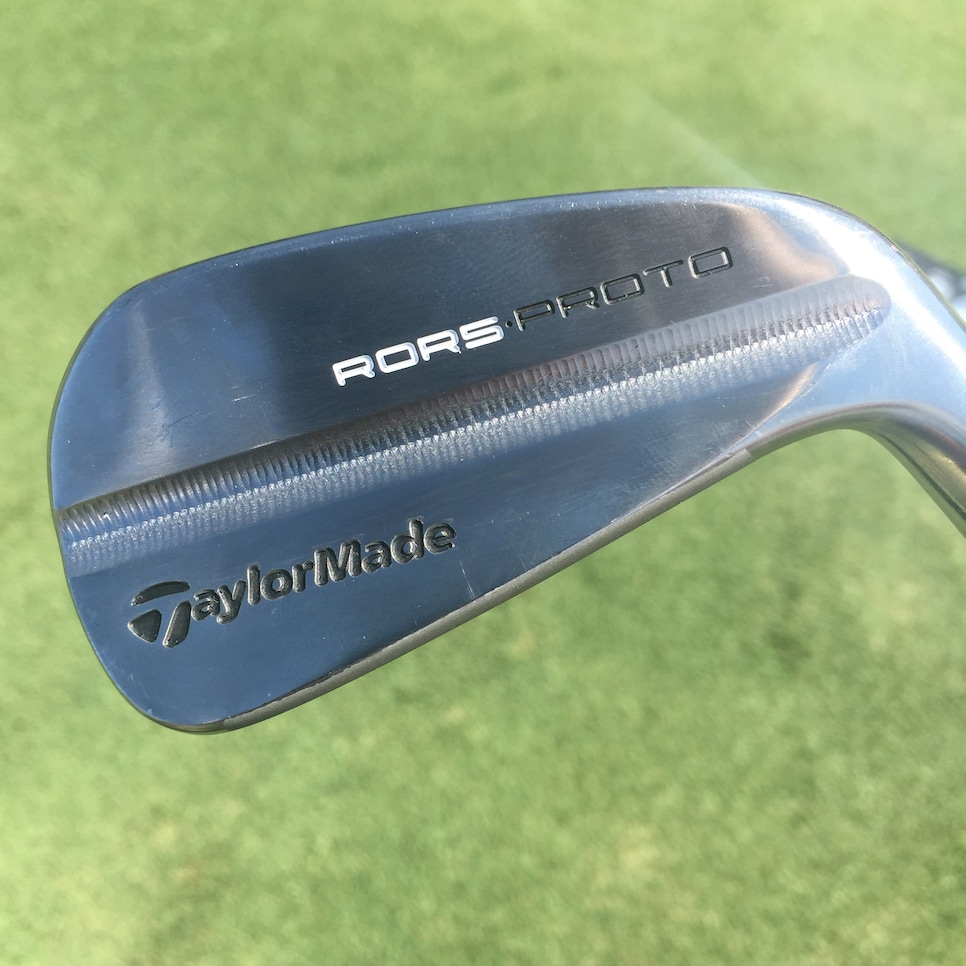 "I was hitting balls with DJ a few weeks ago and he said, 'Let me see those irons,' and he was on the phone right away asking for a set," McIlroy said. "They're a beautiful set. I've traditionally been a muscleback blade guy my whole career. One thing I'm doing with my irons that I've never really done before is that I'm putting the P750 3- and 4-iron in, so I'm using a split set. The numbers I'm getting with them are incredible. They're launching so high and I'm pitching the 4-iron 235 yards and the 3-iron 250 yards. The launch angle is high and still getting plenty of spin—3,500 with the 3-iron and 4,000 with the 4-iron—so it's staying up there, but it's going a long way and coming down to where it holds the green. So it's exciting to have that for par 5s."
McIlroy also will employ the company's Milled Grind wedges, including a 46-degree that will serve as his pitching wedge with the Project X 6.5 shafts.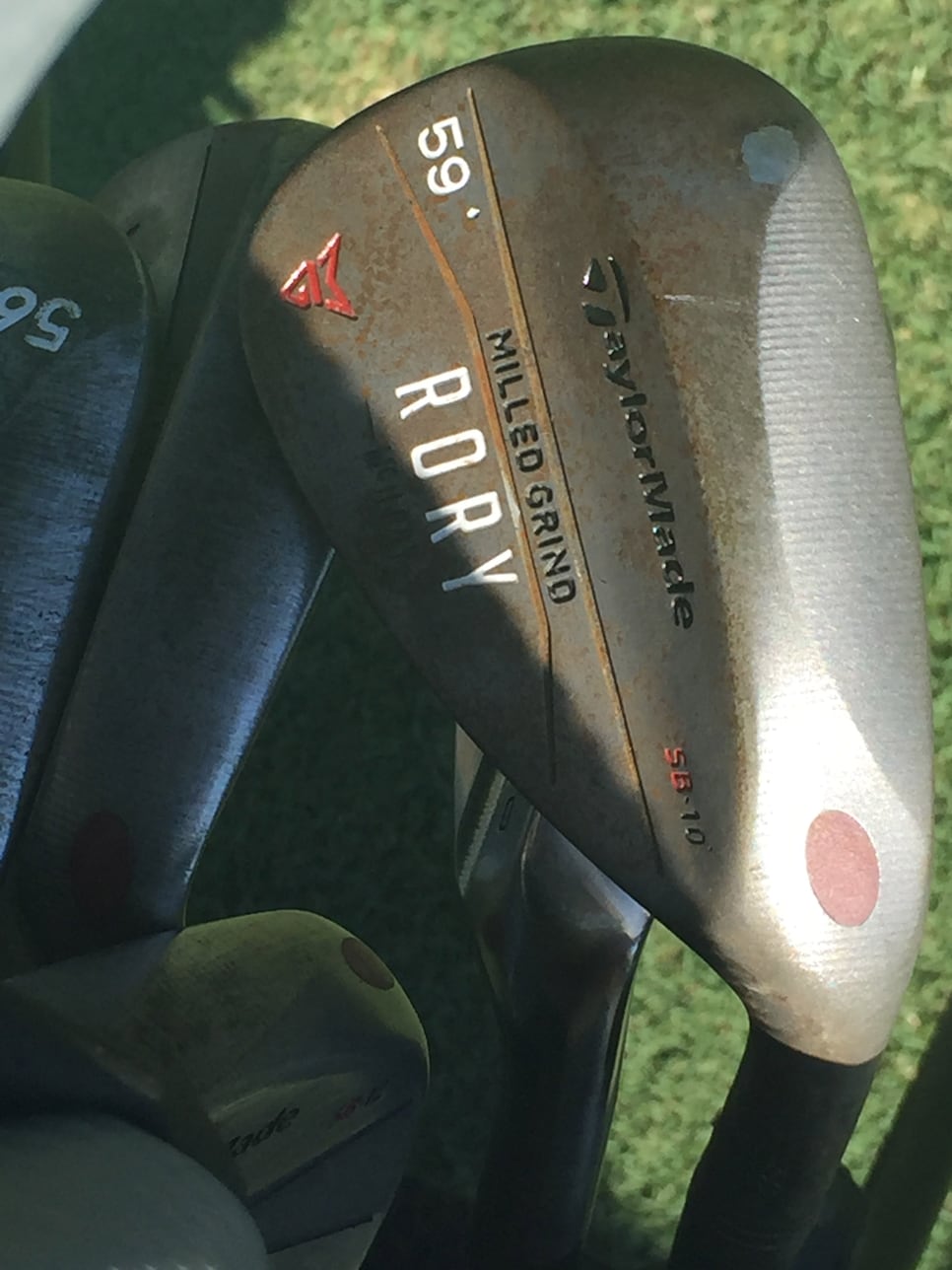 As for the putter, that's a work in progress. "I've hit a few putts with it," he said of the company's popular Spider Tour mallet. "They made one up for me. It's the red one with a black line on top. DJ and Jason Day don't have alignment aids on theirs, but the reason I went to a mallet at the end of last year was having a line I felt helped me aim better. When you put the Spider down it gives you a great visual of where you're aiming. I do want to try a couple of different inserts and faces to get something that feels a little closer to what I'm used to. I like how it swings and even hitting one off center, it doesn't seem to lose a lot of its energy, so I'm trying it out, but it's not in the bag yet."
Also not in the bag, but housed in a green carry bag with an Augusta National logo on it on the range in Florida were some extra clubs, including an M2 2-iron and a Tour Preferred UDI 1-iron that could be called upon in a special circumstance.
Equipment aside, perhaps the biggest takeaway from speaking with McIlroy was a noticeable maturity in the 28-year-old that perhaps wasn't present when he signed his mega-deal with Nike four years ago. Asked what he learned from that experience, McIlroy was candid.
"At that point you're making a choice," he said. "I was going with a brand synonymous with the best athletes in the world and that was part of the reason I wanted to be a part of that and I still am. I'm going to be with Nike for a long time to come. But the process of getting into their equipment was a big transition, I felt. Going from Titleist equipment to the Nike stuff which was, by design, much different with the Covert driver and RZN golf ball, it was all very different and it took a while. If I learned anything it was that no matter how much you try to fit yourself to the golf club it should always be the other way around. I learned a lot from that. It took me a good six to nine months to really get comfortable with the golf clubs and golf ball in 2013, but once I did, I was fine and I was good to go. Now I know that I put my swing on it, play the way I want to play, and if that golf club or golf ball doesn't match up with that, that's not my problem. It's just a product that doesn't fit me. So that was the biggest thing I learned from that."
Time will tell if it was a lesson well learned.