The Loop
Why you should bet on anyone OTHER than Rory McIlroy to win the PGA Championship
Rory McIlroy may very well win a third straight start and a second consecutive major this week, but you shouldn't bet on it. Well, of course, you shouldn't bet on it -- gambling is BAD, people! -- but we're referring to the odds being more stacked against bettors than you realize.
You'd have to have the IQ of a 3-iron to think Las Vegas sets totally fair odds -- it's a business, after all -- and setting lines for the favorites is where sports books make a lot of money. However, the difference between the odds you can get for betting for McIlroy and the actual numbers are staggering.
Ken Pomeroy, who has gained popularity in recent years with a formula that ranks college basketball teams and accurately predicts game scores, has developed a system to predict winners on the PGA Tour. Pomeroy's system always updates based on the status of the tournament and it spits out the chances of players winning a given event.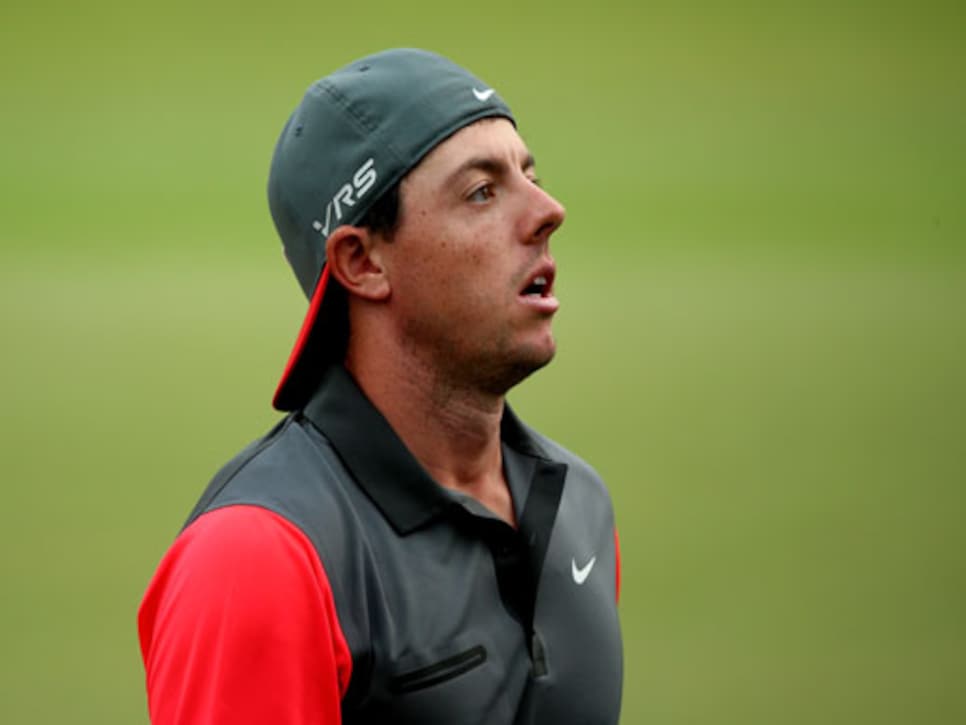 After the first round of the PGA Championship, the general consensus is that Rory McIlroy -- one shot off a three-way lead -- is the favorite. Pomeroy agrees that McIlroy, the world's best and hottest golfer, is the man to beat at Valhalla, but it might not be as much of a lock as you think.
Pomeroy gives McIlroy a 13 percent chance of winning and he lists Henrik Stenson (10 percent) and Jim Furyk (eight percent) as the two guys with the next best chance. Thirteen percent may not seem like a high number, but consider it almost equals the combined percent of 14 for the three leaders (Lee Westwood, Ryan Palmer and Kevin Chappell) and there are still three rounds remaining.
Admittedly, what Pomeroy's system can't fully account for is the groove McIlroy is in right now coming off wins at the British Open and the WGC-Bridgestone Invitational. Regardless, gamblers would be better served to gauge his numbers before placing any wager since Pomeroy's model doesn't factor in human bias like Vegas sports handicappers.
Let's start with McIlroy. Before the tournament started, he was the overwhelming favorite at 9/2 odds on betting website Bovada. That means you were betting under the assumption that McIlroy had an 18 percent chance of winning the tournament before it started -- a better chance than what Pomeroy gives McIlroy after an opening 66.
The disparity in the numbers only widens after the first round. At the start of Friday, McIlroy had jumped to 7/4 odds on Bovada. That puts McIlroy at 36 percent, nearly triple what Pomeroy predicts. In other words, this is what is known as a sucker bet.
On the flip side, betting on almost anyone else on the leader board brings fair or even good value. Stenson at 7/1 is a 12.5 percent chance of winning versus the 10 percent Pomeroy gives him. Furyk's 14/1 odds (7.6 percent) is actually less than Pomeroy's prediction. So are the odds for two of the three leaders (Ryan Palmer and Kevin Chappell), while Lee Westwood's 14/1 odds nearly match up with the seven percent from Pomeroy.
So while it may be hard to picture anyone other than Rory McIlroy lifting the Wanamaker Trophy on Sunday night, putting money on that happening isn't very prudent. You're much better off taking a long shot that could win you a lot more money and actually provide a fair rate of return on your investment.