The Loop
Rory McIlroy overcomes food poisoning, still only one off lead in WGC-Mexico Championship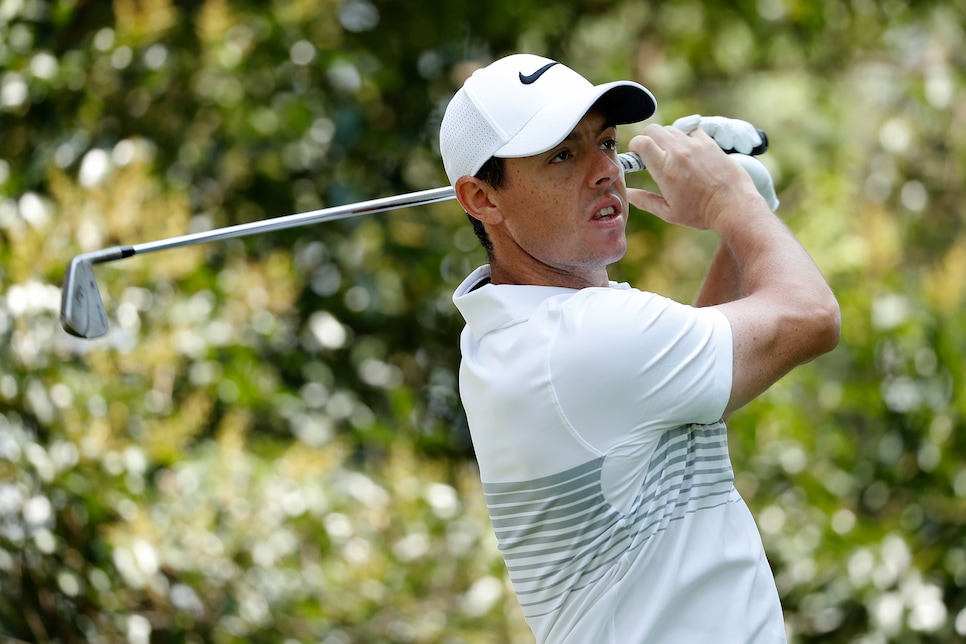 MEXICO CITY -- Rory McIlroy played his first tournament in two months on Thursday.
Rust was the least of his problems.
McIlroy, who missed the last seven weeks because of a rib injury, battled a case of food poisoning during the opening round of the WGC-Mexico Championship.
"I was up from about 3 a.m.," he said. "And then just worshiping the porcelain bowl."
It didn't slow him down much.
The four-time major champion shot three-under 68 and is a stroke off the lead after the opening day at Club de Golf Chapultepec.
Six others -- Ross Fisher, Jimmy Walker, John Rahm, Phil Mickelson, Lee Westwood and Ryan Moore -- share the top spot.
"I was really going out there to try and play my way, I guess, back into competitive and tournament mode," McIlroy said. "I made a lot of pars, I sort of played quite stress‑free golf."
He also took advantage of the course's elevation -- more than 7,800 feet above sea level -- with one blistering drive after another, leaving himself with short irons into many of the greens on the 7,330-yard narrow, tree-lined venue.
McIlroy had five drives of 350 yards or longer, including a 368-yard bomb on the 625-yard par-5 sixth, where he reached the green in two with a 4-iron before rolling in a 25-footer for eagle.
He also sprinkled in two other birdies and just one bogey -- a three-putt from 67 feet on the fifth hole -- and hit 14 greens in regulation.
"I took driver when I needed to or when I felt like I could," Mclroy said. "It's definitely a course where certain holes fit players' eyes a little bit differently."
He wasn't the only player to take advantage of the thin air -- Roberto Castro had the longest drive of the day at 407 yards.
Dustin Johnson, one of the game's longest players, took a different approach. He hit driver just a few times, opting instead for irons off many of the tees, including on some par 5s.
It was the shorter shots that mostly gave him more trouble.
Johnson, playing for the first time since becoming No. 1 in the world following his victory at Riviera two weeks ago, missed seven putts inside 10 feet.
He made six birdies, three bogeys and a double bogey after hitting 3-wood over the green and out of bounds at the 325-yard first hole -- his ninth -- en route to a 70.
"The greens are a little tricky," Johnson said. "I felt like I hit the ball really well, though. I scored poorly. I missed five putts inside four, five feet. That's the difference between playing a really good round and just playing an OK round."
At least he didn't have food poisoning. McIlroy wasn't the only player to fall ill, though.
Henrik Stenson was three over through 11 holes when he withdrew with a stomach virus.
Moore played through a sinus infection, made worse by the altitude.
Defending champion Adam Scott, who won last year's tournament at Trump Doral outside Miami, came into the week fighting a cold. He shot 73.
Nonetheless, players could at least come away feeling good about the atmosphere.
Going into the tournament, feelings were mixed about leaving a stop in Doral that had been a staple on the tour for more than a half-century.
But when the tour failed to find a sponsor to continue to hold the event there it headed across the border, where it will be for the next seven years, including this year and next at Chapultepec.
The turnout Thursday, however, was tremendous with fans four and five rows deep at some spots to catch a glimpse of McIlroy, Johnson and others.
"I think everyone's enthusiastic that we're here in Mexico," McIlroy said. "They obviously haven't had a big golf tournament like this ever probably.
"It's great, it's great to see so many kids out here enjoying it and hopefully it can continue to go like this."
After Mickelson finished his round, throngs of kids were waiting for his autograph.
"I've loved it," Mickelson said. "I'll tell you, I've had a great time these first three, four days.
"I think the best part of the day for me was how the people here were so supportive. That was surprising and flattering."