News
Yes, You Can Call It A Rivalry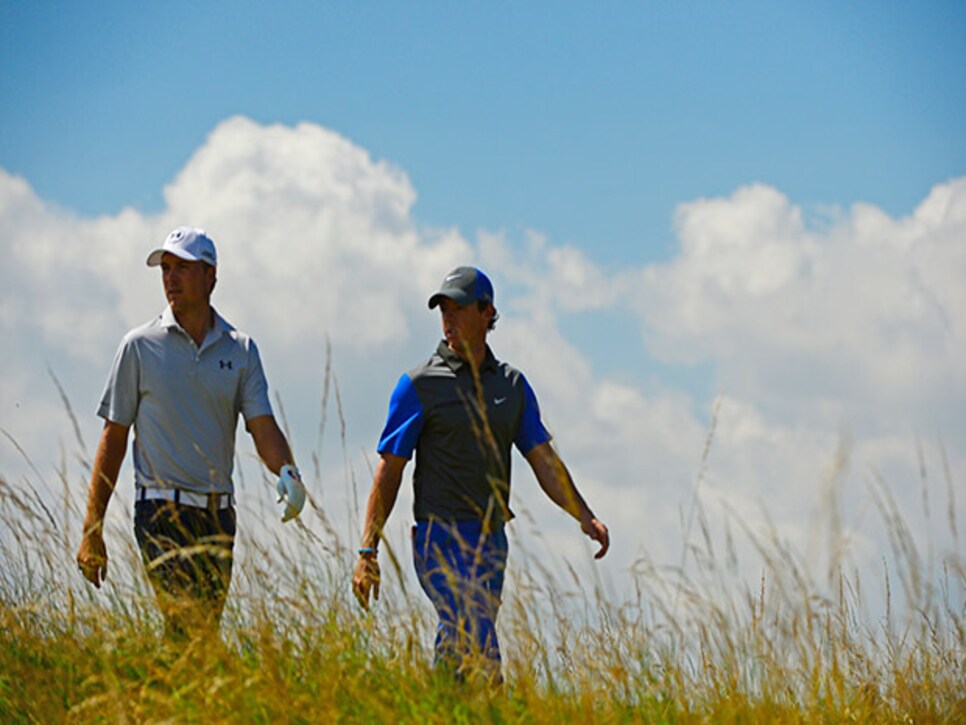 The tale of the tape for these two gives Rory McIlroy the edge on Jordan Spieth ... so far.
For some, the enthusiasm for a budding Rory McIlroy versus Jordan Spieth rivalry was blunted when McIlroy most recently answered Spieth's victory at the Masters by winning the WGC-Cadillac Match Play in cliffhanger style, then bullied Quail Hollow in the manner that made him golf's clear No. 1 in the first place.
Such a reaction was shortsighted. No doubt a victory Sunday by No. 2 Spieth at the Crowne Plaza Invitational would have offered a sharp counterpunch—especially after McIlroy missed the cut across the Atlantic at the BMW PGA Championship—and truly closed the currently wide gap in the Official World Golf Ranking between the two. But the truth is, Spieth's T-2 didn't do any harm (they now stand at 13.158 to 9.115), and even if Spieth had missed the cut at Colonial Country club it wouldn't have really mattered.
To students of golf rivalries, the long-term outlook for this one promises something special.
On paper, it's far from an all-time great matchup. The 26-year-old Irishman has 18 worldwide professional victories including four majors. The 21-year-old Texan has five and one. Fairly lopsided thus far.
However, there is a compelling chemistry, with Spieth the catalyst. The kid possesses something special that resonates. It's more than being American, or a nice guy, or forming an unofficial dual ambassadorship with McIlroy that would be timely, particularly for those who worry about golf on a macro level.
No, it's something grittier. McIlroy has more physical talent, and when he's on, he's indisputably the better player. But Spieth is wired in a way that makes him a very difficult cat to beat. In competition, his face and body language reflect the highest ambition and will, the portrait of a man on a mission. Spieth's chief weapon is a magical putter, his PGA Tour- leading conversion average from 15 to 25 feet making him the Steph Curry of golf.
Spieth has been winning, at all sports, since he was in grade school. He expects to win, and knows well that expecting to win is a big part of winning. He talks more openly about wanting to be No. 1 than anyone since a young Tiger Woods. It's a major departure from others who have climbed the mountain—Martin Kaymer, Lee Westwood and Luke Donald, to name a few—and found it hard to breathe. At the same time, Spieth's aspirations never come off like the bravado-filled declarations of Ian "It will be just me and Tiger" Poulter and Patrick "I'm one of the top-five players in the world" Reed.
The calm certainly is what breeds faith. Spieth loves the battle, his zeal for the big moments recalling how Jack Nicklaus always considered pressure "fun." For Spieth, the point of competition is to win and be the best. It's a pure sentiment expressed honestly.
There is also about Spieth a perspective gained from having a younger sister on the autism spectrum. As much as Spieth clearly aches to win, there is also a strong sense that he can handle losing. As his father, Shawn, says, "If Jordan doesn't ever become No. 1, he'll know that's only a piece of life, not all of life."
Ah, yes, No. 1. Spieth has wanted it since he was a junior golfer (who won two U.S. Junior Amateurs). As he summarized before the Valero Texas Open in March: "Ultimately I'd like to be one of the best players to ever play the game. I don't think that's a conceited statement. I think it's just something that I've always wanted to be since I was a kid and have a chance to do, and I'm really lucky that I have a chance to do it."
Spieth wasn't that voluble about his ambitions in his first two seasons on the PGA Tour, but after blowout victories at the Australian Open and the Hero World Challenge at the end of 2014, he unabashedly began to make McIlroy, The Golfer (the two both say they are friends) his target. "I did a good job of starting to chase Rory these last couple weeks, but then that's only really the beginning of what needs to happen for the ultimate goal, which is to overtake him," he said.
After winning at the Valspar Championship in March, Spieth ramped up the rap. "Right now, currently, what I'm really focused on is Rory McIlroy," Spieth said. "[He's] No. 1 in the world, and that's who everyone is trying to chase. That's the ultimate goal, to eventually be the best in the world. And this is a great, great stepping stone."
McIlroy could have been forgiven for being taken aback at how Spieth, however respectfully, was bringing the heat. At the Players, before McIlroy played the first two rounds with Spieth, he subtly fired back when asked if he saw Spieth as his chief rival. "Last year it was Rickie [Fowler], this year it's Jordan, might be someone else, could have been Tiger," he said with an almost affected offhandedness. "There's been four or five rivalries over the past year. So, it doesn't really do anything for me."
After dramatically winning the match play in San Francisco, McIlroy pointedly referenced Spieth as "one of the guys." "I wanted to come out and play well and increase my lead in the world rankings," McIlroy said, "and keep going. But it's always nice to have people pushing you. And I feel like he's one of the guys doing that right now."
Frankly, Spieth is the only guy who's been truly pushing McIlroy. And what makes their dynamic interesting are their differences as golfers and as people. Though both are strong all-around players with no glaring weaknesses, Rory is historically great with the driver and long irons while Spieth has a chance to be with the wedges and putter. He is to McIlroy what Gary Player and Billy Casper were to Arnold Palmer and Nicklaus. "I'll never hit it as far as he does, and I have to make up for that somewhere else," Spieth explains.
McIlroy's swing is free flowing and explosive, producing extreme speed that can be brilliant but also tempts big numbers. Spieth has an efficient, if less than classically aesthetic, move, marked by a pragmatic "chicken-wing" action with his left arm through the ball. It's control first, with playable misses.
Temperamentally, McIlroy is an artist. It's understandable that he doesn't put a lot of significance on his opponent.
He knows if he plays his best golf, he will beat everyone. The problem is, even the very best golfers relatively seldom play their best golf. If McIlroy doesn't play his best, a hot-putting Spieth has a very good chance of beating him.
An idealist whose happiest moments on the course are from his childhood, McIlroy recently said, "I would be dishonest if I said my love of golf now is as big as it was. I don't love golf as much as when it was just pure joy to get on to the course to play. When I was a kid, if I spent a day away from the game, I couldn't wait to get back. Now I can't wait for a week off."
Spieth is different. He revels in the act of winning, even if it's ugly. He seems to delight in golf's grinding version of hand-to-hand combat. He intensity to win can redline, as it might have down the stretch at Colonial, leading to a three-putt bogey on the 70th hole that he couldn't overcome with a dramatic 25-foot birdie on the 72nd, but he never quits. He might want it more than McIlroy and may love it more.
Add it all up, and it feels a lot closer to even that it appears on paper. Yes, it's a rivalry, and one that promises to keep getting better.