Genesis Scottish Open
'Roll everything back': Rory McIlroy drops spicy equipment take after strong start to Scottish Open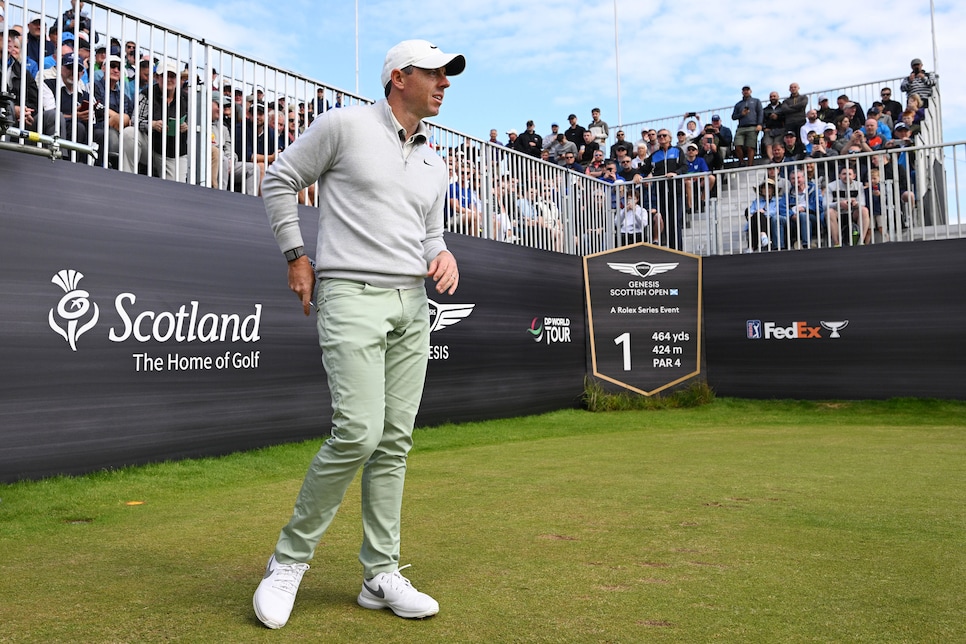 GULLANE, Scotland — Whether his third time playing in a Scottish Open at the Renaissance Club turns out to be lucky or not, Rory McIlroy is off to a best start at a venue where he has had little or no previous success. In 2019, the Northern Irishman finished T-34, and two years later he failed to qualify for the weekend. Not only that, his 2021 visit was marked by a bizarre incident.
Waiting to tee off on the 10th hole alongside Jon Rahm, McIlroy was chatting to his caddie, Harry Diamond, when a man appeared out of the gallery, grabbed the headcover off McIlroy's driver and took one of his irons out of the bag. He then proceeded to make a couple of practice swings. All of which provoked a classic double-take from McIlroy and bemused looks from all concerned before a pair of security guards moved in to remove the intruder.
This year, so far at least, things are rolling along a little more smoothly. Again starting on the back nine, McIlroy was as many as five under par after only seven holes. Bogeys at the short 17th and the par-4 second slowed his progress. But normal service was resumed over the last seven holes, courtesy of an eagle at the par-5 third and what was a sixth and final birdie, on the 338-yard fifth hole. It all added up to a six-under-par 64 and an air of contentment around the four-time major champion.
"It was pretty comfortable, although I wouldn't say it was easy," said McIlroy of a bright and breezy morning at the Tom Doak design on the southern shore of the Firth of Forth. "I got off to a great start and holed some nice putts early on. That got my eye in. As I said yesterday, I'm coming in here playing really good golf. I've been producing good results and getting myself in contention. So I'm just trying to do the same things while still adapting a little bit to the different conditions I'm going to face in the next couple of weeks."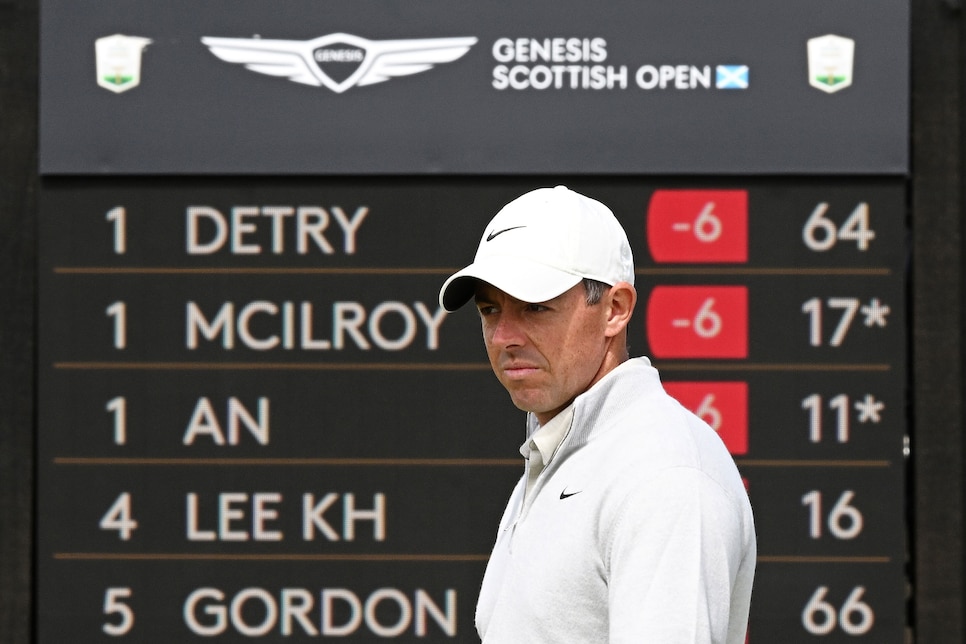 And that was as much as McIlroy had to say about next week's Open Championship at Hoylake, the course where he became Champion Golfer of the Year back in 2014. Otherwise, he was all business, focused solely on the matter in hand.
"My mind is pretty much on this week," he claimed, without even a hint of his tongue entering his cheek. "I've got myself off to a great start. I'd love to win the Scottish Open. This event is a massive deal in its own right. And what that could give me for the rest of the summer is important. Yes, we've got the Open Championship next week. But there is also the FedEx Cup and the Race to Dubai, too. So this is a big week. I'm focused on here, but in doing so I'm getting ready for more links golf next week.
"In fact, this week is a bit of a re-set," he continued. "I didn't touch my clubs for 10 days after the Travelers. Before the pro-am yesterday I had played only two rounds of golf and had two practice sessions. So I'd had a bit of time away. I have some really good feeling in my swing that are consistent. Even if I do take a bit of time away, I feel comfortable getting back into it. After today, I feel like I've returned just where I left off."
Such was McIlroy's mood, he even found time to comment on the shots he had hit the previous day with a persimmon wood.
"Roll back the clubs," he said with a smile. "Roll back the ball. Roll back everything. I see John Huggan nodding his head in agreement. I must say swinging a persimmon wood means you can't swing as hard as you would with a [modern large clubhead]. You need to hit it out of the middle of the club face. And a persimmon wood looks about as big as a golf ball. It's cool. It's a throwback. And that's why we have a few different tee boxes. We can always move forward and play some old equipment. Every now and then it's fun to do it."
Shooting 64 is too, of course.