The Loop
Rory McIlroy explains curious choice that led to a closing bogey and a 64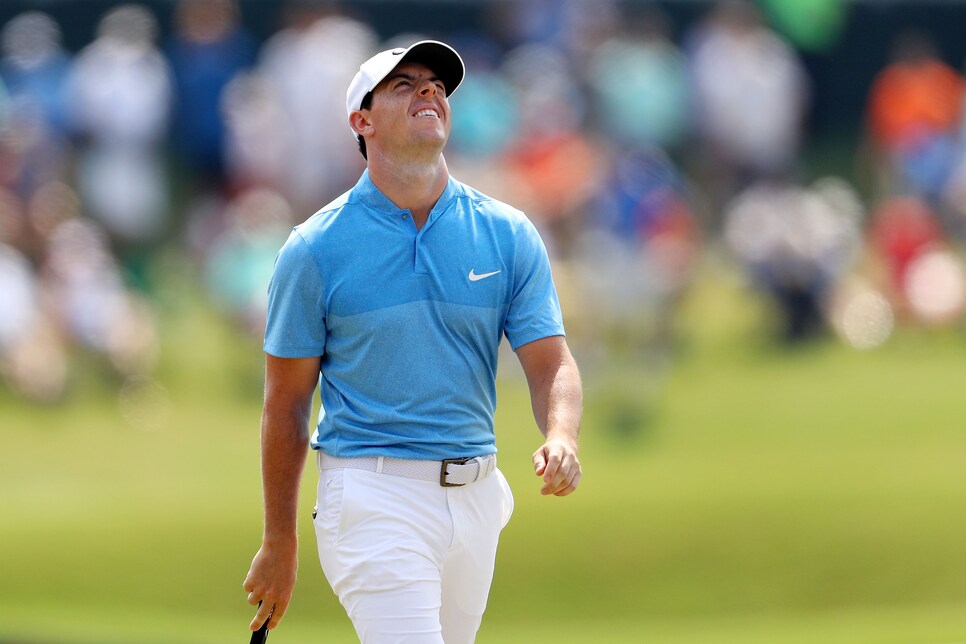 PONTE VEDRA BEACH, Fla. -- Few people are good enough to be genuinely upset after shooting 64. Rory McIlroy is one of those people.
The four-time major champ made a major move up the leader board at the Players on Friday, but he didn't sound like someone who had just shot his best-ever round at TPC Sawgrass.
"Disappointment. I'm frustrated," McIlroy said when asked about his overriding emotion after the round. "It should have been a couple better. Instead of being two behind the lead, I feel like I should be tied for the lead."
In particular, McIlroy was upset with how he finished his round. With a chance to break the course record on the par-5 ninth (McIlroy played the back nine first), McIlroy hit a perfect 3-wood to the right side of the fairway -- and then made a curious choice. With 271 yards to the green and a perfect angle, he opted to lay up.
"Any time I went for the ninth green in two here I've either hit the trees in the left or I've hit it sort of out to the right into those grassy mounds that Pete Dye loves. And I've never -- it's just -- it has never really worked out for me when I went for the green," McIlroy reasoned. "So I sort of talked myself out of it on the fairway. And I laid up and thought, I'll take my chances from inside a hundred yards from the fairway. And it was a tough, if anything, I might have left myself a little bit too close. It was a tough shot with it being downwind and the pin so tight. I was trying to get really sort of cute with it, I guess, and I just hit it too easy."
He explained that an equipment decision had something to do with his choice as well.
"I'm carrying a 2-iron this week instead of my usual 5-wood. Maybe if I had the 5-wood in the bag, I might have went for it, because at least I could have got a little bit more height," McIlroy said. "But, yeah, I was thinking about it, I wanted to make birdie and shoot 62. There's no doubt about that."
Instead, McIlroy made his lone bogey of the day after missing the green short with his third shot and winding up with an awkward chip from the rough. McIlroy undoubtedly would have signed up for a 64 when he woke up Friday morning, but it wound up feeling like a bit of a letdown after such a torrid start.
After holing a 60-foot eagle putt from the fringe on No. 16, McIlroy was seven under through seven holes. He nearly made it eight under through eight, but his long birdie try on 17 came up an inch short. A par on 18 gave him a record-tying 29 on the back nine and continued his trend at TPC Sawgrass. In the past four years, McIlroy is now a staggering 56 shots better on the back nine (44 under) than he is on the front (12 over).
The good news for McIlroy -- other than the fact that a 64 at TPC Sawgrass is still really, really good -- is he's also trending in the right direction at this event. After missing the cut in his first three trips to the Players, McIlroy has gone T-8, T-6, T-8, and he's poised for another high finish.
"Hopefully, I'm just not too far away going into the weekend," McIlroy said.