The Loop
Rory McIlroy doesn't regret Olympics WD: "I didn't get into golf to get other people into the game"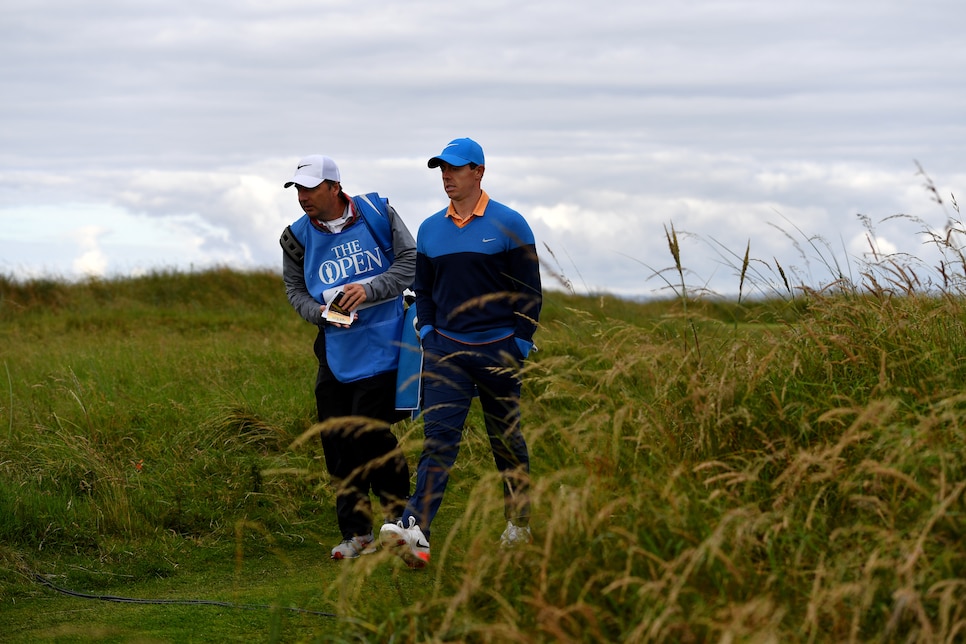 TROON, Scotland -- It is perhaps the best and most endearing aspect of just about any Rory McIlroy press conference. There is about the young Irishman an inherent honesty and, instilled by his parents, an effort to be helpful and, well, nice. Certainly, he invariably tries to answer questions in ways that are neither bland nor formulaic.
Take his response to how things had gone at Royal Troon's most famous hole, the 123-yard par-3 Postage Stamp, during his morning practice round for the 145th Open Championship that begins Thursday.
"I think I took an 8 or a 9," said the World No. 4 with a big smile. "So that didn't go too well. I hit into the right-hand bunker and took about five or six goes to get out. There is a lot of sand in that bunker. Every time I tried to get out, the ball would run back into the same spot. It was a bit of struggle. If I make four 3s there this week I'll probably gain a bit of ground on the field."
Inevitably, there was talk too of the Olympics. In the wake of Jordan Spieth adding his name to a lengthy list of absentees, McIlroy was quizzed yet again on his reasons for not going to Rio next month. And, yet again, his basic lack of interest in the quadrennial games was not hard to discern from his response.
"I don't think it was as difficult a decision for me as it was for Jordan," he said. "I don't feel like I've let the game down at all. I didn't get into golf to try and grow the game. I got into golf to win major championships. I get that I have a responsibility to the game. But at the same time I got into golf to win. I didn't get into golf to get other people into the game.
"I'm very happy with the decision I made. I have no regrets. I'll probably watch the Olympics. But I'm not sure golf will be one of the events I watch."
As for his own form, McIlroy did lapse into stereotype with his assertions that he is "happy" with his game and "looking forward" to playing a Royal Troon course he had not seen until last Thursday. But when asked about a recent newspaper article about the so-called "Fab Four" in which he was referred to as "Ringo" -- universally regarded as the least talented of the Beatles -- McIlroy regained his verbal stride. There was even time for a subtle wee "zinger" in response to the thinly veiled insult.
"Those guys [Day, Spieth and Johnson] are having a great run at the minute," he acknowledged. "But I feel like my game has been quite consistent. I can't worry about other guys. If I focus on myself and make sure that if I play my best golf I'm going to win more times than not. I've got four major championships. I'd love to add to that tally, just as those guys would love to add to the one or two majors they have."
Inevitably, however, the discussion drifted back to the Olympics and, more specifically, drug testing in golf. McIlroy admitted to being tested by the International Golf Federation on the second day of last month's U.S. Open and by the PGA Tour on a couple of occasions. Which doesn't sound like much when compared to the testing in place for the runners, jumpers, swimmers and throwers who will dominate proceedings in Brazil.
"There's a pretty low threat of doping in golf," he said. "There's a few guys that you would call athletic. But part from that, we're not trying to get on our bikes and cycle 200km every day.
"I don't really know of any drug that can give you an advantage right across the board. But you can't really pick up HGH in a urine test. I could use HGH and get away with it. So I think blood testing is something that needs to happen in golf. If golf wants to stay in the Olympics and wants to be part of the Olympic movement, it has to get in line with the rest of the sports."