The Loop
Rory McIlroy bounces back from rough opening round to make the cut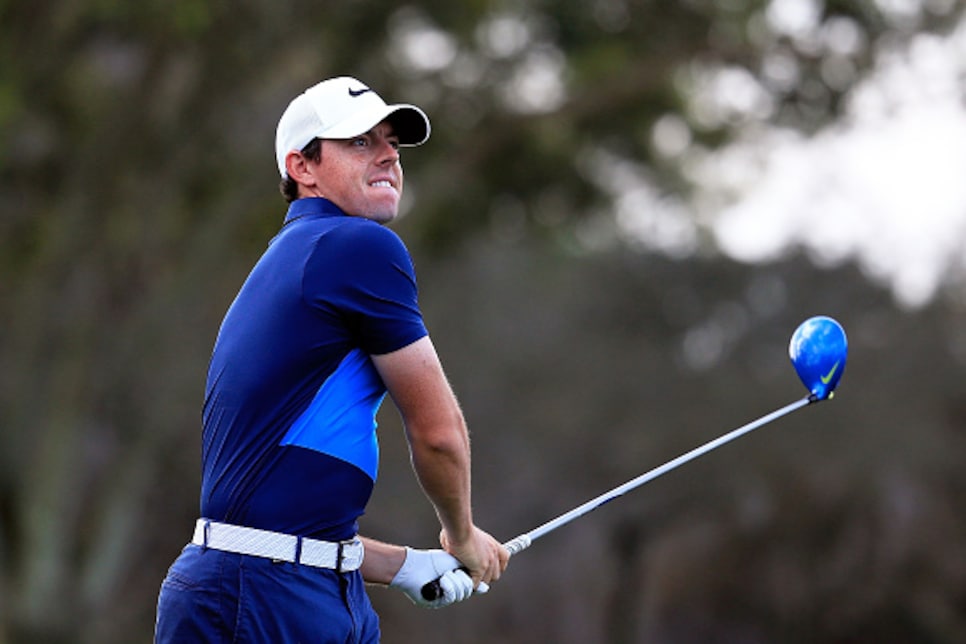 ORLANDO -- One week it's Jordan Spieth fighting to make the cut, the next it's Rory McIlroy. It's difficult to intimidate the field when you're near the bottom of it.
Of course, the best players do find a way to battle back.
Spieth, the No. 1 player in the world, rebounded from an opening 76 at the Valspar Championship to climb into contention through three rounds before falling back to T-18.
This week at the Arnold Palmer Invitational, McIlroy, No. 2 in the world, has had to do the scrambling. After a shocking 75 Thursday at Bay Hill Club -- when the field averaged 71.4 -- the Ulsterman reined in his wayward driver and responded with a 5-under 67 to make the cut with a few shots to spare. He's still 11 strokes behind rejuvenated Jason Day, who has admitted to under performing himself thus far in 2016, but at least McIlroy gets to play two more rounds.
And he gets to breathe easier. In his last two rounds -- the final at Trump Doral when he lost the WGC-Cadillac Championship after holding the 54-hole lead, and Thursday's opener at Bay Hill -- McIlroy had converted three paltry birdies. On Friday he made six against one bogey.
In addition, he also avoided the fate he suffered at the Honda Classic, a home game where he missed the cut.
"Yeah, I missed the cut at Honda. You don't want to miss the cut here," McIlroy said, noting the obvious. "The main objective: I have to get two more rounds in and hopefully I can play well over the weekend. [But] even playing well I'm not sure that's quite going to be enough that far behind Jason. At the same time, I can get confidence from that and bring it on to the next week and ultimately into the Masters."
Oh, yes, the Masters. That's a big deal to McIlroy, who needs a green jacket to complete the career grand slam. You also need it if you want to win the single season variety, too.
It's no secret that McIlroy, 26, thrives when he can attack a golf course with his driver. But in the opening round at Bay Hill he got a case of the pulls. He'd moved the ball up in his stance slightly, and the club was arriving at the ball with the face closed. Bad combination. He double-bogeyed the first hole and struggled all day, ranking 114th in Strokes Gained-Tee to Green. On Friday he was 14th in the same category because he hit 9 of 14 fairways, five more than round one.
An hour on the driving range late yesterday did wonders.
"I needed to go and do something," he explained. "Yesterday was the worst I've driven the ball in a long, long time. Just couldn't hit a fairway. Whenever you do that, especially starting off yesterday hitting those tee shots left and I haven't seen a tee shot go left like that in a long time, it was a bit of a shock to me.
"I needed to try to straighten things out on the range last night and was able to do that somewhat. I found a couple things. Got the TrackMan and looked at a few numbers. Yeah, I was able to hit a lot better today and it showed in the score."
Indeed, those numbers looked better. But not compared to Day's efforts.
"I thought the total that he's on now, 13-under, I thought that was going to have a great chance at the end of the week," McIlroy said. "I thought something around 12-under was going to be right there. For him to do that after two days, is pretty spectacular. I think everyone has got their work cut out to try and catch him."
At least McIlroy gets the chance to try.