The Loop
Rory McIlory's latest win shows just how much better he is than everyone else, including Tiger Woods
DUBAI -- It was a contrast impossible to miss. As Tiger Woods played a game with which he is not familiar, Rory McIlroy was simultaneously asserting his increasingly clear superiority over what currently passes for his competition. Although only half a world apart -- one in Scottsdale, the other in Dubai -- the two biggest names in golf were metaphorically on different planets.
The same sort of intergalactic banishment was the collective fate of those in McIlroy's lengthy slipstream at the Omega Dubai Desert Classic. Four tours of the Emirates Course saw him reach 22 under par and finish three strokes clear of the runner-up, Swede Alex Noren. As a measure of the 25-year old Irishman's now prolonged level of high performance, 18 of his last 49 competitive rounds have added up to 66 or better. His last seven finishes on the European Tour: First. First. First. Second. Second. Second. First.
"He's playing a different game from the rest of them," says former BMW PGA champion Tony Johnstone, who now commentates for Sky Sports in the UK. "When Tiger was at his peak he could play at maybe 70 percent of his capability and still win. Rory has reached that level too. And when he plays close to 100 percent, it is 'goodnight boys.' He is hitting shots so good we don't have enough superlatives to adequately describe them for the viewers."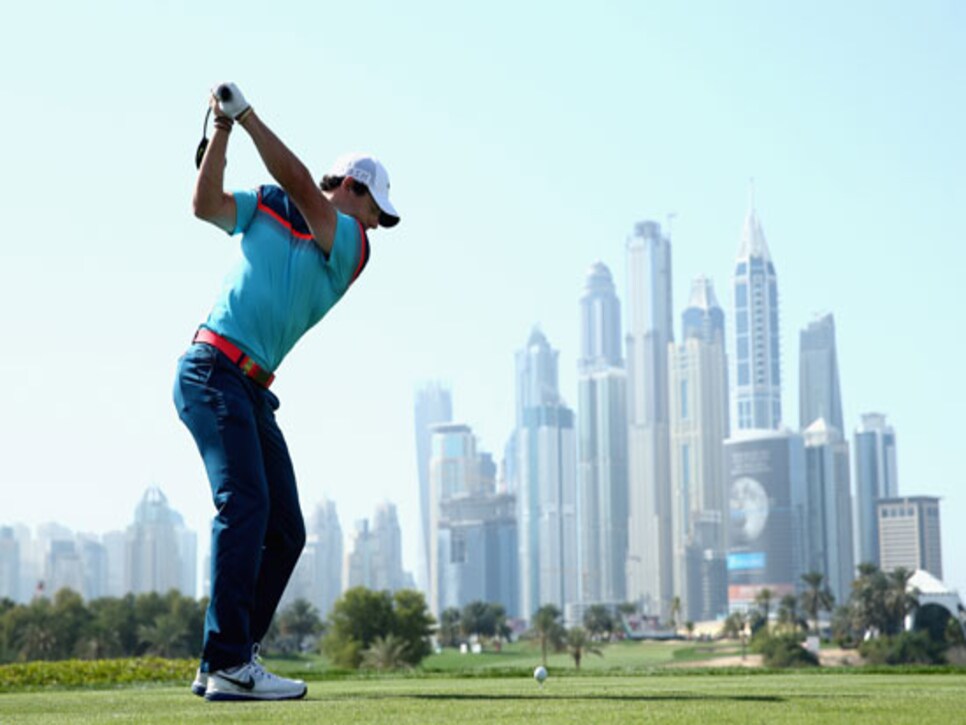 Such hyperbole is hardly misplaced. Having emerged towards the end of what history will surely label "the Tiger-years," McIlroy is fast creating his own eponymous era. Already it can be argued he is perhaps the best driver of a golf ball the game has yet seen. Tee-shots that routinely travel 350-yards and finish on short grass represent a potent coupling of distance and accuracy.
"I'd just finished my second round here when someone told me Rory hit his drive on the second hole (351-yards) 12 feet from the pin," says former Ryder Cup player Oliver Wilson. "I had to laugh. I hit my best drive on that hole and still had 50-yards to the flag."
Via Twitter, former Ryder Cup player Edoardo Molinari described McIlroy's drive off the 6th tee in the final round as "simply insane!!!"
There's more to all of this than just natural talent though.
"Technically, Rory is really, really good," points out leading swing coach Pete Cowen, who works with, among others, former US Open champion Graeme McDowell and world number two Henrik Stenson. "That's why he hits his drives so far and so straight. But the key to Rory's swing is balance. He couldn't swing the club as fast as he does without great balance."
One dark cloud is currently floating over McIlroy's head. Only two days removed from his tenth European Tour victory, his presence is required in Dublin's High Court. Indeed, the way things are shaping up on and off the course, the legal action against his former management company, Horizon Sports, might be McIlroy's most hard-fought contest of 2015.