The Loop
Ron Whitten's live chat: Masters, Augusta and 100 Greatest
It's Masters week--the Super Bowl of the game we try to love, try harder to play, but mostly just respect and adore.
On my morning commute to the office today, I called Tim Rosaforte (@TimRosaforte) for an early update on what's happening at Augusta. It was 7:00 a.m., it was "chilly," and he was on his way to the course. Just like you, I'm anxious, but mostly desperate, to be in the know.
Take yesterday for example, our architecture expert, Ron Whitten, participated in a live chat on Twitter, responding to your questions about the Masters and the release of America's 100 Greatest--Augusta is No. 1 on the list.
I can't believe you had anything better to do on Tuesday at 12:30 EDT, but in case you missed it, I've pasted the banter below.
The chat started with insight on Augusta's green speeds: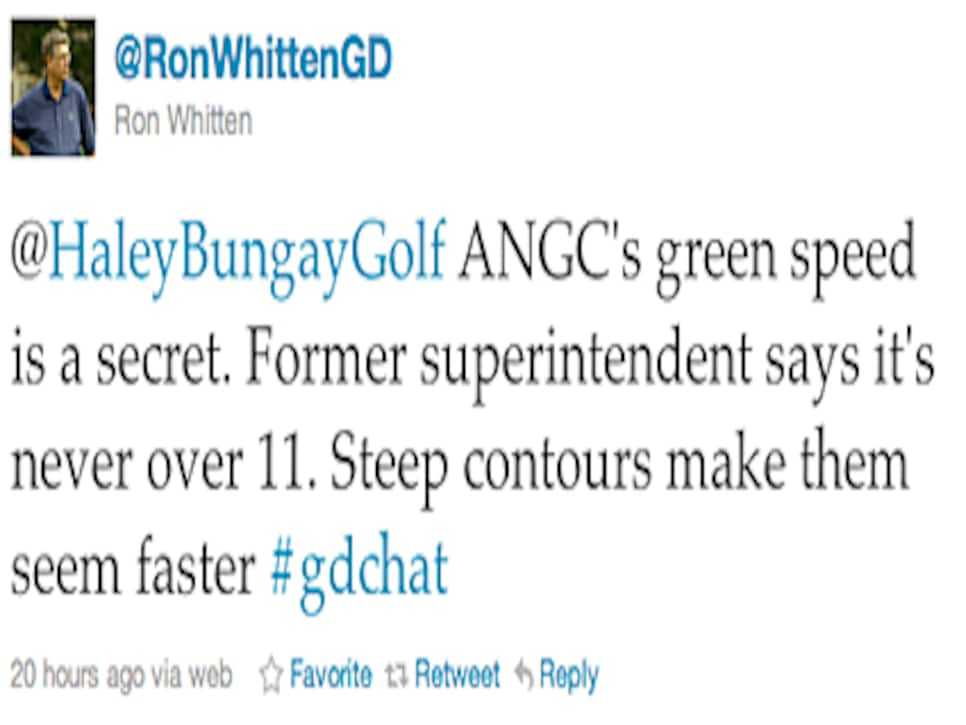 I'm planning on watching the TV coverage, and keeping my laptop open, so I can turn down the sappy dribble that has become Jim Nantz, (sorry, used to love him, now he's a syrup-soaked pancake), and getting some better perspectives on the action from writers, instructors and players.
Today at 12:30 EDT, Mike Johnson (@EMichaelGW), will chat on the subject of equipment. For a more comprehensive list of how we're "on it," and the complete chat schedule, click here.
Otherwise, friends, enjoy the rest of Whitten's tweets, and a tradition unlike any other (birds chirping, piano playing, tight shot of an azalea...).