Takeaways
Max Homa's on-fire finish, Bryson's bad week, and Phil MIckelson's COVID concerns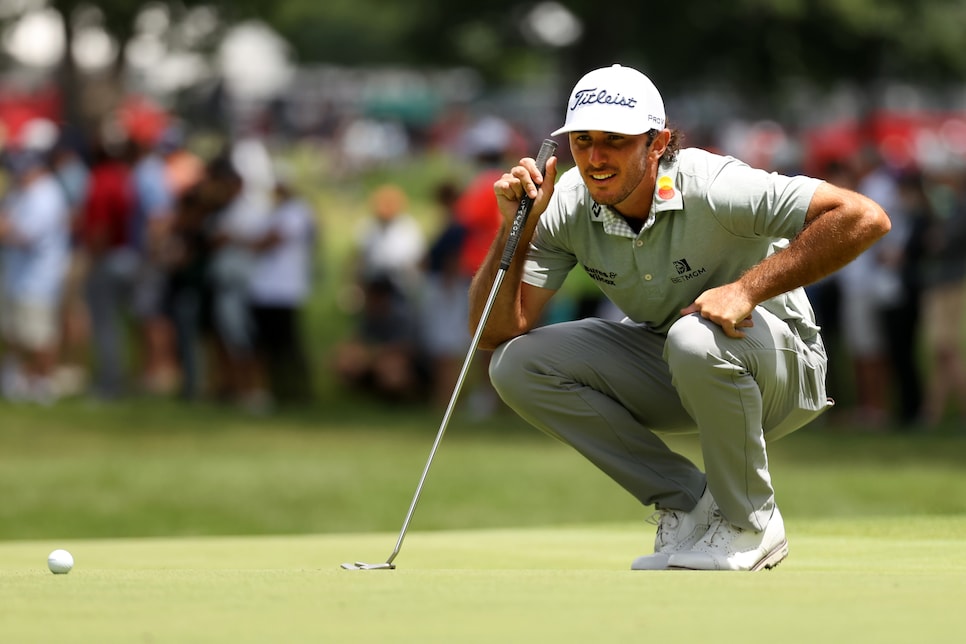 Max Homa lines up a putt on the third hole during the second round of the Rocket Mortgage Classic.
Gregory Shamus
The reporters wanted to make the angle work, and Max Homa just kept shooting them down. Homa won his first PGA Tour event in February on one of his favorite golf courses in the world, Riviera Country Club just outside Los Angeles. Riviera is tight and lined with eucalyptus and sycamore trees. This week's venue for the Rocket Mortgage Classic, Detroit Golf Club, is similarly wooded.
That's where the comparisons end in Homa's mind, particularly because of the seven inches of rain that the Detroit area got over the last couple of weeks. The sogginess could not make it more different than the way Riviera, where Southern California is experiencing a drought, played for the Genesis Invitational this year.
"I guess the sectioned part of the greens is similar," Homa allowed. "Riviera has a lot more gradual break. This is pretty obvious—you have to hit it in certain quadrants of the green to have relatively easy putts. The way it lays out, yeah, with the big trees framing the holes, for sure."
So he threw them a bone, but let's understand: The layouts and the challenges they present are very different. Of note: Homa beat Tony Finau in a playoff in L.A. after they tied at 12 under. Through two rounds of the Rocket Mortgage, Homa is already at nine under, tied for third with Chris Kirk and Troy Merritt. They are one shot behind Joaquin Niemann and Tom Lewis.
"You can really get the birdies going out here," Homa said.
No kidding. Homa was plodding along, three under for the day through 14 holes and well off of the leading pace. Then he finished with a barrage of four straight birdies.
"The ball finally figured out what it's supposed to do," Homa said. "Played really well the last two days, just could not get a putt to go in. I hit my first 16 greens yesterday, hit a lot of good putts, but today I hit even better putts. I had, I think, four or five that I just couldn't believe missed, and finally making one on 15 felt amazing.
"All of a sudden the ball just started going in, getting close. That's golf, I guess. We did a great job of staying super patient and, like I said, I know I've been playing really well, just sometimes the ball just forgets its job."
Homa—and his ball—have certainly been erratic in the last couple of months. He's put together quite the strange results line: T-6 at the Valspar Championship; missed cuts in the Wells Fargo and PGA Championship; T-6 in the Memorial; missed cuts in the U.S. Open and Travelers.
We're figuring he'd like to do better this week than pulling off the T-6 Trifecta.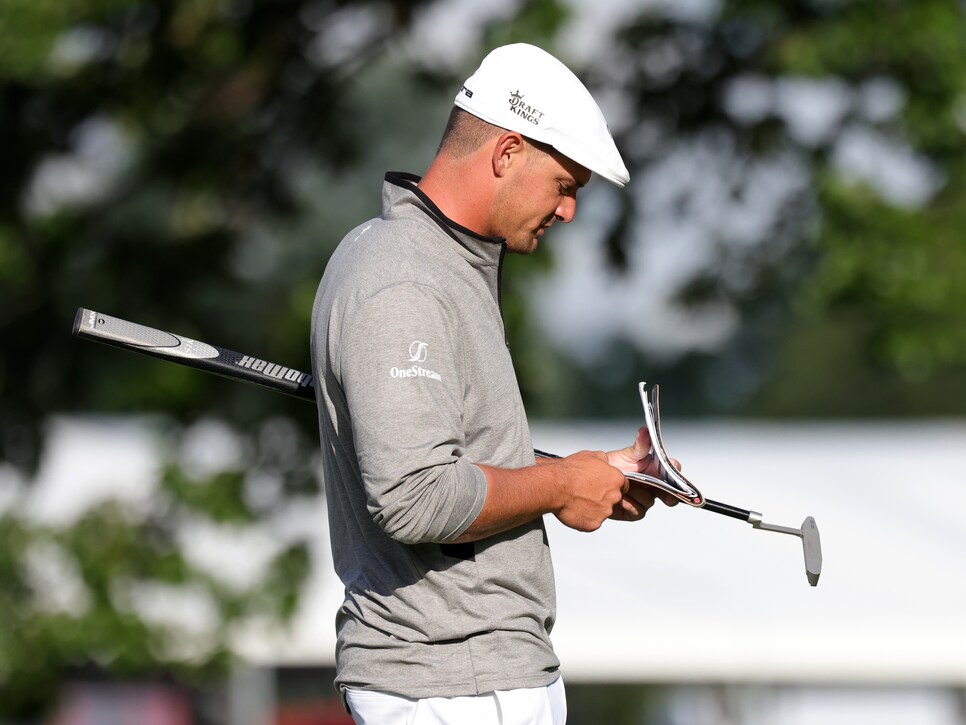 Bryson DeChambeau prepares to putt during the second round of the Rocket Mortgage Classic.
Leon Halip
Three more takeaways from Round 2 in the Rocket Mortgage
The Golf Digest gambling crew called it in a headline on Wednesday—"Don't overthink it: Bet Bryson this week." There was every reason to believe DeChambeau could once again overpower Detroit Golf Club and win running away, like he did last year. Our experts couched it by noting that you never know with the big guy; that he might come up with some wacky new mental or equipment test for himself.
No one foresaw what actually happened: only the second missed cut of the year after Bryson's longtime caddie, Tim Tucker, basically quit on the spot, on the day before the tournament started. Tucker was at least amiable in his tweet about his time with DeChambeau. As for Bryson, we don't know what he thinks or how he feels. On both tournament days, he turned down efforts by tour media officials to make him available to reporters. That's his prerogative, of course, but it doesn't shed any light on his own situation, which is unsettled, to say the least.
After his meltdown on the back nine of the U.S. Open, it figured DeChambeau would want time to recharge. He didn't take that, playing last week in the Travelers Championship and not doing horribly with a T-19. But maybe another week was just too much. Maybe he and Tucker were so frazzled that whatever differences they had were magnified. Either way, it portended a bad week for Bryson, who relied heavily on Tucker's skill at both managing the player's swing "clock" and his otherwise quirky nature.
Due to distractions and maybe the soggy conditions, DeChambeau had nothing close to his best stuff. He hit only half the fairways and half the greens on Friday in shooting 72. Quite the contrast to his 23 under in winning last year, when Bryson shot 66-67-67-65. Other comparisons: DeChambeau hit 77.8 percent of the greens in regulation a year ago in the Rocket, and gained nearly eight strokes (7.8) putting. This week, he hit 55.6 of the fairways and lost a half-stroke to the field.
"I hate golf," he was heard muttering on the early round web coverage.
Clearly, a man in need of a vacation.
Mickelson talks COVID concerns
Not that it's ever left his awareness, but Phil Mickelson was again feeling the reality of the coronavirus era on Friday after group partner Hideki Matsuyama had to withdraw before the second round due to registering a positive COVID-19 test. Matsuyama, the reigning Masters champion, played the first round of the Rocket Mortgage with Mickelson and Rickie Fowler—neither of whom has reported having COVID-19.
"It's certainly unsettling to know that I spent the entire day that close, but also, as I look back, I know that I kept my distance from everybody and tried to stay six feet … so I think we're all being as responsible as we can," said Mickelson, who shot 72 on Friday and made the cut on the number at three under. "And I'm very sorry that that happened to him, and I hope he's able to play the British. And I also hope that Rickie and his caddie Joey [Skovron] and myself and my brother [Tim Mickelson], that we're OK, too."
The most pressing concern is that the Open Championship begins at Royal St. George's in Sandwich, England, in 13 days. It's not clear whether Matsuyama will be able to play, and anyone who now tests positive will face uncertainty.
"We're at the point now where if you were to come down with COVID, you can't go to the U.K. and play. That's why we're all being so careful," Mickelson said. "I've been vaccinated, but still, people who have been vaccinated still get it. Myself, my brother, [coach] Andrew Getz and the people we're with are trying to stay as isolated and as careful as we can."
Mickelson has suffered a bit of a letdown since winning the PGA Championship in May. Since Kiawah, he's missed the cut once, finished 62nd and 61st and is in 63rd, seven shots off the lead, in Detroit.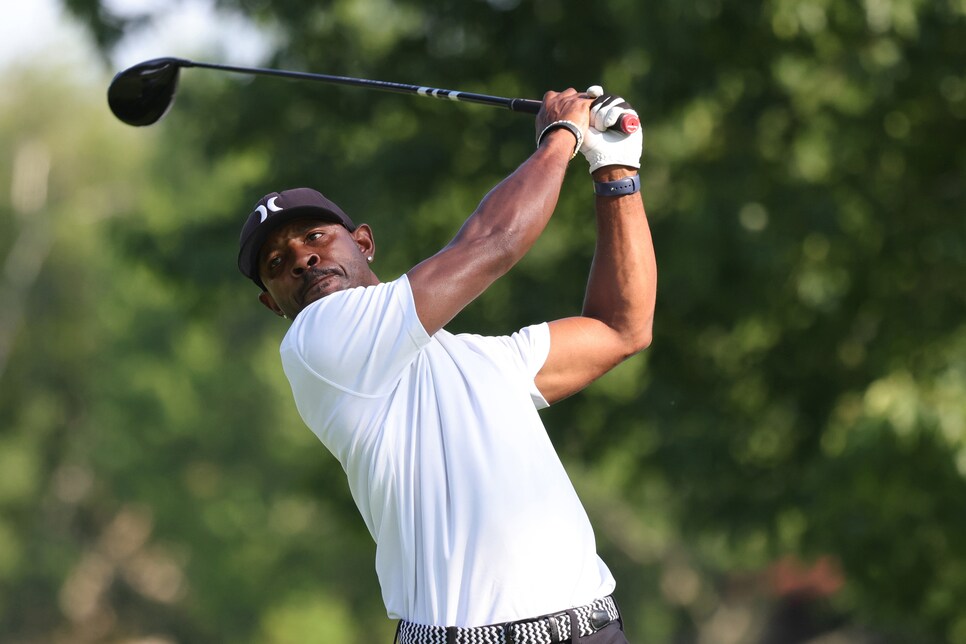 Tim O'Neal hits his tee shot on the 17th hole during day three of The John Shippen National Invitational.
Leon Halip
"I am tired of trying to fight to make cuts," Mickelson said. "I want to get in contention because that's what's so much fun, like it was at the PGA, just being in contention and having a chance. So I've got to play a little bit better, but it is important to me that I get two more competitive rounds."
O'Neal savors a special week
Tim O'Neal wasn't going to do any trunk slamming when he missed the cut. There was too much good that came out of the week for that.
A 48-year-old journeyman, O'Neal played in the eighth PGA Tour event of his life, thanks to his victory on Monday in the inaugural John Shippen Naitonal Invitational. The Shippen was fashioned to give Black men and women golfers a chance to qualify for events on the PGA and LPGA tours. O'Neal opened the Rocket Mortgage with a two-over 74, shot 73 in the second round, and he missed his first chance to play on a PGA Tour weekend by two shots.
But O'Neal's experience was about more than the results. He got to visit with some old friends, including Bubba Watson, with whom he played years ago on what is now the Korn Ferry Tour. 'It's just nice to catch up and talk about the course a little bit, and just old times," O'Neal said.
Another highlight was playing with Jason Day—another former compatriot from years ago—in the celebrity pro-am Area 3-1-3 Shootout earlier in the week. (The 3-1-3 is for Detroit's area code.) Day, O'Neal and their am partners won.
"This whole week's been really great," O'Neal said. "Sorry I have to leave on Friday, but it's been a great week and hopefully I'll get a chance to do it again."
O'Neal lamented the fact that he didn't make a birdie in the first round, and on Friday he struggled with his flat stick. "Wish I would have played a little bit better," he said. "I putted horrible this whole week, but sometimes that's golf and you just move on to the next tournament."