Course Rankings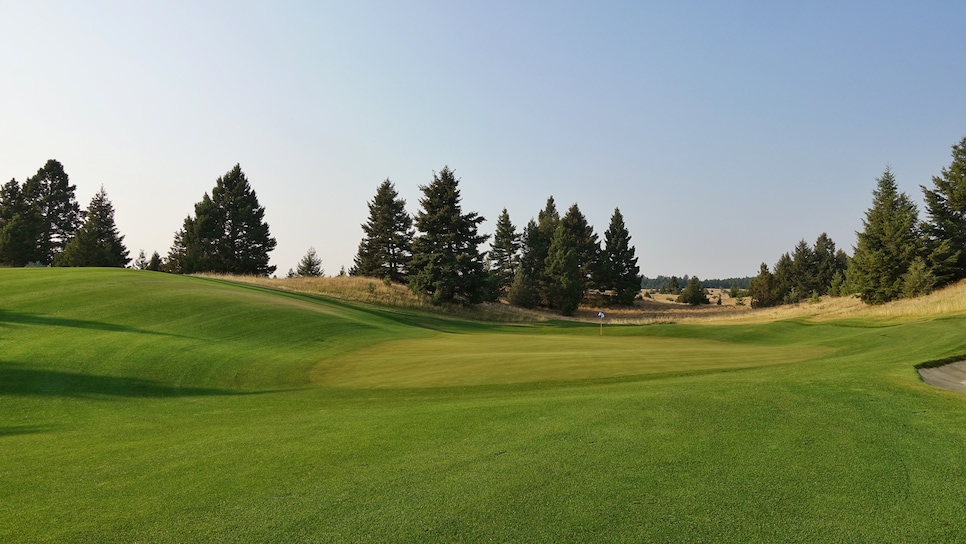 81. Rock Creek Cattle Co.
In the high plains north of Butte, Mont., minimalist master Tom Doak fashioned a splendid inland links from a working cattle ranch. His broad, looping routing starts in pasture, makes a slow but steady climb to the seventh tee, then plays through pines and over the ravines of Rock Creek, as gorgeous a fly-fishing stream as can be imagined. At the ninth, the course bursts back into the open, atop rolling hills offering hogback, punchbowl and sideslope fairways, then rolls downward and homeward, finishing back along the stream. Doak moved little earth because it was so rocky. Greens are huge to fit the scale and bunkers shaped to emulate those blown out by constant winds. Rock Creek Cattle Co. is high-country golf at its finest.
100 Greatest/Second 100 Greatest History: Ranked since 2013. Highest ranking: Current ranking. Previous ranking: No. 103
"Every hole has the appearance and feel that it was found rather than built, using the natural contours of the hilly landscape to create the shapes and banks of each hole. With nothing but miles of beautiful ranch land for as far as the eye can see, several holes feel as if you are hitting out into an open field. Rock Creek Cattle Co is a true gem in the middle-of-nowhere Montana!"
"I have always enjoyed Tom Doak's attention to detail around the greens and, here at Rock Creek Cattle Company, he knocks it out of the park. The rewards for finesse are tremendous. And, angles on approach are important here."
"Severely underrated—this should be mentioned in Tom Doak's best work. A modern masterpiece that should get the attention it deserves. Wide fairways offer options, but in true Doak fashion, the test comes on your approach into these greens, which score high in strategy and testing precision."
"Gorgeous sightlines with tremendous visual appeal both in the horizon and interior of the course, with enough elevation change to captivate the golfer without going overboard. The course is a real star in the "Western inland natural" genre."
"Wow, what a fun course. I never thought I would see a new course that I would like as much as Sand Hills, but this place was terrific. Hard to get to and equally hard to leave. It has to be one of the best "destination" clubs in America."