News
Robert Trent Jones Jr.: Lessons learned at Chambers Bay applied at Erin Hills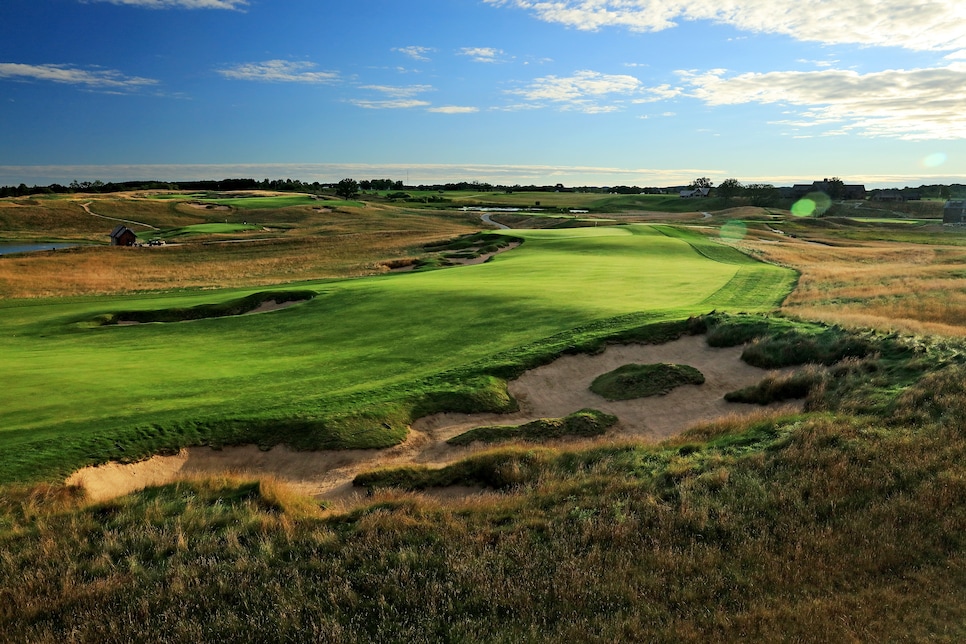 Criticism of U.S. Open venues is usually unavoidable, history has shown, even ancient history. The Myopia Hunt Club, site of the 1905 Open, set the tone. "Such a total lack of toilet appointments was never before witnessed at a championship event," The Golfers' Magazine wrote.
The nearest point of relief, as they say, won't be so elusive at the U.S. Open at Erin Hills. But bearing in mind that it is an Open newcomer that was "designed to accommodate the U.S. Open," as its website notes, is it likely that the course itself will again be a more accessible target for the disgruntled than its fairways and greens?
Robert Trent Jones Jr., a renowned course architect, is vastly familiar with unfavorable first impressions to Open courses designed with the intent of hosting major championships.
The first was Hazeltine National, at which the Open was played in 1970. Jones' father, Robert Trent Jones, designed the course that Open contestant Dave Hill famously said lacked only "80 acres of corn and a few cows. They ruined a good farm when they built this course."
Two years ago, the U.S. Open was played at Chambers Bay, designed by the younger Jones, whose mandate was to deliver a course of major championship caliber. He did, and many players weren't thrilled. "If they can come back in about 20 years' time, I'd be OK with that," Rory McIlroy, then 26, said in the aftermath.
So now comes Erin Hills, unfamiliar to the game's best players, who generally have an aversion to surprises. But this time around, Jones suggests, the course probably won't be as susceptible to criticism as its predecessors were, notably Chambers Bay.
"I applaud the USGA for bringing golf to new venues, while honoring traditional sites like Merion, Pebble Beach, Shinnecock Hills, Winged Foot," he said. "I think this is a very good thing for our game.
"Chambers Bay was a work in progress. Maybe it still is. But that which was learned at Chambers Bay has been strictly applied at Erin Hills. My feeling about Chambers Bay is that it was a glorious success. There were a lot of new things experimented with. It was a public golf course with entirely fescue grasses. It was part of a large park, like a people's park, in which there was a championship golf course set, and a U.S. Open came there. The USGA learned a lot from that. The experience has helped them prepare for a second new course, Erin Hills."
Jones noted the USGA and its executive director, Mike Davis, were involved actively with the development of both courses, giving them a perspective to assess what went wrong and what went right.
"Mike Davis showed up during construction [at Chambers Bay] and had definite influence on how we detailed some of the elements of the golf course," Jones said. "He gets his hands dirty. I consider him a very knowledgable person. From day one he was involved. Mike Davis, Bruce Charlton and me, although [Davis] will not take credit for the architecture, but he deserves some."
Among the severest criticisms of Chambers Bay was that the greens were exceedingly bumpy, "pretty much like putting on broccoli," Henrik Stenson said. Or cauliflower, McIlroy replied, noting the lack of green in the greens.
"Something changed," Jones said. "What changed? They changed superintendents. The former superintendent was very careful to remove poa [annua, an invasive grass] by hand whenever it appeared. The new super wanted to use chemicals for whatever reason, so there was poa annua in some places. I anticipated the problem and brought it to the USGA's attention, that it could be cause of some concern.
"From that experience they are using their knowledge to make sure that they're more attuned to those elements at Erin Hills, namely the conditioning of the golf course. So what did they do? They shut it down entirely last fall. They removed poa everywhere. As soon as it sprouts it's removed. They have 40-plus people on board daily. You can do that on public golf course owned by a private individual happy to invest money in his support of it.
"At Erin Hills, the fairways are pure fescue, but the putting surfaces are bent, so they learned and applied that, to their credit."
What also changed at Chambers Bay, panoramically adjacent to Puget Sound south of Seattle, was the weather. It took a turn toward the better. Fescue is a cool-season grass. "It was quite a mild winter," Jones said. "In April at the media day the course was in wonderful shape. Then it got warm. Is that bad? June is summer solstice. It gets warm everywhere in June. It got beautiful, high quality weather.
"From my point of view it was 99 percent perfect. I was mesmerized. It was a little brown, though I don't know what that means. The greens were a little bumpy. I picked that up. What also happened is that Jordan Spieth outputted everybody and won."
It came down to the par-5 18th hole and the best player in the world in 2015 made a birdie and the best player today, Dustin Johnson, made a par. By any measure, that is a success.
"We had great drama at Chambers Bay," Jones said. "I'm hopeful Erin Hills has the same drama. I've played Erin Hills and I think it's a wonderful golf course. I'm very much an Erin Hills supporter. After all, three golf architects designed it, not professional golfers. Michael Hurdzan, Dana Fry and [Golf Digest architecture editor] Ron Whitten built it.
"It's a great new treasure of golf for the midwest."