130. Robert Trent Jones Golf Club
Robert Trent Jones (1991)
Designed by Robert Trent Jones and his long-time associate Roger Rulewich just before they tackled the ambitious and enormous Robert Trent Jones Trail string of courses in Alabama, Robert Trent Jones Golf Club was intended to be the veteran architect's definitive statement on championship golf. Routed on rolling terrain densely covered with pine and hardwoods, the design reflects the philosophy Trent pioneered—heroic architecture—with well over a hundred glistening white sand bunkers and the last 11 holes playing along the shoreline of Lake Manassas, including the par-3 ninth with a peninsula green, the par-3 11th over a lake cove and the par-4 18th over an inlet and up a lakeside bluff. The RTJ G.C. has hosted the Presidents Cup matches on four occasions and was a PGA Tour stop in 2015.
100 Greatest History: Ranked on America's 100 Greatest in 1997-1998. Ranked on America's Second 100 Greatest: 2013 through current. Highest ranking: No. 92 (1997-1998). Previous ranking: 133
Watch Golf Digest's latest "Every Hole At" course videos below:
Panelist comments, Robert Trent Jones Golf Club:
"Some really impressive presidential history in this expansive clubhouse and throughout the building, including the locker of #44 – a current member. Located about an hour west of downtown D.C., the history makes sense, and even more so considering the club has hosted four Presidents Cups (1994, 1996, 2000, and 2005)."
"A fantastic course with beautiful views overlooking Lake Manassas, but more importantly some great strategic holes. The fairway bunkering is elite and challenges golfers to take on the bunkers to set up scoring opportunities. The Par-Threes present a wonderful variety of shots, requiring different shot shapes and trajectories to get near pins."
"Incredible movement in the terrain; both gradual and immediate, and tests every aspect of your game. Not only did the greens have varying contours, but they offer the best pin sheets I have ever seen."
"Despite following the river, the holes along the water are all completely unique and test different shot values, including par 3s at different angles and up/down hill, a short par 5, and both short and long par 4s. The routing and hole layout receives strong marks for variety."
"By my count all the dogleg rights were on the front, and all the dog-leg lefts were on the back -- never seen that before. The layout presents six dogleg rights, three dogleg lefts, and five straight holes, with four uphill, seven downhill, and seven flat."
"Excellent across shot values, design variety, resistance to scoring. Well bunkered fairways and greens, excellent use of lake front acreage, and large green complexes offer variability in hole complexities. Fun, traditional golfing experience on an exceptional, well conditioned layout."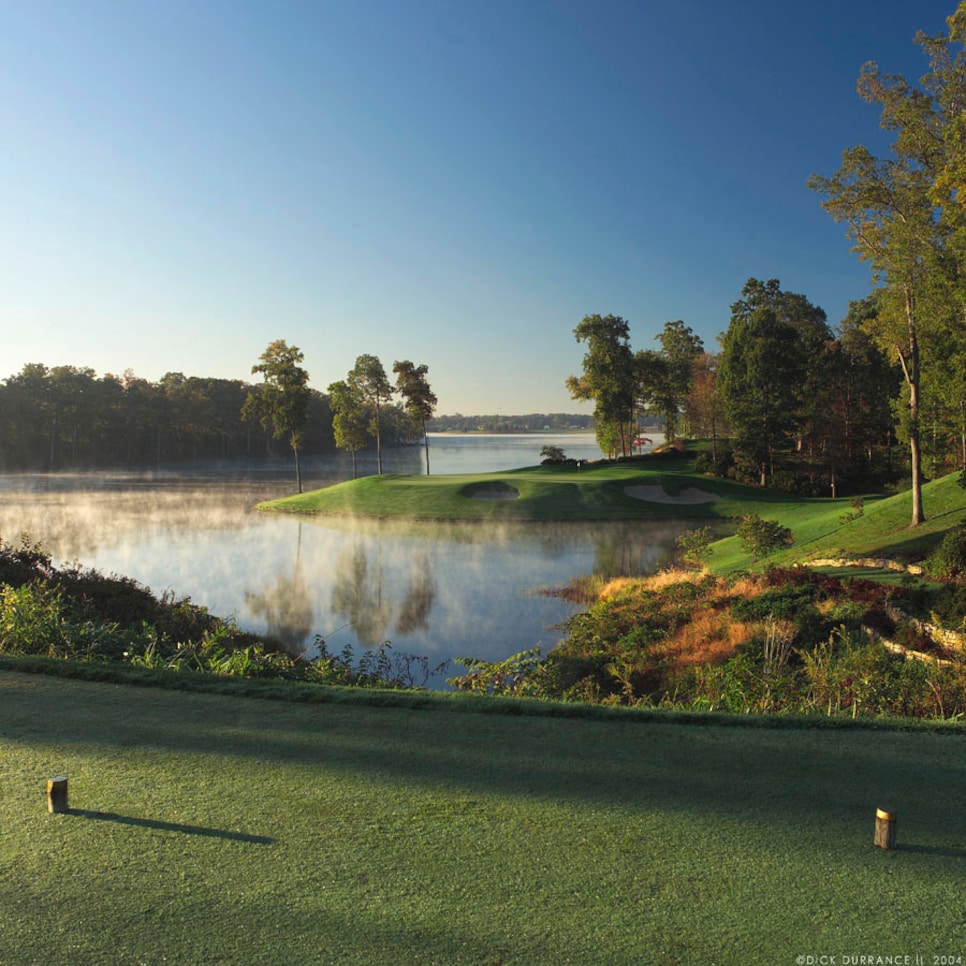 Courtesy of Dick Durrance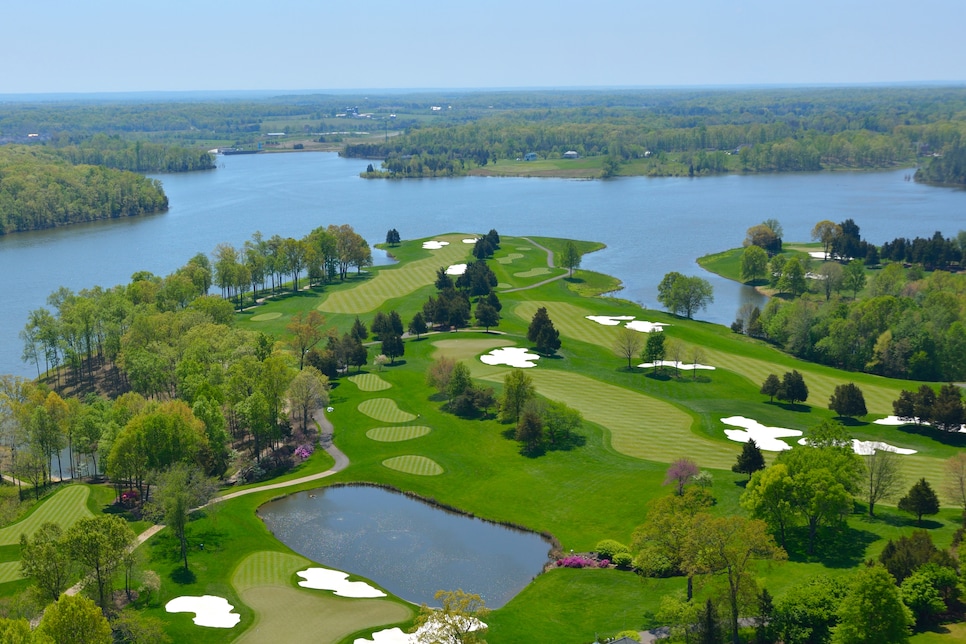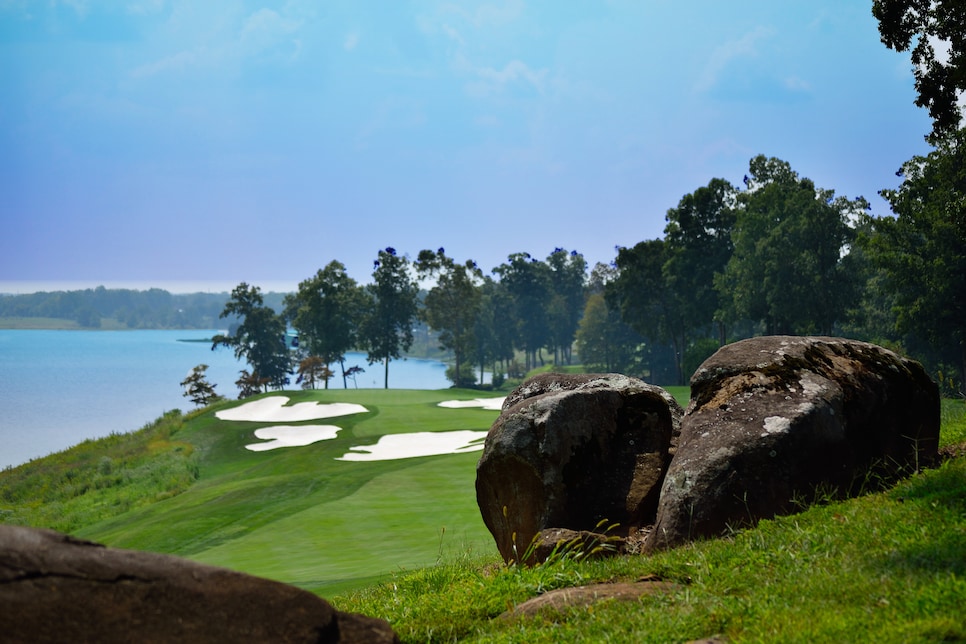 Courtesy of Nicky McIlvaine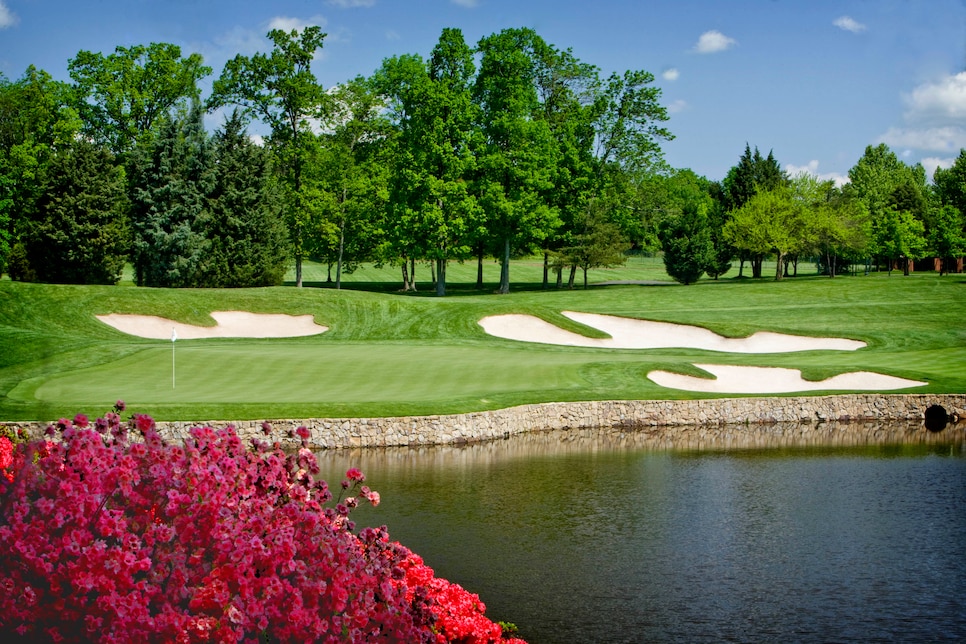 Courtesy of Bill McKnight