News
Robert Garrigus cards nine-under 63 to grab one-shot lead at the RBC Canadian Open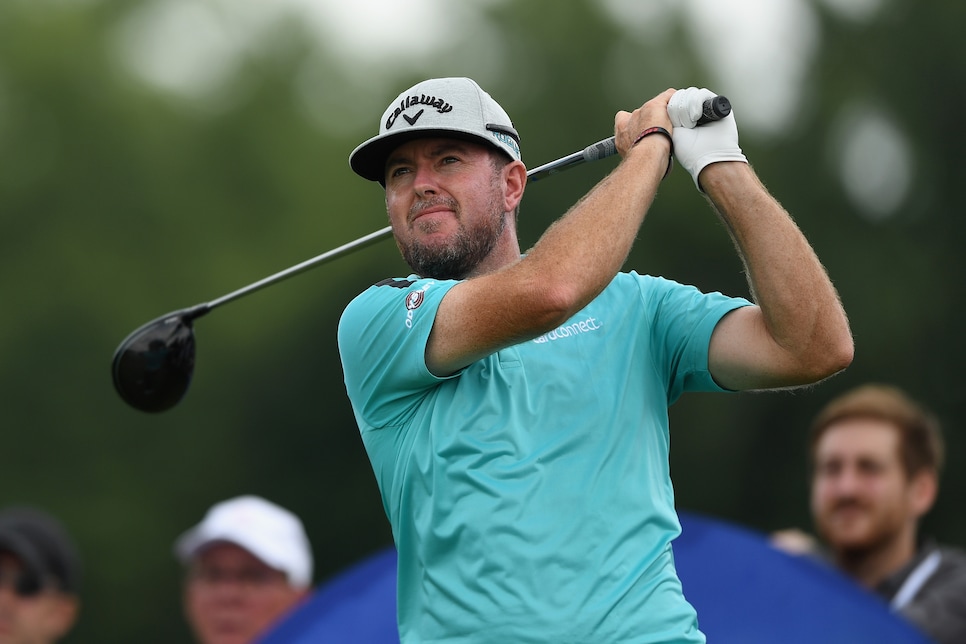 Last year, Robert Garrigus entered the RBC Canadian Open just outside the FedEx Cup top 125 and in desperate need of a late-season push to make the playoffs and earn an exemption for 2018. A T-5 finish at Glen Abbey that included a third-round, course-record-tying 62 wound up being just what he needed.
This week Garrigus came in facing a similar situation, sitting at 131st on the points list and having just one top-10 finish this year. Through one round he appears to be up to the task once again, carding a nine-under 63 to grab a one-shot lead. A trip back to Canada couldn't have come at a better time for the 40-year-old veteran.
"It's great. I love this place," Garrigus said. "I've always played well in Canada. There's a lot of good vibes here. And the golf course is absolutely pure. I mean, I was walking on the fairway on eight, and it just felt like you were walking on carpet. The conditions are absolutely perfect. The fans are amazing here. They really, really love their Canadian golfers, and they love golf in general. They've always cheered for me, and I kind of feel the vibes. It's pretty cool."
Garrigus felt the love right from the start on Thursday, making five consecutive birdies beginning at the second hole and going out in 30. Even after adding four more birdies on the way in and not dropping a shot all day, he felt there was a lower number out there.
"Could have been 59 watch there if a couple putts didn't lip out," he said. "I lipped out on 10, I had a lip-out on 17 . Got lucky on the par 5, on 13, hit it right in the middle of the water, and it hit a rock and bounced over the thing and I made birdie.
"So that was a lot of fun today. Rolled some putts in, chipped in, and you've got to do that around here, and you've got to keep going. I think 20-something-under is going to win."
With some weather causing a two-hour delay on Thursday and potentially making the course even more scoreable, he's likely right. Not to mention the fact that 16-under or lower has won at Glen Abbey outside Toronto five of the last six times it's hosted the event, which is why Garrigus isn't getting ahead of himself just yet.
"We'll forget about it when I get home. This was a good day, get to enjoy it for a minute, but I've got to close my mind off."
Just one back of Garrigus is Adam Schenk, whose opening-round 64 comes after a stretch of seven missed cuts in nine starts, including his last three straight. Like Garrigus, Schenk has some major ground to make up as the season comes to a close; the final regular season event is three weeks away.
"Yeah, it's really important. Running out of weeks," Schenk said. "I think this is the first time y'all have interviewed me, so need to start playing a little better, but today is a nice start in that direction."
Chris Stroud, last year's surprise contender at the PGA Championship, posted a seven-under 65, putting him in solo third. Ian Poulter is among a group at six under, and Dustin Johnson among a group at four under.