The Loop
Rob Manfred has actually accomplished something pretty incredible during all this madness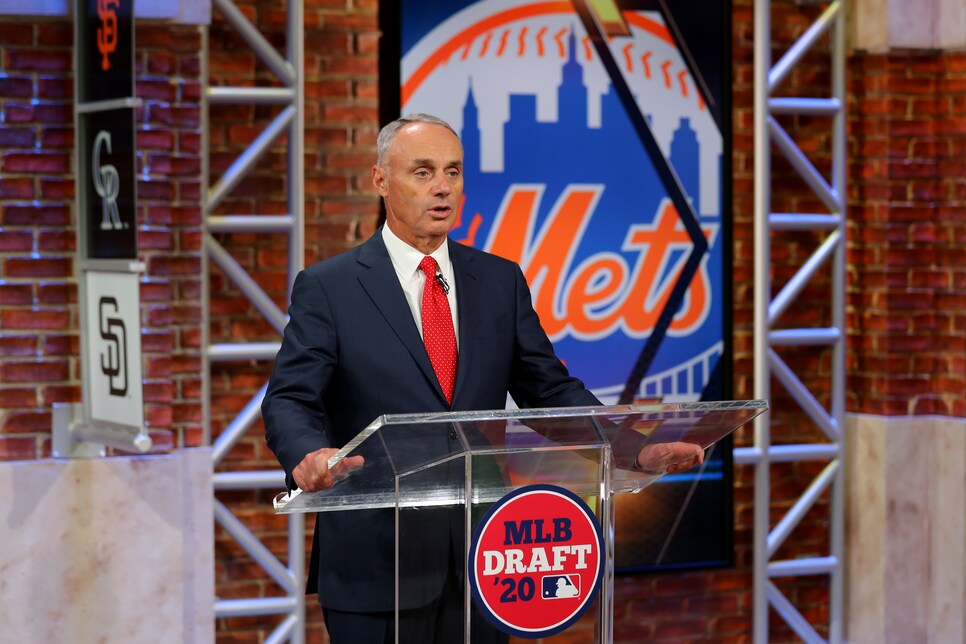 I know what you're thinking already. "This is definitely a bait-and-switch headline to get me to click." You'd be 100 percent correct in that assumption. But now that I have you here, just bear with me for a second.
If you're not completely caught up on the ongoing labor dispute in Major League Baseball, I thought Shane Ryan did a nice job (here) breaking it all down.
His main point, that MLB owners are the worst people in sports, seems more and more accurate by the day. But Shane never mentioned MLB commissioner Rob Manfred, who has to shoulder some of this blame.
I understand Manfred answers to the owners, who, again, are looking more and more awful with each new headline, but he's still the face of all this. And this dispute is well after his many past transgressions that have caused myself and plenty of other baseball fans to smash their keyboard in disgust. Simply put, baseball has gone backwards during his tenure, and now, they might not even play the sport this season. For that, he has to take on a majority of the criticism.
But Manfred has accomplished a pretty incredible feat amidst all this madness. Something so impossible it might just be the most insane thing that's happened in 2020…
He's made Gary Bettman seem not only competent, but likeable. Here's a sampling of the many tweets from Monday night about the NHL commissioner, who appeared on ESPN's "The Return of Sports" special:
There are plenty more where that came from. It truly is a staggering accomplishment on Manfred's part. Keep in mind that the NHL has had three, count 'em, THREE lockouts during his tenure, which began in February of 1993. Prior to the 2013-2014 season, Bettman essentially ruined a perfect playoff system with the current format (though it won't be used this year, obviously), which features four divisions and two conferences and has moved up traditional rivalries that would be best for the later rounds of the playoffs to the earlier rounds. It stinks.
Outside of the Las Vegas Knights, an expansion move that has proven to be a stroke slapshot of genius, Bettman's other expansion teams have ranged from solid to downright awful. The Thrashers didn't last in Atlanta, the Florida Panthers consistently rank at the bottom of the league in attendance, and, if not for a Stanley Cup victory in 2004 and some great recent seasons, you have to figured the Tampa Bay Lightning would be in a similar boat. And then there are the Arizona Coyotes, who don't exactly have a rabid fanbase. He did get it right in Vegas and Nashville though, so credit there.
This a guy who gets booed into another dimension even when awarding the Stanley Cup to a team who wins it at home ice. Prior to the pandemic, Bettman would have ranked very low in the commissioner rankings. Thanks to his plan to return, which hopefully goes according to plan, plus an absolute nightmarish few months from Manfred, he's now right there with Adam Silver in terms of approval rating. 2020 has gone completely off the rails.