Rickie Fowler's romantic proposal, Dustin Johnson's walk-off eagle, and the summit we'd like to see
Welcome to another edition of The Grind, where the next unlikely summit of world leaders we'd like to see happen would be between Tiger Woods and Brandel Chamblee. After years of sniping at each other from their various corners of the world, it would be nice to see them come together for a 12-second handshake and hash out important topics like left heel position on the backswing, proper putting posture, and the denuculearization of the golf ball.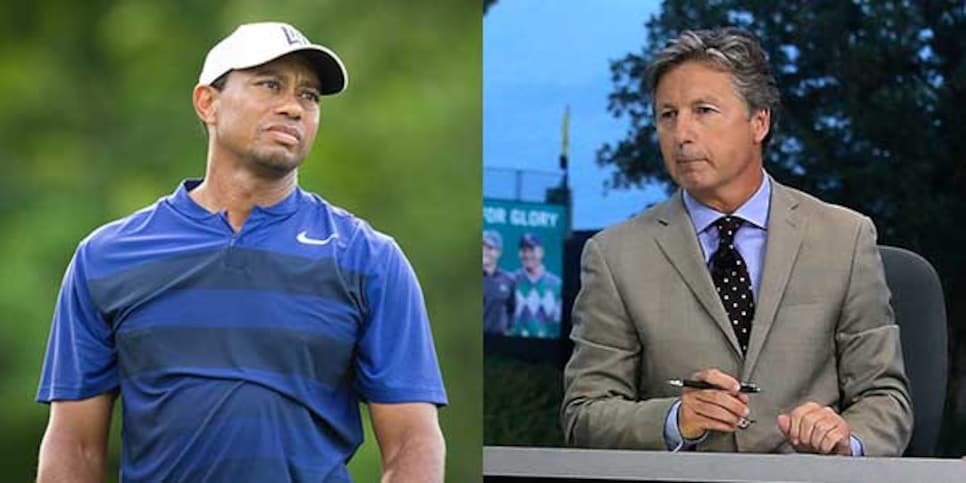 OK, so it's never going to happen, but we can dream. And in the meantime, we're pretty sure both Tiger and Brandel at least share similar excitement for this week's U.S. Open. Let's get to everything that's happening during one of the biggest weeks of the year.
Dustin Johnson: DJ reclaimed his World No. 1 status in spectacular fashion, winning the FedEx St. Jude Classic by six shots thanks to jarring a walk-off eagle just for the heck of it.
Not surprisingly, Vegas now lists DJ as a pretty heavy U.S. Open favorite at 8-to-1 odds ahead of a group at 14/1. A group that contains a golfer who has already had a successful trip to New York no matter how he plays this week. . .
Rickie Fowler: Kudos to Fowler for pulling off a beach proposal, in the posh Hamptons no less:
Fowler didn't skimp on the ring, that's for sure: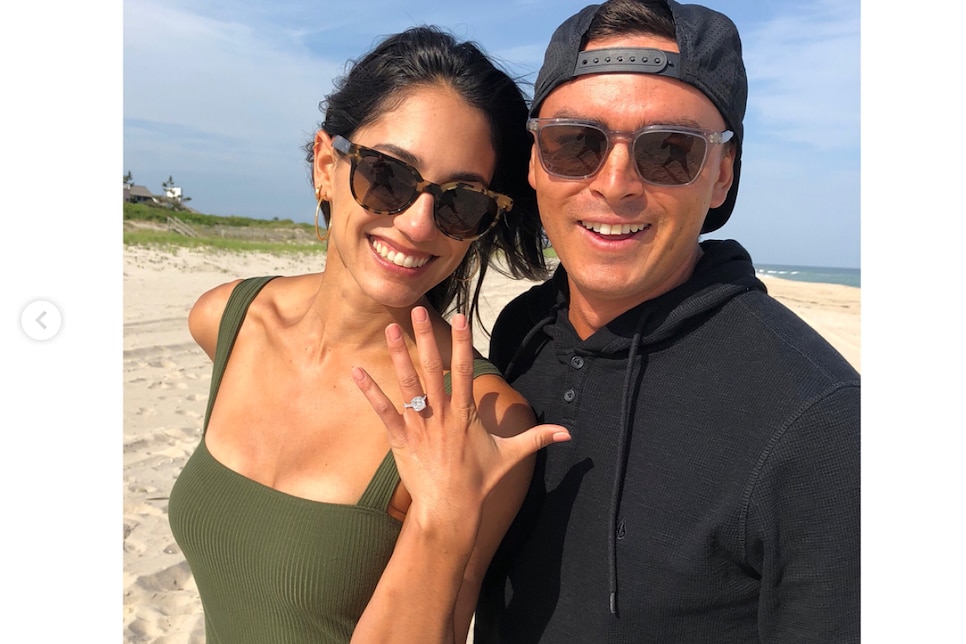 BLING! And he also hired a pretty decent photographer in Justin Thomas. Nice job. We could see this coming, but still, it's quite a quick turnaround from this famed photo taken at the Ryder Cup just a year-and-a-half ago: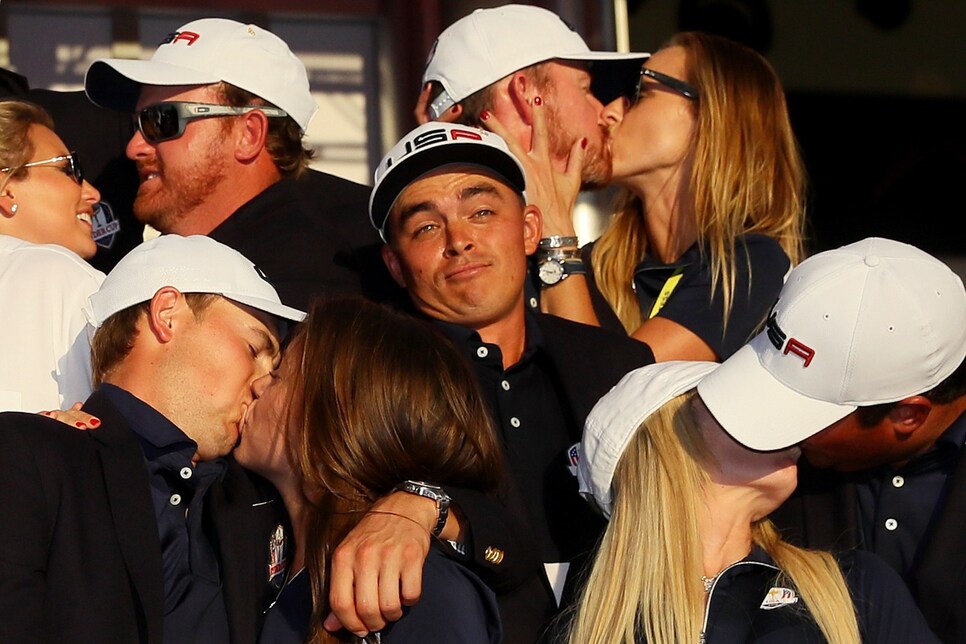 You are using an unsupported version of Internet Explorer. Please upgrade to Internet Explorer 11 or use a different web browser.
Shot Clock Masters: Kudos to the European Tour for this event that proved two important things: 1. Tour pros can play a lot faster; 2. Tour pros can play just as well if they play faster. Seriously, check out these remarkable stats:
I don't think an actual shot clock makes sense for a major championship, but actually enforcing slow play with penalties would certainly help pick up the pace.
Stephen Curry: Despite the Warriors winning a third title in four years, Curry still didn't pick up a first NBA Finals MVP. But he gets the award in our book for playing three rounds of golf during Golden State's sweep of the Cleveland Cavaliers — and shooting a pair of 71s to boot.

Improving your handicap while winning another championship? Pretty baller.
This Hamptons rental house: Is it too late to change where our Golf Digest crew is staying this week for the U.S. Open? This house has it all from a pool and practice green: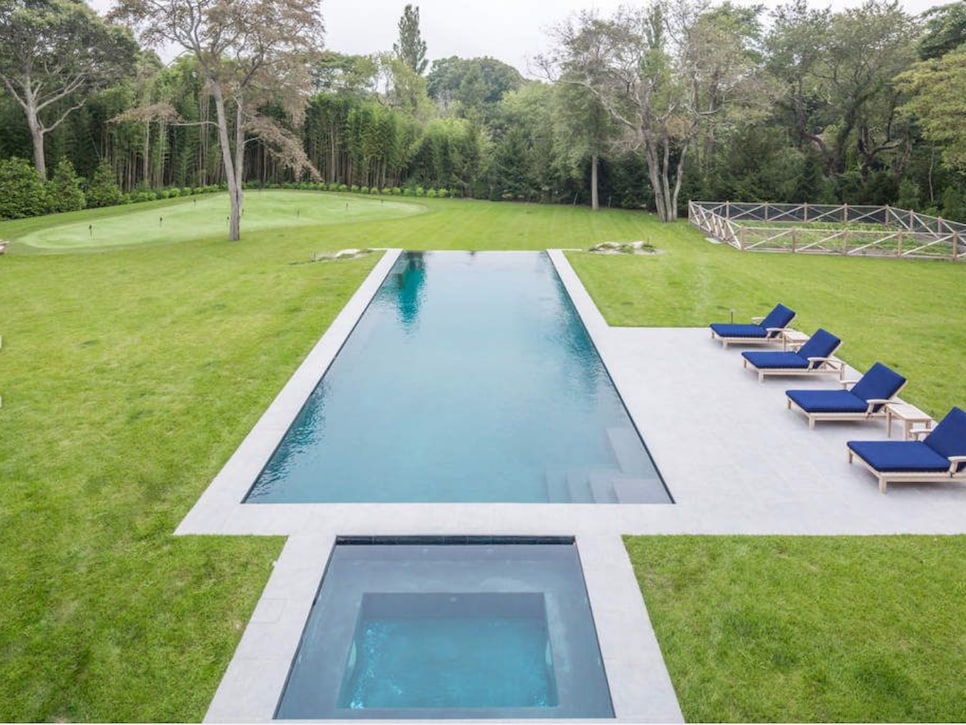 To bunk beds to sleep extra people who don't want to fight the traffic: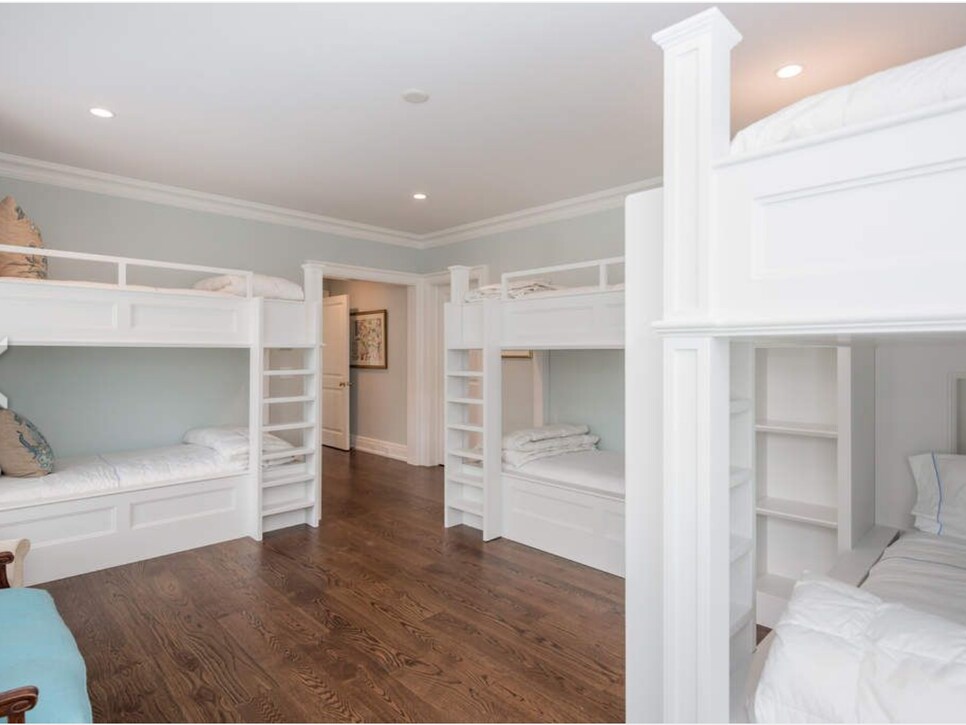 And look how close it is to the course!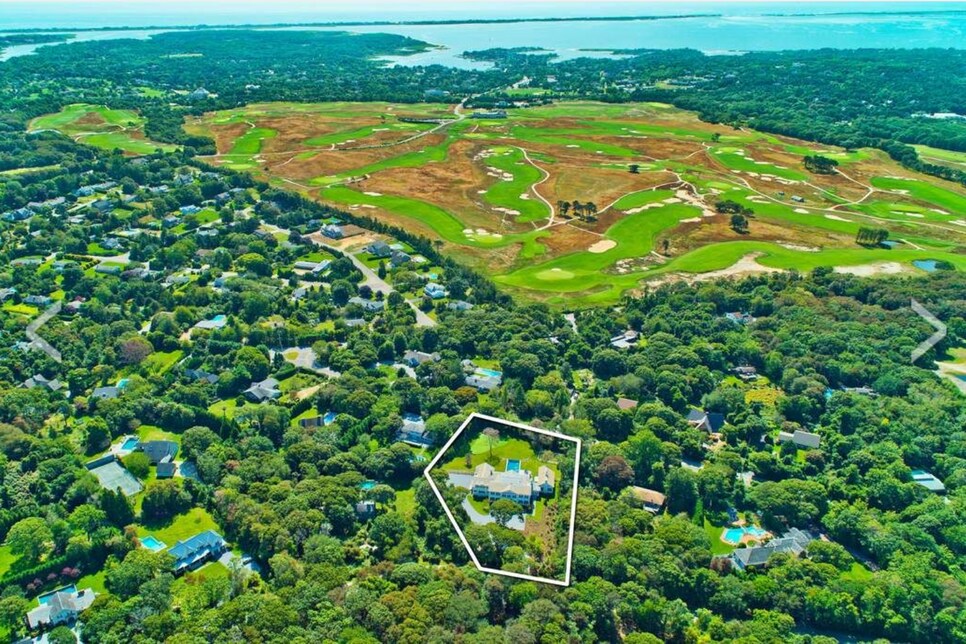 That will help increase productivity. Plus, there's a media room and we're media, so it totally makes sense. Oh, yeah, it costs $500K (Yes, 500 THOUSAND) to rent. For two weeks. Maybe next time. . .

Are there times when marking your ball doesn't make sense? Sure, but Walker was directly referring to times in which he has the choice to do so and does not. And no, this isn't the biggest deal in the world, but even if this controversial practice affects the outcome of one tournament, that's one tournament too many.
Long Island traffic: Sorry to be another member of the media bitching about the traffic to Shinnecock Hills, but it's bad. Particularly when you chugged a bottle of Snapple and, well, you get the point. Of course, Long Island traffic is ALWAYS bad. So bad, in fact, it was once the major deterrent from me taking a job out there. Anyway, plan accordingly if you're heading out to the course this week — especially if you're playing in the tournament.
Wow. First of all, that's hideous. Secondly, the New York skyline is nowhere close to Shinnecock! Do people not realize that New York is a pretty big state? Anyway, Phil Mickelson owes Trey a big thank-you for distracting everyone — at least, momentarily — from those ridiculous long-sleeve dress shirts he wears on the course these days.
I've been so consumed with LeBron's run to the NBA Finals that when it was over, my wife gave me a heartfelt sorry and then asked, "OK, can we go back to normal life now?" Umm. . . not exactly. It's U.S. OPEN WEEK! And my favorite golf tournament of the year returns to Shinnecock Hills, where let's just say things got a little crusty the last time in 2004. This should be good.
Random tournament fact: None of the former U.S. Open champs at Shinnecock are in the field this week. Retief Goosen (questionably) didn't get an exemption from the USGA, Corey Pavin is too old, Raymond Floyd is even older, and James Foulis, who won in 1896, has been dead for 90 years. RIP, James.
RANDOM PROP BETS OF THE WEEK
— Jimmy Walker will "backstop" for a playing partner this week with the USGA watching closely: 1 million-to-1 odds
— Someone will miss their tee time due to bad traffic: Even odds
— The USGA is going to water the heck out of the 7th green all week: LOCK
Looks like Tiger found a way to avoid the Long Island traffic:
In case you're wondering, Woods' $20-million yacht is 155 feet long. The Statue of Liberty is 151 feet tall. That's badass.
Check out this different angle of DJ's walk-off eagle:
And from an impressive ending to an inauspicious start:
Welcome back to Shinnecock, Sergio.
VIRAL VIDEO OF THE WEEK (PRODUCED DIVISION
Get ready for this week's U.S. Open with Golf Digest's flyover video tour of Shinnecock Hills. And as the captions suggest, the video contains "dramatic funk music."
You are using an unsupported version of Internet Explorer. Please upgrade to Internet Explorer 11 or use a different web browser.
THIS WEEK IN DUSTIN JOHNSON-PAULINA GRETZKY PUBLIC DISPLAYS OF AFFECTION
Paulina wasn't in Memphis for Dustin's latest win, but she still posted some (throwback) congratulatory PDA:
Then she went on quite a New York adventure: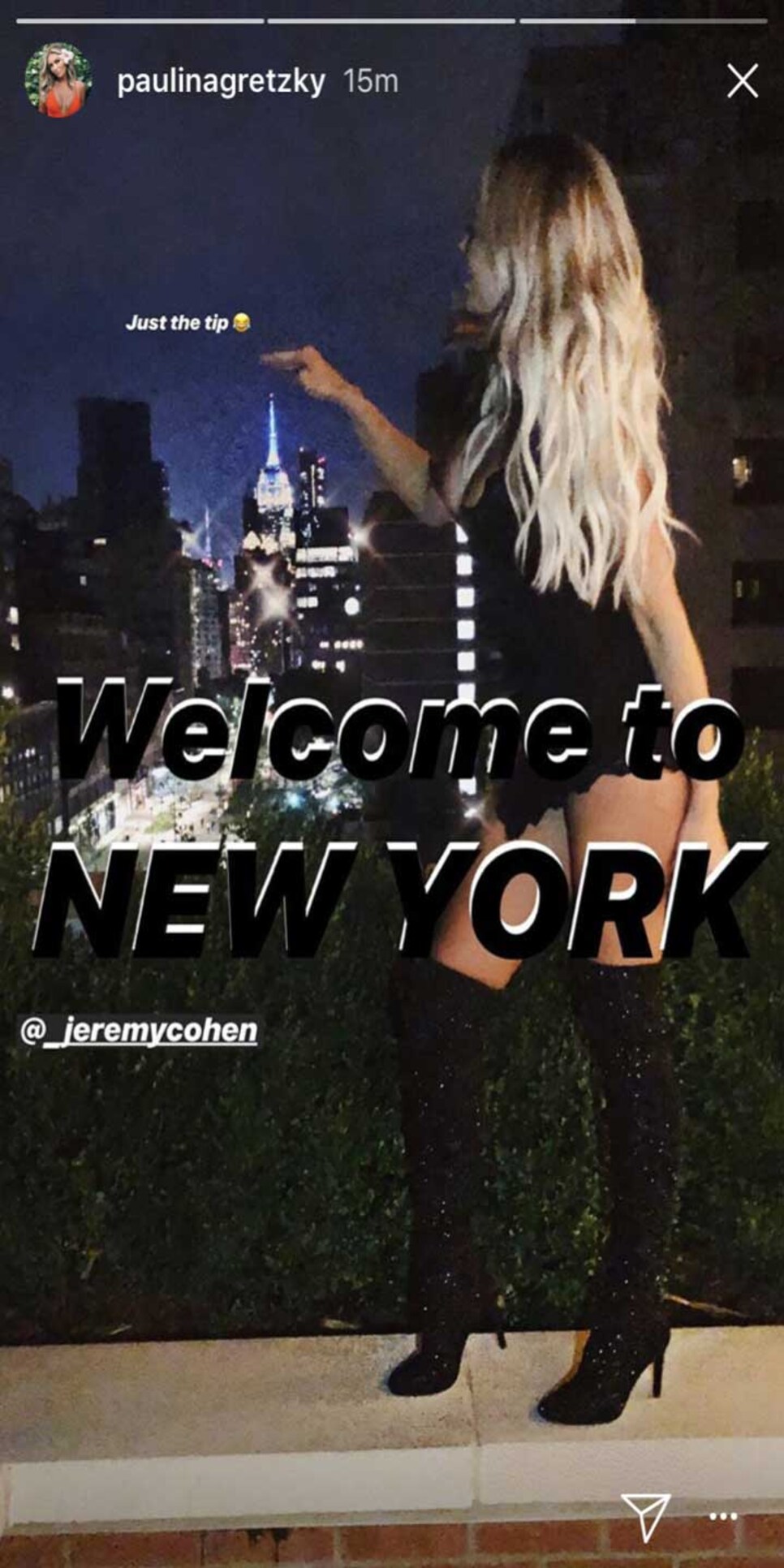 And even got a ride on the President's chopper:
THIS WEEK IN TOUR PROS ARE JUST LIKE US!
Justin Thomas shared that the loser of his fantasy football league faces a pretty unique — and embarrassing — punishment:
Oh yeah, and Sergio Garcia told me on an upcoming Golf Digest Podcast that, like me, he's gotten good at changing diapers.
We were all that marshal that magical week.
RANDOM QUESTIONS TO PONDER
Will the "Hamptons 5" come to the Hamptons to watch some golf?
Will Joe Buck get the winner's girlfriend right this year?
Who has changed more diapers: Me or Sergio?