The Loop
Rickie Fowler's big decision, Paige Spiranac's big week, Super Bowl backlash, and why we should all fear the robot
Welcome to another edition of The Grind, where we're not making any more Super Bowl predictions. At least, until next February. Even my grandmother, the biggest Peyton Manning fan in the world, has been relentless in giving me a hard time for saying the Panthers would win. I'm just glad she doesn't read my weekly fantasy golf picks. In any event, last week's golf action was a lot more exciting than that football game, so there's plenty to talk about. And fortunately, we've got more time than Cam Newton against that Denver defense. Let's do it.
TPC Scottsdale's 16th hole: There was the expected (huge crowds, lots of booze, lots of booing) and the unexpected (Interviews from port-o-lets, bobcats, robots making holes-in-one), but it certainly lived up to its billing as one of the most exciting spots in all of golf. Congrats to the Waste Management Phoenix Open for figuring out how to be a major event on the PGA Tour schedule without actually being a major championship. It just makes you wonder why haven't more tournaments followed its lead?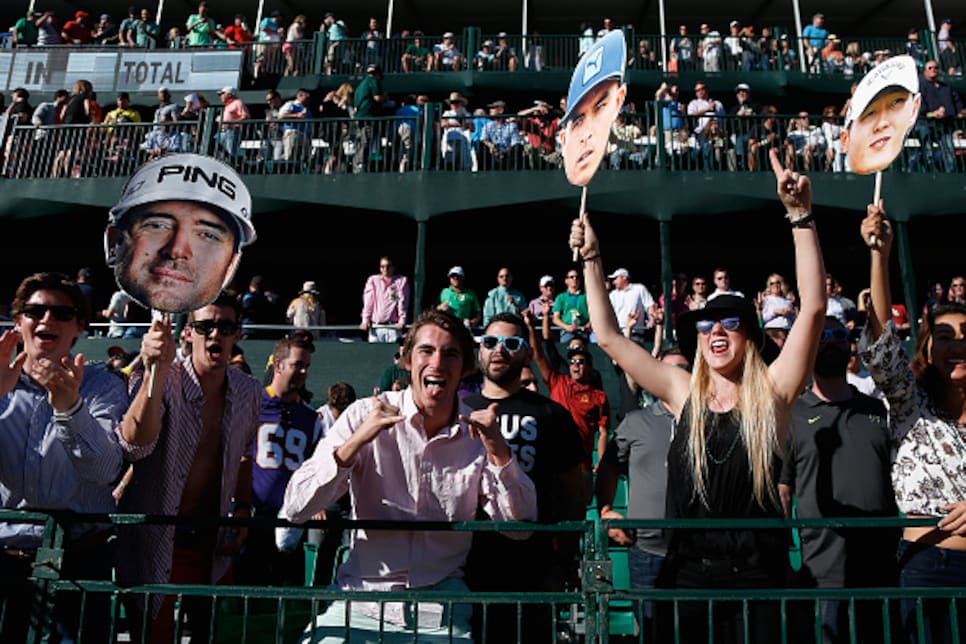 Hideki Matsuyama: Always in the conversation for best iron player on the PGA Tour, there was no debate this week. Matsuyama led the field at TPC Scottsdale in both greens in regulation and proximity to the hole on his way to his second career victory. His first title at last year's Memorial may carry more prestige, but beating Rickie Fowler in a playoff after birdieing the final two holes of regulation could give him more confidence in the long run.
Danny Willett: With his win at the European Tour's Omega Desert Classic, Willett moved up to a career-best 13th in the Official World Golf Ranking. The Brit also showed that he might actually be a wizard with this incredibly lucky bounce out of a water hazard on Day 1:
Those are always useful, but especially in one-shot victories.
Ha Na Jang: The 23-year-old South Korean followed up her historic par-4 hole-in-one by earning win No. 1 on the LPGA Tour at the Coates Golf Championship. Even better, she added to her growing legend when it comes to celebrations with this Samurai move she learned from YouTube (Obviously) and had been trying out in practice for a couple weeks:
__Stewart Cink's big thrill: __ It's funny that it took going to a college basketball game to get Stewart Cink back on SportsCenter, but that's what happened when the former British Open champ did this at halftime of the Georgia Tech vs. Duke game:
That must have been quite a thrill for Cink at his alma mater, but afterward he said he didn't win $25,000 – either for himself or that Georgia Tech student. What kind of a promotion is that?!
__Rickie Fowler's big decision: __ With a two-shot lead on the (very) drivable par-4 17th hole, Fowler pulled driver – and found the water. Granted, he actually hit a great shot and got an unfortunate bounce to have the ball go 360 yards and through the green, but still, an iron off the tee avoids that scenario altogether. Instead, Fowler had to birdie 18 just to get into a playoff he eventually lost. Golf is cruel, but playing the percentages lessens the probability of getting hurt.
Bubba Watson: We know Bubba is gonna be Bubba, but he took it a little too far when he announced he was only at TPC Scottsdale because of his sponsors. Yes, he was only admitting what all golfers do from time to time, but there was no way for him to say this without getting backlash. He paid the price by getting booed on the 16th hole. Side note: there should be more booing in golf.
Lydia Ko's week: Breaking news: Lydia Ko isn't perfect. We remain huge fans, but that was an ugly final-round 75 to blow a share of the 54-hole lead. It gets worse for the 18-year-old. Check out this whiff during a practice drill:
She may be one of golf's all-time biggest phenoms, but she's no "Natural" when it comes to baseball.
Rory's joy ride: Turns out, when Rory McIlroy said he'd be more careful with off-the-course activities, he wasn't talking about zip-lining high above Dubai.
Fortunately, McIlroy emerged unscathed and finished T-6, but haven't we covered this before? Rory, you're not 25 anymore! (He's 26.) That means you're not supposed to do anything other than play golf. That's what getting old is all about!
The PGA Tour heads to Pebble Beach for the AT&T Pebble Beach Pro-Am, aka the former AT&T Pebble Beach National Pro-Am. Thanks for dropping the "National," guys. It flows off the tongue a lot better now.
Random tournament fact: Bill Murray is in the field despite rumors he might miss his beloved event with knee and back injuries. In other words, a win this week would be a real "Cinderella Story."
RANDOM PROP BETS OF THE WEEK
-- Stewart Cink will make another 94-foot putt this year: 1 MILLION-to-1 odds
-- Bill Murray will win the pro-am portion at Pebble Beach: 100-to-1 odds
-- Bill Murray will be the crowd favorite no matter what he shoots: LOCK
VIRAL VIDEO OF THE WEEK (TOUR PRO DIVISION)
Four European Tour winners took on trick shot artists Dude Perfect's "All Sport Challenge," and Andy Sullivan emerged victorious:
These guys on the European Tour never have any fun, do they?
VIRAL VIDEO OF THE WEEK (ROBOT DIVISION)
It only took this robot -- appropriately named Eldrick -- five attempts to make a hole-in-one at TPC Scottsdale's famed 16th hole. Amazing:
So humans have the capability to build robots that make holes-in-one on command now? If you think robots aren't going to replace us all, you've got another thing coming.
"It was a blast playing in front of all these people," Matsuyama said. "I'd say probably 99 percent were cheering hard for Rickie, but that gave me the motivation to go out and do it and win." – Hideki Matsuyama. That's a good ability to have, Hideki, because Fowler's popularity isn't going away anytime soon.
THIS WEEK IN PAIGE SPIRANAC BEING PAIGE SPIRANAC
Here's Paige stepping up her core workouts:
And stepping out at TPC Scottsdale, where she was probably the only person more popular than Rickie Fowler: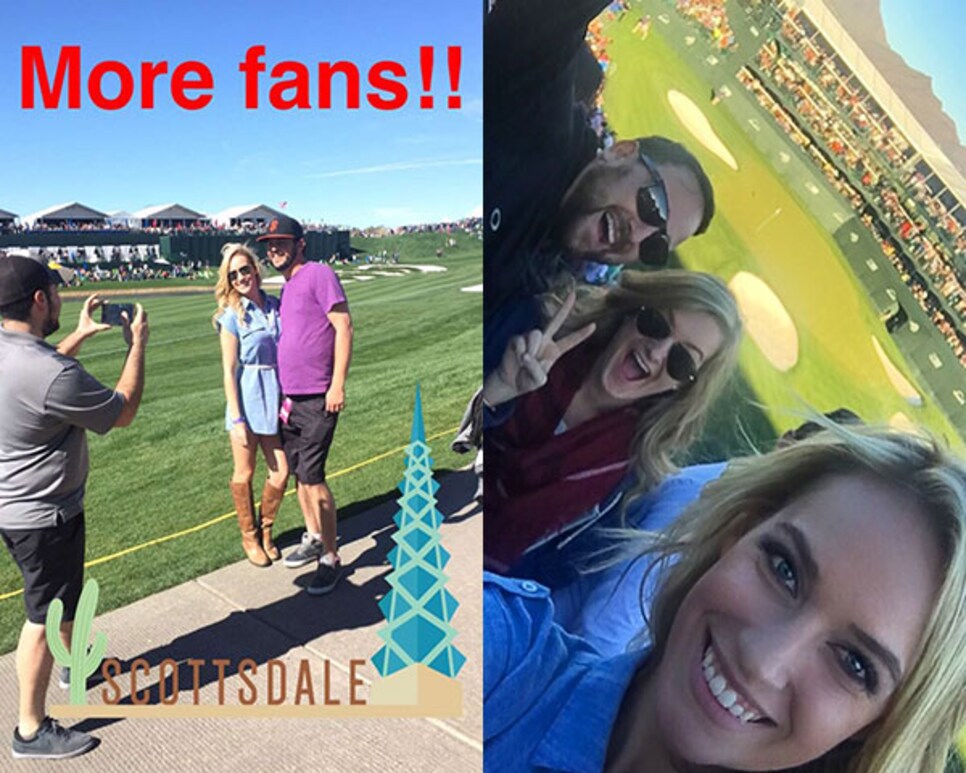 THIS WEEK IN NATALIE GULBIS PAIGE SPIRANAC MAKING US FEEL BAD WITH HER TRAINING
In addition to Paige's big week in Phoenix, Golf Digest released a series of informative instruction/fitness videos featuring our favorite Instagram star:
Yep, informative. That's what we're going with. . .
THIS WEEK IN TOUR PROS BEING TOUR PROS
Apparently, hotel rooms are a great way to work on your trajectory:
Again, it's a shame these European Tour guys never have any fun.
__THIS WEEK IN DUSTIN JOHNSON-PAULINA GRETZKY AUSTIN JOHNSON-SAM MADDOX PUBLIC DISPLAYS OF AFFECTION __
I'm not sure if Sam was aware that hockey arenas are pretty chilly when she got dressed. . .
Ben Crenshaw's Austin mansion is on the market for $5.7 million. And yes, it includes a putting green. . . . Showtime's new hit, "Billions," has now referenced golf in each one of the first four episodes. In other words, it's basically the "Curb Your Enthusiasm" of dramas. . . . We still have no clue about when we'll see Tiger Woods on a golf course, but it appears the 14-time major champ has a clue when it comes to picking football games. He sent out this prescient tweet a few hours before kickoff:
Wish I'd listened to Tiger before making that bet. . . . And finally, a shout-out to my wife Michelle for her outstanding chili and guacamole: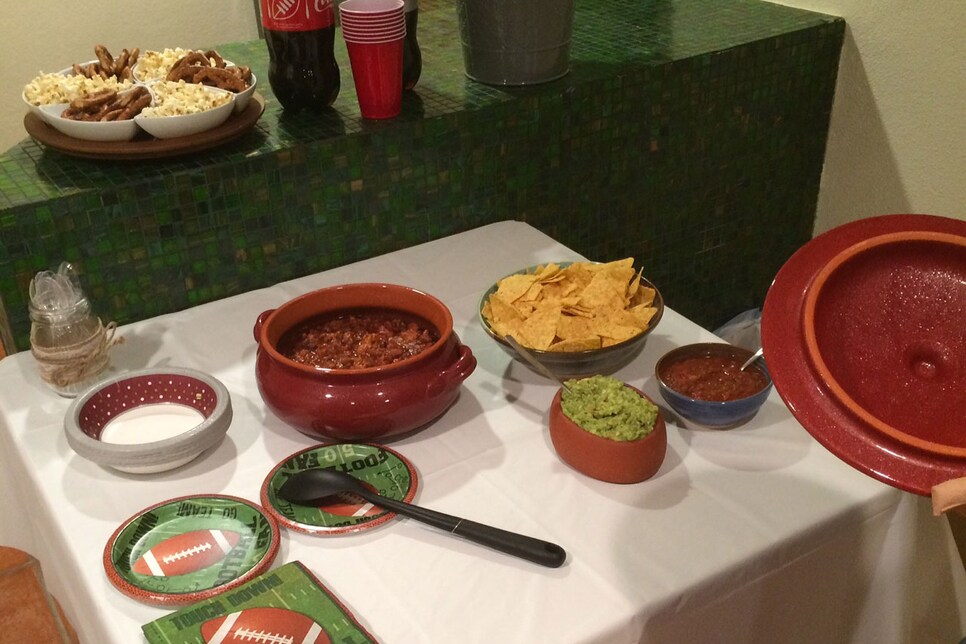 All due respect to Von Miller, but she was the real MVP of that boring game.
RANDOM QUESTIONS TO PONDER
Why isn't the Super Bowl on Saturday?
Why didn't Cam dive for that loose ball?
Who does Tiger like in the NCAA Tournament?