The Loop
Rickie Fowler continues his Ryder Cup push with strong start at the Barclays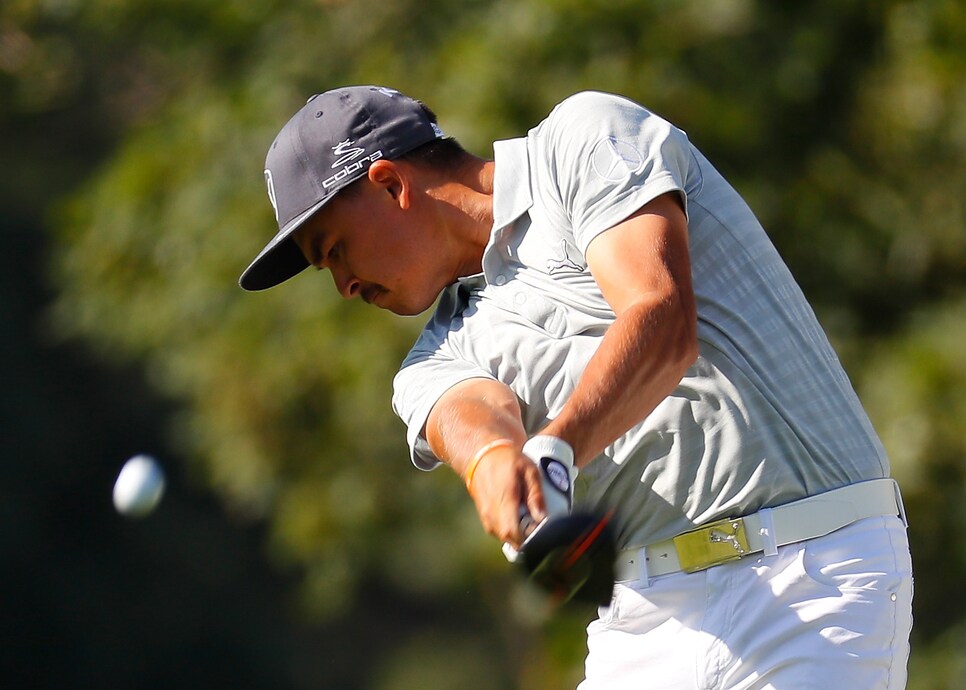 FARMINGDALE, N.Y. -- Rickie Fowler and Graeme McDowell have more at stake at this week's Barclays than trying to win the FedEx Cup Playoffs opener. Both are trying to play their way onto their respective Ryder Cup teams.
Paired together for the first two rounds at Bethpage Black, it was an unavoidable topic of conversation.
"One-hundred percent, all of it," Fowler said when asked how much his mind is on the biennial matches this week. "That's the No. 1 priority coming into the year. I'd say that's always one of the main goals for sure coming into a Ryder Cup year. Even in the off year, you're thinking about it. That was the whole reason playing last week, trying to get more points. It would be nice to have a chance to make that team without having to get picked."
Fowler, 27, has been a member of two U.S. teams, first as a captain's pick in 2010 and then an automatic qualifier in 2014. In the final week to qualify, he is 12th in the standings. Only the top eight for Team USA are automatically in after the Barclays with the other four spots filled via captain's picks by Davis Love III (the first three will be announced on Sept. 11 and the fourth to come on Sept. 25 during halftime of the Sunday Night Football game between the Bears and Cowboys).
Getting off to a good start certainly helps Fowler's case of being one of those names. He made three birdies, an eagle and just one bogey en route to a four-under 67 to sit just one stroke off the lead.
One of the names ahead of him on the leader board? Patrick Reed, who likewise has the Ryder Cup on the brain. The 26-year-old occupies the eighth spot in the standings but could easily be bumped out if someone below him were to win this week. The same is true for No. 6 Brandt Snedeker or No. 7 Zach Johnson.
"Really at the end the day, it's just trying to get better and play this tournament," said Reed, who after opening with 10 straight pars closed with three birdies and an eagle over his final eight holes. "Because if I play well that means those other guys are going to have to play even better to try to catch me."
Behind Reed is where things could get interesting, particularly if someone knocks him out of the top eight, or if Johnson and/or Snedeker were to get bumped.
J.B. Holmes is currently ninth, Bubba Watson is 10th, Matt Kuchar at 11th and then there's Fowler. Jim Furyk, who shot a record 58 as he tied for fifth at the Travelers Championship two weeks ago and followed with a T-10 at the Wyndham Championship, is 15th and trending in the right direction at the right time. All five could move up with a strong finish this week.
And what if another player even lower in the standings were to get hot, make a run through the Playoffs and win the FedEx Cup?
Love could have his hands full when it comes to his picks.
Whatever happens, there's pressure all around, a tournament within a tournament.
"I'm thinking about it," Fowler said. "The other guys are thinking about it. So if it's even on your mind at all, not that it's pressure in a way, but it's more to think about.
"I don't mind it. I've always liked kind of being put up against the wall in a corner and having that on me. Going out, I knew that getting off to a good start today was going to be key. I'm in a position where I'm kind of put in a corner where I need to either earn my way on the team, or at least prove that I should be there."
McDowell, meanwhile, did little in making an argument for European captain Darren Clarke to pick him, opening with a 72.
He has three more days to impress his fellow Northern Irishman -- but a more limited opportunity to make the team. With Europe's top nine spots already set, Clarke will announce his three captain's picks on Tuesday.
By most accounts, Lee Westwood and Martin Kaymer seem to be the favorites to get two of them. The third? That's anyone's guess.
Russell Knox said he feels he made his case when he won the Travelers -- had he been a European Tour member when he won in Shanghai last year he would have been among the top nine qualifiers.
Soren Kjeldsen, Tyrrell Hatton, Shane Lowry, Thomas Pieters and Luke Donald are all somewhere in the conversation, too.
"It's as good a time as ever to start playing well," said Donald, who followed his runner-up a week ago with a 69 Thursday at the Barclays. "All I can do is try to have a great week.
"With five rookies already on the team, maybe [Darren] is looking for some experience."
The 38-year-old Englishman certainly brings that. He is a veteran of four teams, all winners.
"Darren texted me after last week and said, 'Nice playing,' " Donald continued. "It was nice to hear from him."
A sentiment a handful of players from both sides would like to share.