The Loop
REMINDER: Just a year ago, Tiger Woods was still doing awesome things on the golf course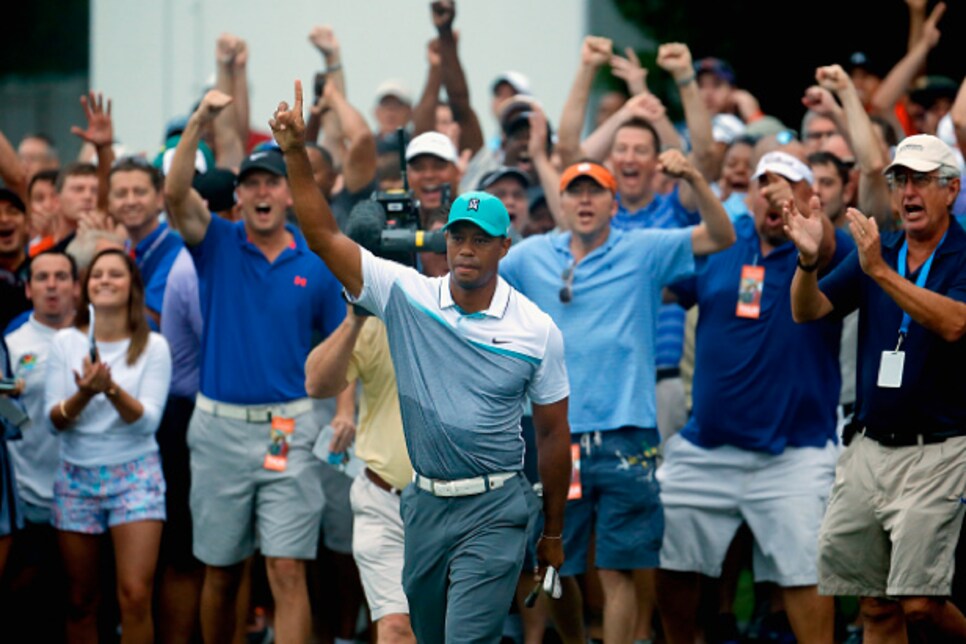 When was the last time Tiger Woods played good golf? When was the last time he put a serious charge into the gallery? It seems like it's been ages, doesn't it? Actually, it was just a year ago.
After another injury-riddled season, Woods entered the 2015 Wyndham Championship on the off chance he'd have a huge week and qualify for the FedEx Cup Playoffs. He needed a win or a solo second -- and he nearly pulled it off.
Woods began the week with a remarkable holed flop shot to start his first round:
And he kept up his good play. Look at Woods' laser-like second shot on Sedgefield's par-5 15th hole on Friday, which set up an eagle that tied him for the lead:
A second-round 65 gave him a share of the lead heading into the weekend and had people all around the country screaming, "He's BACK!!!." Until he wasn't. Woods concluded the event with rounds of 68 and 70 and fell to T-10 -- in large part due to a triple bogey on 11 on Sunday. Still, it was Woods' best result of the year by far and it gave fans hope that he'd have a big 2016 season.
But then came not one, but two back surgeries. Woods, 40, didn't return to the Wyndham Championship this week nor to any PGA Tour event in the 2015-2016 season. And neither he nor his agent have offered any timetable for when the recovering star will make his comeback.
TW fans still can watch the 14-time major champ hit plenty of thrilling shots. But sadly, for now, the best place to see their man in action is on YouTube.