The Loop
The reddit dude who tricks the internet into believing fake NBA stories is both an idiot and a genius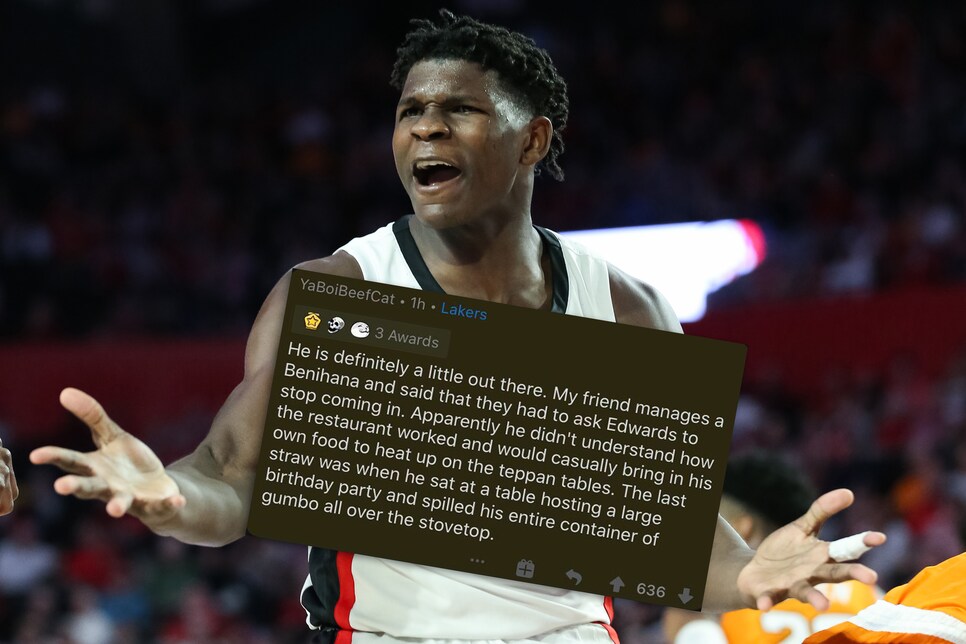 Earlier this week, just in time for the NBA Draft, a strange story from Reddit began to spread about Anthony Edwards, the Georgia Bulldogs star who was drafted Wednesday night by the Timberwolves with the first overall pick. The story was funny, bizarre, and just believable enough:
True or not, the concept of the country's top draft prospect bringing his own food—including GUMBO—to Benihana is just incredibly funny. On the topic of believability, Mike Golic Jr. spoke for us all:
As it turns out, Edwards' Benihana escapades are unfortunately not true. I know this because The Athletic's Tim Cato did some sleuthing, and found a few other posts from the same Redditor, the excellently named YaBoiBeefCat. They are all extremely dumb, and extremely funny:
Once I stopped choking with laughter at the Garnett story, I thought I had seen the best. Then I read about Charles Barkley eating hot dogs like corn on the cob because he thought there was a bone inside, and I think I blacked out.
The existence of these other stories proves beyond doubt that all of them are fiction, and that no. 1 draft pick Anthony Edwards does not, in fact, bring his own food to cook at Benihana. But regardless of whether it's technically true or not, we can all choose how to handle this information. Some will adhere to "facts" and "logic," but I choose to live in a world where it actually happened; where Kyrie thinks birds are government agents, KG insults famous actors, and Sir Charles sells old hot dog water. This is my NBA, this is my America.