U.S. Amateur
If you're looking for a Cinderella story at the U.S. Amateur at Oakmont, try R.B. Clyburn
The 32-year-old from Georgia is a former walk-on wideout turned international basketball player turned referee competing for the first time in the USGA's oldest championship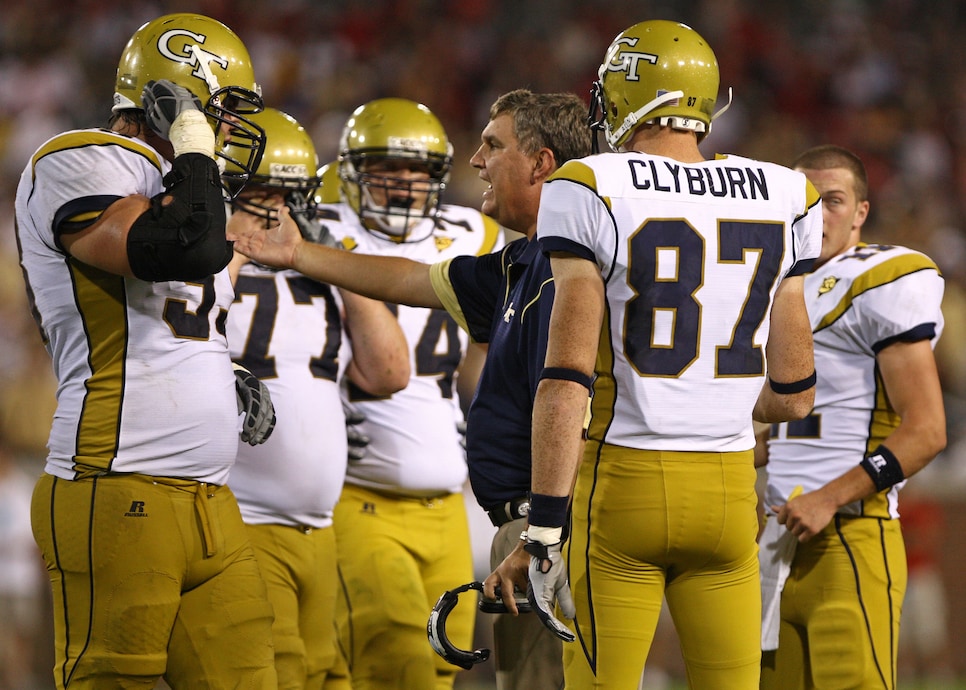 RB Clyburn hopes his competition appreciates what they've accomplished by being here, though he understands why, in the moment, they would not. The U.S. Amateur is essentially an NCAA event, its field filled mostly with the best collegiate golfers in the country. This championship is important, no doubt, yet it is a week written on their calendars along with other prestigious amateur events. Their participation is not so much a feat as it is their fate. "I just wish it's not lost on them how special it is," Clyburn muses.
He says this because Clyburn is, for the first time, among their world in Pittsburgh this week as the USGA's oldest championship visits historic Oakmont Country Club. He knows this because he comes from their world. But he is not part of their world.
Meet Clyburn, the former walk-on wideout turned international basketball player turned referee who will tee it up this week at the 2021 U.S. Amateur.
"It really is an honor," says Clyburn, 32. "I'm sure no one knows who I am, but that's OK."
Given the age range of his fellow competitors this week, let's start with Clyburn's own collegiate career. In the early 2000s, he was an outstanding multi-sport athlete at Cartersville High School (Ga.), about 45 miles northwest of Atlanta, who had several options to play sports at the next level. Clyburn chose football at Georgia Tech, joining the program as a preferred walk-on wide receiver. After his redshirt freshman season in 2007, however, coach Chan Gailey left and was replaced by the Navy's Paul Johnson, who implemented a run-heavy offense for the Yellow Jackets. The change in philosophies turned Clyburn from receiver into a de facto lineman.
"I enjoyed running routes and catching passes," Clyburn says. "The new offense meant I would get one pass my way, if that, a game."
Clyburn grew tired of attempting to block smaller, quicker defensive backs and realized football was no longer his calling. After his second season, Clyburn hung up his cleats in hopes of replacing them with high tops. He inquired about walking on to the Georgia Tech's basketball squad, but the team didn't host open tryouts, so Clyburn filled his athletic void by playing basketball and golf with friends and joining the club volleyball team while finishing his degree.
When school was over, however, Clyburn eschewed the corporate world to try and fulfill an outlandish dream: travel to Europe and play professional basketball. If that sounds crazy—an intramural player going pro—well, you're not wrong, and a number of teams dismissed Clyburn due to his lack of college experience. But Clyburn also boasts a 6'7" frame that belies a lights-out shooting touch. Mixed with solid defense, high motor and unquestionable basketball IQ, he proved his mettle to the Derbyshire Arrows, a club on one of the lowest tiers of British basketball, earning a contract.
"For a young kid out of college, I didn't know if it was the right decision," Clyburn says. "I had a lot better financial offers to stay at home for a 'real' job. But I loved it. It was truly an amazing experience."
Clyburn played well enough to gain the attention of the Chelsea Gulls of Australia's Big V league, traveling to Oz at the completion of Derbyshire's schedule. He continued to improve, playing a full season in Australia before returning to England, this time playing for a higher-tiered club in the Mansfield Giants. Clyburn's play eventually earned him a spot in the open tryout for the NBA's Developmental League in 2014, where he showed enough skill to be entered into the D League's draft pool. He would be a step away from the NBA.
Clyburn, however, never did get drafted. And the timing could not have been worse. "The draft happened at the beginning of November. I had to inform European teams if I was playing by mid-October," Clyburn says. "I don't get drafted, and now I don't have a Euro club."
Without an agent, Clyburn didn't like his chances to be acquired midseason, meaning it would be another year before he played competitively. He stayed in the United States, understanding it meant an end to his basketball dreams.
Yet another transition was on the horizon. Clyburn stayed connected with the game by officiating local games in Cartersville, then decided to become a basketball referee full-time in 2015. Since then, Clyburn has vaulted from rec-league to working games for the SEC, Sun Belt and Big South conferences.
"It's a lot of fun," Clyburn says. "Keeps the competitive juices flowing."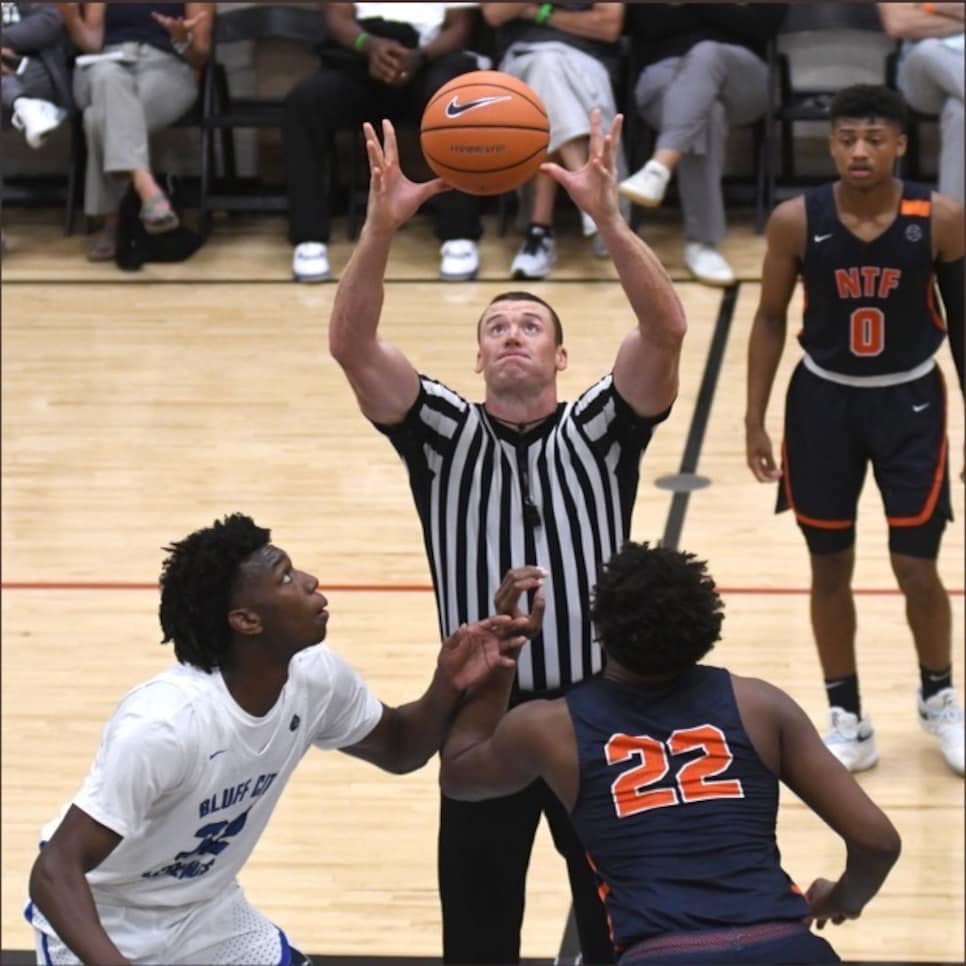 Clyburn did not entirely retire to the role of spectator, though. Throughout his journeys with football, volleyball and basketball, Clyburn continued to pursue as best he could what he says was his true passion: golf.
Clyburn was a member of his high school's golf team and played in a handful of top Georgia amateur events beginning in 2008. When he returned to America, Clyburn was able to dedicate more time to the game. Playing out of Cartersville Country Club, he got his handicap down to a plus-6.4 and by 2018 had qualified for the Georgia Open. At this year's U.S. Amateur qualifier at Capital City Club's Crabapple course in Atlanta, Clyburn turned in rounds of 66 and 67 and survived a two-for-one playoff to grab the fifth and final spot out of a 132-player field and qualify for Oakmont.
"You compete in these events believing you can make it," he says, "but to do it was a great feeling."
His background, age and journey makes Clyburn a Cinderella story this week, and he is under no delusion about the odds against him at one of the world's toughest courses. The field has 312 competitors playing Oakmont, along with nearby Longue Vue Club, in stroke-play qualifying to advance to 64 match-play spots. It's a difficult path to walk for even the most experienced USGA competitors.
Conversely, he is not merely happy to be a part of the proceedings. "I think I have a shot," Clyburn says. "Large greens, not a lot of large penalty areas. Just have to keep it in front of me to make it to match play. There, it's one-on-one, and who knows what could happen."
He also thinks his experience as a referee will come in handy. "It's really helpful," he says. "When I get yelled at by coaches and berated by fans, you try to block out the noise. You have to be right if you're a ref. We all miss plays, but you have to be good at making the right call under pressure.
"I think that correlates to tournament golf. If you're going to succeed playing against the best, you have to have your best stuff when it matters most."
Yet while he is a competitor, Clyburn, more than most, understands life is not found in an end goal but in the pursuit of it. He knows making it this far is something to be celebrated. It's hard to imagine anyone having a more circuitous, adventurous route to the tee box than him, and he's going to enjoy whatever awaits.
"It's great," Clyburn says. "To be able to put my game up against the best amateur players at one of the best venues … what more can you ask for?"