Behind the Scenes
We attended PXG's store opening in Dallas to get a first-hand look at Bob Parsons' evolving business strategy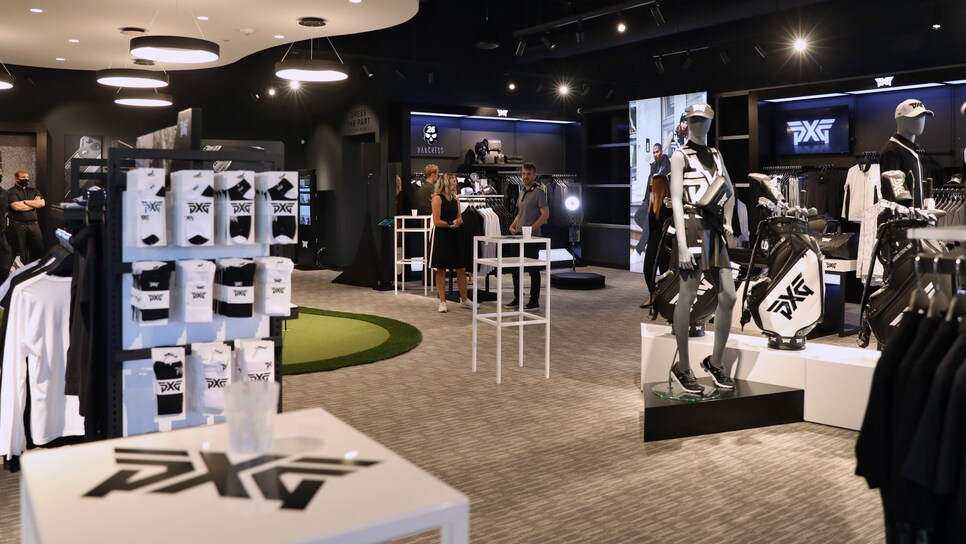 Photo By: Rick Kern/Getty Images for PXG
At the PXG store opening last week in Dallas, there were seven Super Bowls, three Grammys and nine major championships milling about in a crowd that felt like a roomful of other people's money. But everyone from silver-haired single-digits to Met Gala fashionistas was there to see the man whose barking baritone echoes through Golf Channel broadcasts more than those of Rich Lerner or Brandel Chamblee. PXG founder and CEO (and commercial voice-over specialist) Bob Parsons was there to christen the company's ninth standalone store and celebrate what he called his company's "overly simplistic" game plan for success.
"The formula is just this: We're [blanked] up in a lot of ways, but our mantra is we're going to be less [blanked] up tomorrow. So we work on it," said Parsons, before exchanging handshakes and bro-hugs with Terry Bradshaw, Emmitt Smith, Darius Rucker and Gary Player, all proud PXG-ers in town for the event, which also included a fashion show for the ever-expanding PXG line of high-end apparel marshalled by Parsons' wife, Renee, that her husband said "is coming on like a freight train."
"We focus on two things. We focus on the product. And we focus on what the people think about it. The last thing we focus on is what makes sense from a P&L standpoint because primarily unless the first two are right, well, I can tell you the answer to the other one."
The PXG golf business story has been told in every manner of media imaginable because, well, that's Parsons' unvarnished in-your-face approach that intrigues even the most jaded chronicler. That strategy is akin to a more calculated Crazy Eddie, a just as confident but louder Ely Callaway, and it's probably why PXG is opening up so many standalone stores for its brand. Plans call for 24 by the end of next year, including possible additional international locations in Europe and Asia.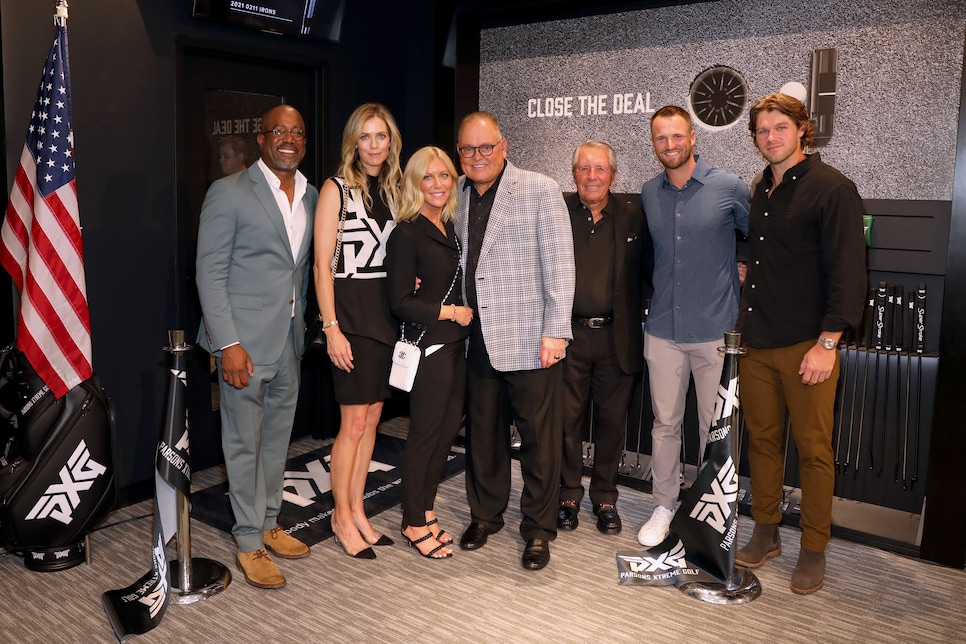 Some of the celebrities on-hand at the PXG opening in Plano, Texas (from left to right): Darius Rucker, Anna Rawson, Renee Parsons, Bob Parsons, Gary Player, Wyndham Clark and Blair Wheeler.
Rick Kern
The change means PXG clubs have gone from being the darling of high-end independent fitters, which is how the brand originally established its luxury-item bona fides, to a combination of limited but strongly controlled external retail with direct-to-consumer sales, leaving many top fitters as well as traditional big golf retailers with scant if any PXG business.
It's also meant, curiously, that PXG clubs now are selling at the high end (irons that can retail for $400 a stick) as well as at prices less than half of many competitors (the 0211 drivers now can be had for $229 on PXG.com). Parsons said in an interview before last week's festivities got underway that the company has been rolling since the early days of the pandemic. "We were shut down for only five days, and when we saw early on where this was headed we doubled and tripled down on our orders [for grips and shafts]," he said, later adding that PXG ultimately gave back an $8 million PPP loan because "other businesses that couldn't get it as easily as we could needed it."
It also helps that Parsons' net worth is estimated at $3.4 billion (per Forbes) and among his 15 businesses is YAM Capital which is described as "the largest private lender in [Arizona, home of PXG headquarters and all of Parsons' businesses]."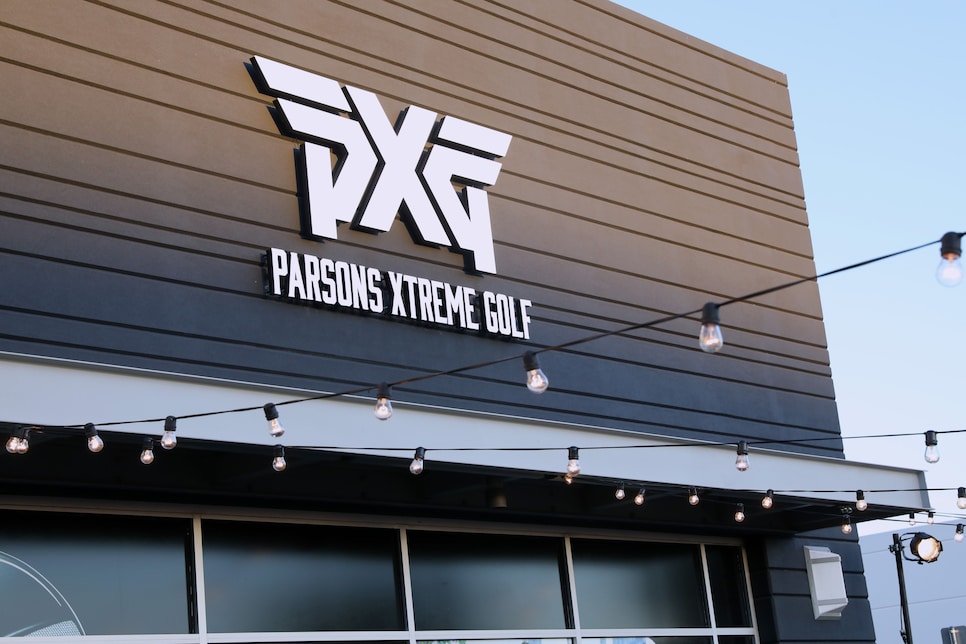 Outside the new storefront in Plano, Texas.
Rick Kern
While data on PXG's current sales aren't publicly available and Golf Datatech's tracking suggests its sales are a third of what they were four years ago, that doesn't include PXG's direct-to-consumer and standalone store revenue streams. Not surprisingly, Parsons suggests the numbers are significantly higher and make his brand a major player. The pricing philosophy is part of that, he said.
"Honestly, we fashioned that after what Mercedes does with their AMG and also their E-Class," he said without a hint of hyperbole in his tone. "When you move from up-market to down market, it's a lot more achievable than if you try to move from down market to up market. It's almost impossible. I give you the $100,000 Volkswagen.
"PXG's business was good so what I did to take advantage of that was I cut prices. By cutting prices we gave more people a reason to try it and a reason to buy it," he said. "What happened was all the other guys moved up to come up closer to us so we went right underneath them."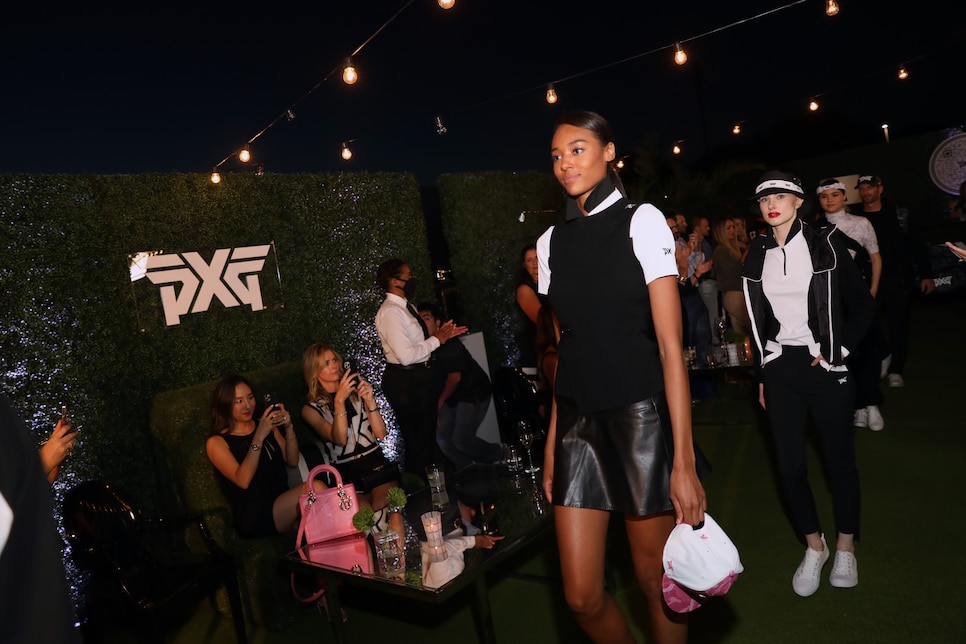 Models showcase some upcoming apparel on the runway during the PXG Dallas grand opening.
Rick Kern
Parsons likes to say that the pricing and the ads with him shouting "kaboom baby" are really to embrace a new audience, just like the trippy, hip hoppy version of the national anthem that kicked off the Dallas store's grand-opening celebration in a corporate park in Plano ("We didn't change the words," Parsons stressed before introducing Kalvin Bishop's rendition. "We just added a little rhythm.")
"The thinking there is we're doing this to excite and charge up our customers. There's an old saying: You can shear a sheep many times, but you can only skin him once. That's not an original, by the way."
Whether this new hybrid PXG, which plays forcefully in a way and a distribution strategy that no other major golf brand has embraced? Parsons always has something up his sleeve (but the early read here it won't just be another foray into the high-end of the market because Parsons, like every other golf CEO has read the latest participation reports detailing the influx of new golfers to the game). While he doesn't think his company's model spells the end for traditional golf retail ("there's too much money involved in it, and there's a lot of public companies involved," he said), Parsons likes how PXG is positioned.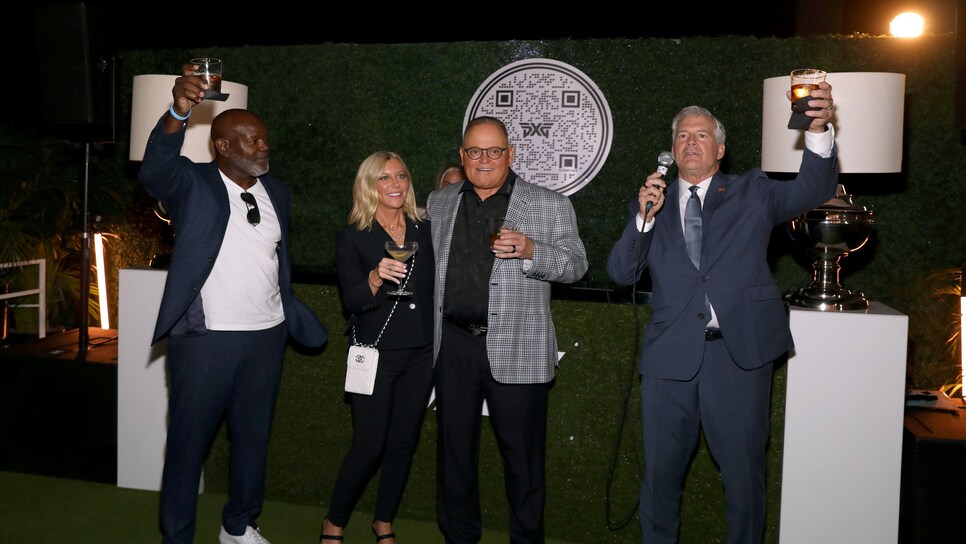 Celebrating the grand opening at PXG Dallas, with former Dallas Cowboys star Emmitt Smith, Plano mayor John B. Muns (right) and Renee and Bob Parsons.
Rick Kern
And then just when you think you have Parsons figured out, he leaves you with a quote from Scripture, Luke 9:49.
"It's the one where the apostles come to Jesus and say Jesus there's a man down the road who's healing people in your name but he's not one of us. Should we go stop him? And Jesus said leave him alone. If he's not against us, he is for us. That's my philosophy.
"You didn't think I would quote Scripture to you did you? Well, in all honesty, it's the only one I know."
Parsons wasn't necessarily suggesting he was the man down the road in this scenario. Or even Jesus.
But the symbolism in the context of the golf business's current atmosphere seems meaningful, at least as much as a $229 titanium driver.
Find the right club for your game with our 2021 Hot List "Build Your Own Bag" feature: