The Loop
PXG adds high-tech black finish to 0311 irons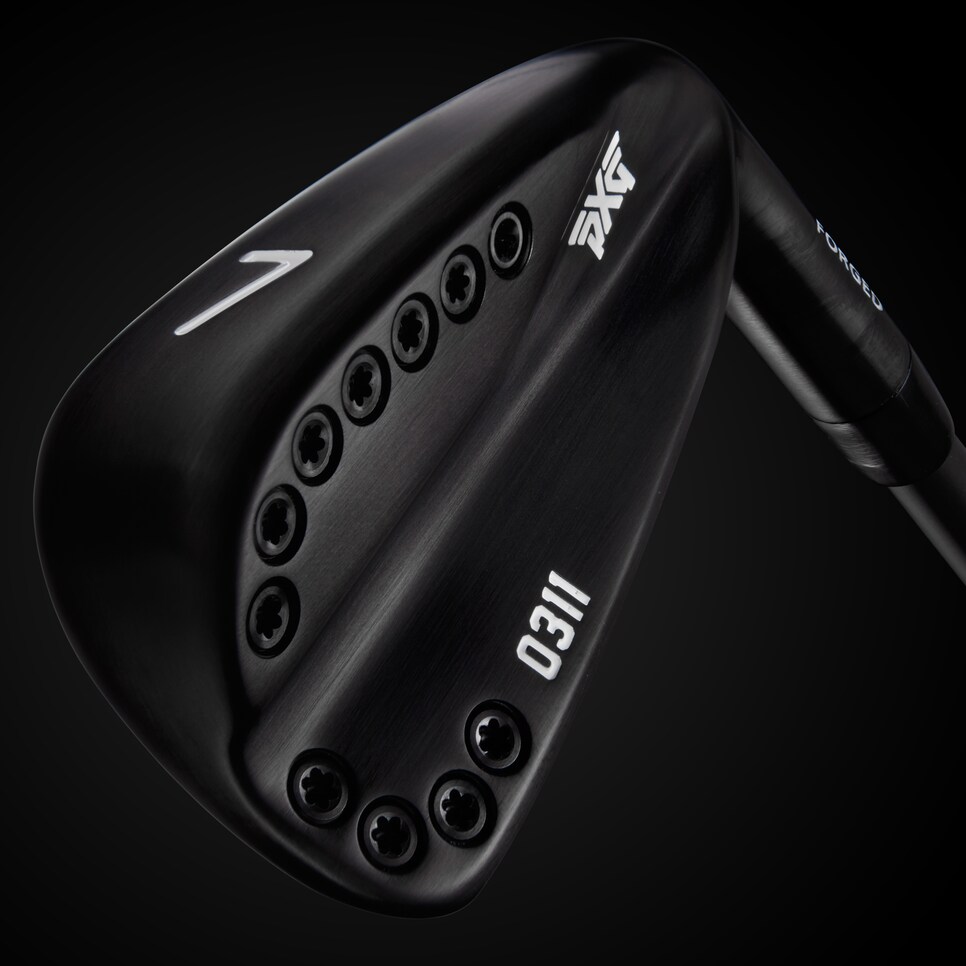 PXG founder Bob Parsons loves the color black. You see it in the color of his designer golf shirts. You see it in the color of his one-of-a-kind luxury cars. You see it in the color of his high-end motorcycles.
So when the man behind the most interesting new golf equipment company in the game—the one that's offering drivers at $700 a pop and sets of irons that start at $2,400 and has just signed a full squad of PGA Tour players including the current Open champion—suggested he wanted a new version of the company 0311 irons with a black finish, PXG's chief product officer Brad Schweigert knew a standard black coating wouldn't do.
PXG unveiled March 11 a new Xtreme Dark finish available on its 0311 and 0311T irons and wedges that Schweigert says has been used in high wear-resistance applications like fuel-injection systems and on drill bits for oil wells and "is significantly more durable" than typical dark finishes used in golf. Known as DLC, the Xtreme Dark finish is a three-layer process that according to Schweigert "is deposited on the surface using a closed-field unbalanced-magnetron sputter-ion plating system." It includes a chromium base, a carbon-chromium midlayer and a high-carbon top layer, and is approximately three-25,000ths of an inch thick. According to Schweigert, it is six times as expensive as typical PVD finishes used on golf clubs.
All of that sounds like science. But while Schweigert is quick to note that there is no explicit playability benefit to the finish in terms of spring-like effect or moment of inertia (the coating is not on the face of the iron), it may mean more than that.
"I think it's a reach to say that finishes make a significant improvement in performance from a pure numbers standpoint, but it looks unbelievably cool," he said. "That's a part of people's enjoyment of a golf club so from that perspective it has value.
"I think the best way to put it is if having a black club looks really cool to you, and it's really important to you, then this is the best finish to achieve that."
The Xtreme Dark finish will be available on the 0311 and 0311T irons in limited quantities. Both the 0311 and compact, tour-style 0311T irons utilize PXG's hollow, elastomer-filled construction that produces an extremely thin, high-strength steel face. The forged body of the iron is ringed in back with tungsten screws to add off-center hit stability.
There is a charge of $100 per iron for the Xtreme Dark finish.
The Xtreme Dark finish on the irons may have come as a surprise to some insiders because there was some industry buzz over a new version of PXG's 0811 driver that was seen in the hands of James Hahn labeled Darkness. Hahn's new driver features a different weight arrangement on the sole than the original. The 10 weight ports are positioned in L-shaped structures on the heel and toe sides of the sole. The original 0811 features 16 weight ports in a ring around the perimeter of the sole.
Schweigert said Darkness, which appeared on the USGA's conforming list in January, is a prototype, not a product. "This may not be the typical way manufacturers learn about a new idea," he said. "But we think getting this club out there and in our players hands so they can use it and get their feedback helps us learn more and learn a lot quicker. And it helps you make better stuff in the future."